The 33-year-old Hardeeville, S.C. native strolls into Salon Karma in Bluffton, where she has worked as a stylist since January of 2013, rocking a pair of distressed bellbottom jeans (her favorites) with a Janice Joplin T-shirt. But don't be fooled. Behind her casual appearance and relaxed demeanor lives someone who thrives on stepping out of her comfort zone and giving her imagination a good stretch.
Horton is, once again, entering the North American Hairstyling Awards (NAHA) competition, the industry's most prestigious professional beauty competition in North America. Some have called it the Oscars for hairstyling. "I've done it the last three years. I enjoy it. I like being creative with hair and just showing people what I can do," she said, stating that she is competitive in this realm but not so much in other areas of life.
Nevertheless, entering contests isn't new to Horton, whose childhood experiences inspired her career choice. "Since I was out of the womb, I was in beauty pageants. I was always getting my hair and makeup done and traveling to different places to do pageants," she explained. "I enjoyed getting my hair done, so I thought maybe I could do that for other people."
While Horton describes herself as laidback—a posture that helps put her clients at ease—her eyes dance when she shows off her competitive work. "Doing hair for a competition is different from everyday work. Competition hair is not street hair. If you have it on your head walking down the sidewalk, people will look at you funny," she said. "It's more like fantasy. It's real but it's not. It's art, and the hair is my canvas."
Because of current COVID-19 constraints, Horton will not be creating a new collection this year but will be reentering a previous set of images. "They changed the rules this year. If you have a collection that wasn't nominated, you can reenter it," she explained. "I'm sad that I didn't get to do a [photo] shoot this year. I love them." But it's a chance to give her existing designs a new life.
She has chosen a series of hair art she created to resemble the Native American headdress—again, not something you will see strutting around Old Town Bluffton, but a perfect juxtaposition of hairstyling and fine art. "I've always entered in texture. I love curls, braids … any kind of texture fascinates me," Horton said.
Along with the hair, the stylist must complete the look by making sure all other elements go along with the theme, which means engaging appropriate models and selecting all the right accoutrements (makeup, clothing, accessories). "What goes into it is a lot of preparation," Horton said. "It's really sitting here and trying to make things work—practicing on wigs and hairpieces. I make pieces and then take them to the shoot and attach them to the model's head. It takes weeks to put everything together. It's a long process, but it's totally worth it at the end when you see the pictures."
In her everyday salon work, Horton puts the same imagination to work but on a different scale (minus any dog cones, chicken wire, or Styrofoam)! "I love to cut hair," she said. "It goes back to your hair being a canvas. Before you cut it, it's a blank canvas. You have to be able to stand back and look at someone's hair and envision what they want it to look like. Then you interpret it in your head to know what you need to do."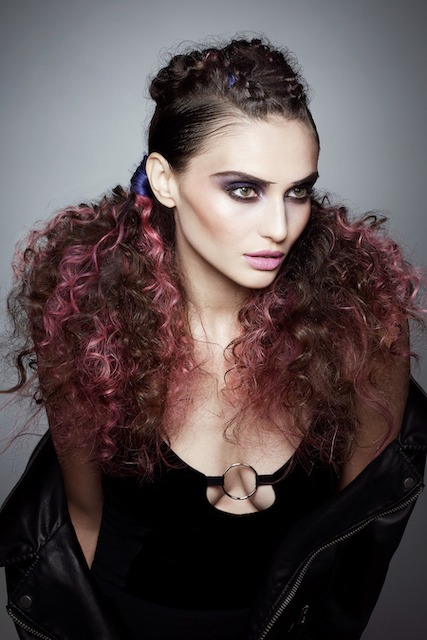 The joy of the job for Horton is found in client satisfaction—"just to see people's faces when I'm done with their hair, making them feel good about themselves," she said. "I compare it to being a doctor: I have their hair in my hands!"
Entering the NAHA contest is its own reward. It allows Horton to gain confidence, grow creatively, and expand her skills—something she's continually striving to do. During the recent shutdown, instead of taking time off, she took it upon herself to enroll in numerous online courses, earning new certifications including BARBICIDE® (best practices for sanitizing), OLAPLEX® bond builder, Matrix Socolor, and Amika hair care. "I learned something new every day," she said. And she also learns from her co-workers. "We help each other and do what we can to make sure that nobody's struggling. Even some of the newer girls—I learn from them every day. You never stop learning."
While she dreams of winning a national award, Horton is excited simply to have the opportunity to showcase her work. It's not about money, because there is no monetary prize. It's about pride and prestige. "If you do get nominated, you get recognition in the industry. That's a big thing. And then you get this really cool trophy," she said.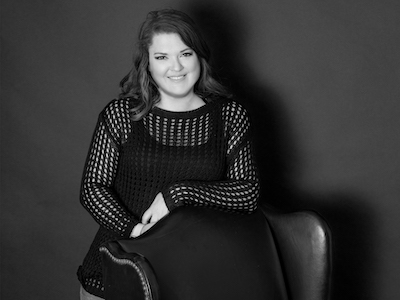 The thrill, Horton explained, is in the anticipation, waiting for the nominees to be announced, much like a beauty pageant when the finalists are named. But if her name isn't called, she will simply continue dreaming up new hair creations. "There's always next year," she said.
NAHA entry closes November 18, 2020. Judges are internationally renowned stylists, photographers and top beauty editors from consumer and trade magazines. Multiple rounds of judging take place, and all judging is done anonymously and independently. Judges are unable to see the name or salon name of entrants and are not allowed to discuss any entries before, during or after the judging. The award ceremony takes place March 13, 2021 in Long Beach, California.
Best of luck, Erica!