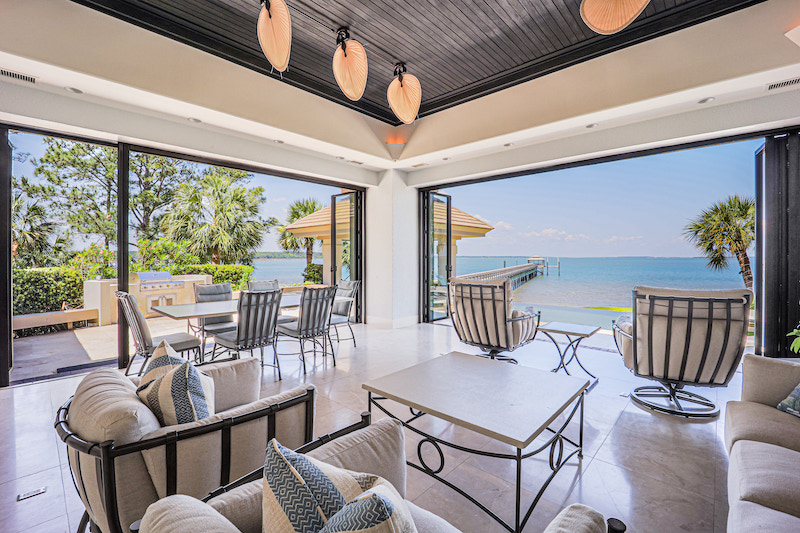 At the northern most tip of Hilton Head Plantation and across a 400-foot bridge, Ribaut Island floats between the picturesque Port Royal Sound and the magnificent marshland. It's home to an exclusive, private, and pristine community where the amazing views and equally amazing architecture are factors that distinguish this place from others. And while each of the homeowners who've made Ribaut Island their home likely have an interesting history, Susan and Ed Forbes' journey may very well be the most extraordinary.
In 1981, Ed and some friends, who were then living in South Africa, built a sailboat and set off for Europe. "I guess we were not very good sailors because we ended up in Ft. Lauderdale," Ed said. "I started a business, which I eventually moved to Columbia, South Carolina. I began vacationing on Hilton Head and, like everyone else who comes here, I loved it. So, I soon made the island my permanent residence."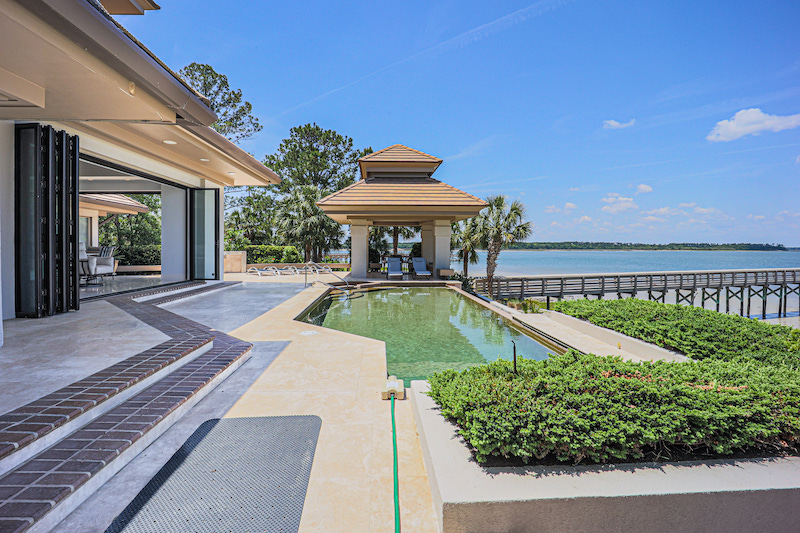 Fast forward to 2013. Susan was living at Palmetto Bay and would sometimes walk over to the Black Marlin to meet up with friends. On this occasion, she saw Ed sitting alone with his two dogs.
"It started raining, and he was at the only table that didn't have an umbrella, so we invited him and his dogs to join our table," Susan said. "We've been together since."
At the time, Ed had homes in Florida and Columbia, South Carolina, and Susan had a home in Milledgeville, Georgia. Eventually they decided to marry.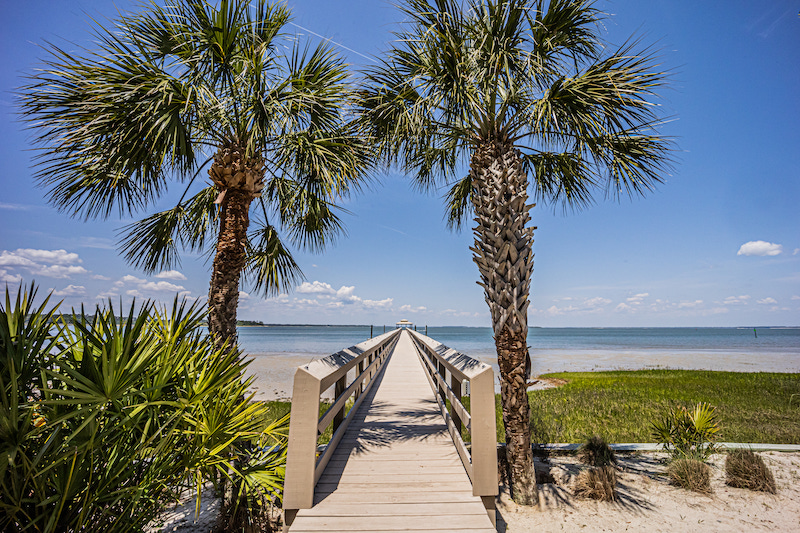 "Our first home together was at the Hilton Head Motor Coach Resort," Susan said. "Then we bought a villa at Palmetto Bay; after that, an ocean-front home in the Folly Field neighborhood; then we moved to Spanish Wells to a home on Broad Creek, each time remodeling and updating the homes before we sold them. Finally, we found the home on Ribaut Island." 
The home itself is a 9,000-square-foot Kermit Huggins masterpiece—a creation of art that houses life—exhibiting the decidedly unique elements of Modern design, emphasizing crisp lines, smooth curves, and balance, with a mid-century European sensibility and an eye toward minimalism.
"Having lived in the Hilton Head area, we had become familiar with Kermit Huggins' unique architecture, Ed said. "His signature use of standing seam hip roofs atop a free-flowing contemporary design always fuses naturally with the surrounding landscape. Each of his homes is an original creation designed to complement the natural features of the property."
One of the main reasons that the Forbes bought this property was for the purpose of entertaining. The couple are avid supporters of Special Olympics Athletic Retreat (SOAR), and they frequently host fundraisers at their home where upwards of 125 people attend. This home, with its vast and open concept common areas along with the seamless connection to the outdoor deck and pool areas, made perfect sense. Additionally, the couple desired a place for their five grandchildren, their furry children (two rescue labs), and their parents (who currently live in Sun City) to enjoy their own spaces and feel perfectly at home.
However, as is often the case, the previous owners' aesthetic style was different than the Forbes', so some changes were necessary. To assist with the renovation, the couple called in trusted professionals with whom they had already collaborated on other homes: Rick Delong and MJ Bucci.
"MJ is so easy to work with because she's done so many of our homes," Susan said. "She finds your individual style, your interests, and your vision, and then just brings it to light. She's got remarkable taste and is an artist. She's been on the island for 40 years, and we trust her."
Rick DeLong has also done all the couple's renovations. 
"Our first Realtor recommended Rick," Ed said. "He is fantastic, and his team is top-notch. We can call him for anything, and even if we don't have a current project, he'll take care of whatever we need. He's very easy to work with and completely reliable."
The Forbes' Charlesfort Place home presented the couple a totally different look than their other homes. The prior owners had a distinctively modern art-inspired aesthetic and had left a collection of artifacts that didn't fit their style. They began by removing everything that was too ultra-modern and started with a clean slate. Most of the walls were white, so once stripped of the former owner's footprint, they used the serenity of the setting for inspiration. With 16-foot ceilings and huge windows, almost every vantage point offers a view of the water. Drawing the outdoors inside and incorporating the clean, circular shapes of the architecture became the vision of the design project.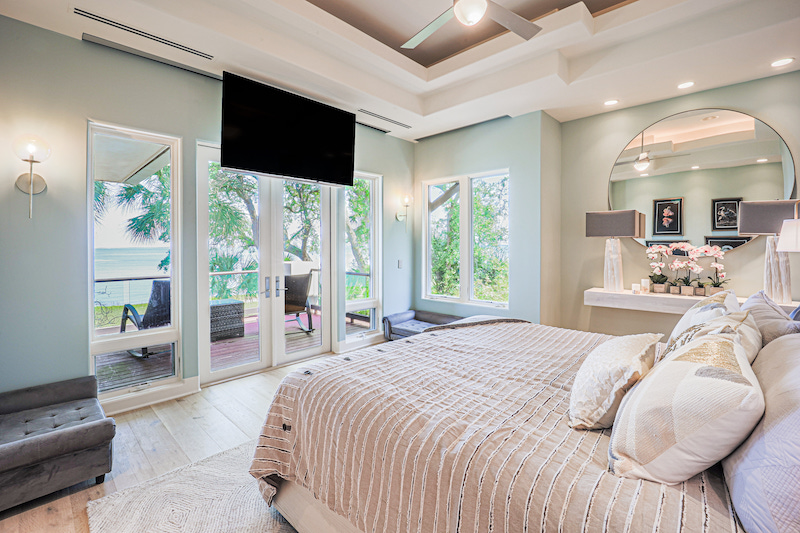 Colors from the landscape—beiges, soft whites, and shades of blue—became the tones and textures used to soften the modern vibe, and the natural light coming in from different angles at different times of the day helped determine the function and furniture placement throughout the living areas. The Carolina room, with its retractable doors, is the couple's favorite and their morning spot for coffee. The living room is the evening place where they enjoy cocktails at sunset.
"Sunsets here are amazing," Susan said. "Honestly, though, we can sit in just about any room and enjoy a sunset view. We also love to go out on the dock, which is about the length of a football field, and watch the marine life and the boats cruising by on the Port Royal Sound and the Intracoastal Waterway. We see manatees, dolphin, and fish and birds of all kinds."
Borrowing from its exterior, however, the furnishings create a warmth and comfort that isn't an easy marriage between European minimalism on the one hand, and Southern coastal comfort on the other. This is where MJ worked her magic. For example, because of the retractable glass walls, the Carolina room is completely open to the pool deck much of the time, so large outdoor furniture with a contemporary flair was installed there. In the living room, however, due to its proximity to the circular floating staircase with its crystal treads and the curvy double-sided fireplace, the aesthetic called for more modern furnishings. A round coffee table and a wavy sofa in the foreground and undulating chaise lounge chairs in the background skillfully fuse the spaces.
The kitchen is a chef's dream. In fact, for the SOAR fundraisers, the Forbes bring in the chefs from Redfish and give them free reign. "They love working in our kitchen," Susan said. "Not only does it have amazing appliances and ample space for the chef and his sous, but it is a beautiful place to work."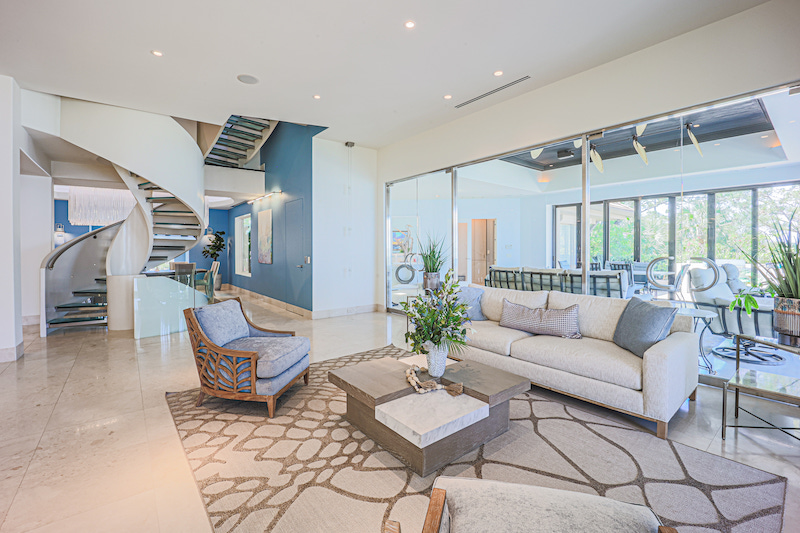 There are two refrigerators and a wine refrigerator, three sinks, plenty of prep space, and all the coolest built-ins, like coffee and espresso machines and steamers, all hidden masterfully behind gleaming handmade Italian cabinetry.
The master suite is "a block long" Ed joked. "Even the dogs have their own beds."
Part of the suite is a sitting room with lounge chairs that offer a water view. Her closet is massive "as big as the bedroom" with a center island and a whole wall of shoe storage and dressing area that even boasts a sink, a vanity window, and a drop-down darkening shade. Keep walking and find her bathroom with a tub and shower.
"That tub is oversized," Susan said. "I swear three of my grandchildren can swim in there."
Around the corner is Ed's bathroom and closet, and beyond, down a few stairs is the exercise room.
Each of the ensuite guest rooms was designed to offer the inhabitants peaceful, private space. And in addition, there is a guest apartment separate from the main house (two bedroom/two bathrooms) with a view of the water, a washer/dryer and kitchenette. One of the guest rooms was converted into a playroom for the grands with a Murphy bed. For a special touch, the guest room floors, like the master suite, are heated to add a bit of comfort to the stunning marble tile.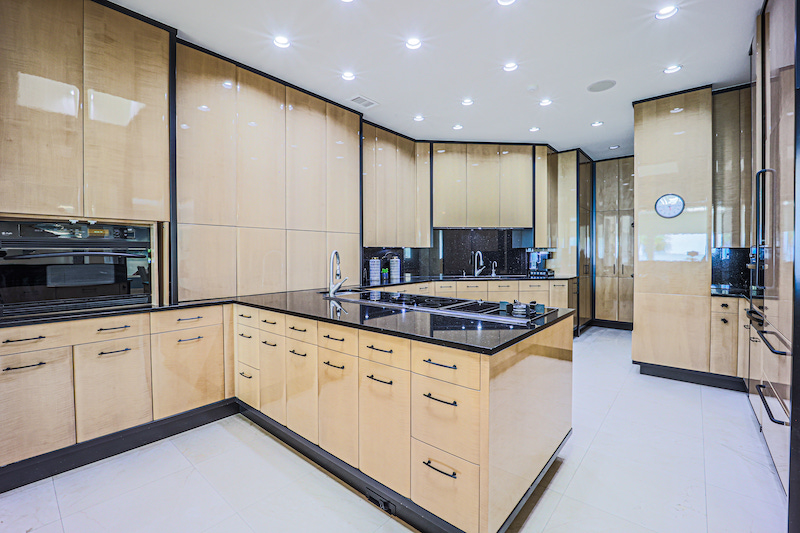 "Our grandchildren love the freedom they enjoy here," Susan said. "They can't get enough of the outdoors; between the pool, the swing set, and the dock, they are always ready for bedtime. And there is nothing we enjoy more than sharing our home with our family and friends."
The couple are very happy on Ribaut Island—it's placement within the Hilton Head Plantation is not only gorgeous, but very quiet and very safe. They have lots of friends nearby, so it's easy to meet up for bike rides, dinner, and other social events.
"Magnificent and serene is how we describe this home," Susan said. "It is the most beautiful home we've ever owned and with the most beautiful view."