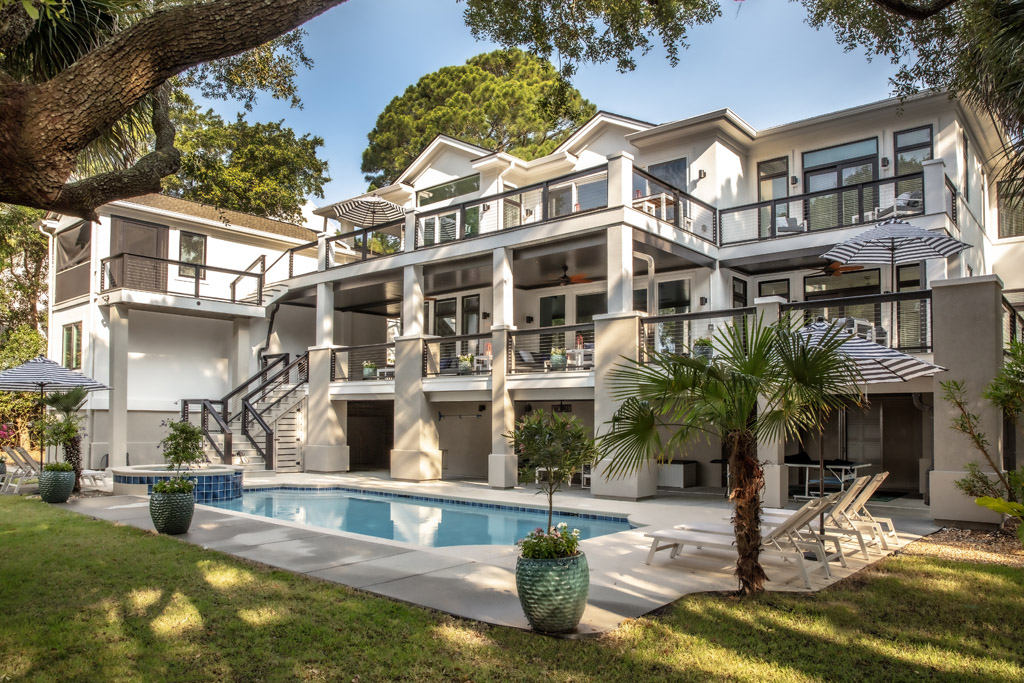 This stunning oceanfront rental has it all, including a first-floor garage and play space, two upper stories with revamped decks and views, and even a garage apartment. This eight-bedroom home sleeps 20 people without anyone feeling crowded. Renovation by Barbara Weir Martin, Hilton Head Island Renovations, LLC; Interiors by Virginie Brochard, Brochard Design
When Realtor Kim McElman found the opportunity to remodel a beachfront home on South Forest Beach, she saw the potential and brokered the deal with Kelly Ruhlin. "My clients truly love the Forest Beach area, and they are committed to investing in the neighborhood and the environment," McElman said. "They want to preserve it and improve it for future generations. The family loves it here."
The 9 Juniper Lane project proved quite an adventure because of many constraints. The new owners were busy with day jobs and worried about having the time and money to take on a new renovation. But McElman convinced them that, with the right team and good planning, it could be done.
When the couple bought the home, it was in disrepair. Though it was built in 2003, the previous owners had not maintained the home. There was mold damage, buckled floors, condensation damage, A/C issues, compromised bathrooms and kitchen, wood rot, and more. And massive supply chain issues from the pandemic were still plaguing the project.
With views of the ocean at every turn and clean interiors with great furniture and soothing coastal art, your stay at this vacation rental offers a soothing respite from the everyday.
However, Barbara Weir-Martin of Hilton Head Renovations was up for the challenge. Weir-Martin isn't just an exceptional contractor in terms of delivering high quality results, she is a whiz at creative problem solving. She had to remediate all the structural issues in the house and complete the remodel in 12 weeks, starting in January of this year.
"Technically, we had a couple of months to plan the project because the couple had leased back the house to the previous owners," Weir-Martin said. "Between Thanksgiving and January, we were able to make selections, procure everything, stack everything up in the garage, and once the lease back was up, we were ready to go."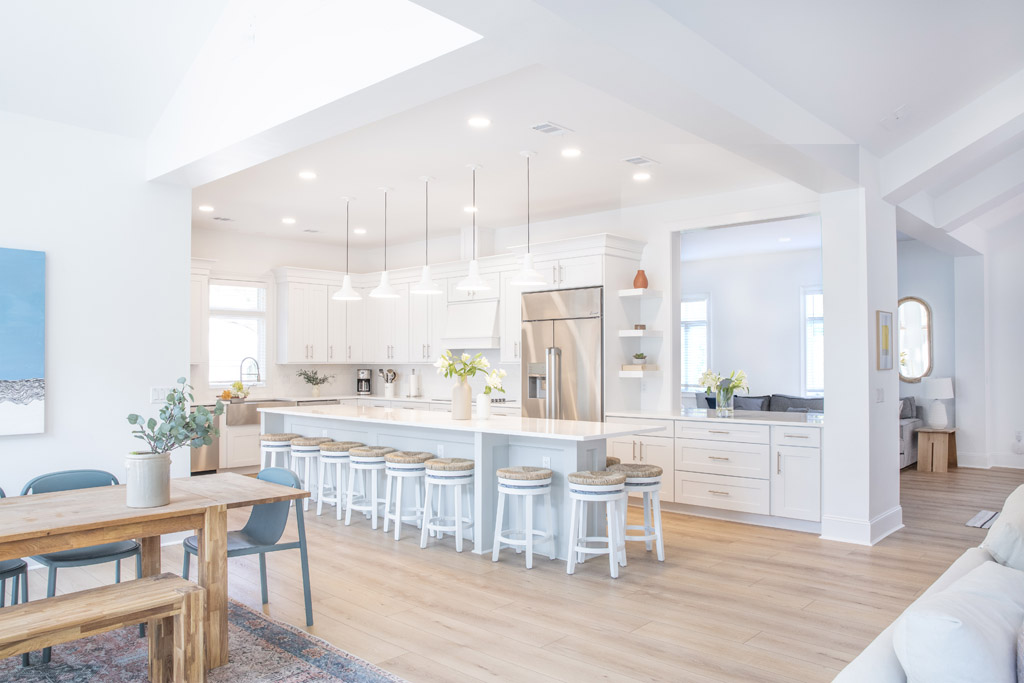 The kitchen is spacious and offers enough room for a large extended family group to make dinner together or order in! 
Indoors, it was a complete renovation. They removed the mold and wood rot, replaced the floors, renovated the kitchen and bathrooms, changed all the interior and exterior lighting, painted all the walls, added shiplap, and put in a new A/C, new roof and insulation, in addition to all new appliances and furniture. The outdoors also received an upgraded look with new decking, a completely refurbished pool area, and landscaping.
"We turned this dated and run-down house into a beachfront paradise," Weir-Martin said. "With a wonderful team and fantastic property, we created an extremely warm, welcoming, clean, crisp, coastal chic feel from a home that was in much need of repair. With trusting owners, pre-calculated measurements in ordering, and organizational skills, it's truly amazing what can be done."
They had to furnish the whole house (eight bedrooms, two kitchens and seven and a half bathrooms) within a very short timeline. When asked by the owners to take on this aggressive project, French-born interior designer Virginie Brochard said, "Bien sur."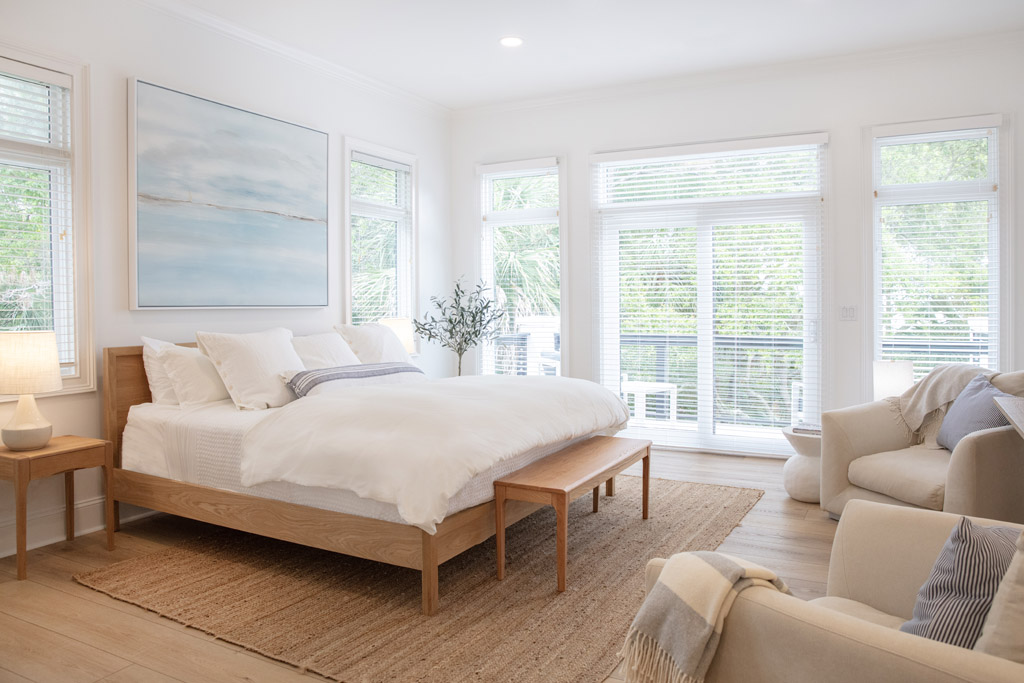 Every bedroom at 9 Juniper Lane offers cozy comfort and a great view. If the pool and ocean weren't right out the back door, you may never want to get out of bed.
"I tried to use natural wood as much as possible for a neutral palette, with touches of warm colors and lighting to bring the calm and serenity from the outdoors inside," Brochard said. "The whole project was possible only because of an amazing team with Barbara and Kim. I am very happy with how this project turned out."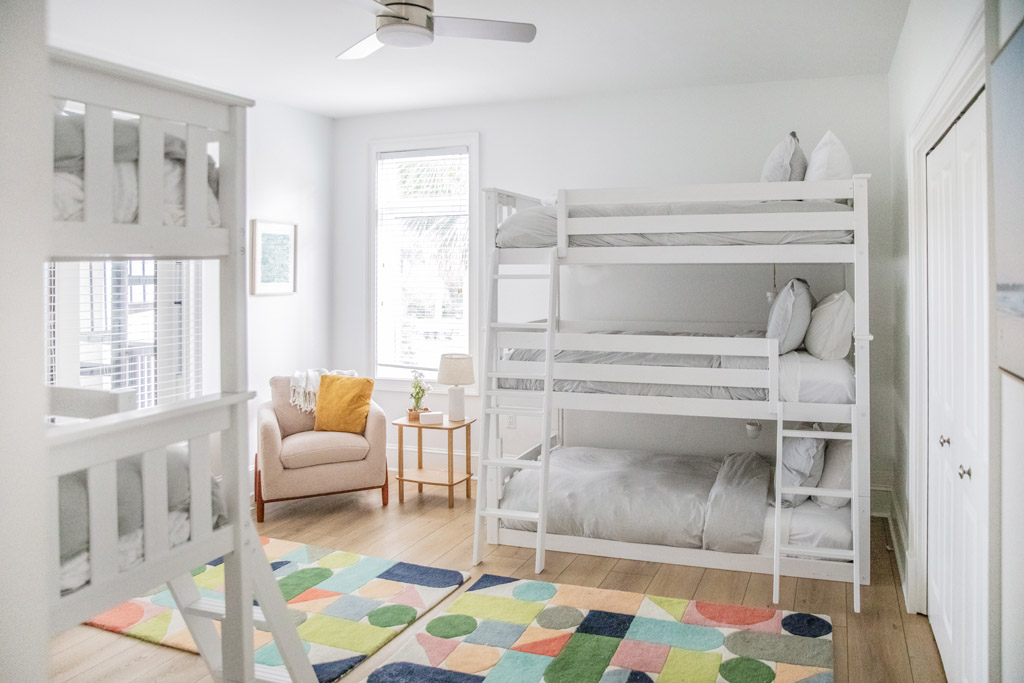 No multi-family vacation rental is complete without a bunk room for the kids, and this one is not only fun and playful, but it also sleeps six kids comfortably. 
The vision for this eight-bedroom home renovation (that sleeps families up to 20) was a clean, simple space that evokes a Zen-like vibe, making the most of the available views. They were determined to create a contemporary, comfortable get-away that not only feels like home but extends a little something special in a Lowcountry way. Brochard even created original art to enhance the experience.
A soaking tub, simple hardware and a statement chandelier adorn the upstairs en suite.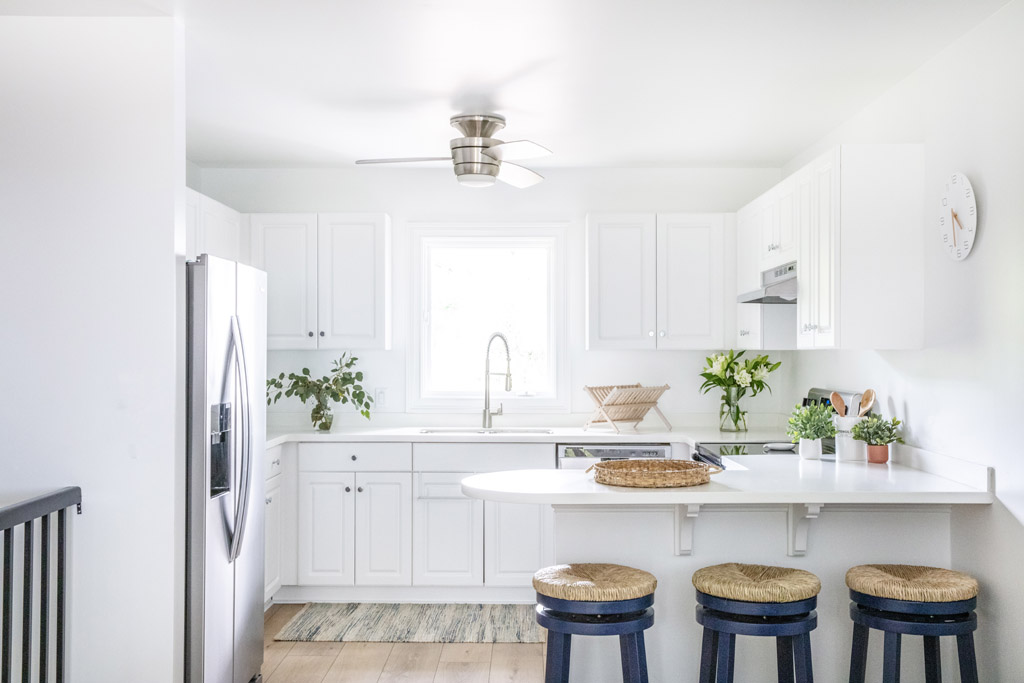 This expansive retreat offers a seperate two-bedroom apartment, complete with a full kitchen.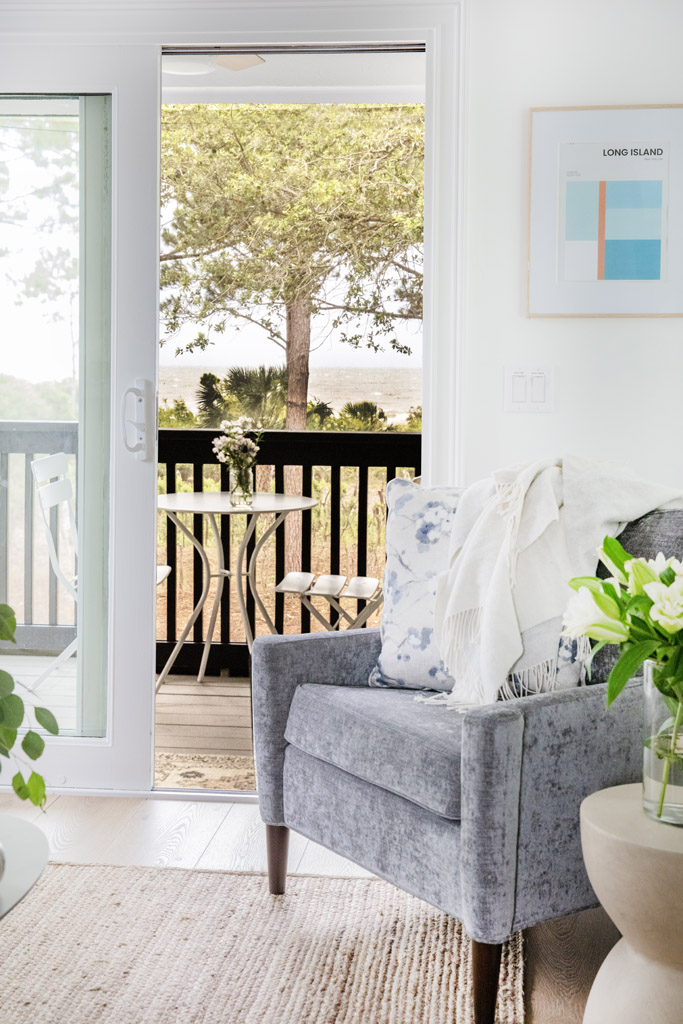 The view from the attached two-bedroom apartment has a view as lovely as the main house. 
The home is spacious and welcoming with room to roam and a calm sense of serenity everywhere you turn. The views of the beach and ocean are spectacular with three levels of outdoor living. The furniture feels like a warm hug, and the guests who visit want to return again and again.  
Living area in two-bedroom apartment. Find more images of this beautiful beachfront home at beach-property.com.