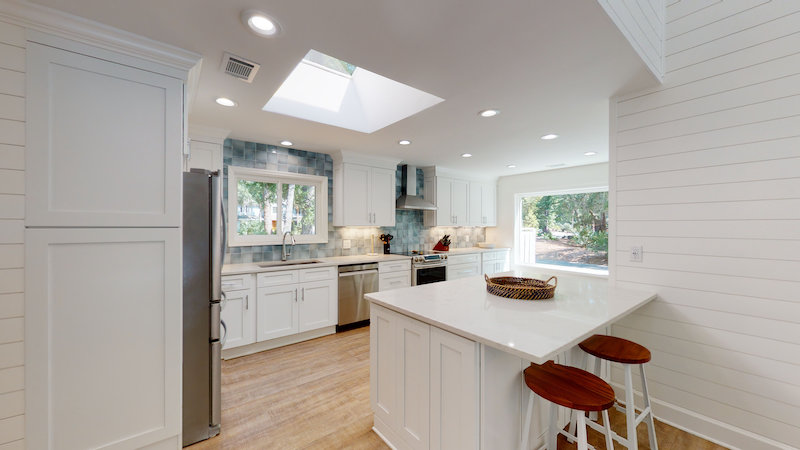 Palmetto Dunes is a Hilton Head Island neighborhood known for its beautiful beach homes, pristine beaches, lush landscaping, and successful investment properties. This third-row ranch style beach home represents all of that and more. The owners of this property are residents of Charlotte, North Carolina, where they've lived since 2005. For about 10 years, they only visited Charleston, as they were attracted to the city life and activities available there. When their first child was born, however, they decided to venture further south to Hilton Head Island, and it was love at first sight.
"From the untouched and preserved landscape and vegetation, the Southern charm, live oaks, Spanish moss, relaxed pace, and cleanliness, to activities for families and people of all ages, world-class and large beaches, bike paths, golf courses, water sports, weather, restaurants, seafood, and beautiful sunsets … these are just a few of the new adventures we experience every time we visit," they shared.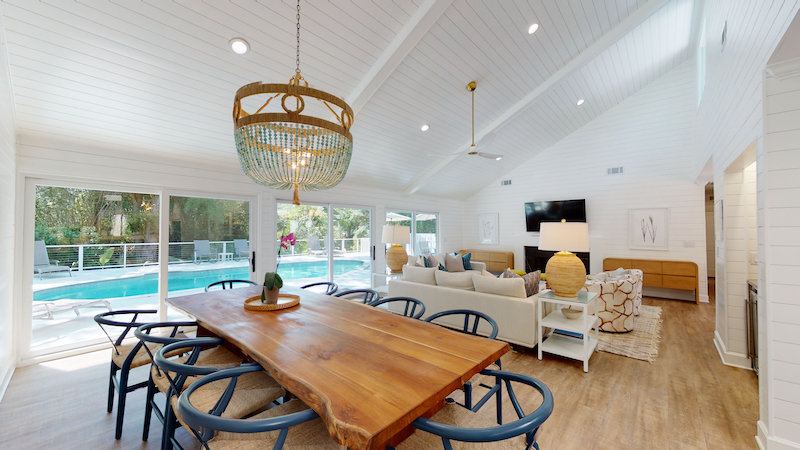 The family initially vacationed several times at the Marriott in Palmetto Dunes and enjoyed the location, landscape, and beaches the neighborhood offered. They eventually began shopping for a second home/investment property and soon found the perfect property at 2 East Wind, though it required a complete overhaul that would include remodeling every room in the 2,800 square-foot home.
"The location was the first and most important part of the decision," they explained. "We were fine with an older home, as we knew that we could bring a modern and luxurious touch with our contacts at ISABELLA Style and Residential Home Services."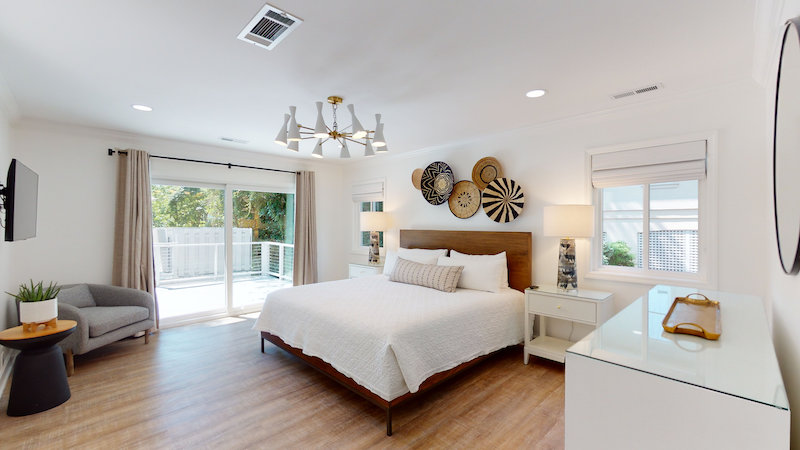 The couple invited their interior designers to visit the property, and after staying over a weekend, they agreed on a modern design fused with a rustic beach house vibe, utilizing shiplap throughout, contemporary touches, soft wood, beach tones, and lots of light to brighten the space. Updating and opening up the kitchen and adding large windows that provide full visibility to the backyard pool were must-haves.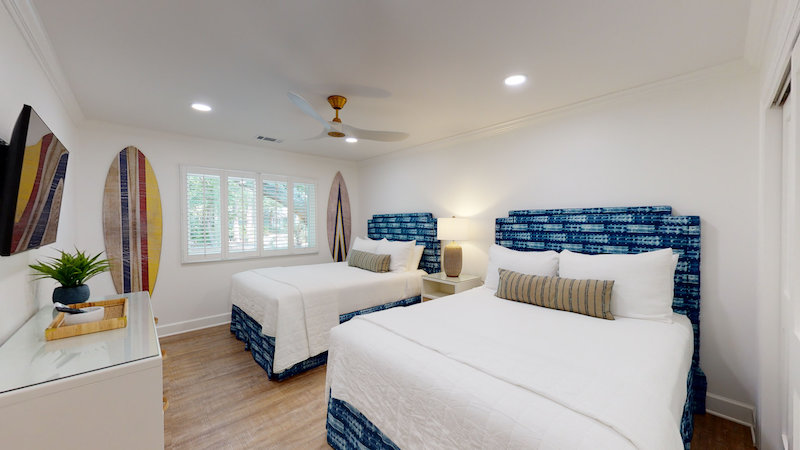 The property is unique in a few ways. It is a single-level, ranch-style home with a 2,500 square-foot pool deck that creates an indoor and outdoor experience of more than 3,500 square feet of entertaining space, which allows for an inclusive experience for everyone. The pool is one of the largest on the island, with a nine-foot swimming well and a large shallow area where kids can play. A huge live oak shades the entire pool area except for about two hours a day, and the outdoor space is surrounded by lush landscaping, providing exceptional privacy—both equally important details.
"Our layout is somewhat unmatched on the island as current building codes would force the first floor to be at 16 feet," the couple said. "We are grandfathered in with a ranch-style home giving a single level of entertainment, both inside and out, that is visible from the kitchen and dining area, the office, and the great room. This also provides an extra layer of safety when little ones are outdoors enjoying the expansive deck and pool."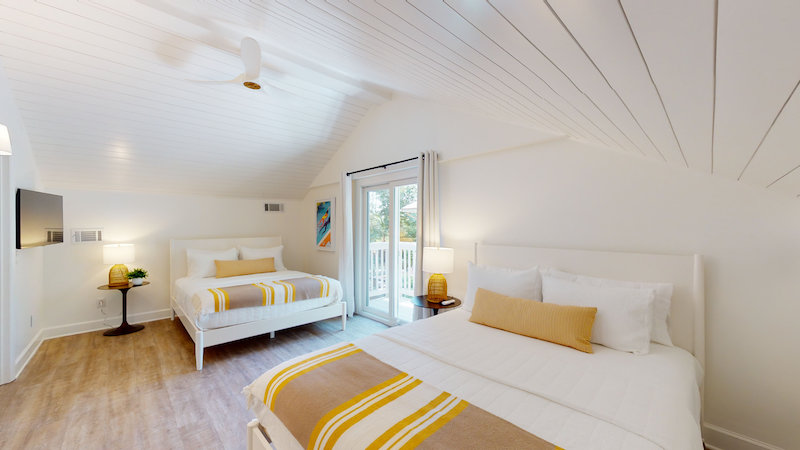 Beyond their outdoor space, the couple each has a favorite room indoors. The wife loves the open concept kitchen and the tile color choices that support the home's beachy ocean vibe. She, too, loves spending time in the luxurious and large master bath. Her husband's favorite is the wide-open great room, which boasts a massive vault, painted white shiplap on all the walls and the ceiling, along with the huge skylights, natural light, the wall of windows and sliders giving access to the pool area. And when they aren't outdoors playing on the deck and in the pool, their kids enjoy the one upstairs bedroom, probably because to access the space, they get to climb a spiral staircase.
The other bedrooms are downstairs. The master suite, along with the beautiful design, décor, and spa-like bath, also allows access to the pool deck. The spacious, comfortable ensuite guest rooms are bright and flooded with natural light from huge windows.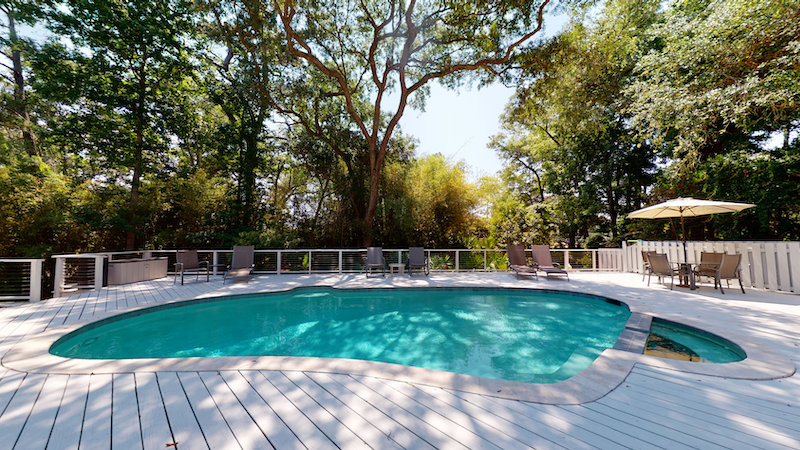 "The finished remodel exceeds our expectations," the couple agree, "and we have our wonderful team to thank. Because we had prior experience with ISABELLA Style, we knew before we even commenced with the project that we wanted to work with Erin and Bryn. We Facetimed a few agents when we began looking at properties and are so glad we chose Jeff Hunt at Dunes Real Estate. He was super responsive, knowledgeable, and not pushy at all. Our build team—Residential Home Service, a local company—came at Jeff's recommendation. They were excellent and transparent throughout."
Jamie Delsandro, director of property management, PMIC, Palmetto Dunes Oceanfront Resort, said these homeowners put a lot of time, money, and effort into this remodel, which allows them to get them a premier price for their rental.
"Guests are excited about staying in this beautiful home, and the same guests return year after," Delsandro said. "They see the work and care that the owners put into the property, and they realize that this is not just a rental; it's a second home for the owners. This knowledge leaves a deep impression on the guests who visit here."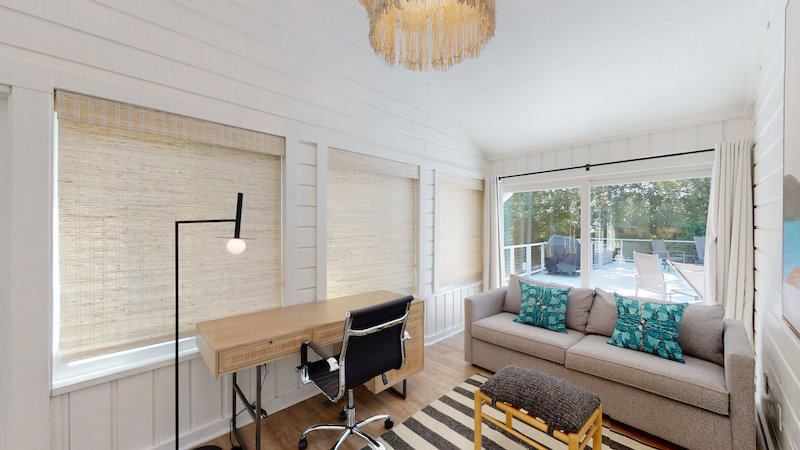 Not only are the owners and guests satisfied with 2 East Wind, but they also love Palmetto Dunes. Favorite amenities include the miles of walking and biking trails, access to the ocean and the well-kept beaches, the three world-class golf courses, tennis & pickle ball center, onsite restaurants and access to the restaurants and shopping at Shelter Cove, and the bounty of waterways for fishing, kayaking, and boating.
Delsandro adds that while Hilton Head Island has numerous communities with similar amenities, Palmetto Dunes Oceanfront Resort is unique. "One of the things separates us from other property management companies is our ability to package the resort with guests' accommodations. We can organize the guests' entire vacation, including tee times, pickleball or tennis time (two free hours of court time daily are included), boat charters, bike and kayak rentals, and even their restaurant reservations. We understand that families come here not just to enjoy the beaches, but to get the most of out of the resort and their time here," she said.
Palmetto Dunes Oceanfront Resort and their promotions within the resort translates to huge benefits for investors. It is why people choose Palmetto Dunes. The success within the gates is due to all that owners and guests can experience without ever having to leave the resort or get back in their car during vacation time.
"Our ultimate goal is to create wonderful and memorable experiences for our family and for every family that rents and visits our property," the couple said. "We look forward to sharing this fabulous island, neighborhood, and home with each of you."