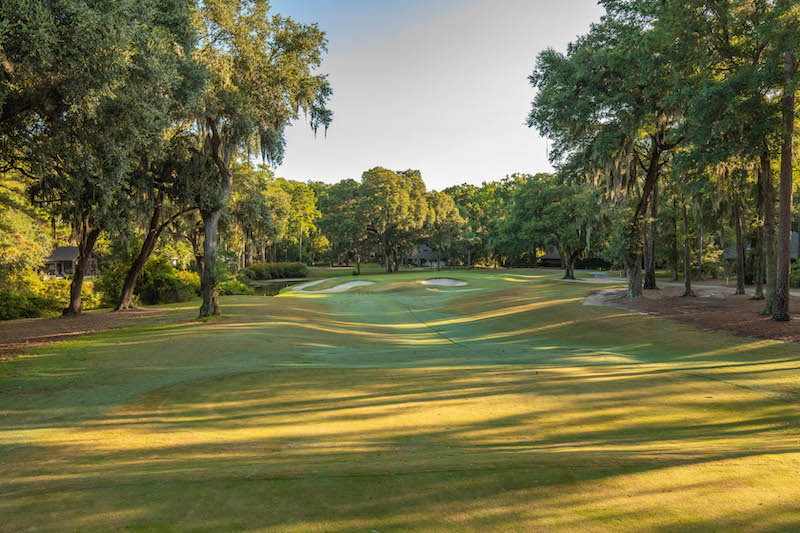 #7 North Fairway of Tom Fazio Devil's Elbow
Moss Creek is the first off-island community, just minutes from the Hilton Head Island bridge. Featuring over 1,000 acres of private, gated residential neighborhood, Moss Creek borders Mackay Creek on one side and more than 1,200 acres of nature preserve on the other, allowing for a variety of home views including water, woods, marshes, and the marina.
Because of its prime location, Moss Creek residents don't have to go far to experience life outside the comfort of home. Turn left at the entrance gate and the beautiful beaches of Hilton Head Island await. Turn right and there's burgeoning Bluffton. A short drive to 1-95 opens the possibilities even wider with access to Savannah and Charleston.
When you purchase property in Moss Creek, you become a member of the community and have accesss to all amenities.
Members at Moss Creek live to reward a life of hard work with all that membership has to offer: community, connection, contentment, and access to a private club and home community lifestyle unlike any other in the Lowcountry. Shaded by live oaks draped with Spanish moss, the environment is unique, and residents take pride in celebrating and protecting it. In 2022, Moss Creek was recognized and certified by the National Wildlife Federation as a Community Wildlife Habitat.
"The natural beauty of the creeks, marshes, and waterways is exceptional," Realtor Lawrence Taylor, with Charter One Realty, said. "You're never far from long marsh or a water view. You know you're in the Lowcountry when you're in Moss Creek. Plus, the financial stability is important. Moss Creek is an excellent example of a private club community doing its best to maximize current member satisfaction while taking steps to remain relevant in the marketplace for years to come. Beyond that, the people—not only members, but employees, too—are a big part of what makes Moss Creek an extraordinary place to call home."
Jennie Johnson and Bobby Peaks agree that the people really do make Moss Creek feel like home. "We moved from Greenville to the Hilton Head area six years ago because our kids and grandkids live here," Johnson said. "Our introduction to our neighbors happened the first week. Our dogs escaped their fenced yard and were strolling down our street. Our neighbors picked them up, called us from the info on the doggy ID tags, brought them home, and put them back inside the fence. That kindness and concern exemplifies how Moss Creekers take care of each other. We can't imagine living anywhere else."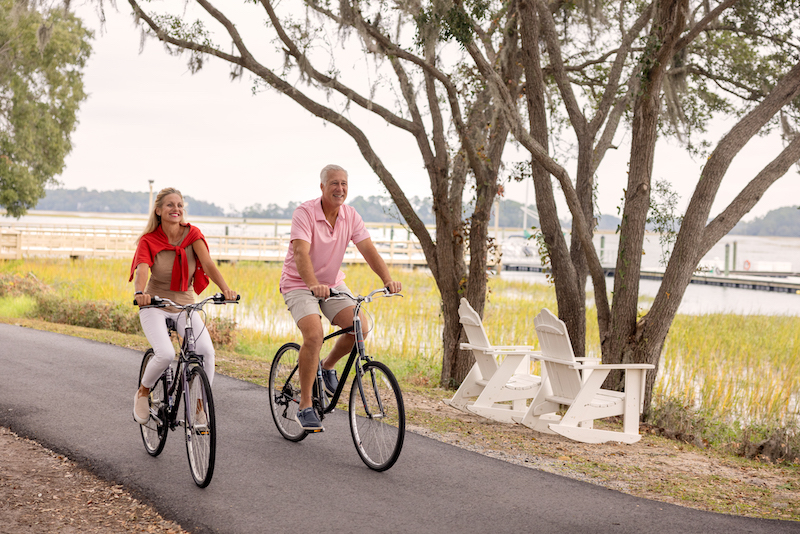 Members enjoy miles of leisure trails.
Members also love the amenities available at Moss Creek. The Clubhouse, currently under complete renovation by Kelly Caron Designs and anticipated to re-open in early summer 2023, is a big draw. While weddings, banquets, birthday parties and other events are hosted at the Clubhouse, it's not just for special occasions. Members meet, eat, and play there—sometimes dressed casually for lunch and dinner in the Grill after a round of golf or a game of tennis, or for cocktails and cards outside on the Verandah.
Golf, tennis, and boating are also available, with two championship Fazio courses—Devil's Elbow South and Devil's Elbow North. Along with the strategically placed sand traps, you'll also be challenged by magnificent oak trees, tall pines, water tributaries, and salt marshes. You may also encounter a gallery populated with wildlife including deer, wild turkeys, or an egret. Since 2012, the Tom Fazio North Course and George Fazio South Course have achieved the status of Certified Audubon Cooperative Sanctuary.
For those who prefer racquet sports, Moss Creek has a very active tennis and pickleball community. The Moss Creek Racquet Center has seven Har-Tru courts (five lighted), a practice wall and ball machine. For pickleball, four lighted courts are available. There is plenty of seating to invite your friends to watch, and you can get the latest sports instruction at the community's pro shop. The Bostwick Point Park Complex features a dog park, Bocce Ball Courts, horseshoe courts, and an event pavaillion. The indoor fitness center offers water views, a wide range of equipment, a variety of tailored classes, and personal fitness instruction.
"Bobby is an avid golfer," Johnson said, "and most days, he can be found on one of the two Moss Creek golf courses perfecting his game and enjoying his golfing friends. I play tennis which is the way I began making friends here. With over 20 amenities and 60+ clubs in Moss Creek, we get to enjoy a wide variety of activities."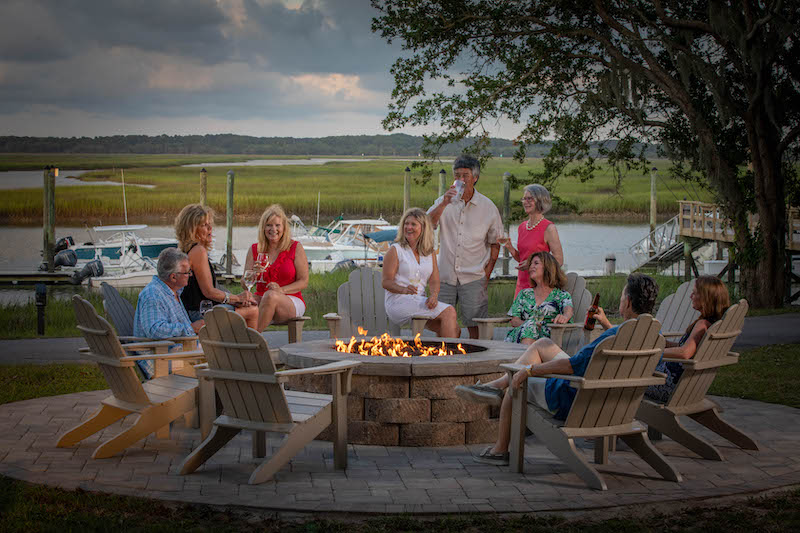 Members of all ages and interests brought together by a mutual desire to live a nature-inspired lifestyle. 
Steve and Karen Thomson moved to Moss Creek from Oregon in June of 2022. "We really enjoy our wonderful neighbors and the beautiful walking trails that are just outside our door," Karen said. "Steve golfs, while I'm more into tennis, but I'm learning to golf. We also enjoy biking around the neighborhood, and the weather here is enviable. Oregon is very rainy, so we are enjoying the sunshine."
With one of the few private mainland marinas in the area, life on the water takes on a whole new meaning at Moss Creek, offering members unprecedented access to this prime corner lot of coastlines. With boat slips and storage, private and community kayak racks, the Moss Creek private marina is the launching point for a day of water fun, fishing, and exploration in and around our 11 sea islands, out into the Intracoastal, and beyond. The community also has its very own Boat Owners Association, which can provide you with local knowledge, assistance, and classes on boat handling.
The Moss Creek Equestrian Center serves as the majestic entrance to Moss Creek. Trainers work with passionate young women and men, and for those who prefer to go along for the ride, what better way to see what nature has to offer than on horseback? The equestrian center is the perfect place for those who love horses to ride, offering jumps, dressage, boarding, and lessons.
You can also take things a bit slower at Moss Creek at one of the three community pools, including a beach-entry pool, kiddie pool, and lap pool, covered pavilion or community library. Get to know your neighbors and keep your social calendar booked with the variety of clubs and other events when you become a member of Moss Creek.
If walking close to nature is where you derive inspiration, the gently winding roads within the community follow the natural curves of the coastline. Wooded paths and marsh boardwalks round natural bends, providing hikers and bikers stunning vistas of the pristine and private Fording Island Nature Preserve and Blue Heron Sanctuary.
"The natural beauty of Moss Creek is stunning," Bobby said. "We live on the border of one of the two large nature preserves within the community, and our view is of the trees and lagoon with a rookery for several species of shore birds, including herons, egrets, and ibis."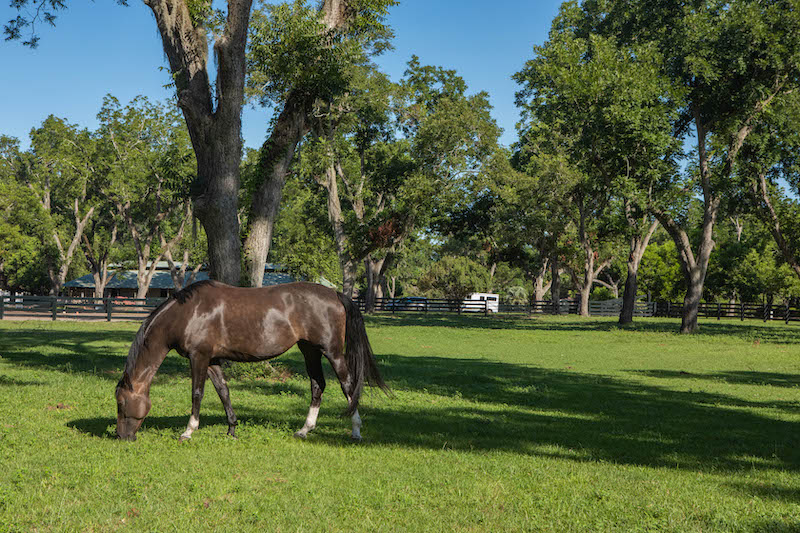 The Moss Creek Equestrian Center offers members lessons, boarding, and special member events year-round. 
For nearly 50 years, Moss Creek has been a place where families have come together to enjoy the best life has to offer in the awe-inspiring natural environment of one of the most stunning pieces of real estate in the Lowcountry.
"Residents at Moss Creek enjoy the water with family and friends," said Brenda Ciapanna, marketing communications manager at Moss Creek. "They explore nature and unique surroundings; they ride horses and play golf, tennis, and pickleball; and they have fun with friends during the many events offered throughout the year. They enjoy a healthy lifestyle, and our state-of-the-art fitness center and lap pool are a big part of their routines; and they are anticipating celebrating family milestones in our newly renovated beautiful Clubhouse in the coming months. It's a lifestyle like none other."
The natural beauty, the amenities, and most of all the people, define the amazing lifestyle at Moss Creek. To learn more, visit mosscreek-hiltonhead.com, call (843) 836-6107, or email mosscreek@mosscreek-hiltonhead.com