Jordan Blaine is a born and bred Southerner who has loved the charm and beauty of the Lowcountry his entire life. While he was raised in Augusta, Georgia, his family has been coming to Hilton Head Island since before he was born. His parents moved here permanently more than 20 years ago, and his mom, Marianne, began selling real estate on the island. Blaine joined her in 2016 where they now work together as The Blaine Group for RE/MAX Island Realty.
"While real estate was not a self-professed 'calling' or my dream job, it has proved to be a wonderful experience because I got on-the-job training with my family, and I acquired full knowledge of the local market," Blaine said.
He acknowledges that working with his family instilled within him great attributes including integrity, compassion, and people skills, which, for a Realtor, are all necessary and important for creating true connections with clients and representing their interests in the best possible way.
"I essentially grew up here," Blaine explained, "so I understand and know the island very well. I can relate to people through a shared history on Hilton Head Island. When people share history in a place, there is a camaraderie that occurs. It kind of allows us to have more care for where we are going as well as where we've been."
This history, camaraderie, and care for the island are elements that set Blaine apart from other agents. Having spent quality time here for 38 years as a second home and now seven years as his primary home, Blaine understands the different communities on the island. He has witnessed the unprecedented growth, which provides him an uncommon perspective.
"I remember when Bluffton was just a flash when you drove to Savannah," he said. "When they built the Promenade, we really could not have seen where that little town was heading."
Having witnessed Bluffton's level of growth in such a relatively short span of time sparked a lesson for Blaine's future. This familiar knowledge of the Lowcountry and Southern way of life has instilled in him a respect for the land and the residential areas as well as the people who are impacted by all the current development.
Another distinctive premise of Blaine's approach to real estate is compassion in that he wants his clients to be as happy as he is here. While "Come to Paradise" is an island real estate slogan, he feels that much more factors into the experience than just buying a house.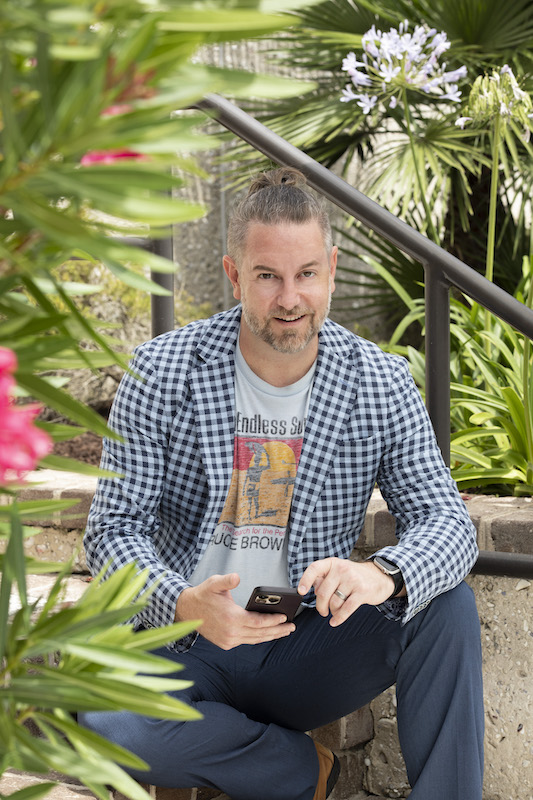 "People must love where they live," he said, "and having the right Realtor is like having the right key to the right lock. A direct connection with a Realtor who understands where you want to be and how you want to live is a real asset, and I bring that compassion to all my clients."
Blaine's career background has given him an advantage in his practice of real estate. For many years he worked in financial aid for different colleges in the Chicago area, and prior to that, he was director of marketing for a telecommunications company in Augusta.
Through his work as a college financial aid advisor and a marketing executive, he developed a great rapport with people and the ability to be 110 percent honest. He has an innate understanding of people and how to help guide them when they are making the big decisions. 
"There is a direct correlation between financial aid and homebuying as both are pretty much the most expensive transactions a person will encounter: paying for college and buying a home," Blaine said. "I worked for many years with young people or returning older students who were trying to figure out how to pay for school, so I deeply understand the emotion behind making a big decision and spending this kind of money."
He understands that emotions run high in any large financial transaction and asserts that his job and focus is not only to learn who his clients are and what they are looking for, but also to read their faces/voices/actions and recognize when they're making a connection. By working for many years assisting people with making financial decisions, Blaine grew astute at identifying when a person moves from logic into emotion. He knows how to connect with every client so that they trust him and his expertise.
Blaine's financial aid background also allows him to appreciate the law around real estate. He enjoys helping his clients understand all the documentation involved in the process and make sense of all the legal terms.
"This is the parallel between the 18-year-old filling out financial aid forms and a first-time home buyer making a big decision," he explained. "Clients who have not done a real estate transaction recently may not know what is now involved. None of their questions are stupid, and I'm here to provide clear answers."
On the flipside, Blaine's background in marketing and telecommunications experience is helpful when working with clients who are selling their homes.
"When listing homes, an agent must know how to market a sellable home," he said. "With my knowledge of the area and the consumers here, I feel I have a great understanding of how to price homes to sell and market my listings. Just like the buyer must know what they want and what they are buying, the seller needs to understand their product."
Blaine uses his unique skillset to usher people through the home buying process. He is not content with just finding you a home and putting you in it. He wants each client to feel happy and secure about their decision and live in a home that fits their lifestyle. When you give him your home buying criteria, he will bring you options with a realistic approach and the integrity, compassion, and knowledge he learned from his family business.
For more information, call (404) 915-3784 or email jordan.c.blaine@gmail.com.