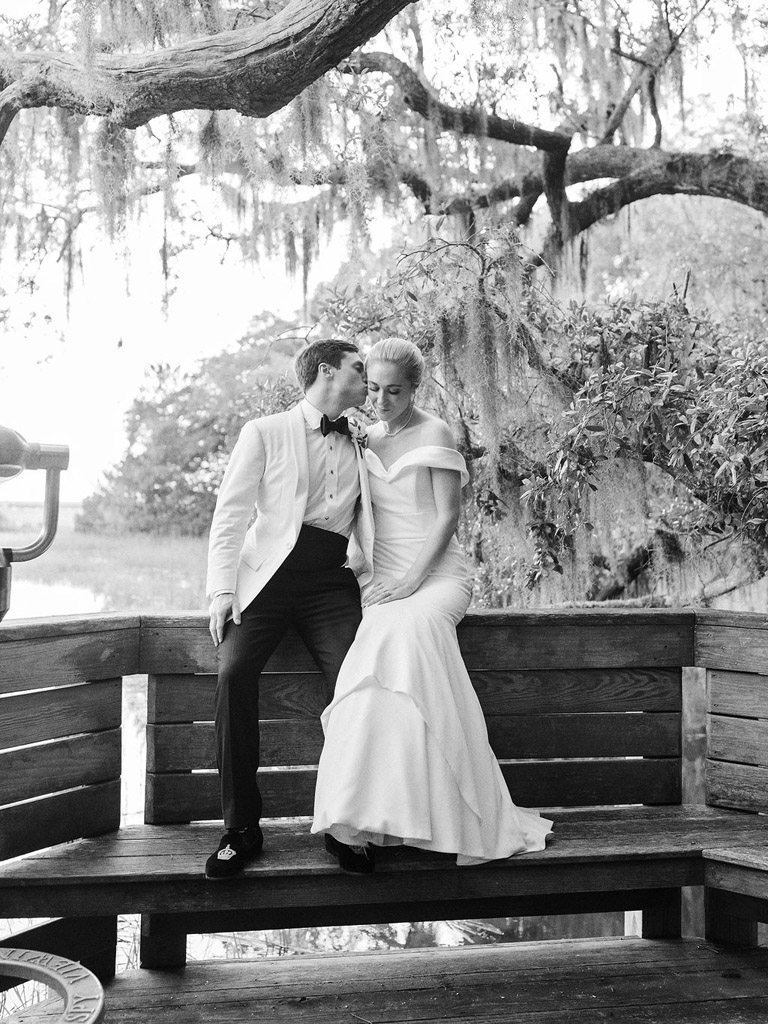 Whispers of love under the age old oaks
Spring Break of 2011 was most likely a memorable time for all of us. Katy Perry was reminding us of what she did last Friday night, the Harry Potter series was taking its bow, and boxer Sugar Ray Leonard had just been voted off Dancing With the Stars.
Few people, though, can claim to have enjoyed Spring Break 2011 more than Morgan and Collins Richardson. It was then that their lifelong romance began, with Morgan finding more than she bargained for when visiting the island.
"There were sparks from the very beginning," Collins said. "We had an immediate connection."
You might chalk that up to young love. After all, Morgan was just 15 and Collins 17 when they met, introduced through a childhood friend of Morgan's who had moved to Hilton Head a year before. At the Richardsons' Calibogue Cay home, a weekend hang out turned into an entire week in which the two were entirely, and immediately, inseparable.
"We had our first kiss on Coligny Beach that week," Collins said.
"We were together the whole week; I was like the little tourist girl, and he was the island boy," Morgan said. "Even after I went home, we kept the candle going for each other. We'd always check in."
Collins and Morgan remained in each other's orbits even as she returned to Great Falls, Virginia. And when she and her family returned just a few months later, absence had only made both hearts grow fonder.
"Our first date occurred at the Ice Cream Cone," Morgan added.
Fast forward a few years, and the young star-crossed high schoolers were now college students, with Collins at Sewanee and Morgan a proud Georgia Bulldog. Although each had gone on to other relationships as they grew and matured, they had kept that candle lit for each other through the intervening years. "As soon as the time was right, it was like picking up exactly where we left off," Morgan said.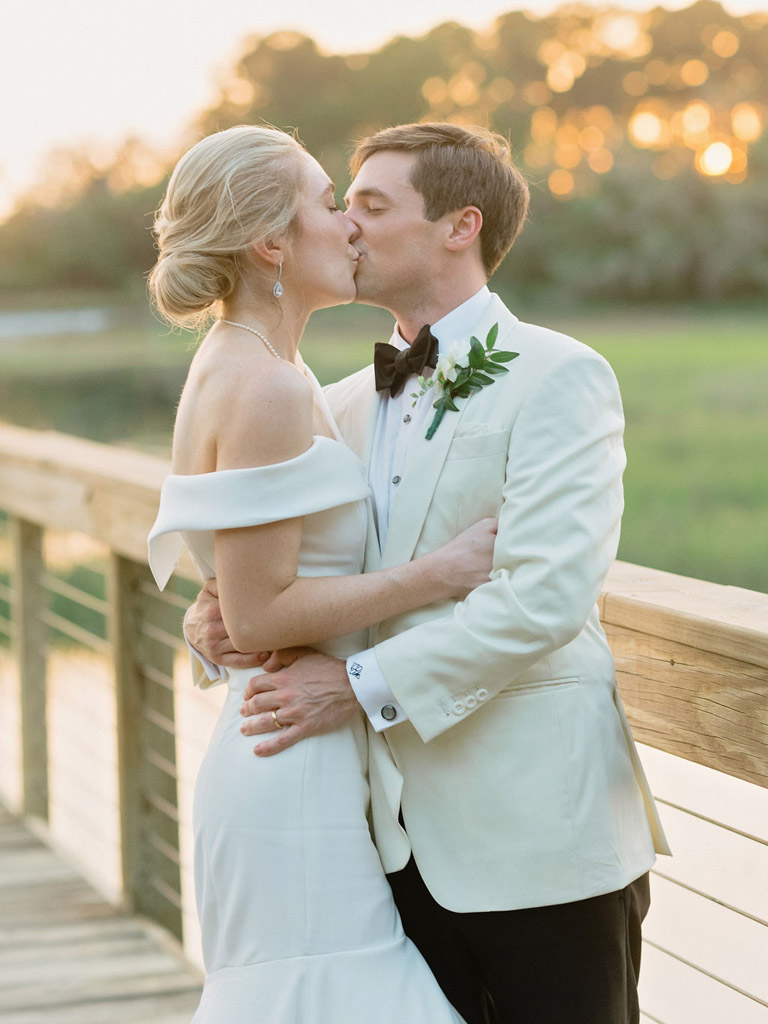 The engagement
The couple grew closer over the next few years, moving ever closer in fits and starts. Collins graduated from Sewanee and began the master's in real estate development program at Clemson (of course, being the son of island real estate developer JR Richardson, it could be argued that he'd already been through that program). This brought them just 90 minutes from one another, a close enough distance to spend weekends together.
And when Morgan began her studies at Charleston's MUSC in pursuit of a Bachelor of Science in Nursing, it wasn't long before Collins joined her in the Holy City. He found a job with The Beach Company on their Kiawah River project, setting the stage for a supremely romantic way to finally pop the question after four years of dating.
With the help of an event planner, Collins set up the ultimate surprise for Morgan beneath a Spanish Moss-draped live oak on the water's edge. Ostensibly, the couple was dressing up for a four-year anniversary celebration, and when the evening began, Collins' plan sprang into action.
"Heading out, I had my boss call me and ask if I could stop by the site really fast," Collins said. The site wound up being a candle-lit picnic with champagne, candles and flowers. "As soon as she saw the setup, she was like, 'What did you do?'"
"I was totally surprised … it was absolutely beautiful, just so romantic and special," Morgan said. When Collins went down on one knee, speech at the ready, Morgan dropped to the ground, and they embraced. "It was a moment. I couldn't handle it," she said.
With both pledging their eternal love to one another, that first chance meeting when they were kids finally revealed itself for what it was: love at first sight.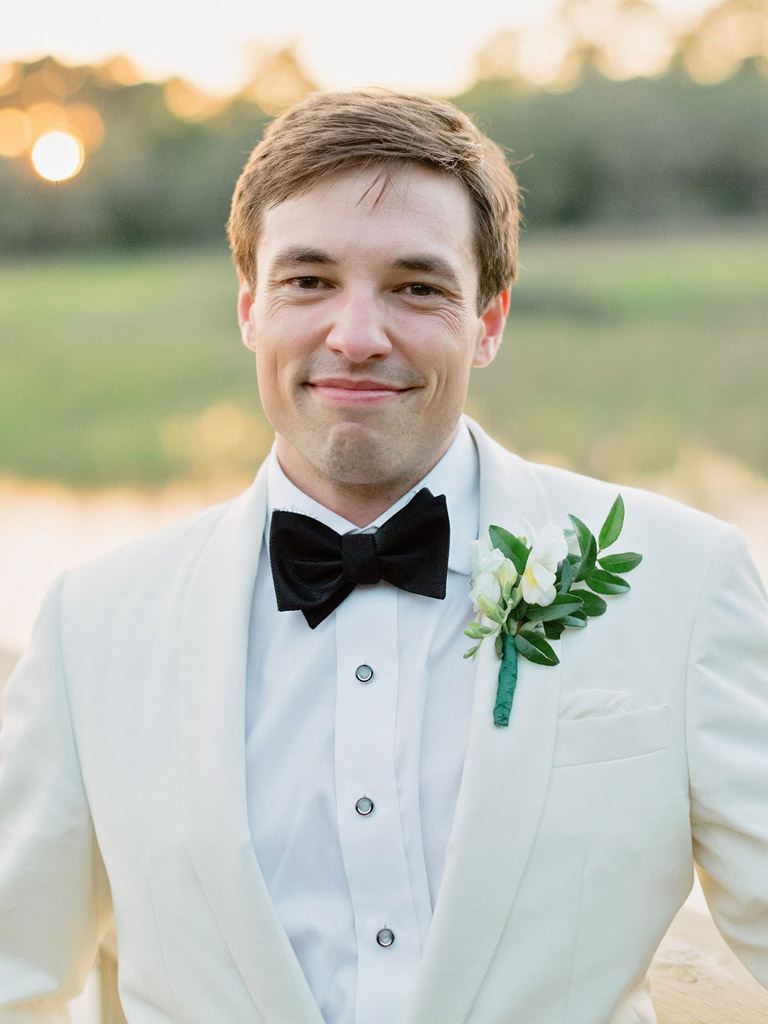 The big day
After exchanging their "I wills" it became time to exchange "I dos." Eventually.
"It was supposed to be a 15-month engagement," Morgan said. "It ended up being closer to 27."
If you'll recall what the last few years have been like, you'll understand why there was a desire to wait a bit. But just as their love had grown deeper and richer in the time the couple spent apart, their dreams for their big day expanded as extenuating circumstances pushed their date back.
Collins and Morgan chose Hilton Head Island for their wedding as a way to showcase their love for the place they fell in love. The rehearsal dinner at South Carolina Yacht Club (founded by Collins' parents, Leslie and JR Richardson) was followed by a lavish tented ceremony on the grounds at Historic Honey Horn.
"We held our ceremony under the oaks and the reception under a Sperry tent with the biggest dance floor we could find," Morgan said. "It was the best night of my life."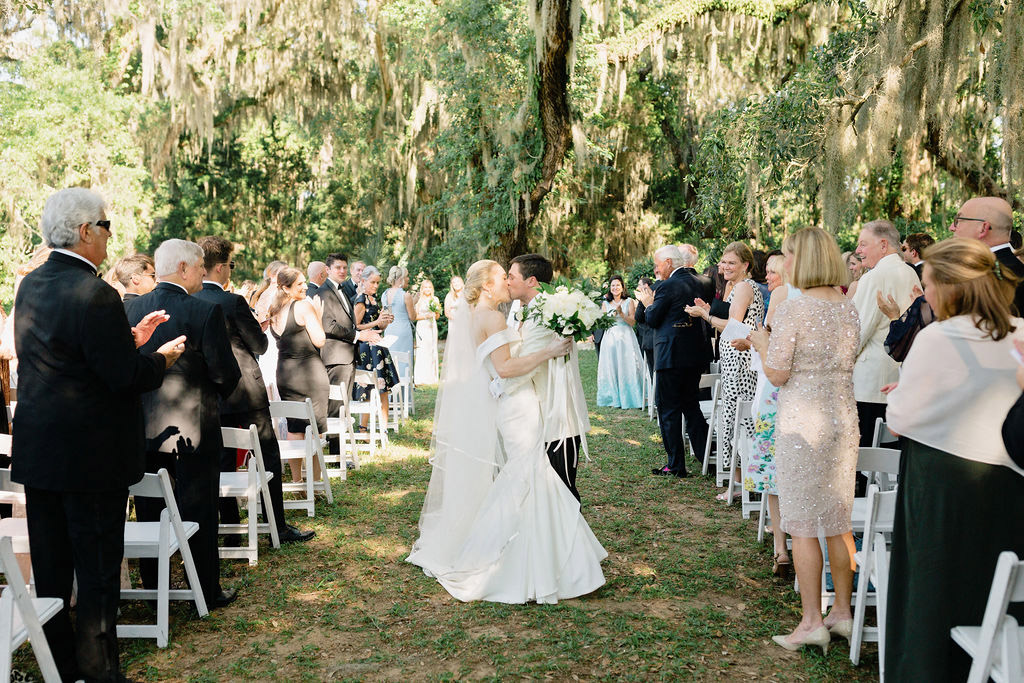 The Richardson family has a long history on Hilton Head Island, and that history was reflected throughout the event. Beyond the lush natural beauty of Honey Horn, the wedding cake itself represented a singular moment in the island's history. Signe Gardo, the patron saint of island bakers, ran Signe's Heaven Bound Bakery & Café for 50 years before retiring last year. At the center of the ceremony was one of her last wedding cakes.
Driven by the big bad sounds of Atlanta's Liquid Pleasure, Morgan and Collins watched as a full-blown dance party erupted during their wedding. "We got the biggest dance floor we could for a reason," Morgan said with a laugh. The bridal party sashayed out to Stevie Wonder's "Signed, Sealed, Delivered." Morgan and her dad shared a dance to Elton John's "Your Song. Collins and his mom danced to Bill Withers' "Lovely Day." And for their first dance as husband and wife, Morgan and Collins showed off some of their swing dancing moves to Sinatra's timeless, "L-O-V-E."
And when it came time for speeches, Morgan's dad blew the roof off the tent. "His father of the bride speech was the sweetest thing in the world, talking about how our families came together like peas and carrots, and all the things that make us great as a couple," Morgan said.
And when the last song had been played, the last drink had been poured and the last laugh had been shared among family, Honey Horn returned to its bucolic beauty as a gem of the island's north end. And two kids who met by chance all those years ago, with a kiss on Coligny Beach, a date at Coligny Ice Cream Cone and now working with the family business of Coligny, started a new chapter in their love story.   
Venue/Ceremony & Reception: Honey Horn/Coastal Discovery Museum, Caterer: South Carolina Yacht Club, florist: Flowers by Sue, Afterparty: FISH Restaurant in Coligny.