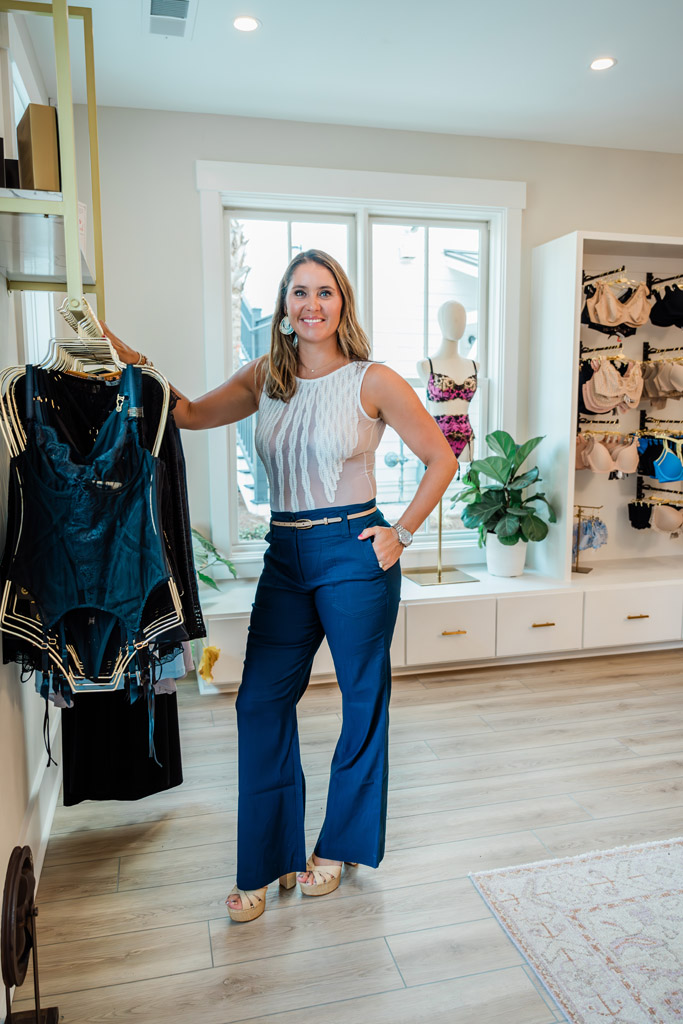 Molly Spears, owner of En Dentelle in Old Town Bluffton
Are you a woman who rips off your bra at the end of the day in revolt against restriction and discomfort? Are you a woman who mixes and matches worn-out college T-shirts and frayed hemmed boxer shorts to create a makeshift pajama set that sends a not-so-subtle message to your partner or spouse that you have given up for the day? Or are you a woman who either loathes or does not know where to go bathing suit shopping and therefore opts for an online wing-and-a-prayer order?
En Dentelle (French for "made of lace") owner Molly Spears wants to empower you to say "au revoir" to all the above. Her newly opened boutique on Bridge Street in Bluffton is on a mission: "To create a foundational experience to elevate how you feel, specifically how you feel about yourself, into how you feel about your day." For this very reason, En Dentelle sells carefully curated luxury lingerie, sleepwear, and swimwear.
"When I open my lingerie drawer, it makes me happy," Spears said. "If you open your drawer and it is full of old, sad, beat-up bras, what are you telling yourself about your worth? It may sound silly to say, but quality underwear is self-care. It instills confidence."
When it comes to lingerie, Spears says there are many misconceptions, starting with fit. "People do not get their bras fitted properly, which leads to big problems with support, a breakdown of supportive tissue, an achy back, and simply not feeling pretty," she said. "I don't recall someone leaving the store wearing the same size bra they wore into the store."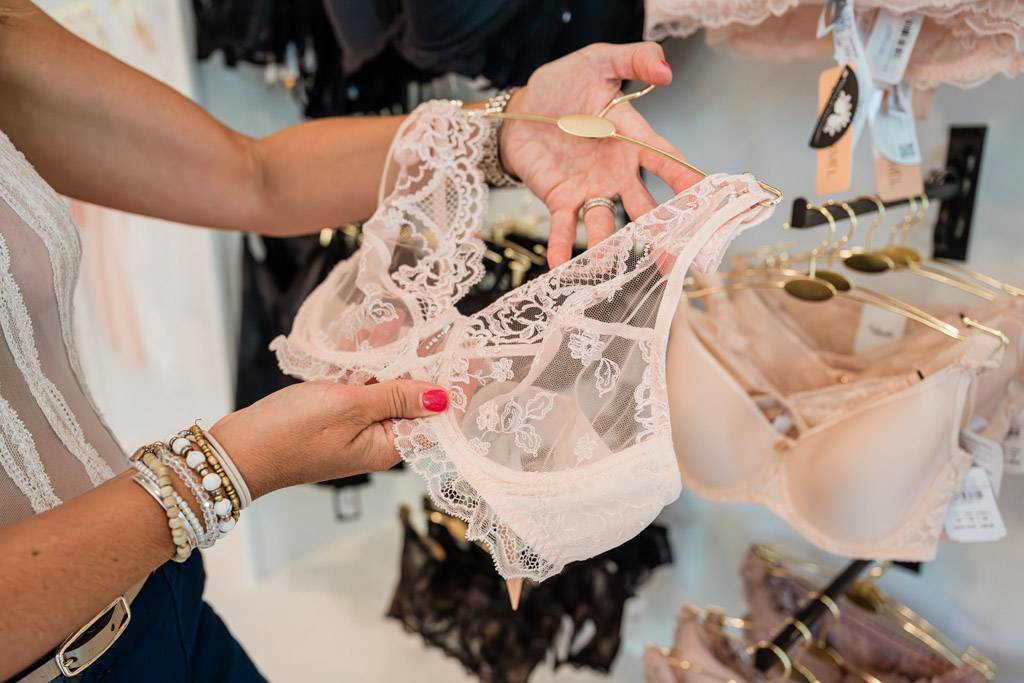 This is why Spears recommends that you schedule a fitting. You can book your appointment online on the En Dentelle website: endentelle.com/pages/book. "It is really simple and enables you to have a blocked-out time just for you," Spears said. "We take specific measurements for your band and cup size and then make some recommendations."
Another misconception regards support. "Support is 85 percent from the band, not the straps," Spears said. Different brands also wear different ways, and Spears can help you navigate your choices. "I pull a lot of options for clients. We're looking at gapping, spilling, if the band is too tight, and where the straps are placed on the shoulders. There are many factors to ensure we get the right fit."
Some people might think of lingerie as taboo, but Spears explains. "Lingerie is not synonymous with sex," she said. "A gorgeous lacy bra does not mean anything other than you have invested in yourself." Neither is lingerie frivolous. "Underwear is a normal part of being a woman," she continued, "and it should make you feel pretty and comfortable."
Spears recommends you have at least three bras: the one you are wearing, one in your drawer, and one in the wash. She also advises you to take care of your undergarments and bathing suits. En Dentelle sells Eco Wash Bags and Soak, a plant-based detergent that will not stick to the clothing. "Wash your lingerie and bathing suits on a gentle cycle and everything should be hung to dry."
En Dentelle aims to be a resource for brides and has pop-up events scheduled throughout the year. The boutique can also accommodate special orders and represents several quality and high-end companies, including Cosabella, Marie Jo, Aubade, and many others. "It is true, you get what you pay for, especially in this industry," Spears said.  
En Dentelle is located at 54 Bridge St., Suite 100, Bluffton. The store is open Tuesday-Saturday from 10 a.m.-6 p.m. For more information, call (843) 278-2431 or visit endentelle.com.