Spring weather has a way of waking everything up including your inspiration to create new and improved outdoor spaces. For those of us who reside in the Lowcountry, our outdoor access is barely limited by our short winter exposure, so giving a little attention to where we live outside adds not only value to your home, but lots of enjoyment, too.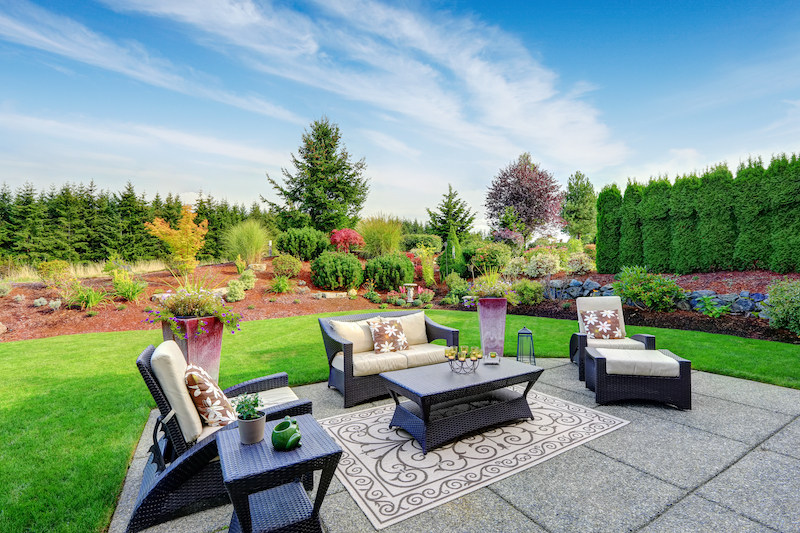 Grill-out, chill out
A great backyard paradise addition is an outdoor kitchen, complete with a high-end grill, sink, bar, fridge, and lots of counter prep space. And you can complete this project in phases to make it work with your budget. Everything tastes better when cooked outdoors, and everything seems easier, too, because … well, it's just more fun. Today's grills are simpler to operate and clean and everyone will love the outcome. Entertaining family and friends will never be the same.
Pool-time, play time
Nothing says summer fun like a backyard pool or spa. Even if your yard is small, there is an option for you. Whether you want to swim or just have a place to get wet, there is something for every preference and space. Pools have become easier to care for and less expensive to operate over the years. Variable speed pumps offer energy upgrades for pools and spas that translate into excellent savings on energy costs and are even quieter than older models. Perhaps this spring is the time to jump on in.
Get decked out
Upgrading what's underfoot is a great way to add value and enjoyment to your outdoor space. Options abound. There are pavers, stone, slate, and more, as well as stamped concrete that can enhance your deck or patio. If you don't have one, but want one, or if your existing wood deck needs some TLC, there are materials resistant to weather that simulate wood, but that last longer and are easier to maintain.
Sun's out, fun's out
The addition of music, TV and games is a popular outdoor upgrade. If you do decide to incorporate these elements, though, it's best to house them inside a weather enclosure made specifically to protect your valuables from the elements. Look for one that includes a fan that can distribute heat outside. Also, perhaps consider a distributed audio system. These speakers can be disguised to blend with the outdoor environment and don't even resemble speakers. Underwater speakers are a lot of fun, too.
Ping pong and foosball tables, old school pinball machines and pool tables are great outdoor additions when you want to up the fun factor. Many of these can also be "flipped" to double as dining tables, too.
Lounge in style
This might be the year you throw out the tired, old patio furniture and upgrade your leisure style. Today's patio furniture is more sophisticated and durable than ever, and color and material selections will dazzle you. Select from prints, color splashes, or neutrals that go with everything, and you'll find that everyone will want to lounge outdoors.
Keep it cool
Controlling your outdoor climate is a smart way to spend your money outside. The addition of a screened or open porch, palapa, awnings or gazebo will add shade to your retreat. Ceiling fans will create a nice breeze, too, when things get muggy, and there are outdoor mist systems—some even with mosquito fogging systems—that relieve the heat and keep the uninvited guests at bay while you and your friends and family play.
Vertical gardening
Not every backyard is luxuriously expansive. So, for those with smaller spaces and a big desire for more plants and even some vegetables, vertical gardening is the solution for you. Vertical gardening allows you to utilize a wall of your deck or fence and grow plants one on top of the other. You might have seen these as living walls or those DIY projects with pallets and herbs. You can shop online for vertical gardening gear or YouTube lots of DIY options you can build and assemble yourself. Either way, growing flowers or veggies vertically allows you to enjoy gardening without taking up lots of space.
Outdoor offices
As the working from home trend becomes more and more the new normal, folks are transforming patios, balconies, and terraces into outdoor offices. To make an outdoor workspace, you'll need access to a strong Wi-Fi connection and a quiet spot. Fill this space with comfortable weatherproof outdoor furniture and an outdoor umbrella for shade. Go for accessories that help you stay relaxed and focused, such as subtle water features or wireless weather-resistant speakers that play soft music while you work.
A sustainable backyard
Creating stylish outdoor spaces is great and making them sustainable is even better. It's easier than ever to find recycled plastic outdoor furniture, eco-friendly décor, and natural materials for building projects like reclaimed wood and bamboo as more brands embrace sustainable practices. Search online for businesses that sell upcycled and eco-friendly décor as well as sustainable building materials. Thrift shops are a good place to start. Many furniture pieces can be found for a reasonable price. They'll have furniture for the outdoors, such as desks that are already a bit worn and would look excellent in an outdoor office. You can also find flowerpots there for your container garden and even materials for a vertical garden project.
A fall spruce up will come in right on time and will add value to your most prized possession and turn your home into a resort where you and your loved ones will have lots of memories.