It's been a long journey to pending retirement for Kathy Cooksey, one marked by constant evolution. Starting out in skin care in the 1970s, she would study makeup artistry that went beyond beauty. She opened her very first business in 1984, which was also called The Face Place, in which she did reconstructive paramedical makeup, helping those who suffered facial disfigurements and deformities.
"But when I actually got involved in esthetics, it just opened my eyes," she said. "It became a very exciting field to move into."
Moving into esthetics would lead to her opening the highly popular Arbor Door day spa in Moss Creek Village in 2004 where she gained a loyal following for the magic she could create with skin. But even then, her evolution continued. Having to close Arbor Door during the global recession, she began working at a medical spa.
"That really took me to a different level altogether," she said.
The paradigm shift that came with her time at a medical spa, combined with her natural talent for beauty, brought her full circle in opening The Face Place by KC in 2014. While sharing a name with her first endeavor, this new studio spa represented the decades of expertise she'd developed in between.
And now, having served the Hilton Head Island/Lowcountry area for more than 20 years as an esthetician, she is preparing for the next step in her journey: retirement. "My husband's already retired. He would like me to retire soon. I keep promising I will, and I keep not retiring," she said with a laugh.
There was just one thing keeping her from retirement—well, one thing apart from the fire in her belly for skincare, which hasn't so much as flickered in her decades in the industry. Esthetics is a relationship business, and Cooksey's relationships with her clients go back 20 years in some cases. If she was going to entrust their skincare to someone else, it had to be someone she could trust.
"I had a client come to me who'd been to another provider, and that esthetician told the client they had brown spots because they ate fast food," Cooksey said. "Sure, diet is a contributing factor in skin health, but you don't get brown spots from fast food."
Clearly, there was a dearth of worthy estheticians to whom Cooksey could bequeath the clients who had entrusted her with their skin. And then, one day, fortune came calling.
Susan Sorensen, owner of AboutFace Skin Therapy, had relocated to the area after a successful eight-year run in New Hampshire. A licensed esthetician since 2012, she is an honor graduate of The Laird Institute of Spa Therapy, a Dermalogica Expert, Professional Skin Therapist, and holds the International Dermal Institute Post-Graduate Certificate for Skin and Body Therapy, an additional 100-hour education to support the 900 hours she completed at The Laird Institute.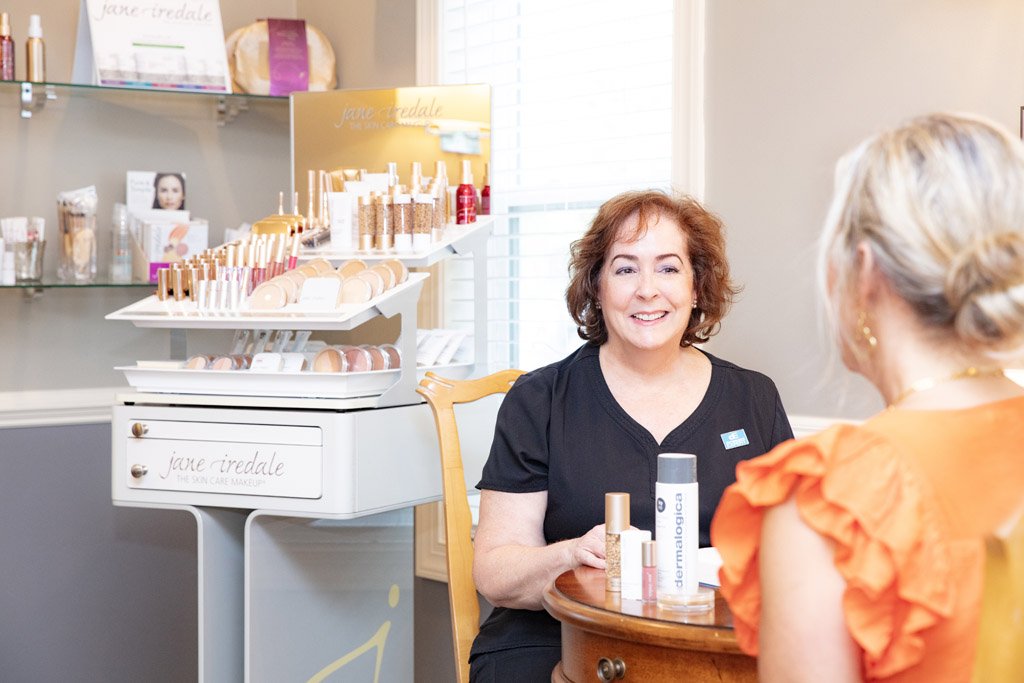 Susan Sorensen consults with a client before beginning treatment. 
"Her ability to change the skin without using prescriptions is amazing," Cooksey said. "When I was trained back in the early 2000s, esthetic spas were in their infancy. Susan is far more technically oriented than I was."
For Sorensen, that emphasis on the technical side of things is just part of what she brings to the table. "There's been such an evolution in skin science, so much knowledge and information that we have now that we didn't before," she said. "But there's nothing like a good old-fashioned facial, which is with your hands. That's how you build client relationships."
Hers is a practice which is established on the principles of clinical skin science and which parallels Cooksey's client-forward philosophy. Blending technique and science, it's all executed in service of one mission: flawless skin.
"We want people to take care of their skin. We're not just about beauty. We're about skin health," Sorensen said. "That elevated level of service exists because we want people to get results."
For Cooksey, meeting Sorensen meant finally being able to move into retirement. "The more I talk to her and work with her, the more I realize she is me 10 years ago," Cooksey said. "She has that same passion and that same fire in her belly."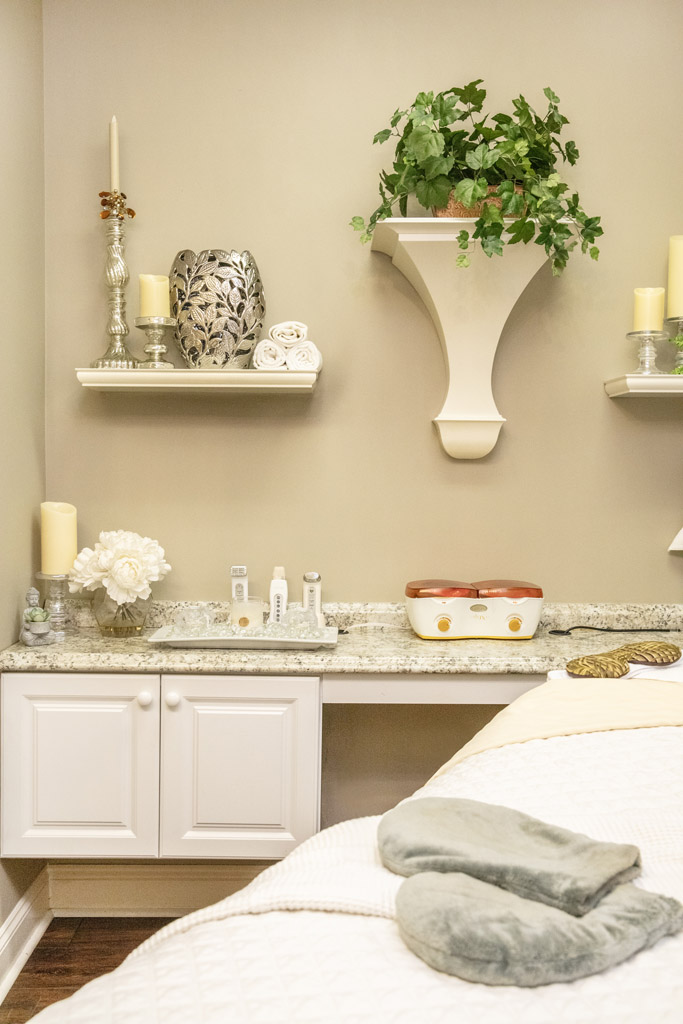 A calming therapy room awaits an incoming customer. 
And as she prepares for the sun to set on The Face Place by KC, Cooksey is happy to see that the sun will rise on AboutFace Skin Therapy, offering that same dedication, passion and technical know-how that have served her clients for decades.
"This is an amazing opportunity that we estheticians don't get very often," Sorensen said. "I'm excited to welcome Kathy's clients and continue helping them achieve beautiful, healthy skin."  
To schedule an appointment, visit AboutFace Skin Therapy at 23 Plantation Park Drive, Suite 201, or visit www.aboutfacesusan.com.