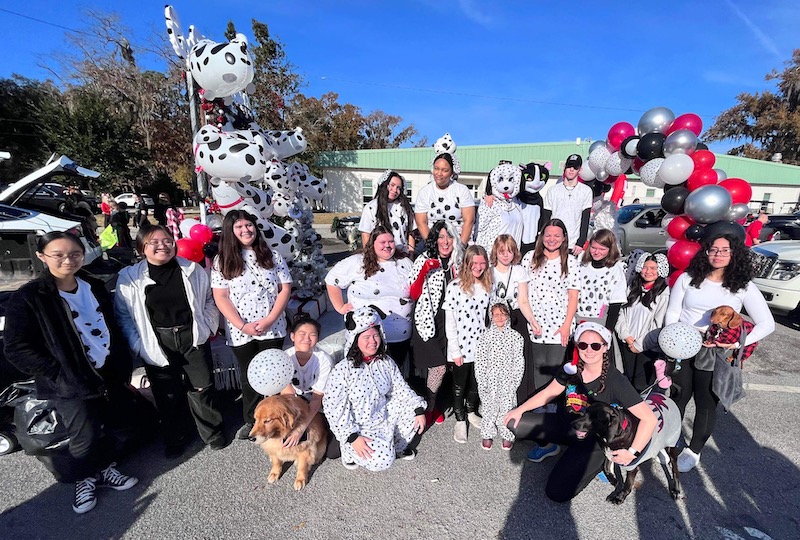 They say the best way to make a difference is to find something you love and put that to work to help others. Here in this tight-knit nook of "Hilton Head, Bluffton, and Beyond," we're fortunate enough to live in an area where that helping-hand spirit is the very heart of everything we do. Add heartstring-tugging ingredients like kids and pets, and you have a formula that delivers more than your daily dose of "awww" when the two come together: students helping animals, area animal-saving organizations, and all of this circling back to grow the heart of the student.
It started with a parent who decided to get involved. Cheryl Curry had two children in May River High School—one a freshman and one about to graduate—when the idea and opportunity arose to create what is now the MRHS Animal Welfare Club, established nearly six years ago with the help of co-advisor Elizabeth (Liz) Patterson (MRHS teacher and science department chairperson). "It was something I had wanted to do for years as I had always had a passion for animals," Curry said.
From the start, Curry and Patterson saw an opportunity to work several interests together for good with a common passion. "The club was set up to unite like-minded students, staff, faculty, family, and friends who love and care about animals," Curry said. "The hope is to instill a greater appreciation for animals and offer accessible opportunities to be active within the community through volunteerism and fundraising." This is accomplished on several fronts through the club's thriving partnership with the Palmetto Animal League (PAL), a well-known Bluffton-centered organization.
Still growing strong in its sixth year, the MRHS AWC has established its purpose and identity as a student-driven service club in partnership with the Palmetto Animal League (PAL), dedicated to the humane treatment of animals, and working with other animal related rescues in our community. The goal of the club is for students to come together and discuss and share their passion for saving animal's lives through humane education. This, in turn, will develop a greater love and appreciation along with compassion for animals while helping a local animal shelter build a no-kill community where every homeless, abused, abandoned, and neglected animal has a second chance at life.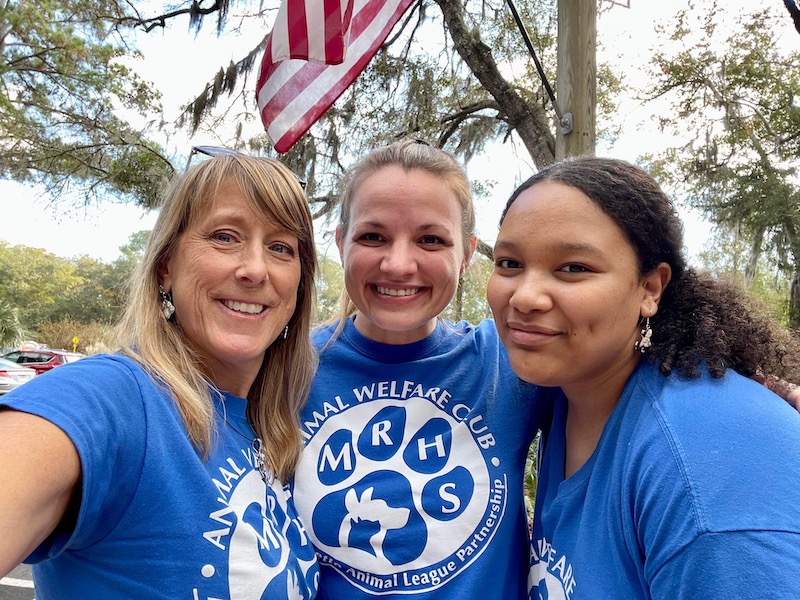 Leaning into this mission of finding a common interest and leveraging shared passion, the club develops students' ability to see a need in their community outside of themselves and develop the skills and desire to serve that need. The AWC is a place for kids who care about animals to help develop a compassionate approach to animal rescue and enhance a greater love and appreciation for the wellbeing of all living things. Participation helps kids, young adults, and parent/teacher volunteers learn ways to deal with situations of inhumane treatment of animals and seek out alternative solutions, teaching them to be active and engaged citizens within their community.
With both a heart skill and a business mindset, the club offers an environment that ranges beyond just the feel-good rewards of playing with pets and digs into the tenets of fundraising and volunteerism, creating community opportunities, running events, and the pillars of the not-for-profit business sector. Among myriad takeaways, the AWC is one of several initiatives at MRHS where students feel appreciated for a contribution that they can make individually and collectively when they see the results of a group of interested and involved individuals stepping up to fill a void and make a notable difference. The heart is clear, and the how is even clearer and gaining steam with each new year as the AWC continues to serve a "felt need" in its own backyard. Curry runs down a list of hands-on and often student-led activities that include weekly meetings, fundraising, volunteering, educational topics/projects/activities, social media management, publicity/PR, guest speakers, and more. This includes an active Facebook page (mrhs.animalwelfareclub) with adorable social posts ("Bark out the old, bark in the new") where you can find information and ways you can participate and help support both the efforts of the AWC and PAL.
One of their more successful recent outings was a fundraising event at Legendary Golf on the island just before the holidays that's in its third annual year. The "Putt Putt for PAL" Mini Golf Fundraiser raised nearly $7,000 for their partnership organization, with Legendary Golf donating 100 percent of the proceeds to PAL.
MRHS AWC has also designed and built the PAL parade float every year for the Bluffton Annual Christmas Parade and has won "Best Float" two out of their six-year existence.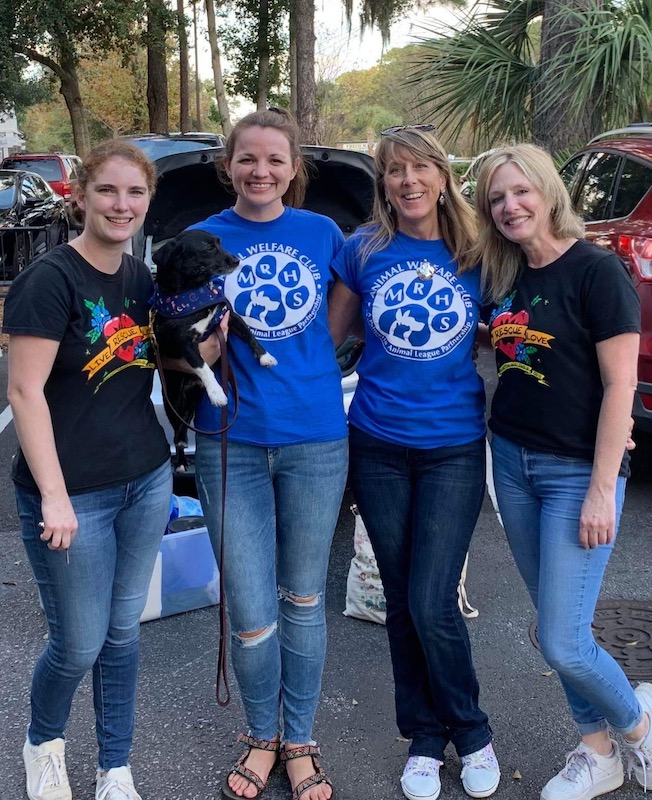 In addition to annual endeavors, ongoing donation collection is always in swing with concerted efforts during certain times of year. "We have donation drives throughout the year for food, toys, and blankets, which is our latest project this February," Curry said. You can check out their Facebook page for more information on where to bring blankets and other items the animals always need.
When asked about the heart of the program, Curry points in all directions, from the leadership and commitment of the folks at PAL to her co-advisor to the kids themselves—and a nod to the animals bringing everyone together. "When I met Liz six years ago, we hit it off, and the club took off. I couldn't have done it without her; we are a team!" Curry said. "I hope our love for animals and kids comes across in our enthusiasm for the club. When I see a kid smile while holding a kitten, puppy, or a bunny, I know I'm doing what I have always wanted to do. We've created a club for individual students, staff, faculty, family, and friends who love animals." 
And they've connected their efforts to the roots of an animal-loving community who share their passion as newer generations are learning to care together.