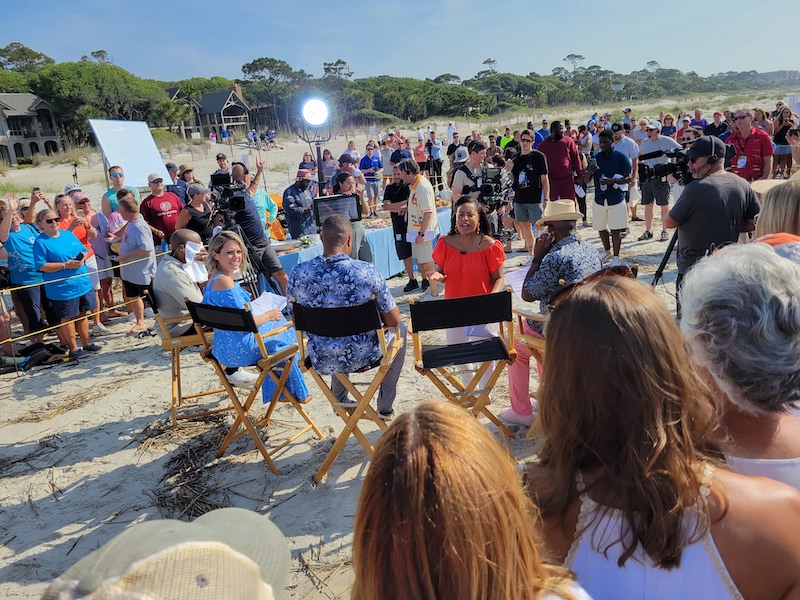 For many of us, it's a morning tradition. You get your cup of coffee, you lay out your newspaper (or, since it's 2022, fire up your iPad), and you flip on the TODAY show. Just as it has for 70 years, this engaging blend of human interest, news, and pop culture serves as a soothing backdrop for the start of your day.
For one day this past month, however, the Today show was a little something more than just a morning ritual. It was an hour-long love letter to the place we call home, Hilton Head Island.
"I came here when I was really, really young, so I have been here old enough to appreciate everything that exists here," said TODAY 3rd Hour co-host Dylan Dreyer. "The things we did yesterday, I can't wait to bring my family here. It's such a special place."
"I've done a lot of cool trips on the TODAY show, but this was a special one," added her co-host Sheinelle Jones.
Their praise was music to the ears of their co-host Craig Melvin, who, as a native South Carolinian, has spent years bragging on Hilton Head Island to everyone in Rockefeller Center. "Can you believe they pay us to do this? It gets no better than this," Melvin said. "We come here every summer."
As excited as they were to be here, they weren't half as excited as the dozens of folks who crowded around the nylon rope penning in the Today show's remote setup on a Sea Pines beach. Inside, a small army of pages, runners, crew, and camera operators were doing their level best to keep the show running smoothly despite trading in New York City sidewalks for swirling South Carolina sands. Outside, the gathering mob held signs and cheered when directed to by show's producers, and often when they weren't.
"I'm probably one of the TODAY show's biggest fans," said Delene Miller, who had traveled from Beaufort to see the show. Holding a glitter-gilded sign welcoming the cast and crew to the Lowcountry, she was all smiles. "Hopefully I'll be able to show my poster on TV, but we'll see."
For her, it was the culmination of years of fandom. For Ron Nestor it was a happy coincidence. He and his crew had come from Columbia on vacation and happened to find out the TODAY show was taping here. Furthering the coincidence, several of the group had children who attended Wofford with Craig Melvin, and one worked with his mom. So, with these connections, what were they doing outside the ropes? "We're trying," Nestor said with a laugh.
As much fun as everyone was having, the greater impact of the show's presence came in the spotlight it put on the island. In a pre-taped segment, Dreyer went out on turtle tracking patrol with Amber Kuehn, brilliantly showcasing the fragile beauty of these creatures.
"It's just terrific, getting the awareness that we have," said Steve Kavanaugh, attending the live remote in his Turtle Trackers shirt.
In another, the whole crew, including Al Roker, toasted Melvin's birthday with a glass of Johnny Fever from Burnt Church Distillery. "It's a big deal," said Distillery Manager Chris Crowe, who was also on location, decked out in his Burnt Church gear.
The culminating segment of the live remote saw the hosts sampling some of the Lowcountry's great culinary treasures: pulled pork, deviled crab and red rice from chefs Orchid Paulmeier, Andrew Carmines and B.J. Dennis.
"It's been totally amazing, and I had no idea production-wise what goes into this," Carmines said. "I'll never look at this show the same way again."
And even though she's spent her own time in front of the camera, Paulmeier couldn't help but be star-struck. "This is Al Roker tasting my food," she said, knowing full well that says it all. She also couldn't help but feel a hint of nervousness when the blade bone hesitated a little in coming out of the meat. On live TV, beaming around the country, it's a harrowing moment for any chef. "There's no retake. There's no editing. But they were so great."
Dennis not only got a chance to show off some red rice, but to highlight the Gullah culture that created it. "I'm just trying to represent, man. I just want people to come here and see the culture," he said. "It's beautiful; I don't really have the words to describe it, but I'm very grateful."
The TODAY 3rd Hour crew packed a lot into their brief trip to the island, but it sounds like it might not be the last we see of them.
"My dad is an avid golfer," Jones said. "I've been sending him pictures, and now it's unanimous we're coming back."