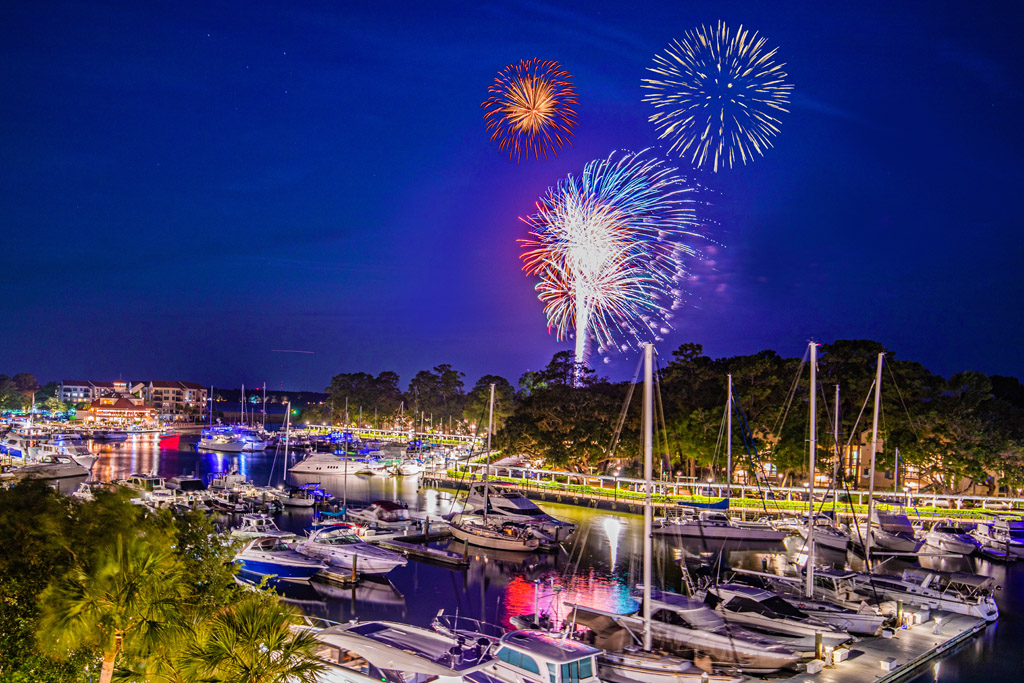 It's right there on the website in the Top 10 Reasons to Go to HarbourFest at Shelter Cove Harbour & Marina: "It's a magical experience."
Whether you live here, have visited once, or frequent the island, you've heard this once or twice. It's not a tourism tag for the island that's held down the number one spot on Condé Nast's Best U.S. Islands' for six straight years and counting. It's a palpable thing that starts to tick inside your heart somewhere between parking and the Neptune statue. If you haven't experienced it, we have a life hack for happiness. The best part is, it's tradition—one that's been running long enough for three generations to remember.
"We love to see crowds of families gather all along the marina promenade from one end to another. Our thirty-fourth year of HarbourFest continues to be a memorable evening for all generations to enjoy," said organizer Karen Kozemchak.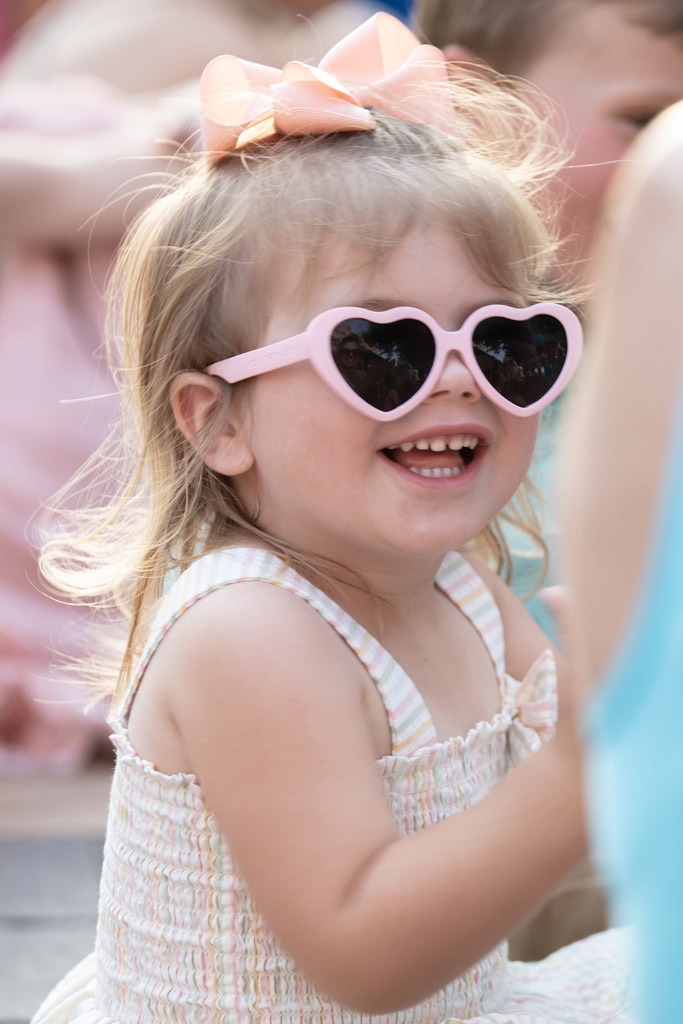 A tiny visitor from Ohio sings and dances along with he crowd in her heart-shaped sunglasses.
Generations like the Springer family who meet here in the middle from Illinois and Florida. Asking the middle generation dad how long he's been coming, he said, "Since I was seven," turning seven again behind his eyes. "I remember my mom and dad taking me here to Shelter Cove Harbour & Marina," he added, when on cue, his dad walks up with the granddad joke: "We tried to leave him here but…" (raucous laughter buries the rest.)
So many memories are measured by the children they're made for. Andy and Beth Souders of Knoxville, Tennessee, come every year, and when asked how long, they counted by their oldest child's age. "She's 16, so we've been coming 18 maybe 20 years." Those same kids, they say, are what will keep them coming down, staying in Palmetto Dunes right on the lagoon and visiting HarbourFest.
At its foundation, HarbourFest is an enviable, Instagram-able evening's agenda of fireworks, live music, kids' activities, shopping and dining, celebrated in a family-friendly environment among waterfront views. At its center, Shannon Tanner continues entertaining with his long-running family show (Mon.-Wed.) and Parrot Palooza Sunset Celebration on Thursday nights playing popular island favorites. 
"Shelter Cove Harbour has been my home for 34 years," Tanner said, warming up the mic for 2023's season opener, "and I'm very honored to come back every summer with so many of the same families."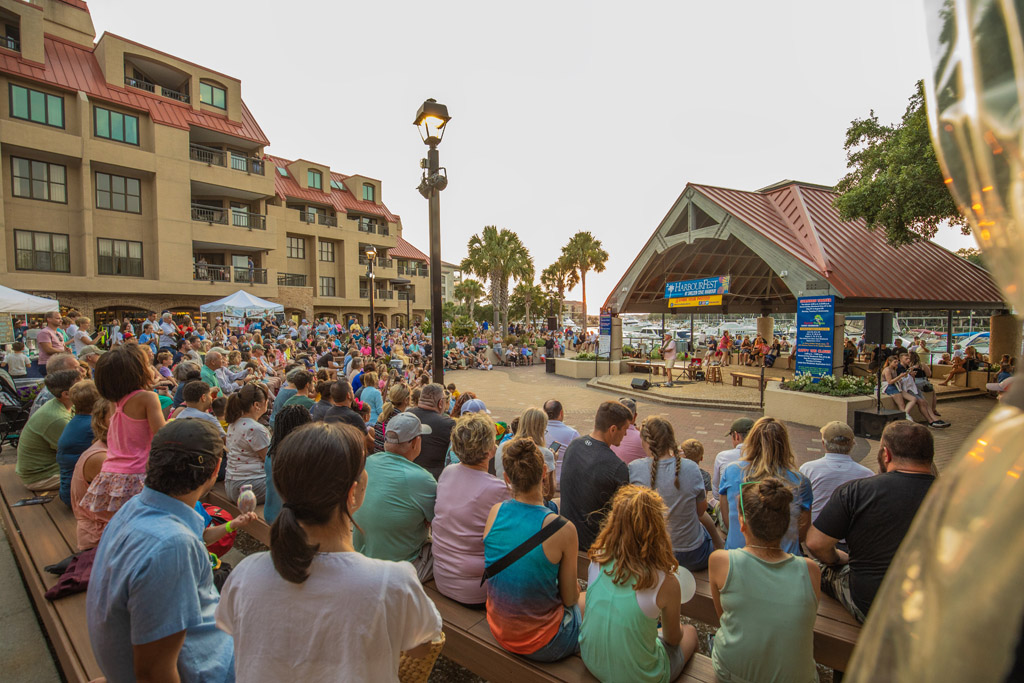 A large crowd gathers to watch Shannon Tanner sing before the big fireworks finale to the evening. 
Tanner has a way with words, making what happens from the stage so much more than just "live music." He pits kids against grownups in a battle of singing and revelry, starting with instructions to judge the adults on a scale of coolness if they know the lyrics. The deck is stacked with songs like John Mellencamp's Jack and Diane and Sheb Wooley's The Purple People Eater, which comes complete with crowd choreography that makes you feel like summer camp will never end.
Shannon Tanner performs two family shows at 6:30 and 8:00 p.m. on Mondays, Tuesdays and Wednesdays, through Aug. 23. On Thursdays through August 24 (plus Sept. 2-3), Tanner shifts into Caribbean sunset celebration mode for Parrot Palooza, a fun, family-friendly, island-inspired show with his Jimmy Buffett tribute band, Shannon Tanner & The Oyster Reefers.
In addition, fellow Lowcountry legend Cappy the Clown returns for another year of entertaining children with face painting, balloon animals, sand art, glitter tattoos and more. Cappy is set up at the Harbour from 6-9 p.m., Monday through Friday through Sept. 1, as well as Labor Day weekend, Sept. 2-3.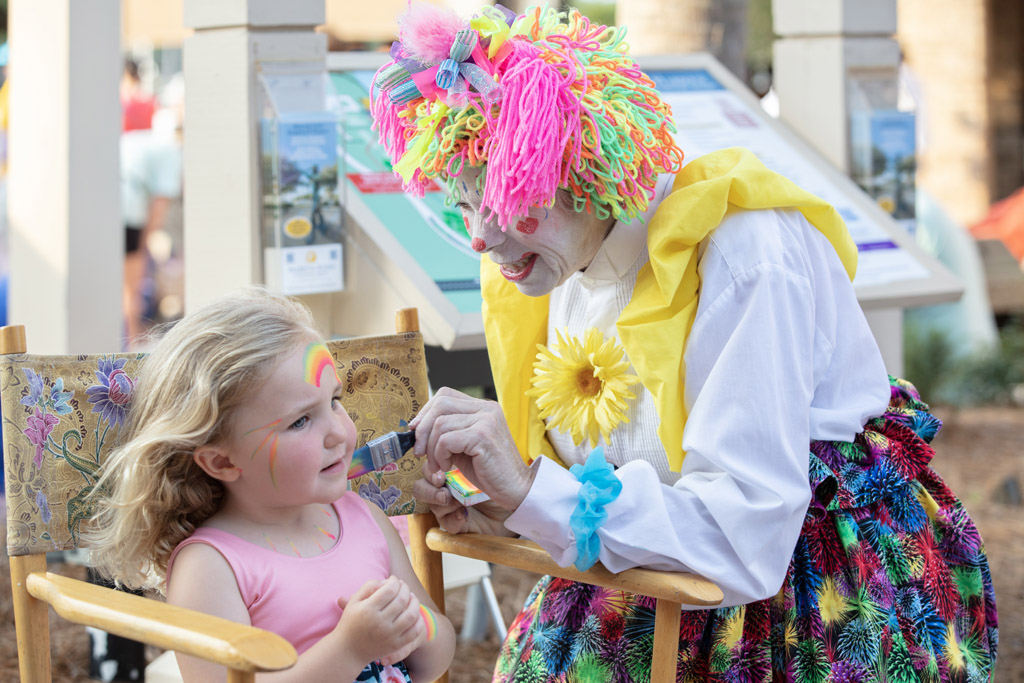 Colby from Columbia, S.C. gets her face painted by Cappy the Clown on her very first trip to Hilton Head Island and HarbourFest. 
Also, bounce houses and train rides around the marina promenade are available (at an additional cost) on Tuesday fireworks nights.
And we haven't even gotten to the finale yet—the exclamation point that everyone's waiting for—the fireworks show over the harbour. This is Shelter Cove Harbour & Marina's eighth year working with pyrotechnics master Brent Fisher and his expert crew from Falcon Fireworks, who consistently deliver memorable shows for all in attendance. They have made the HarbourFest fireworks more visible by incorporating a variety of unique firing techniques with an increased quality and quantity of shells. 
Fireworks-customized dolphin safaris, shark fishing, and crabbing adventures are offered for kids. From Tiki boat to Top Shelf yacht, there's a list of on-the-water ways to see the stars catch fire. See more details and reserve at ShelterCoveHiltonHead.com/fireworks-cruises.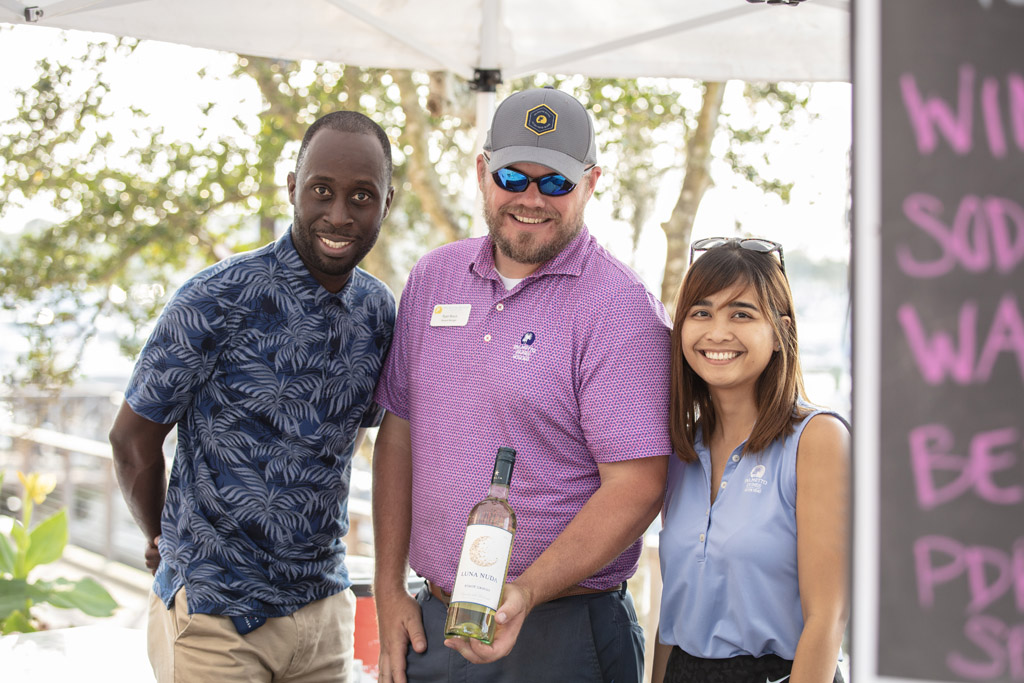 The Palmetto Dunes team serves up beer and wine with a smile at a tent located near King Neptune. 
For its special July Fourth fireworks extravaganza, Shelter Cove Harbour & Marina offers free shuttle service from the parking lot of the Hargray Building on William Hilton Parkway near the Fresh Market Shoppes. Parking is free, with several shuttles running continuously from 5:30 p.m. until 10:30 p.m. To ensure guest safety, anyone walking or biking to Shelter Cove Harbour & Marina must utilize the pedestrian underpass that passes underneath Hwy 278. The bridge is located near the entrance to Palmetto Dunes (on the right side of the road if you are exiting) and is connected to the bike path.
HarbourFest has been named a "Top 20 Event" by the Southeastern Tourism Society and a "Best of Southern Fests" by South Magazine. It's the magnet that pulls the masses to the island's enigmatic living room.
Kids wander from face paint to jumpy, snow cone in hand, which is where we found another three-gen lifer, Lori Erk, who has come every year since 1985 from Evansville, Indiana. "We brought our kids here, and now we're here with grandkids, staying at Palmetto Dunes," she said. "My kids were little when they started listening to Shannon." Now, her grandkids were on the other side of the bouncy castle's fish net bay window. This is the stuff of dreams, kids. Hold on to your autographed Shannon Tanner pinwheel hat.
The magic of HarbourFest is real. When you stand under what used to be golden hue of the setting sun and watch it turning on cue to a deep navy blue, cuing the fireworks display, you might have to pinch yourself to believe it.
So begins Hilton Head Island's seasonal summer block party.  
HarbourFest returns every Tuesday during the summer, starting at 6 p.m., with fireworks starting when the sky is dark. For more information, visit ShelterCoveHarbourFest.com or ShelterCoveHiltonHead.com. Visit the Shelter Cove Harbour & Marina Facebook page (@ShelterCoveHarbourMarina) for show updates throughout the summer. Or sign up to receive mobile alerts on events, contests, closures & special offers at Palmetto Dunes & Shelter Cove Marina by texting PD to (833) 428-2890. By participating, you consent to receive SMS/MMS promotional messages. No purchase required. Message & data rates may apply. Reply HELP for help, STOP to end.