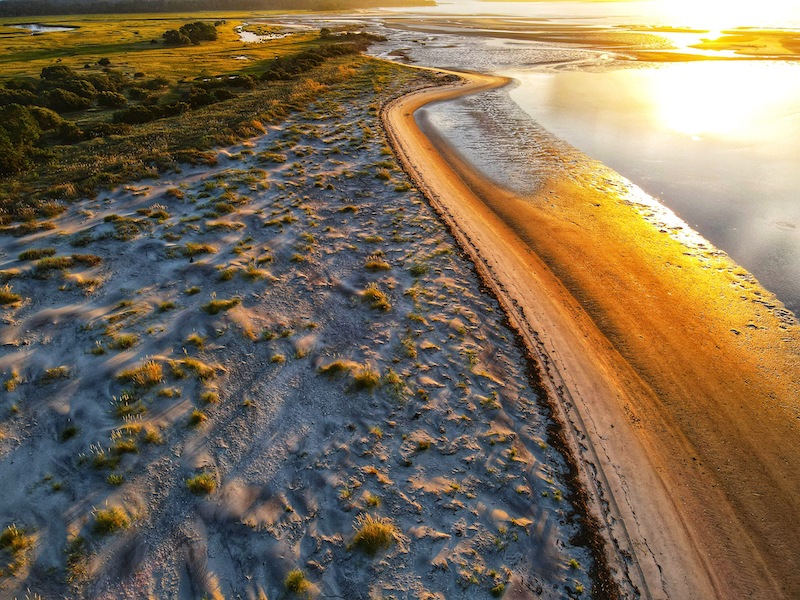 The Foundation relies on a growing advisory board of acknowledged experts, conservationists, and scientists, all of whom are celebrated for their achievements in the fields of ecotourism, artistry, community leadership, conservation, sustainable education, and sustainable travel. Effective January 1, 2022, formerly a key advisory board member, Dr. Jeanette Schnars was installed as the Foundation's executive director. Dr. Schnars brings a PhD in wildlife and fishery sciences along with an extensive résumé that includes expertise in ecological research, including sea turtles, fisheries, wetlands, and water quality. 
Schnars' expanded agenda now includes the initiation of a diversity of research and monitoring programs on the island involving collaborations of researchers and students. Schnars will also be developing a series of environmental education lessons and outreach programs highlighting current and ongoing research.
In November 2021, Schnars and her team of scientists visited Bay Point Island to establish biological baseline assessments in the areas of water quality, algal populations, shoreline erosion using drone data, flora diversity using transects, pollinator and insect populations, acoustic recordings of wildlife using song meters, and analysis of sand samples for microplastics and marine debris. These projects are critical to understanding the ecology of the island and ensuring the Foundation's ability to validate best management practices to preserve the island's ecosystems. Preliminary biological assessments and forthcoming results will help support future studies and initiatives, ensuring the long-term sustainability of the island.
In 2022, Schnars' plans include establishing volunteers to assist in the sea turtle nest protection and monitoring program. This endeavor will help people understand the impacts of natural predators on sea turtle nests, temperature influence on hatchling gender, and the importance of turtle imprinting.
"Management and human intervention are essential and will be established solely to protect the sea turtles from natural predators to preserve their population," Schnars explained.
The future of the island is dependent upon the proper engagement of people visiting and supporting the island. Whether it's protecting sea turtle nests from predators, understanding the migration of birds, removing marine debris, or maintaining firebreaks, the island requires stewardship for the sustainability of its habitat. 
Tracy Pitcher, president of The Bay Point Island Foundation board, said, "I look forward to where Dr. Schnars will take The Foundation in 2022 and beyond. The programs being put into place tie directly back to everything we are trying to accomplish—conservation, preservation, research, education and best practices in eco-tourism, improving how people interact with the island and ensuring its proper care." 
"One important, ongoing project is the removal of marine debris and prevention of its build up," Pritchard said. "Nature alone will not remove it, and leaving it alone would be the worst thing we could do. Without intervention, birds, sea turtles and hatchlings, and other island life can be trapped or killed by the buildup of debris."
As well, the Foundation is looking forward to Earth Day weekend, April 22-24, when fellow enthusiasts are invited to assist with marine debris clean up, path clearing, and sea turtle monitoring preparation. Visit the TheBayPointIslandFoundation.com or follow them on FB or Instagram to learn more about the Foundation's latest research, projects, and educational opportunities and how you can get involved in the journey.