Why do we love pets so much? It's something we almost take for granted, that among the billions and billions of species on this earth, none of them seem to have been put here specifically for humans the way that dogs and cats were. Of course, we played some small part in that, luring wild wolves and panthers into our caves with promises of belly rubs and the stone age equivalent of kibble and then promptly domesticating them.
But there's a school of thought that this might have been a two-way street, that even as we were domesticating dogs and cats, they were domesticating us. Dogs showed us the value of hunting in a pack, kickstarting our advancement from nomadic tribes to communities that work together for a common goal. Cats, on the other hand, taught us that we need to provide a comfortable home for them, spurring us to move out of the caves and into condos.
And how do we thank them for taking us from spears and rocks to iPhones and memory foam? By giving them all they ever ask for—namely our unconditional love. On the following pages we're giving some of our island's favorite dogs the answer to that eternal question: "Who's a good boy/girl?"
They are, and we couldn't be happier that they're here.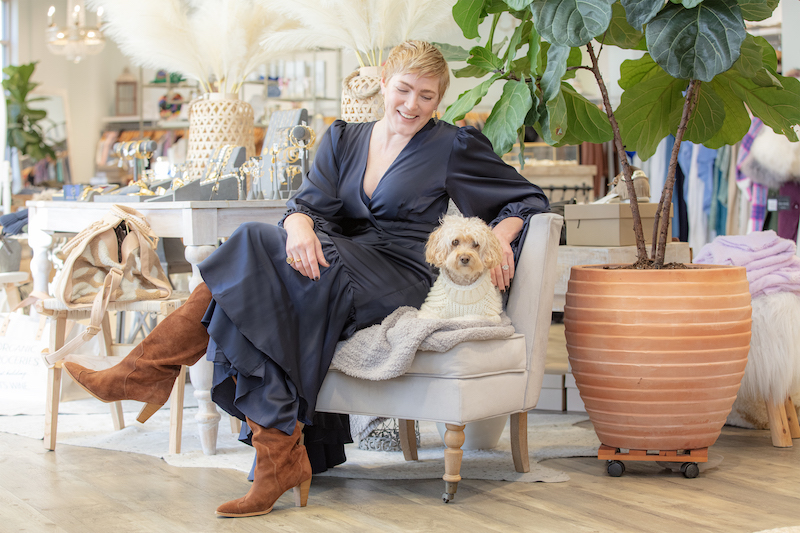 Bean
If you happened to notice an air of sheer jubilation around Shelter Cove Towne Centre a while back, it was just a celebration of the triumphant return of Birdie James' resident greeter, Bean.
"Bean is a staple at Birdie James," owner Michelle Taylor said. "It makes his day to come in and greet people."
Visitors returned his enthusiasm wholesale, sometimes making trips into the shop just to see him, and occasionally bringing their own fur babies in for a sniff. So, when this precocious 4-year-old Cavapoo (Cavalier King Charles Spaniel and miniature poodle) had to take a sabbatical, people noticed.
"It was different in here for sure," Taylor said. Bean's four-week absence was due to emergency surgery for damaged disks that had left his back legs paralyzed. Taylor was by his side the whole time, nursing him back to health and keeping fans posted on Instagram. And when he was ready to resume his duties as shop dog, those fans were as thrilled as he was.
"He didn't skip a beat when he came back," Taylor said. "It's what he knows."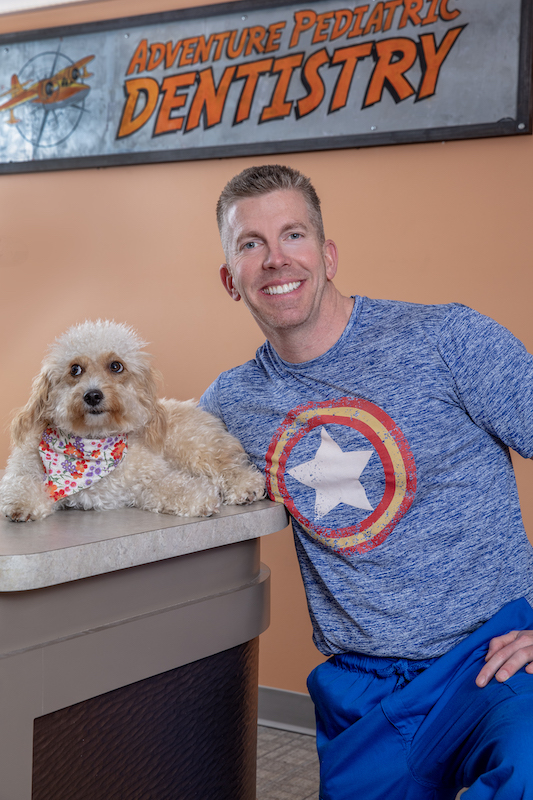 River
Some shop dogs are there to give a store a sense of comfort and welcome. Some are there to serve as mascots. At Adventure Pediatric Dentistry, when River is in, she is all business.
"She's probably helped more kids than I have, to be honest," owner Dr. James Mason said. That's because this three-and-a-half-year-old mini goldendoodle is more than just a wide smile and a cheery disposition. She has been specially trained for working in a dental office, with concentrations in helping anxiety and connecting with those on the autism spectrum.
"She'll walk the office making her rounds and if someone is giving off that vibe that they're nervous, she'll just come and sit next to them," Mason said. Dental anxiety is no joke, but having a furry face and floppy ears nearby works wonders.
"At work, she knows she has to have a calm demeanor," Mason said. "But at home, she acts just like a normal puppy."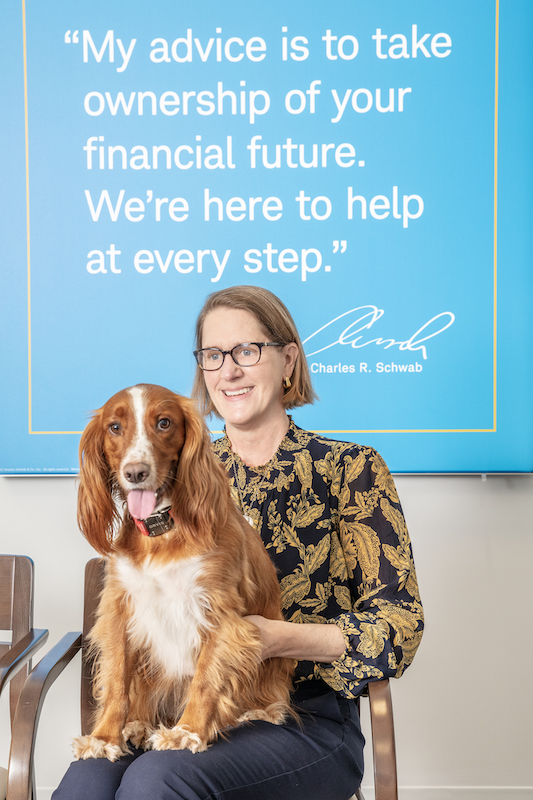 Albe
English Cocker Spaniels are renowned as show dogs, wowing judges with their keen intellect, caring dispositions and big, floppy ears. Albe is a different kind of English Cocker Spaniel. Field bred, he is an offshoot of the breed designed for hunting.
As the shop dog of the local Charles Schwab office of Fred Gaskin, Albe is always on the hunt for one thing: attention. 
"He really is kind of a people person of a dog. He wants to be around people, and he loves coming to work," Gaskin said. Named for Albemarle, North Carolina, where Gaskin's dad grew up, Albe is able to rein in his rambunctious spirit and present a professional profile during his day job, thanks to extensive daily walks.
"He gets a five-mile walk every morning," Gaskin said. "And as much as he's off leash, he probably does double or triple that."
At the end of a long day as Charles Schwab's office dog, Albe has someone special to come home to: a stuffed animal named Horsey. "He knows the name Horsey by heart," Gaskin said. "You say, 'Go find Horsey,' and he'll search the entire house until he finds it."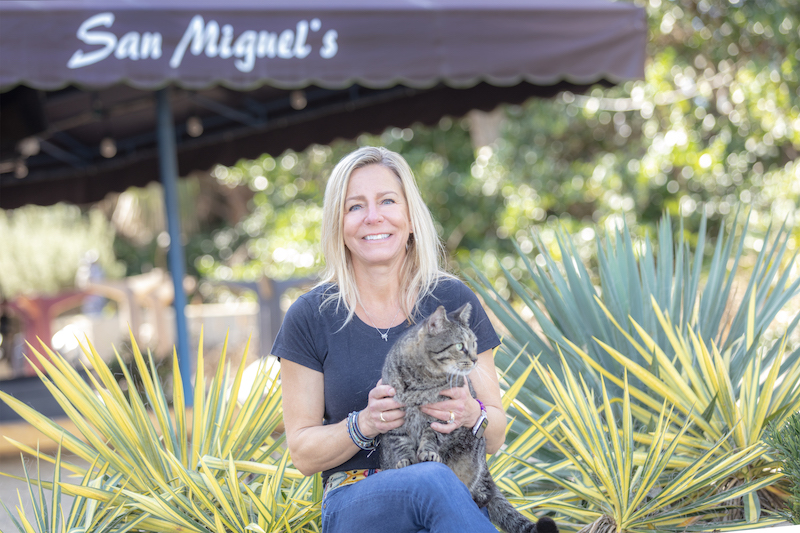 Nuts
It's been said that we choose dogs, but cats choose us. For the staff of San Miguel's, Nuts is definitely one of those cats who chose them.
"We probably got him in 2018. He just showed up and decided he was going to live here," said Marianne Laskowitz, owner of San Miguel's. He was allowed to stay for two reasons. The first being that he's a cat and therefore not amenable to discussion. The second is that he's just such a treat for guests of the restaurant.
"He is incredibly handsome, and he's the friendliest cat," Laskowitz said. "If someone thinks they're not a cat person, they'll start rubbing his belly and change their mind pretty quickly."
He's so beloved, in fact, that when he required a tooth extraction, patrons of San Miguel's covered the expenses, a few bills in the tip jar at a time. And when Nuts so much as glances at his favorite regulars, he's sure to get a few scraps.
"Although I don't know how anyone could look at him and think he's hungry," Laskowitz said, noting that he gets fed cat food regularly on top of his treats. "He's close to 15 pounds, but he still has the moves."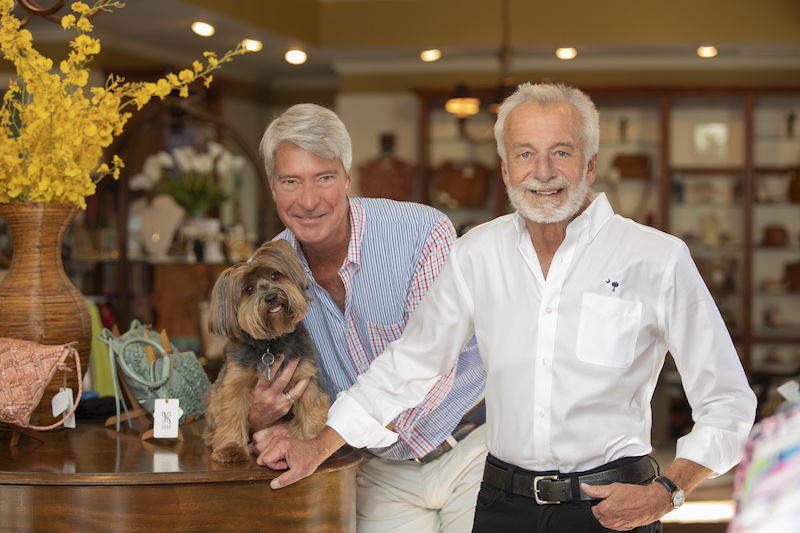 Charlie
If Chuck Hall lived on a ranch, he would have 10 or 15 Charlies. As it stands, the owner of Palmettoes has space enough in his life for one Charlie, but that's plenty.
"He loves to sit on the console of the car and tell me how to drive," Hall said with a laugh. That's just because Charlie is excited to get to work at Palmettoes where he serves as the mascot for the "destination shopping" hotspot. Out front or in his playpen toward the back, this Giant Yorkshire Terrier has proved to be a hit with customers, many of whom make the trip just to see him.
And while Charlie loves greeting two-legged customers, he goes wild about the four-legged ones. "He loves other dogs. We socialized him very heavily as a puppy," Hall said.
When he's not at Palmettoes, you can usually find Charlie walking Harbour Town with Hall as part of their 3.5-mile daily power walk.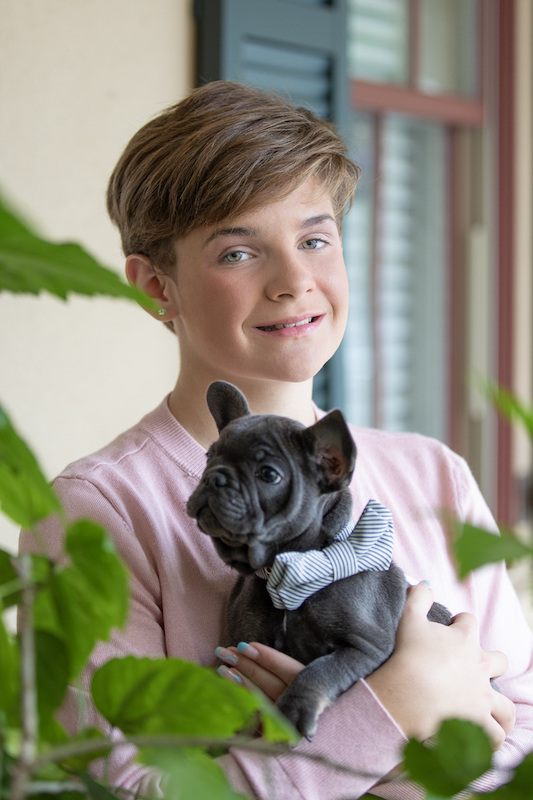 Jean Luc
Some dogs are office dogs, some are helpers. French bulldog Jean Luc is a star. Just ask his legion of loyal followers who watch his "Jeanlucountry" Instagram account looking for the latest fashionable updates.
"He loves turtleneck sweaters, long walks on the beach and a chilled rosé," deadpanned Meredith Bannon, Jean Luc's owner along with husband Jim. Partners in marriage and dog ownership, the couple are also partners in Bannon Law Group, where Jean Luc spends some of his time (when he's not #winning as a global influencer).
"He loves people and, obviously, he loves attention," Meredith said. "He'll come up and just snuggle his little head up against you."
A powerful one-two punch of brains and beauty, Jean Luc is perhaps at his happiest when he is developing his intellect on his tummy time playmat. "I think he'll be the smartest puppy at daycare," Meredith said. 
If nothing else, he'll certainly be the most famous.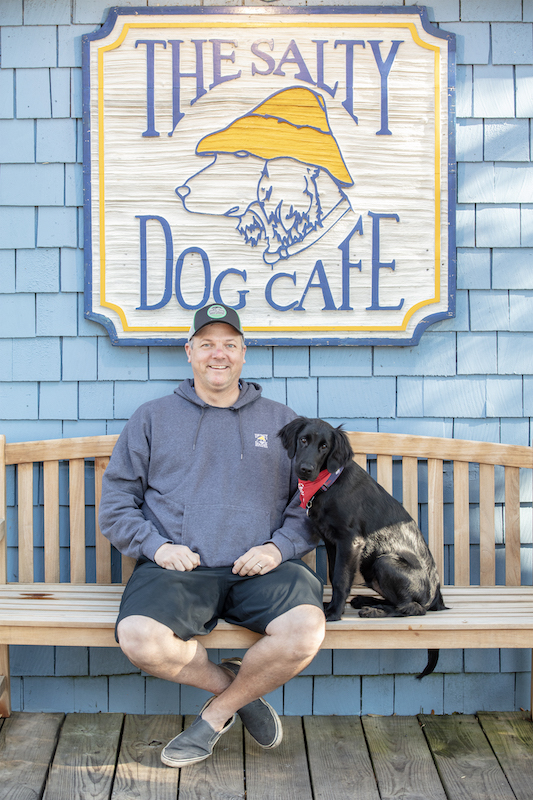 Jake
Perhaps no symbol of Hilton Head Island is as enduring as the iconic profile of Jake the Salty Dog. Decked out in his signature rain hat, Jake's face on The Salty Dog Café logo has found its way onto T-shirts, hats, bumper stickers and keychains around the world.
So, imagine the intimidation factor of stepping into such an iconic role at just six months old. So far, this flat-coat retriever is handling it with flying colors.
"He's in training now," said Brittany Jackett, marketing director for The Salty Dog, Inc. "You'll see him down there roaming around South Beach Marina saying hi to everyone. Once he's ready, he'll be a little more paws-on."
The sixth in a line of Jakes that stretches back to the beginning, this Jake lives with COO Tim Stearns where he's being groomed to carry on the Salty Dog legacy. "He's spunky enough, but he's also great about chilling out on the dock and getting petted during photo shoots," Jackett said. "The other day, we had him down there putting on a show."
It sounds like the show is just beginning for this young pup.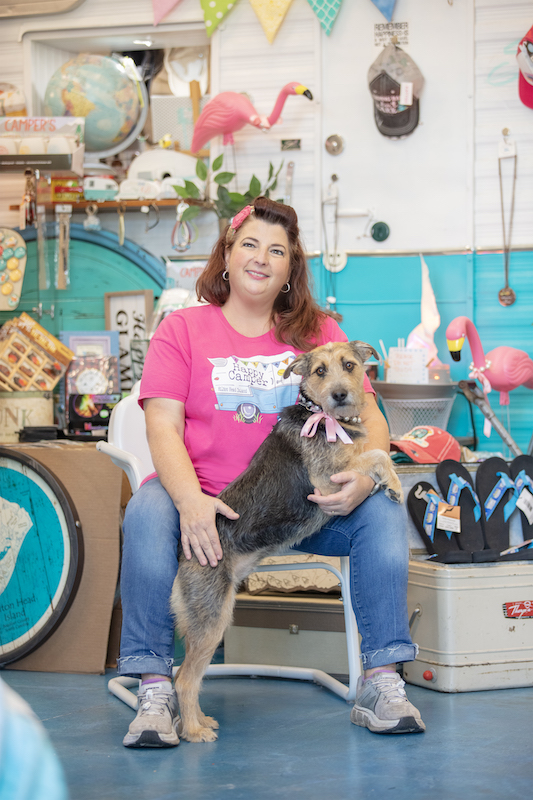 Penny
It takes a lot of personality to stand out in a place like ArtWare, where eye-catching curious and side-splitting gags line the shelves in a kaleidoscope of artistic inspiration. Fortunately, Penny is more than up to the task.
"She was found as a stray on the streets of San Antonio, Texas. I found her through Pet Finder when searching for an Airedale mix," owner Jennifer Megliore said. "My goal is to spoil her so much that she can never remember a time she wasn't loved."
She has help, as visitors to the store love taking a break from shopping to pet Penny and take selfies with the famous shop dog. "She's a friend to everyone," Megliore said. "Except squirrels. Those, she wants to eat."
And while she didn't get any squirrels, she did receive love and well-wishes from her loyal followers during her recent "Gotcha Day," celebrating her third year as the official shop dog of ArtWare.