In the words of owner and proprietor Paige Grisette, "The team at Red Rover unfailingly goes above and beyond to exceed expectations of both our four-legged and two-legged customers." That's not just yip service. It's evidenced by their employee training, operating policies, and the nonstop stream of online client testimonies.
Training and expertise
"Initial and ongoing training is a very high priority," Grisette said of her step-above staff and their innate abilities to deal with dogs of all types. "All our employees are experts at interpreting dog language. Between ears, eyes, mouths, tails, and stance, dogs are communicating how they feel and, to some extent, what they might do next. Recognizing these cues and taking appropriate action goes a long way to achieve our two daily objectives: safety (for dogs and people) and having a positive experience. Further, employees are trained in group supervision. This is dog language on steroids, with a lot of communication going on in multiple directions and knowing how to take appropriate action if needed."
This means someone is listening to your dog closely, and that's the second best thing to you being there. Besides, dogs can always use a staycation, a little fur-to-fur socialization, and a "spaw" day. Yes, spaw.
Spaw services
Red Rover's adorably named Spaw Services refers to a full range of packages and products from highly trained hands-on care to DIY options and dog food delivery, the details of which are listed on their website and Facebook page, offering a first-person sense of quality control and variety. At-a-glance, select services rise to the surface as top-dog-ops:
Boarding: Red Rover Sleep Over in spacious, uber-clean, private rooms

 

PlayCare: All-day or half-day play in outdoor runs with artificial turf. When it rains or is too hot, there are three indoor, air-conditioned playrooms where all play groups are always managed by professional supervisors.
Grooming: Two professional groomers are available with a combined 30-plus years of experience with all breeds and coat styles.
Full-Service Bathing: Nails trimmed and dremeled, ears cleaned, anals expressed, double-bubble bath, 100 percent dry and thoroughly brushed/combed out.
Do-It-Yourself Bathing. Access to huge tubs, all-natural shampoos, and variety of accouterments.
Super Premium Dog Food: Dry, canned, or raw, if Red Rover doesn't have it, they'll order it for you—even deliver if needed!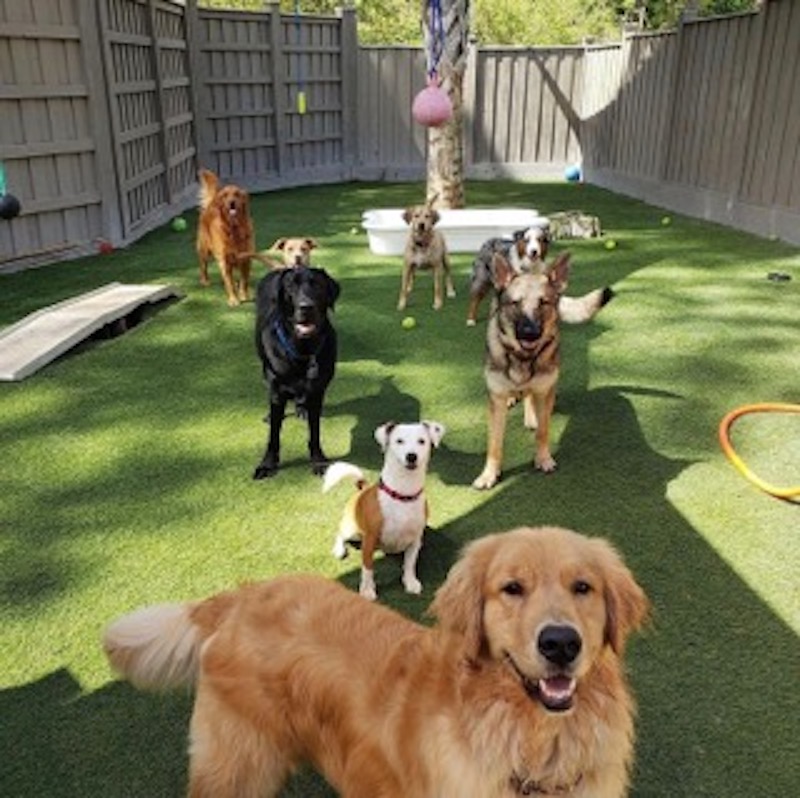 Four paws up
Those best-of basics are before you get into details like filtered water (better on the kidneys), aromatherapy (is this eucalyptus or chicken and cheese?), and off-ground orthopedic beds (dogs only, this isn't VRBO).
The elevator speech hails Red Rover as "fantastic, friendly, can-do service; uber-clean facility; well-trained professional team." But the words of the satisfied pet-parents say it best. With some locals saying they'd "never recommend any other place for boarding" and visitors committed to "definitely return," other client endorsements celebrate a facility that's "so clean you'd think they just opened the doors yesterday," a DIY bath setup perfect for "humans with bad backs," and an overall experience so reassuring that "even timid dogs get excited walking in."
Now in their thirteenth year, Red Rover's presence at the south end of Hilton Head Island is more than a hot spot for Spot. It's a reliable, relational staple in one of the most dog-friendly beachfront communities in the coastal southeast.
Red Rover is located at 25 Bow Circle on Hilton Head Island. For more information, visit theredrover.info, call (843) 671-9274, or email paige@theredrover.info.