There are many ways to get to the Lowcountry's two greatest spots for bikes and fitness equipment. Find out how some of its most recognizable faces got here.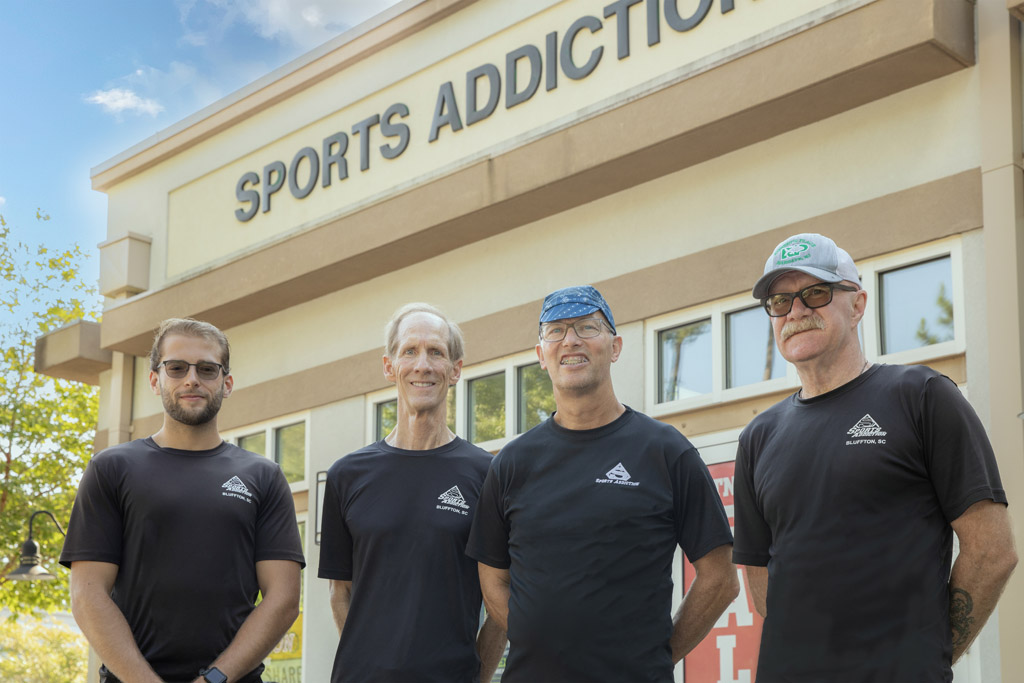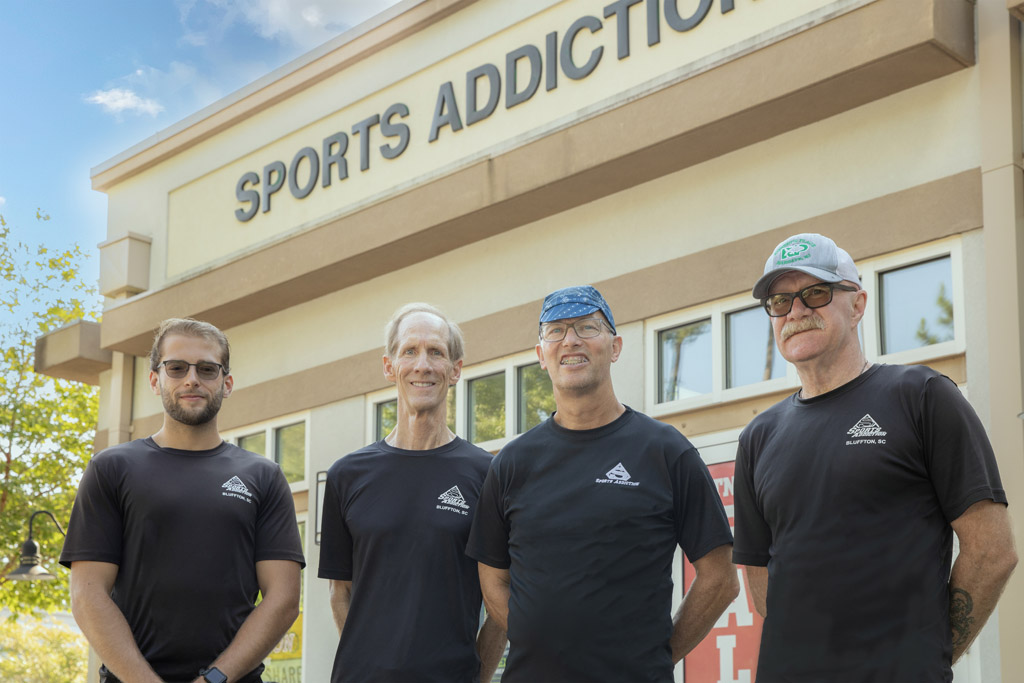 On a bike, there are 9.7 miles between Old Town Bike Barn & Adventures in The Promenade, the unmistakable gray barn on Dr. Mellichamp Drive, to Sports Addiction, Okatie's premiere biking, fitness and sports equipment store.
Well, 9.7 miles if you ride up Bluffton Parkway. Heading up 170 will add another half a mile but will let you ride beneath those gorgeous live oaks. Going up Buckwalter will add another mile or so, but why rush it?
The point is, there are a lot of ways to get to the iconic bike stores owned by Jim and Marri Buser. Just ask the friendly faces who will greet you when you arrive. As a group of guys who live and breathe bikes, they can not only tell you the best way to get from here to there on two wheels, but they can make sure you get there in comfort and style. They can also share some of their own stories of the road that led them there.
Let's start our journey at the edge of The Promenade, where you'll usually find David Howard wrenching on a bike inside the modest barn-like building that houses repairs, sales and rentals of every kind of bike you can imagine.
"I really like it over here," he said. "It's a great environment where people just hang out and chat while they get their bike fixed."
Howard has been with the Bike Barn for five years, coming onboard a year or so after the Old Town spot opened. A Lowcountry semi-native ("I wasn't born here, but I was definitely raised here," he said), Howard is an avid outdoorsman whose trusty steed is a Giant Cypress Hybrid bike. As much as he rides, it may be surprising to learn that most of his mechanical wizardry was taught on the job.
"Believe it or not, I didn't know anything about bike repair before I worked here," he said. "I was taught by Jimbo (owner Jim Buser) and Dave (Flemetis, head mechanic), but I'm a fast learner."]
fix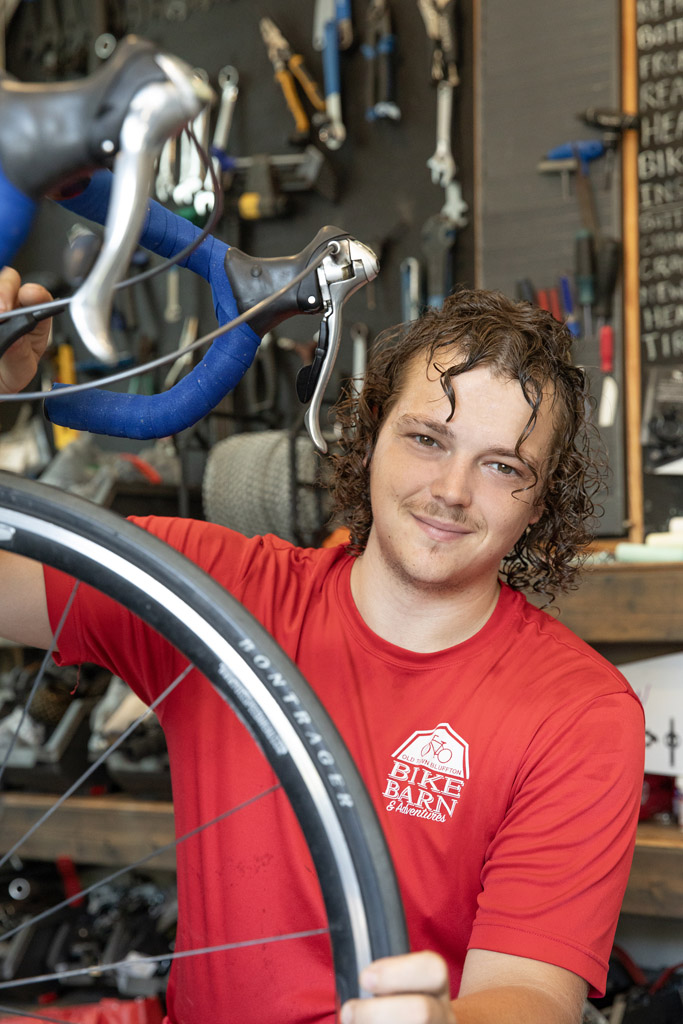 David Howard works on a tire at the Bike Barn in Old Town Bluffton. 
And if anyone can teach you the ropes, it's those two. Buser has been the king of Lowcountry bikes since opening Sports Addiction more than 20 years ago. Flemetis, as head mechanic, learned the ropes of bicycle repair in an unusual way. His own road to Sports Addiction started in the Marine Corps fixing weaponry.
"I mean, they're all mechanical," Flemetis said when asked what separates bike repair from machine gun repair. "They all have a system to them. I can still disassemble certain machine guns in my mind just from repetition. Once you figure out the system, it's all pretty simple."
Flemetis grew up cycling, making his way around the small Washington town where he grew up in a one-car family. He continued cycling as he rose through the ranks of the corps, where he retired as a Chief Warrant Officer III. Pursuing it post-retirement, he enrolled in the United Bicycle Institute professional mechanics and shop operations course.
These days, he rides a Gunnar Sport, Raleigh 29er and a Rivendell Sam Hillborne when he's not heading up the repair crew at Sports Addiction. "I'm the service manager, but two heads are always better than one," he said. "It's a team effort here."
And that team shares Flemetis' love of cycling as well as his impressive military credentials. Chris Kraly is another retired Marine, who has been racing bikes since 1973. Growing up in Southern New Jersey, in a small town with no bike shop, Kraly learned about bicycle repair through necessity. "If you wanted to ride bikes, you had to fix them" he said. "We used to go down to the local dump and trash pick four to five old bikes and make one good bike out of them."
Always on the move, Kraly was retired for all of six and a half weeks before taking a chance that Sports Addiction might be hiring. He stopped one day after lunch at a nearby restaurant and was hired in minutes. "I always laugh that someday I'll grow out cycling, but this is something I look forward to every day," he said.
Joining them in the shop, John Pedigo shared a similar road to Sports Addiction through the military, albeit at a slightly higher altitude. As a former Navy pilot, he flew A7s off the USS Forrestal and the USS Saratoga before flying with Delta as a widebody captain. "I retired to Bluffton out of Atlanta, and I'm an avid cyclist, so they offered me a job," he said.
Riding his Trek Medon as a member of Kickin' Asphalt, Pedigo honed his bicycle repair skills on the job, "helping the guys with whatever needs done." 
"Chris is smarter than I am when it comes to repairs," Pedigo said with extraordinary modesty. "I'll occasionally get calls from neighbors asking to fix their bikes, but they're at Chris' door at 7 a.m."
Heading the show at Sports Addiction is General Manager Brandon Stinsman, who might just have the most inspiring journey to the shop of anyone. A Lowcountry resident since age three, Stinsman grew up, in his own words "the chunky kid."
"I started here right after high school, fell in love with bikes and fitness and worked my way up," he said. With his fitness journey underway as he started, it accelerated as his Sports Addiction career grew, feeding his own sports addiction. "Fitness became an everyday thing, and then when I started cycling on top of it, it kind of melted off me," he said.
Today, Stinsman is a fitness junkie who rides a dual-sport hybrid, runs 5Ks, hits the gym every day, and brings drive and enthusiasm to his work at Sports Addiction. And joining him at the Lowcountry's favorite bike shops is a crew who took their own roads to get there but have found a path forward through helping others discover their love of sports, fitness and cycling.
"Each of these guys brings their own unique talents, experiences and personalities to the team," Marri said. "And because of what they bring to the table, we all work together so well. It can be hard work, but they make it fun. We're like a family."