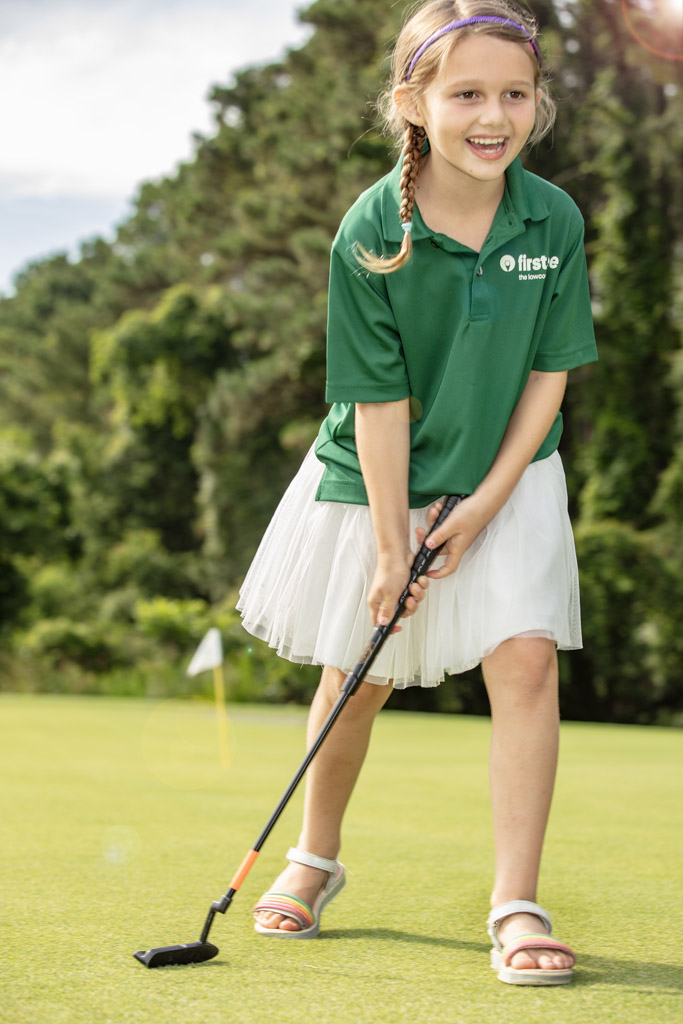 India Conway makes the putt at First Tee-The Lowcountry. 
Parents out there, you know why this is the most magical time of year. The kids are back in school. That means the summertime slide is over, with the school day now banishing their daily boredom and building on a foundation of knowledge. But if you think you're excited about the school year starting, imagine how the folks at First Tee – The Lowcountry are feeling.
The return of the school year means their volunteers are once again traversing the Lowcountry, popping in on area schools to deliver their signature mix of golf instruction and life coaching.
"We'll be starting classes the week of September 11 on Hilton Head Island and in Bluffton and Beaufort, and we also just started a program with Boys & Girls Club of Jasper County," said Aaron Immel, program director for First Tee – The Lowcountry. "We're excited to be branching out more and to get back into the swing of fall … pun definitely not intended."
The fall signals an "all-hands-on-deck" moment for First Tee volunteers, who will lead these school visits in addition to leading fall classes at First Tee – The Lowcountry's Hilton Head Campus, Crescent Pointe Golf Club and The Landing at Pleasant Point. And since First Tee – The Lowcountry's mission is all about helping kids, they're making sure everyone has a chance to experience their fall classes.
"Each seven-week session is $80, and we offer financial aid for anyone who needs it," Immel said. Those who need it can take advantage of special scholarships that cover 100 percent of the tuition for the fall classes. According to Immel, 10 families had already applied for and received a full ride for a fall class as of mid-August.
"We just feel like we want to be a program that welcomes kids from all backgrounds," he said. "Especially in this economy, not everything is affordable. We want kids to get out and experience the game of golf. If we can do that at no cost to the families, we're all about it."
Much as First Tee – The Lowcountry has expanded its scope of classes into Jasper County, it has also extended its generosity to include children of America's heroes. A new initiative that started late this past summer will extend free classes to children of military personnel throughout Beaufort and Jasper counties.
"We really appreciate military families and those who have devoted their lives to serving our country, so we wanted to at least give something back and provide free scholarships for their kids," Immel said. "It's incredibly difficult for parents to keep their kids occupied and learning, especially when one parent is deployed."
It's an incredible gesture to area families, but it does ultimately serve First Tee – The Lowcountry's single greatest goal: to be a positive influence and source of guidance for area youth.
"After a busy and successful long summer, we're excited to start our afterschool programs back up and give kids something fun to look forward to at the end of each day," Immel said.  
For a full list of First Tee – The Lowcountry's fall classes, visit firstteelowcountry.org.