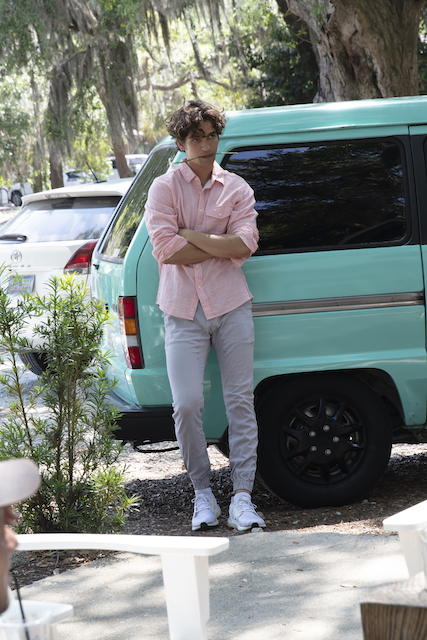 Derek Fallon, an LA actor, flew in for a week in late May to play one of the lead roles opposite local model/ actor Caroline Molloy.
On a stage, erected on a patch of grass and ringed by fairy lights for a one-night-only performance, Pretty Darn did what it does best. Up front, Nick Poulin and Kyle Wareham's voices merged in hypnotic harmonies, backed by Jared Templeton, Nate Douglas and Matt Robbins filling out the rest of the band.
As the band puts a wrap on the final chords of "City of the Queen," the crowd erupts in jubilance, the last lingering note drowned in cheers. It could be mistaken for any other night, any other Pretty Darn show. Right up until Director Trevor Harden yells cut, unleashing a flurry of activity from his assembled crew.
The fact is, this isn't any other night or any other show. This is a full-fledged movie set, on par with anything Hollywood or Atlanta can put together. And Pretty Darn, well, they're the stars.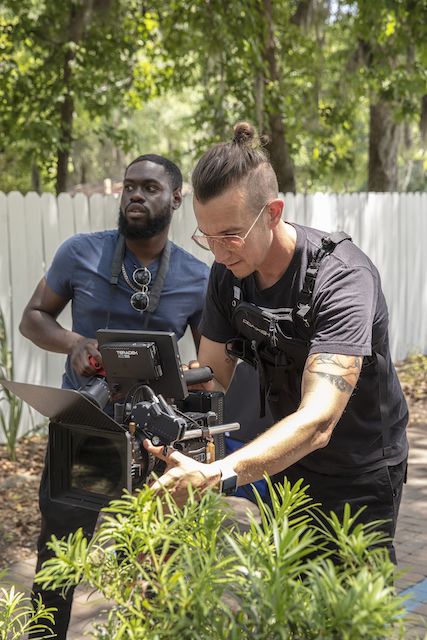 Trevor Harden gets the exposure right while DJ Lawrence takes behind the scenes photos of the cast and crew, which can be viewed on Harden Creative's Facebook page.
"We've been really excited about this for a while," Poulin said. "We had plans, and then Trevor came up to us pitching a music video for his production company, so it worked out for the both of us."
While the setlist whips through songs like "City of the Queen," "Home Country," "Rain," and a cover of Michael Jackson's "Will You Be There" that absolutely slaps, the song of the hour and the subject of the video is "Casual." Infused with the band's trademark tight rhythms, its lyrics paint a picture of that hazy point in a relationship where a fling has the potential to become something more.
Pretty Darn's Nick Poulin and Kyle Wareham with Wareham's son River.
"Me, Nick and Jared wrote this song," Wareham said. "We were having these weekly sessions to write pop songs that weren't necessarily for the band. By the time we put the demo together, we were like, 'This is the first song with real mainstream potential we've written.' It's a hitter, man."
"We knew it needed our full attention," Poulin added.
Enter Harden, whose firm Harden Creative has raised the bar for commercial video production in the Lowcountry. "We do a lot of commercial work and that's fun, but I always want to do something creative."
For his regular passion projects, Harden has returned time and time again to the local music scene. A long-time musician himself, he's put together videos for everyone from Spiritual Gangsters and JX Rose to Chuchi Diamond and Jevon Daly.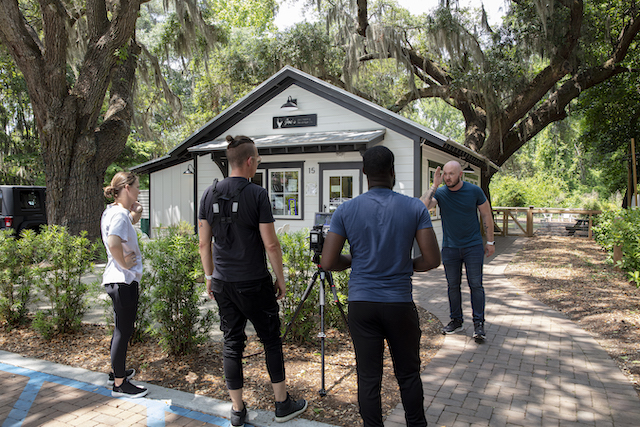 Harden Creative's Trevor Harden, Eddie Tucker and DJ Lawrence block the next take while CH2's Hunter Kostylo looks on at Joe's Ice Cream in Bluffton.
"Music's been a part of my life since I was 10. And I really resonate with Pretty Darn," Harden said. "They had this song I really liked, so I thought why not reach out to them and write a video that has more of a story."
As the crew resets, Director of Photography (and Harden's other half in their firm Harden Creative) Eddie Tucker adjusts to one side to capture one of the actors who would tell that story. The third key player in the Harden Creative team was Producer Danielle Galella, who was in charge of overall organization, wardrobe, working with the talent, props, sets and so much more. Caroline Molloy, who eagle-eyed readers will remember from last month's cover, plays the love interest. Derek Fallon, framed in the shot just across the stage, is the lovestruck young Romeo who spies her through the crowd.
"I worked with Trevor in the past, so when he contacted me asking if I wanted to do a music video, of course I said yes," Molloy said. Not just a pretty face in the crowd, Molloy also helped with casting, calling on her West Coast friend Fallon to serve as the male lead. ("Caroline's been a linchpin," Harden said. "She really helped pull this thing together.")
Fallon and Molloy eat Chinese food for a date night scene, lighted by Whisper Brown.
"We met at a movie premiere in L.A.," Fallon said. "Caroline was like, 'Hey do you want to fly out for this video? You leave on Friday.'"
The natural chemistry between the two friends carries the video, which reflects the song's themes of love and the natural hesitance everyone feels when they're deciding whether or not this is the one, bringing viewers along on a storybook romance. (There's a bit of a twist at the end, but you can bet we're not about to spoil it).
"We had an initial brainstorming meeting, just kicking some ideas around. The song's about a causal relationship becoming more than that, so the question was, what can we do to sell a story like that?" Harden said. "We wanted it to have a story … a beginning middle and end."
"We kind of just let him run with it," Wareham said. "He storyboarded the whole thing for us, and there was a little bit of back and forth, but we know Trevor, and we know his creativity is insane."
Harden, however, gives all credit to the massive team he assembled. "This was definitely not just my baby," he said. "It was a team effort and could not have been carried off without all the different peoples' expertise."
You can check out the video for Pretty Darn's "Casual" on CH2's Facebook page, due to be released in early August.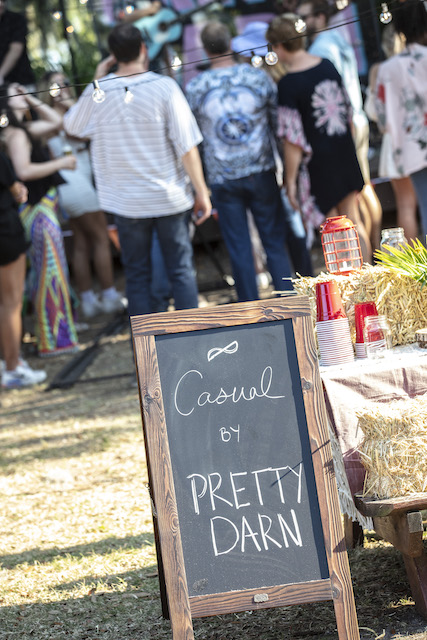 A sign posted by Producer Danielle Galella lets onlookers know there is a video production underway.
---
Starring: Nick Poulin, Kyle Wareham, Jared Templeton, Nate Douglas, Matt Robbins, Caroline Malloy, Derek Fallon
Featuring: Leslee Brown, Nick Poulin, Iva Lazovic, Lexi Lainhart, Alec Poulin, Adam Hogan
Director: Trevor Harden
Producer: Danielle Galella
Director of Photography: Eddie Tucker
Audio Recorder: James Brown
Production Assistants/Camera Assistants: Lexi Lainhart, Taylor MacDonald, Whisper Brown, Briana Tucker, Leslee Brown, DJ Lawrence
Shot on Location at: Fishcamp, Up the Creek Pub, Joe's Ice Cream, Ela's On the Water