If you're seeking white picket fences, horses grazing in the pastures, and an approach to your home framed by majestic oaks and gas lanterns, then look no further than Oldfield, where Lowcountry living has been perfected. From the iconic white fences and ice cream shoppe at the nostalgic Greeter's Store to the sweeping views of the Okatie River from the Outfitters Center and the pristine greens of the Greg Norman golf course, Oldfield offers more than most homeowners could ever dream of as far as Lowcountry living goes.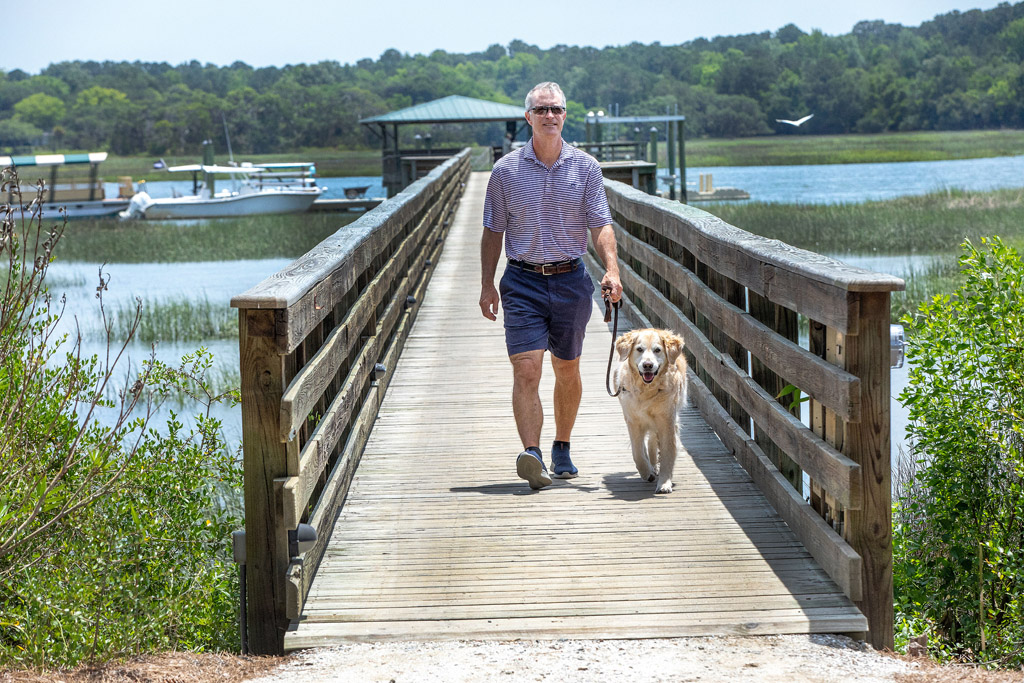 Resident Stephen Mais and his trusted partner in crime, Lincoln, enjoy the pet-friendly lifestyle in Oldfield.  
When you live at Oldfield, you'll get used to seeing horses, bicycles packed with fishing gear, and lots of friendly smiles to greet you on the greens, streets, and sidewalks. Oldfield members regularly enjoy community oyster roasts, paddle boarding, amazing landscapes, an incomparable natural environment, and lots of Southern architectural charm as part of their daily lives.
Christie and Steve Mais are new members at Oldfield. In fact, when we interviewed them, they were packing up their home in Connecticut where they've lived for the past 22 years to make the final move into their new Oldfield home. According to the couple, they knew the moment they drove through the gates as first-time visitors that Oldfield was the place for them.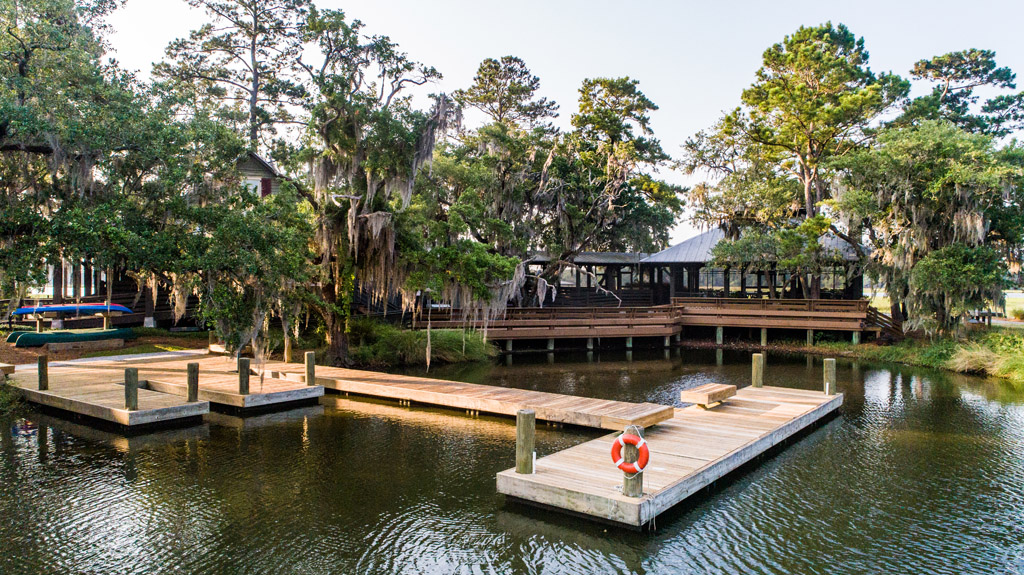 Explore one of our brackish ponds located at our Outfitters Center – home to Redfish, Black Drum, Bluegill, and Large Mouth Bass.
"We toured other communities that just weren't ever right," Christie said. "Maybe I liked something and Steve didn't, or vice versa. But when we drove in here, we both just knew. We absolutely felt at home because it was just so comfortable, happy, and welcoming. Honestly, after years of looking, within two days, we had bought a lot; it was that quick." 
Unlike many of the communities the Maises toured, Oldfield boasts a rich history that began in 1732 with a Lord Proprietor's grant, including a parcel of land referred to as "Old Field," to then Governor Robert Johnson. But well before that, the Indian village of "Oketty," with an estimated population of 1,200 or more, lay nearby. The existing plantation was destroyed by British troops in 1781, then rebuilt and again destroyed by Union gunboats in 1862.
In 1972, the property passed to Robin Carrier, who lived on the 927-tract and raised horses, pigs, sheep, soybeans, corn, and tomatoes. Weekends were spent entertaining with hunts for doves, ducks, deer, turkey, and wild boar.
Gas lanterns, six miles of white fencing, and 22 acres of horse pastures greet you at Oldfield's front gate.
Carrier sold the property to a Hilton Head developer in 1985. The new owner used the plantation as a quarter horse farm and built the extensive system of fences (more than six miles in all) that endures as one of Oldfield's most distinguishing features. In 1998, the modern age of "Oldfield" commenced.
As we know it now, the community exudes all that is exceptional about the Lowcountry, beginning with putting the natural environment first and providing completely unique experiences and discoveries daily. Members enjoy a diverse array of sea and wildlife. The riverside docks are a favorite hangout for Atlantic bottlenose dolphins, while the salt marsh is home to vast oyster beds, stingrays and more. The freshwater ponds, found throughout the community, sustain an ecosystem all on their own. "Caution: Fox Squirrel Crossing" signs throughout the community attest to Oldfield's reverence for wildlife of all kinds. There are nearly six miles of nature trails through maritime and hardwood forests where you can see deer, an occasional fox, great blue herons, egrets, woodpeckers, eagles nesting, and a symphony of songbirds. Signs throughout are a great educational tool about the environment, and naturalist-led nature bike rides, walks, and boat trips occur frequently.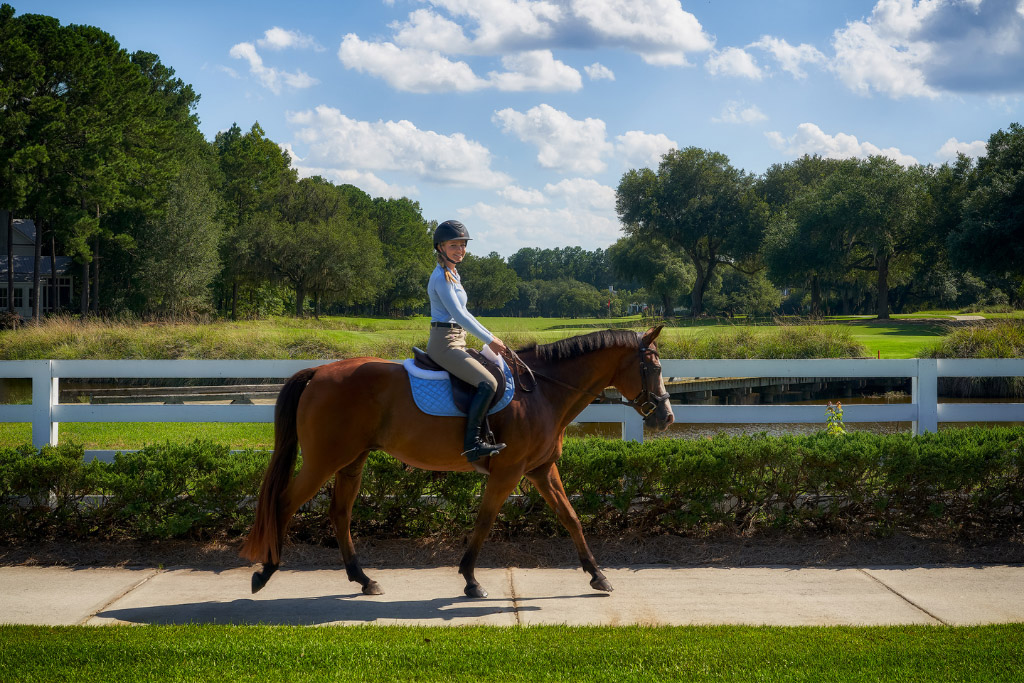 Picture this: Driving into Oldfield and witnessing a member gracefully riding their horse down the main road – an unforgettable experience.
Oldfield is proactive in forging the pollinator population. Visible from the road as you enter the community is the proud home of four beehives, and fresh batches of honey become available for purchase at the Outfitters Center throughout the year. Classes for kids and adults on the importance of bees and how honey is processed are currently available. A community garden has been revitalized, and seasonal harvests are coordinated and managed as a partnership between the nature staff and member volunteers.
Oldfield has also received recertification as an Audubon Sustainable Community. The Audubon Sustainable Communities Program is founded on three pillars of sustainability: a healthy local environment, good quality of life for its citizens, and economic vitality. Oldfield is committed to promoting environmental awareness through education and conservation of its natural and cultural resources.
"Oldfield received the original Audubon Sustainable Community Certification in 2018, which included a baseline assessment of our community focusing on environment, quality of life, and economic vitality, along with a site visit by Audubon International staff," said Melissa Carder, Oldfield membership, marketing and communications director. "In addition, Oldfield developed a goal-oriented sustainability plan with milestones toward success. Recertification is due every three years, and each year we measure our progress towards each of the indicators defined in our sustainability plan."
"The natural environment was one of the biggest draws for me," Steve Mais said. "With the walking and biking trails, the nature, and the birds … all that was really appealing. We also have two golden retrievers, and we walk out on that pier with them every morning. It's such an easy-going place; it's a beautiful community."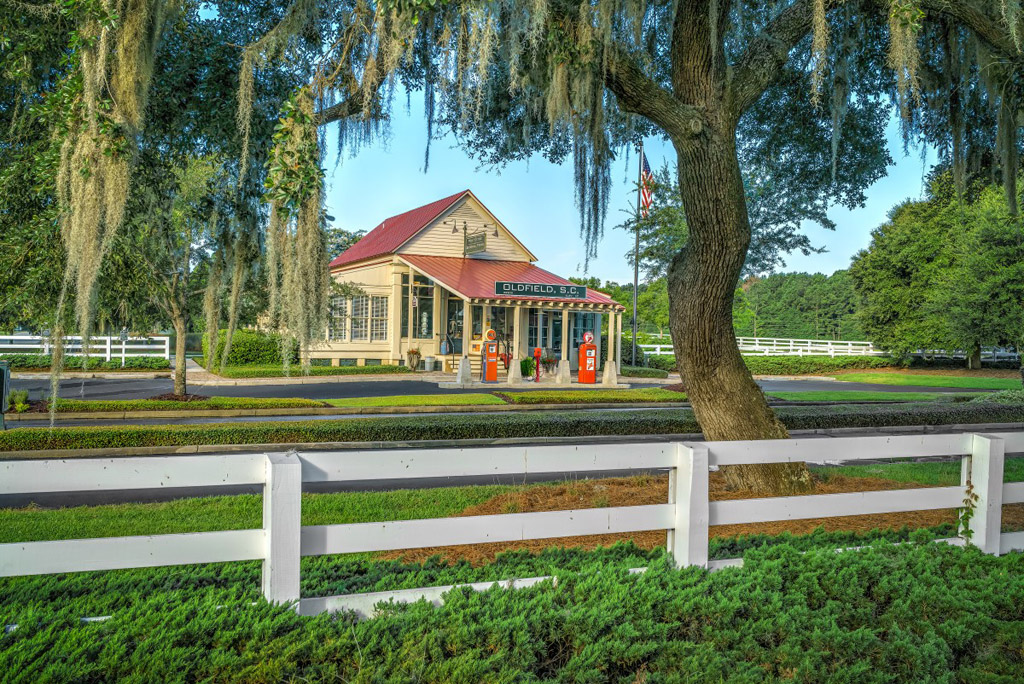 The Greeters Store: Miss Mary, the cherished 90-year-old greeter, welcomes you to this icon of Oldfield's history. Enjoy ice cream and relish timeless Oldfield tales while you visit.
The other big draw for the Maises, both avid golfers, is the Greg Norman golf course at Oldfield, a member and guest favorite amenity. The Oldfield course is a top Bluffton golf destination, offering members year-round play on a 7,133-yard, par-72 course. Updated in 2017, in collaboration with Norman Golf, the course features creative approaches, four types of grass, new sod-walled bunkers, and expansive waste bunkers—all notable Norman hallmarks.
Keith and Amanda Butz moved to Oldfield from Atlanta in 2022 when Keith took the job of general manager at Thompson Savannah. Not only do they love the proximity to Savannah, but they also appreciate the range of activities offered at Oldfield. Keith especially enjoys the golf course.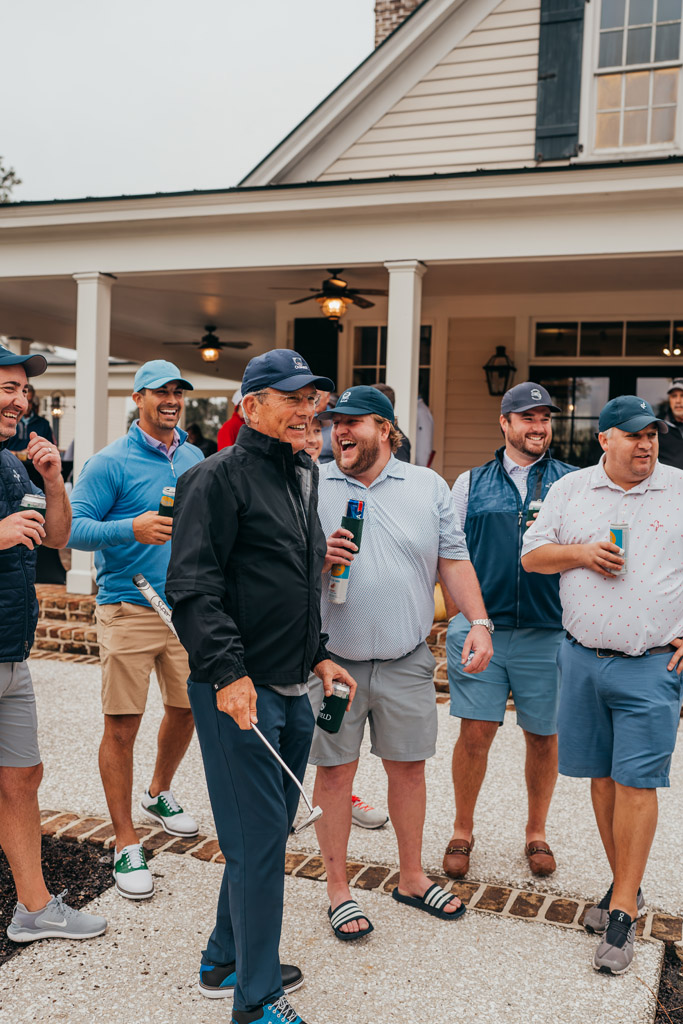 Camaraderie among Oldfield members during a golf tournament. 
"Oldfield golfers love the layout of the course," he said. "Plus, not every hole has a house associated with it, so there's a lot of nature to appreciate. As part of the Audubon Society, there's so much green space. Even where there are homes, there is a layer of trees between the house and the golf course. The upkeep and the quality of the play are spectacular. It's probably one of the best courses in the Lowcountry from a condition standpoint. The front nine and the back nine are completely different, where the front nine is more through the trees, and the back nine is more the salt marsh with an open feel. You can play every day, and every day it would be different."
"As one of the top private golf courses in Bluffton, Oldfield provides a Lowcountry golf experience unlike any other," said Michael Ryan, Oldfield general manager and COO. "Our Greg Norman Golf Course starts at the front of the community on the front nine as golfers work their way to the clubhouse. From the Magnolia Grill, you can see the range, putting green and holes one and nine. Back at the Outfitter Center, where we have our riverfront access, is the back nine, holes 10-18. The greens are lush and the landscaping throughout the course is amazing."
The Outfitters Center, Oldfield's riverfront gem, is the launching point for limitless ways to enjoy the river, whether you prefer an early morning kayak trip to watch the dolphins as they make their way up the river, a midday paddle board excursion for exercise, a guided fishing or leisure cruise experience on one of the four Oldfield-owned boats, or boating on your own. A Nature Center within the Outfitters Center offers a hands-on nature experience. Complete with saltwater and freshwater aquariums, visitors can interact, hold, and feed some of the center's residents, including a variety of snakes and turtles.
The Butzes additionally enjoy being close to nature and the opportunities they have available at the Outfitters Center. "I love to paddleboard, and Oldfield is one of the very few communities where we have access to water in the river," Amanda said. "It's super easy to go down to the Outfitter Center, jump on a board, and go out. But more important, our Outfitters Center has a naturalist who leads groups of paddle boarders and kayakers a couple of times a month. She teaches us about the flora and the fauna and the animals and all that makes the Lowcountry special. We get to do it together, so it's both safe and fun; I got to meet a lot of new people."
The equestrian center is another member favorite. "We have about 20 horses, and we offer programs for the equestrian center boarders as well as the community," Ryan said. "We also have a farm amenity with pigs and chickens, even a donkey. Members can sponsor a chicken and get fresh eggs."
Oldfield's vibrant community offers a rich array of activities for its members to relish together. From leisurely boating caravans, book club gatherings at the River Club, thrilling golf tournaments, equestrian adventures, and visits to the monthly Oldfield Farmers Market to opportunities for local volunteering, tennis, pickleball, and an abundance of complimentary fitness classes, their diverse range of activities ensures there's something for everyone to enjoy.
"We have women's and men's clubs, a traveling outdoor club, a poker night … all of the things," Carder said. "We also have a sports club, equipped with a fitness center and a classroom that hosts an extensive array of fitness classes, all available to our members at no extra cost. We offer tennis courts, pickleball courts, saunas, a two-lane heated lap pool, a lagoon-style pool with a slide, and a wellness center with meditation classes. In addition, our fitness and wellness director, Paula Bernstein, schedules information sessions on nutrition, and with the help of our local hospitals, schedules medical lectures."
Racquet sports are a huge draw, including tennis and pickleball. "Tennis at Oldfield is so much more than its pristine facilities," Chris Mais said. "The depth of classes and competition is fantastic and meets the needs of all the members. I've made lots of friends on the courts, too, and love having neighbors who share an active lifestyle."
"Pickleball is my new passion, and we have a great racquet director who started teaching a lot of clinics," Amanda Butz said. "I've joined a beginner's league, and I love it."
At the clubhouse, the Oldfield Center for social activity, members and guests meet at Magnolia Grill. Whether you're seeking a casual lunch with a variety of sandwiches, soups, and salads, unwinding with friends and family over drinks at the full bar, or indulging in specially themed dinner events exclusively for members on Thursday evenings, there's a seat where you can savor happy hour delights or refuel with a quick bite after your golf game.
Hole 14 on the Greg Norman Signature Course: A formidable Par 4 at 448 yards from the tips – the second most challenging hole.
For a more elegant experience, members enjoy The River Club, Oldfield's riverfront venue. "The River Club offers a signature dining experience on Tuesday, Thursday, and Friday nights where the culinary journey features a gourmet menu with carefully selected wine offerings, all within the elegant charm of a Southern setting," Carder said. "When the weather permits, you can savor the magic of dining outdoors on the porch, where you'll be treated to breathtaking views of the Okatie River, the serenity of marshes, and the graceful oaks draped with Spanish moss. It's a special treat that elevates your evening to a truly unforgettable occasion."
Members also love having the Greeter's Store, which is designed to look like a vintage gas station and is used as a mail center as well as an ice cream shop right inside the community. Oldfield Realty, owned by Jani Stephenson, is also conveniently located inside the Greeter's Store.
"Prospective buyers can stop at the store as they enter the community and take advantage of all that the community has to offer guests," Stephenson said. "We make them feel like royalty. But best of all, our guests and members love Miss Mary, our 90-year-old greeter. She's been here since just about day one, and she's famous. Many articles have been written about her. Miss Mary is originally from Brooklyn, New York, and is the sweetest, kindest face we could put forward to represent Oldfield."
The architecture of Oldfield is distinctive as well. Each home is quintessential Lowcountry, yet each has a unique design, while respecting the natural beauty of the spectacular surroundings.
"When people think of Oldfield, they think of it as a boutique community," Ryan said. "We have 540 homes versus the bigger communities that have a lot more homes. Our number one selling point is our architecture. When visitors come through the front gates, with the fencing, the Greeter's Store, and the trees, they are then blown away by the aesthetics. Our Architectural Review Committee and our community have done such a great job in keeping true to the most important piece of Oldfield: our enduring and authentic architectural style."
The Butzes agree. "When we were doing our research, the one thing we really loved about Oldfield was the architecture and the size of the community along the river," the couple said. "The architecture is very consistent with a South Carolina Lowcountry aesthetic, and the quality is there in the Southern porches and the house setbacks. Nothing is cookie-cutter. Each home fits into the area without looking exactly alike."
You're invited to experience Oldfield, the private golf community situated on the banks of the Okatie River. Escape for a few days in one of the cottages beneath the moss-draped live oaks. Take a tour, view new homes, and experience Southern hospitality. You can even customize your experience by selecting from the following adventures: a charter boat experience; chef prepared Lowcountry cuisine; a kayak trip on the Okatie River; or a round of golf on the Greg Norman course. 
To find a home at Oldfield, schedule a visit, or get more information, call (843) 645-4600 or visit oldfield1732.com.