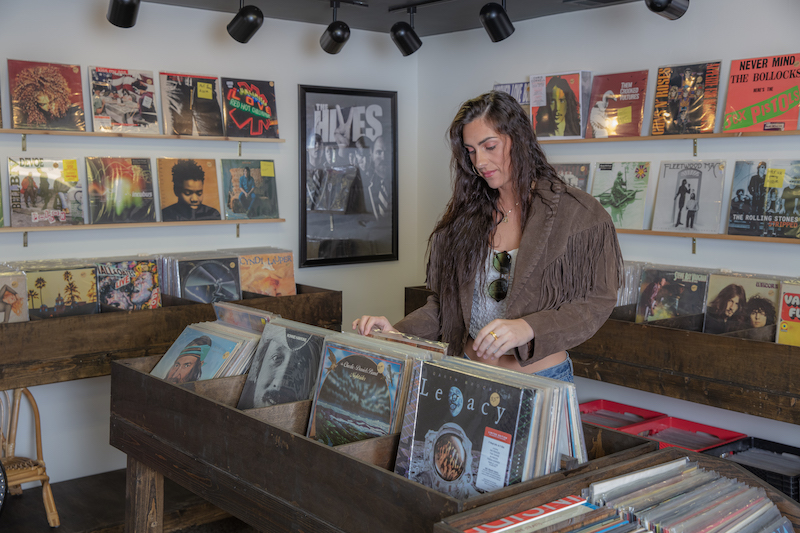 Josh Duvall really wants you to listen to J Roddy Walston and The Business.
I'm sitting with Duvall at his just-opened vinyl shop, Mojo's Island Records, and what was planned as a 20-minute interview has turned into a two-hour feverish, enthusiastic discussion of a shared love of rock and roll and the fellowship of individuals for whom music is a driving force, a source of joy, or inspiration, or comfort—a port in the storm.
"I've always liked the bands that almost made it," Duvall said, perched at the desk of his record store, holding court with a thousand classic albums to his left and a stack of vintage audio equipment behind him, 16-20 legendary records on the wall above it. We're listening to "One Step Beyond" by Madness, an '80s British ska band that kinda made it, but you might not expect to hear when you enter a shop. It's fantastic.
A Tennessee native, Duvall has a story like many of our island transplants. A lifelong visitor with strong ties to Hilton Head, he and his wife Monica recently decided to pull up stakes and make North Forest Beach their permanent home, after years of owning and operating a successful veterinary hospital, a seriously impressive collection of vinyl records in tow. While he still practices his lifelong passion part-time, he now has an opportunity to pursue another.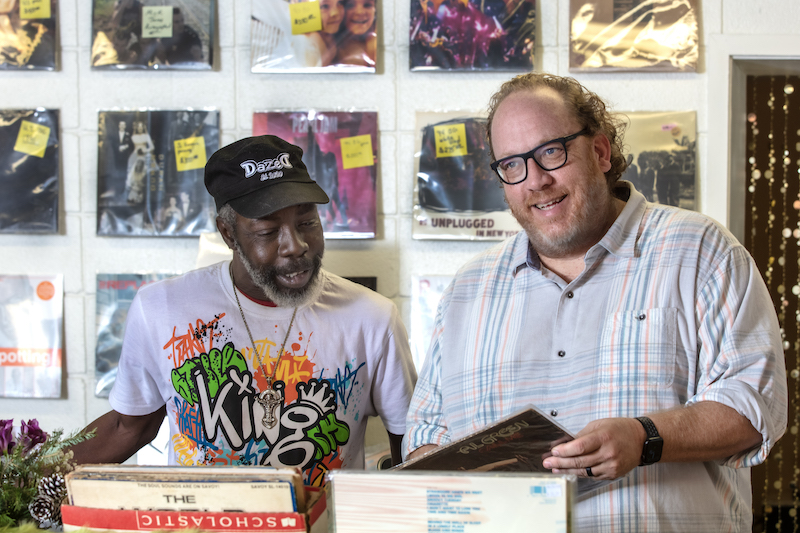 As a fledging small business, make no mistake; Duvall wants to sell records. But Mojo's is not your childhood shopping mall record store, a giant Sam Goody or Tower Records with aloof teens moping behind a counter waiting to ring up your carefully chosen cassettes or compact discs. The shop is clearly designed to be an immersive experience, a hangout. A lounge area with comfy chairs is featured, as well as a listening booth lined with black, cheetah-laden wallpaper and a personal turntable and headphones for guests who wish to test the merchandise or maybe just spend a little time with an old favorite.
While you're welcome to hang solo or with friends, the genial and knowledgeable host is more than happy to field questions, give recommendations, comb the archives, or even just talk music. Our interview would have been an hour shorter had we not realized a mutual lifelong love of the Rolling Stones that set us off on a hugely satisfying tangent.
Of course, this is all very cool, but there is an essential question remaining: How are the records? Whether you're a novice, a collector, a picker, or, like me, a last-minute gift shopper desperately seeking a copy of Pink Floyd's Wish You Were Here to impress a girl, chances are you're going to walk out of Mojo's happy (there were three copies of the Floyd record). Duvall keeps a front-of-house stock of around five thousand records on display, and while the focus is on rock and roll, carefully curated and alphabetically sorted bins of all genres fill the store. If you've got a jones for some classic soul or R&B, turn right when you walk in the door and start browsing the bin in front of you; you won't be disappointed.
"I want somebody to come in here and see that we have a lot, where some record stores don't," Duvall said. "I choose the records that I would want to see when I used to go into record stores."
It's clear that he's been to quite a few record stores, as evidenced by the additional 10,000 records filling one of the store's back rooms. It has the look and feel of a collection that goes back to a collector's formative years. But Duvall is quick to admit that while he is most definitely a collector, it started with a different and not uncommon media.
"As an only child, I was very into collecting comic books," he said. "My mom was very much into music, though, and I did listen to her LPs and 45s. I was into the Grease soundtrack quite heavily," he laughed. (And we've all been there, right?)
The love for comics continued into college, but Duvall's undergraduate years as a veterinary student at Murray State University coincided with a sea of change in popular music. Nirvana exploded onto the scene, and in their wake, a wave of indie alternative rock followed. A new passion was born, first in the form of attending shows and, eventually, acquiring the music he loved on vinyl. 
"I've always liked the ownership aspect of things; I'm a collector…. It was [The Rolling Stones'] Sticky Fingers with the zipper; it was when I found out how valuable the first pressing of Bob Marley's Catch a Fire was worth." For the collecting reader, if those titles just caused goosebumps, palpitations, or nerd sweats, the former, with a fully functional zipper, and the latter, in original Zippo lighter encasement, are both available at Mojo's, in good condition and at very reasonable prices.
After what has largely been an aggressive word-of-mouth campaign launched by the wildly enthusiastic Monica ("That is definitely her thing," Duvall laughed), the hype machine is in full swing, with collectors and music lovers from all over our community making their maiden Mojo voyage.
One such visitor is local raconteur/Bulrush Gin Baron/certified vinyl nerd Tony Bagnulo, who recently texted me a photo of his first score, a copy of Guns N' Roses masterpiece Appetite for Destruction, with the original cover art, a menacing Robert Williams painting bearing the same title. I saw it on a prior visit and knew I should have grabbed it….
"Yup! Hard to find stateside," Bagnulo said. "With the resurgence and popularity of collectible vinyl, it's great to see Hilton Head have its own record store. Not only does Josh have an amazing selection from many genres but he's created a cool space for people to hang out, listen, and discuss their favorite albums. Your boy is going to need to pick up some shifts to cover my new addiction. This place is dope."
Another satisfied customer, and he's spot on. This place is dope, I think to myself as I'm thumbing through the stacks post-interview. As I'm picking, it pops out at me in resplendent, radiant gold and yellow, the triumphant score to the cult classic 1980 film Flash Gordon, written and performed by Queen. Twenty bucks, sold. I make my way to the desk to pay for my newfound treasure and leave, but Duvall has produced a copy of Destroyers of the Soft Life, the final album from the previously mentioned doomed rockers, J Roddy Walston and the Business. 
"You wanna hear this?" Duvall asked.
"Hell yeah," I replied. We have a real record shop in Hilton Head for the first time in decades. I plan to enjoy it.