When it comes to maintaining an active Lowcountry lifestyle, you can't trust just anyone. Your orthopedic health is too vital. At Hilton Head Orthopedics (formerly Orthopedic Associates of the Lowcountry), patients get comprehensive, patient-centered treatments that help ensure the best possible outcome for their orthopedic care. Their board-certified and fellowship-trained surgeons provide both non-surgical and surgical management of orthopedic conditions that cause pain and impact strength and mobility. Treatments offered include injections, physical therapy, and various surgical techniques such as arthroscopy, joint reconstruction and replacement, adult and pediatric fracture care, and sports medicine procedures, to name a few.
"Our orthopedic surgeons can diagnose and treat many types of bone and joint problems using minimally-invasive techniques," said Kurt Malloy, practice manager at Hilton Head Orthopedics. "Making the choice to have a knee, hip, shoulder, or elbow joint replacement is a major decision. Many people ask, 'Is this an appropriate time for me to do it? Will surgery improve my life? Will I need to curtail any activities after surgery, or can I resume all my normal activities?' Our doctors work with each individual to review your symptoms and make sure you understand how a joint replacement will change your life."
With more than 80 years of combined experience in orthopedic care and sports medicine, Hilton Head Orthopedics should be your choice when it comes to joint replacement. The level of care and service standards are among the highest in the Lowcountry and the entire nation.
"We operate out of Hilton Head Hospital, which among many other accolades, was named one of America's 100 Best Hospitals for Orthopedic Surgery by Healthgrades in 2020 (one of only three hospitals in South Carolina to receive the distinction that year)," Malloy said.
The communication between patients and staff is above industry standard. Hilton Head Orthopedics stays connected 24/7, including nights and weekends, to provide top-notch care. Additionally, the advanced surgical techniques provided by some of the country's best and most highly trained doctors elevate this practice. These techniques include robotics, advanced implants, uncemented knee and robotic-assisted total knee replacements, and patient-designed shoulder replacements.
"We believe our orthopedic team is the best anywhere around," Malloy said. "Dr. Kirk H. Johnson, Dr. Philip Mulieri, and Dr. Jason Norcross, along with three physician's assistants (PA) and other office staff, establish innovative techniques and options tailored around the patient's individual needs. When you come into Hilton Head Orthopedics, you'll find a friendly, compassionate team who are excited to take part in your care and see your procedure through as an end-to-end solution from home to operating room to the office."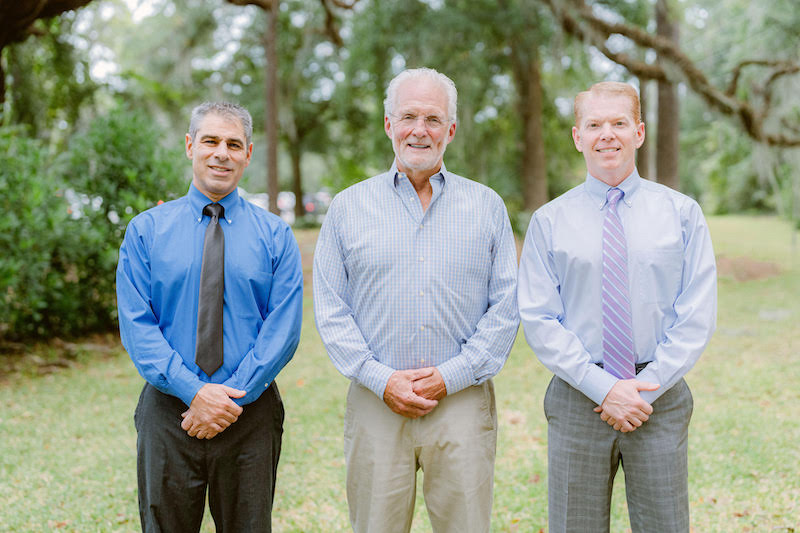 Philip J. Mulieri, MD,PHD; Kirk H. Johnson, MD; Jason P. Norcross, MD
Each doctor at Hilton Head Orthopedics brings a different area of expertise to patient care. Dr. Kirk H. Johnson, in his eleventh year at Hilton Head Orthopedics, is the senior member of the practice. He is a fellowship-trained and board-certified orthopedic surgeon, specializing in total joint replacement surgery. Previously, Dr. Johnson served as an associate professor at the University of Massachusetts, where he taught hip and knee replacement to residents in that program. He works with a philosophy that a doctor must make himself available to every patient without that patient having to go through a PA or a nurse.
"While some doctors simply do the surgery and let other staff tend to the after care, I believe that the patient needs to know that the doctor will be there for them and not leave them behind," Dr. Johnson said.
Dr. Jason Norcross is a fellowship-trained adult reconstruction surgeon, specializing in hip and knee replacement surgery. He has become one of the nation's top experts in the field of robotic-assisted surgery and provides training to other orthopedic surgeons learning this technology.
"I'm pleased to have introduced outpatient total hip and knee replacement to our region," Dr. Norcross said. "Because of the advances we've made in anesthesia protocols, pain management, and rehabilitation techniques, many patients can be discharged the same day and potentially accelerate their recovery after joint replacement."
Dr. Norcross also performs revision surgery for painful or failed hip and knee replacements. If you've had a total knee or hip replacement that was unsuccessful, or is continuing to cause pain, instability, and other problems, revision surgery can potentially improve the results.
Dr. Philip Mulieri is a fellowship-trained, board-certified orthopedic surgeon specializing in shoulder and elbow surgery. He received his fellowship training in shoulder and elbow surgery and brings a distinctive skill set including minimally invasive, arthroscopic techniques, complex reconstruction, and shoulder replacement to provide comprehensive treatment of all shoulder and elbow disorders. 
"I use patient specific computer-generated models to perform shoulder replacements," Dr. Mulieri said. "We are able to match the position of the implants to the patient's specific anatomy to improve overall range of motion and increase the longevity of the implants."
Dr. Mulieri additionally performs reverse shoulder replacements, a special type of replacement developed for people with rotator cuff arthritis. His method is remarkably successful at decreasing pain and increasing range of motion.
"It is a great cross-section of care, and we are each very focused on educating patients on how to care for themselves without needing us for surgery," Dr. Johnson said.
The doctors offer patients non-surgical therapy and counseling to help them avoid surgery. These include injection therapy, physical therapy, and patient education, which focuses on what the patient can do on their own, such as weight loss, regular exercise, and appropriate medication.
"Foremost, I am interested in non-surgical management of hip and knee arthritis," Dr. Norcross said. "Specifically, we use steroid and hyaluronic acid injections to treat joint pain and get people back to an active lifestyle without surgery."
Dr. Mulieri agrees. "As a team, we have a good understanding of what indications to look for when advising patients on whether or not surgery is the best option for them," he said.
Hilton Head Orthopedics accepts most all major payers, and they would be happy to ensure they are in network with yours.
The practice also enjoys a strong and consistently positive alliance with home healthcare providers in the area. "They do a great job of caring for our patients in their homes after surgery," Dr. Johnson said. "For our surgical patients, these alliances are a strong component of our quality care."
When you choose Hilton Head Orthopedics, you will work with a practice that believes in patient-centered care with two-way communication between healthcare providers and their patients. The practice is accepting new patients. To commence on your journey to regain your strength and mobility, schedule a consultation by calling (843) 547-0183.