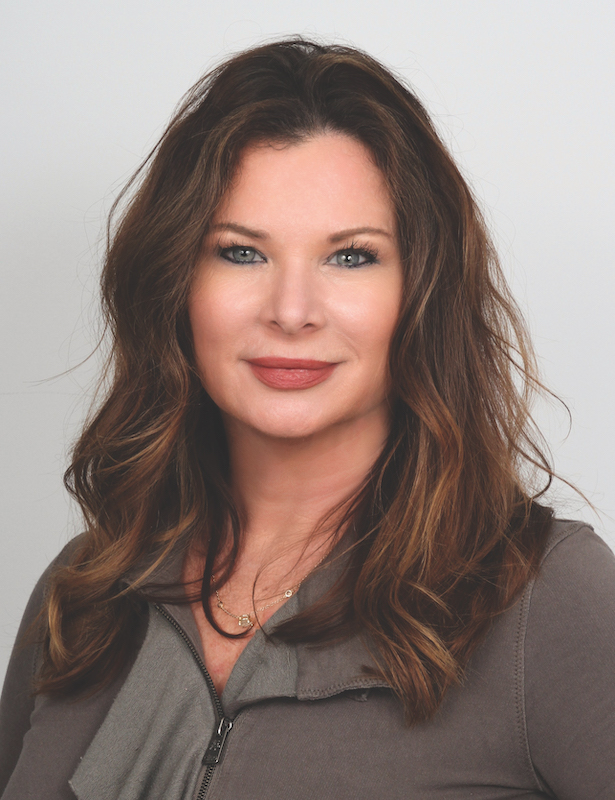 Jennifer Green, APRN‐BC AHC
Affordable Health Care and the AHC MedSpa Primary Care and Aesthetics
150 State St.
Bluffton, SC 29910
(843) 757-5559
affordablehealthcarebluffton.com
After years working in institutional and private medicine, I saw a need for a different kind of care: care that combined both compassion and affordability. In 2008, I turned that vision into reality when I started Affordable Health Care. For the past 13 years, I have continued to expand the original practice mission by adding components of aesthetics—all with the intention of assisting patients in their efforts to be healthy and beautiful from the inside out. 
This unique approach to primary medicine, one that offers patients the option to have access to total self‐care in one location, is innovative and progressive. We have taken the aesthetics portion of the practice to the next level with the recent purchase of a broad band light laser for skin rejuvenation, redness reduction, hair removal and more! This new technology reduces the amount of time needed for both treatment and recovery. In addition, it is a less painful alternative to many skin renewal procedures offered today. With this exciting technology, the AHC MedSpa staff and I are moving into the future with renewed purpose: to expand the options we offer for patients to experience total self‐care in one location.
When I am not working, I love to walk on the beach or sit by the pool. If I am not working or enjoying the outdoors, you can find me at the beautiful bar at The Bluffton Room, enjoying their delicious salmon and kale salad or sipping a yummy specialty margarita at Farm!
---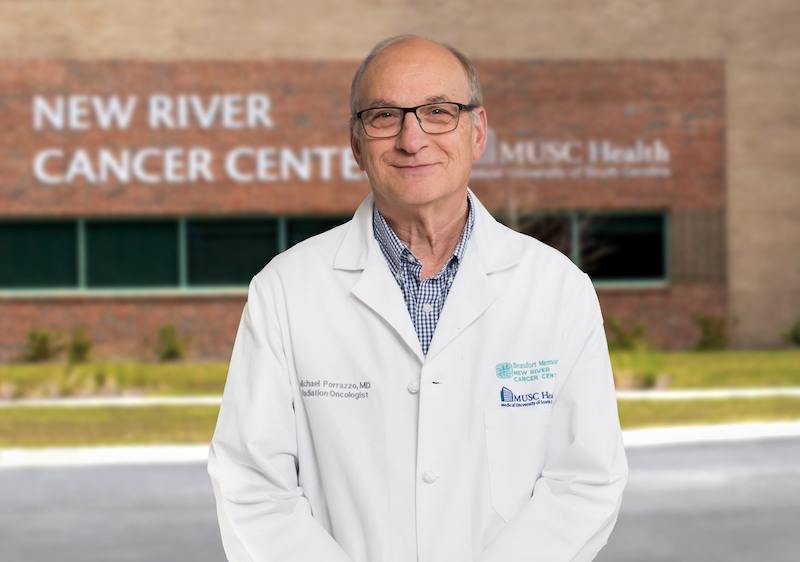 Michael S. Porrazzo, M.D.
Beaufort Memorial New River Cancer Center
Okatie Medical Pavilion, Suite 130
122 Okatie Center Blvd. North
Okatie, SC 29909
(843) 273-7980
What is your specialty?
I am a radiation oncologist. Together with surgery and medical oncology, radiation oncology plays an important role in the management of many types of tumors. I evaluate patients who have been diagnosed with cancer to determine whether they could benefit from radiation treatment. If appropriate, I prescribe and help design a treatment plan, individualized to each patient's needs. Along with the radiation team, I support the patient throughout their treatment course.
Why did you choose to specialize in radiation oncology?
Radiation oncology allows me to experience several aspects of medical care. There is a surgical—or procedural—aspect of care, as well as general medical management. And the technology is always advancing and improving, so there's never a dull moment.
What inspires you in your practice?
Radiation oncology is a constantly evolving field, as we strive to deliver treatment that is precise, safe, effective, and convenient. We meet these goals through improvements in our treatment equipment and through research studies that test different treatment strategies to provide the most effective and safest outcomes for our patients.
What is one aspect of the job that you find rewarding?
Perhaps the most rewarding aspect of being a radiation oncologist is meeting the patient at their time of need, providing emotional support, and winning their trust. Often patients are apprehensive or nervous when they first come in for consultation. You know you have done your job well when the patient completes treatment and is sad that they have finished.
What is exciting about your field right now?
I feel very fortunate to be part of the New River Cancer Center in Okatie, one of only a few cancer centers in the country to have the Halcyon™ Radiation Therapy System. This state-of-the-art technology delivers precision radiation treatment in a manner that is both safe and comfortable for the patient.
What advice would you give someone who just started their career in medicine?
Compassion, compassion, compassion.
What are your hobbies and interests outside of medicine?
I have an extensive model car collection. These are die-cast models manufactured in Great Britain in the 1960s. While some are in original condition, others have been reconditioned to their original glory.
When you have 30 minutes of free time, how do you pass the time?
When I have the time, I like to go on long nature walks with my two rescue dogs.
What skill or craft would you like to master?
I'd like to become a chef who specializes in gluten-free cooking.
---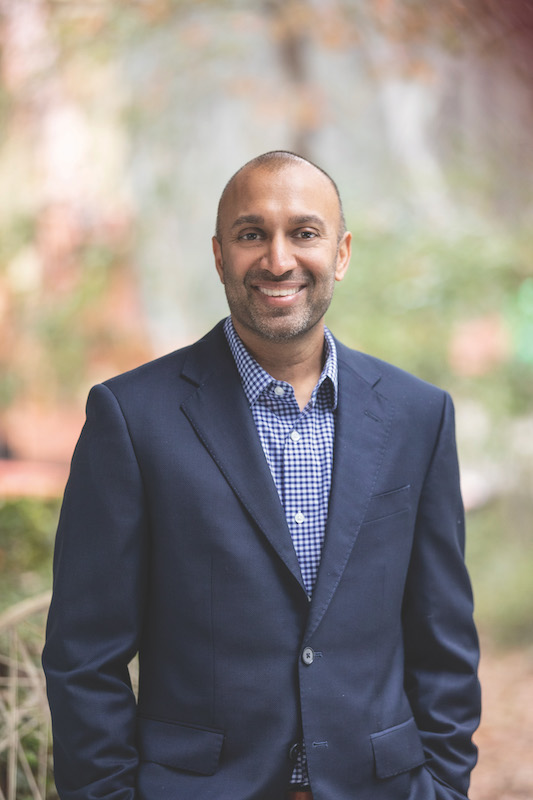 Kamal Patel, MD
CompleteMD
176 Dermis Ave, Ste. 103
Hardeeville, SC 29927
(843) 353-0380
What is your specialty?
Concierge family medicine
Why did you become a physician?
I've always found it rewarding to help improve the lives of others. My father was an engineer, so understanding how things work and finding solutions runs in my blood.
What inspires you in your practice?
My patients are my inspiration. They provide the motivation to provide superior care.
What is one aspect of the job you find rewarding?
The concierge model allows time to deliver quality and customize the care plan on a person-to-person basis.
What is exciting about your field right now?
The healthcare landscape is changing so much. People are being more proactive about their health and not just seeing a provider when there's a problem. This expands the ways we can help improve the lives of those we care for.
What advice would you give someone who just started their career?
Stay focused and driven. Don't allow the challenges of healthcare to deter your drive to care for others.
What are your hobbies and interests outside of medicine?
I love anything to do with water. It's one of the reasons I love where I live. Biking, traveling, listening to music, and spending time with my family are some ways I pass time when I'm not working.
When you have 30 minutes of free time, how do you pass the time?
Between work, two kids, and two dogs, I'm not sure I have free time, but I wouldn't have it any other way.
What skill or craft would you like to master?
I would love to sharpen my skills at cooking. Our diet is so important to our overall health, but it's often challenging to know what's best for our bodies.
Favorite local restaurants:
Pour Richards and Sage Room.
---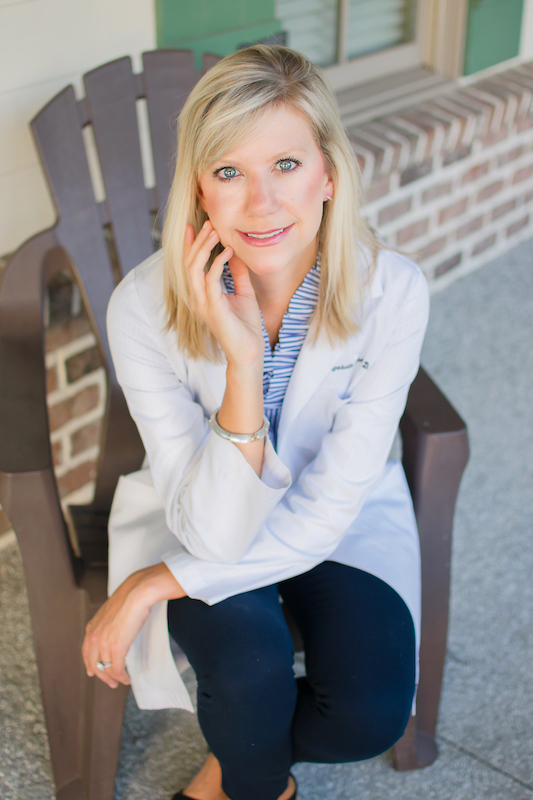 Dr. Elizabeth Abell
Harbor Point Dentistry & Dental Sleep Medicine of the Lowcountry
40 Okatie Center Blvd., South, Suite 302
Okatie, SC 29909
(843) 706-9662
harborpointdentistry.com
What is your specialty?
General Dentistry & Diplomate of American Academy of Dental Sleep Medicine
Why did you become a dentist?
I view dentistry as a profession that is defined by the applications of science, the highest standards of professionalism, and the goal to promote proper oral healthcare and improve the lives of others. I also work with our community of medical colleagues to improve patients' overall health with airway management of sleep related breathing disorders.
What inspires you in your practice? I am continuously inspired by the relationships I have formed with my patients. My patients become dear friends, and I look forward to their visit with us. I am fulfilled each day when a patient compliments my wonderful team and enjoys their experience.
What is one aspect of the job you find rewarding?
I have a strong desire to instill confidence with the power of a healthy smile for my patients. The mouth is the gateway to our body. Patients feel better overall with a healthy smile, but there are many conservative ways to achieve an esthetically pleasing smile too! I also address sleep related breathing disorders such as snoring and obstructive sleep apnea for the CPAP-intolerant patient. Proper airway management has allowed my patients to gain restorative sleep for a healthier, happier, and longer life.
What is exciting about your field right now?
You can say goodbye to messy impressions with an accurate digital scanning technique.
What advice would you give someone who just started their career?
I would share one of my favorite quotes by Zig Ziglar: "Success occurs when opportunity meets preparation."
What are your hobbies and interests outside of medicine?
I enjoy traveling, reading, and spending time with my friends and family.
What skill or craft would you like to master?
My office schedule seems to revolve around my patients' tee times. I would like to learn to play the game of golf too.
Favorite local restaurant: You can find me at Mama G's with a slice of pizza in my hand.
---
Dr. William Durrett MD & Dr. Grant Evans
Southeastern Regenerative Institute
15 Moss Creek Village
Hilton Head Island, SC 29926
(843) 836-5800 or (843) 949-7790
The current and most exciting effort occurring in medicine today regarding the myriad of degenerative, arthritic joint changes experienced, especially in the aging Baby Boomer population, is the field of Regenerative Medicine. As a result, Dr. William Durrett MD, a board-certified anesthesiologist, and Dr. Grant Evans DC, a licensed chiropractic physician, have combined their talents and experience to establish the Southeastern Regenerative Institute.
Dr. Durrett completed his undergraduate studies at Valdosta State and the University of Georgia and earned his medical degree from The Georgia School of Medicine. He has been in private practice for 32 years and involved in the regenerative medicine/stem cell field for over seven years with a 92% success rate.
Dr. Evans completed his undergraduate work at the University of Pittsburgh and attended chiropractic school for five years in Chicago, Illinois. He started his private practice in Columbus, Ohio, where he practiced for 30 years before moving to Hilton Head Island with his wife several years ago.
Regenerative Medicine has proven to be a viable and successful alternative to the previous medical treatments of degenerative and arthritic joint changes (lifestyle modifications, supportive bracing, the use and overuse of steroidal injections, and finally the aggressive and often failed attempts of surgery and joint replacements), so common with the normal aging process. Human Umbilical Cord Matrix injections have proven to be a safe and very effective alternative.
The Southeastern Regenerative Institute offices are located at The Sport and Spine Institute at 15 Moss Creek Village, serving Hilton Head Island, Bluffton, and all of Beaufort County.
Feel free to contact us with any questions or schedule a no-charge consultation to determine if you would be a candidate for this new, exciting, and pain-free alternative. Our office numbers are (843) 836-5800 and (843) 949-7790.
---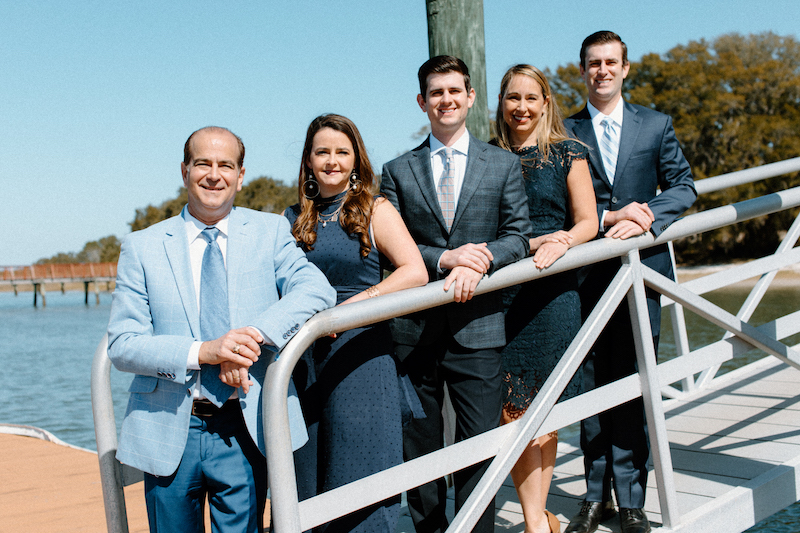 Optical Solutions
Hospital Center Commons
10 Hospital Center Commons, Ste 100
Hilton Head Island, SC 29926
(843) 681-6682
Shelter Cove
50 Shelter Cove Ln., Ste. G
Hilton Head Island, SC 29928
(843) 785-8008
Bluffton
27 Dr. Mellichamp Dr. Ste 100
Bluffton, SC 29910
(843) 706-0607
drmichaelcampbell.com
Family vision: When it comes to high quality care for your eyes, the Campbell clan has you covered. Dr. Michael Campbell Sr., founder of Optical Solutions, has been established in the Lowcountry for 35 years. Starting with one location in 1987, he has nurtured the growth of his business over the years and currently has three state-of-the-art facilities to serve all your eye care needs.
Optical Solutions' first location was in the Plaza at Shelter Cove, back in the day when there was no TJ Maxx or Whole Foods, only small, local businesses. Dr. Haley Bowles, (graduate of Southern College of Optometry) is the Optometrist at this location along with three experienced assistants. Dr. Bowles has been with Optical Solutions for eight years and practices a full scope of optometry, which includes medical eye exams, contact evaluations, treatment and management of ocular disease, and prescription glasses.
As the island grew, Dr. Campbell Sr. saw the need to expand. In 1989, he opened a second location, adding a full-service lab, which would give him the ability to make glasses on site, the same day. It is now located at 10 Hospital Center Commons, with 13 employees and three optometrists, Dr. Michael Campbell Sr (graduate of Indiana School of Optometry), Dr. Michael Campbell Jr (graduate of Indiana School of Optometry), and Dr. Kevin Campbell (graduate of the Kentucky College of Optometry). Dr. Michael Campbell Jr. joined the practice in 2020, while Dr. Kevin Campbell joined the practice in May of this year. All three Campbells work together, serving the mid-island location with an extensive array of expertise and technology on comprehensive eye care.
With Bluffton's ensuing growth, a third location was contemplated. After moving his office three times, Dr. Michael Campbell Sr. built a state-of-the-art facility in 2016, located at 27 Dr. Mellichamp Drive in Old Town Bluffton. Dr. Jessica Sirak (graduate of Pennsylvania College of Optometry) has been practicing in the Lowcountry for over seven years and serves that office along with Dr. Michael Campbell Jr. and Dr. Kevin Campbell. All three doctors bring the same advanced eye care that is found in the Hilton Head offices out to Bluffton, including full scope medical optometric services and difficult contact lens evaluations.
Optical Solutions has grown into one of the most advanced optometry practices in the area and is known in the community for giving the highest standard of care. The Campbells are keeping a clear vision of the dynasty they are creating and staying at the forefront of optometry by frequently adding new techniques and technologies for future generations.
---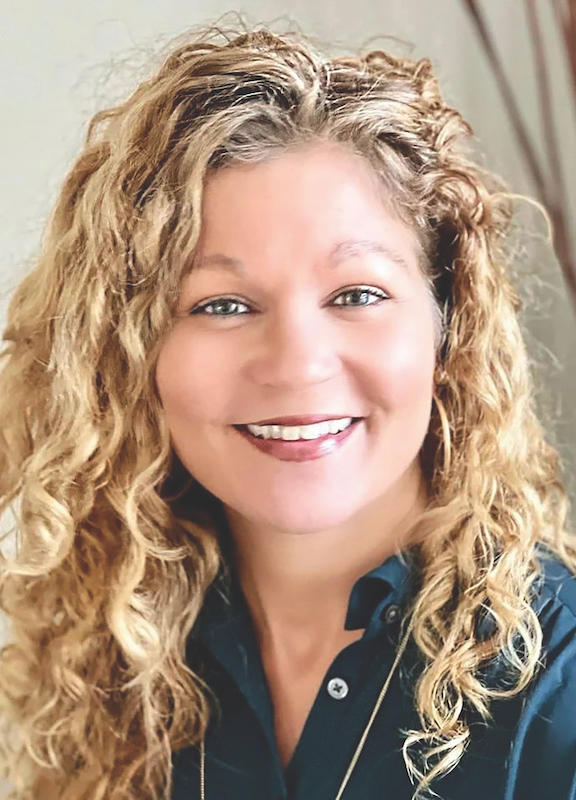 Diana Medina
Wave of Life Birth Services
waveoflifebirthservices@gmail.com
(607) 742-8608
waveoflifebirthservices.com
What is your specialty?
I am a doula. I work with women who are pregnant, wanting to be pregnant, were recently pregnant, those who have lost a pregnancy, and those who are not able to become pregnant. I am a full-spectrum doula.
Why did you become a physician?
I became a doula because of the amazing support I received during my births. I wanted to support women before during and after birth by providing them with informative, emotional and physical support. I desired to educate families on all things birth and help families achieve their birth goals by making their own informed decisions.
What inspires you in your practice?
So many things inspire me to continue to do this amazing work. My biggest inspiration is my children and my own personal birth experiences. Also, all the many families I've worked with. (I have a deep connection with each one of them, from families I worked with seven years ago to families I am working with presently.) The difference I am making. And, my personal knowledge. I thrive on the agenda to become the best I can be in this moment, through continuous education and learning.
What is one aspect of the job that you find rewarding?
All of it, no matter what the circumstance. Regardless of the outcome, I am rewarded by being part of the family's birth journey, and that is the most amazing gift.
What is exciting about your field right now?
So much! Doulas are becoming more talked about. People are becoming more aware of the importance of hiring a doula. Healthcare workers are becoming more understanding of our role as a support person, and that doulas are not present to undermine or work against medical professionals.
What advice would you give someone who just started their career?
Understand this career choice could be a 24 hour job at times. When you are on call, there is not much downtime and you are always available for your families. With that being said, be sure you schedule time off and be adamant what that looks like. Self- care is so super important. Making sure you take time to reflect, rest and rejuvenate.
What are your hobbies and interests outside of medicine?
I love the beach. I love all types of music and dancing. I love yoga and being in touch with self. I love red wine and iced chai lattes. I enjoy watching Holiday movies, Disney movies, and any movie with my husband and family. I love reading or listening to inspirational books regarding birth, love and personal growth. I enjoy walking through local stores & shops, being present & part of an amazing community. I am a strong advocate for community volunteering and have just recently become part of a global organization that helps raise awareness for maternal health. Above all, I love being a wife, a mama and a grammie. I AM IN LOVE WITH talking to my grandbabies and hope to live closer to them someday so they can be my everyday.
When you have 30 minutes free, how do you pass the time?
Oooo that's tough. Depends on time of day. Anything from the above list! Also, checking emails lol Because we all know they build up… and I hate a full inbox!
What skill or craft would you like to master?
There are the obvious: cooking, baking, gardening … I do them but would love to master them. Aside from the many things I'm working on as a doula (lactation, placenta encapsulation), I would love to be an event planner or an interior decorator. I would be good at both, and I think one of those will be my next job.
Favorite local restaurant:
This depends on what we are searching for: Best dirty martini, Wise Guys; best Pizza, Cheap Seats Tavern or NY Pizza on the island; best all-around, Okatie Ale House; best seafood, Dockside or Surfwatch; best Italian, Michael Anthony's, Ombra or Nunzio; best in Bluffton, The Bluffton Room or Farm; best top notch, Alfred's.
---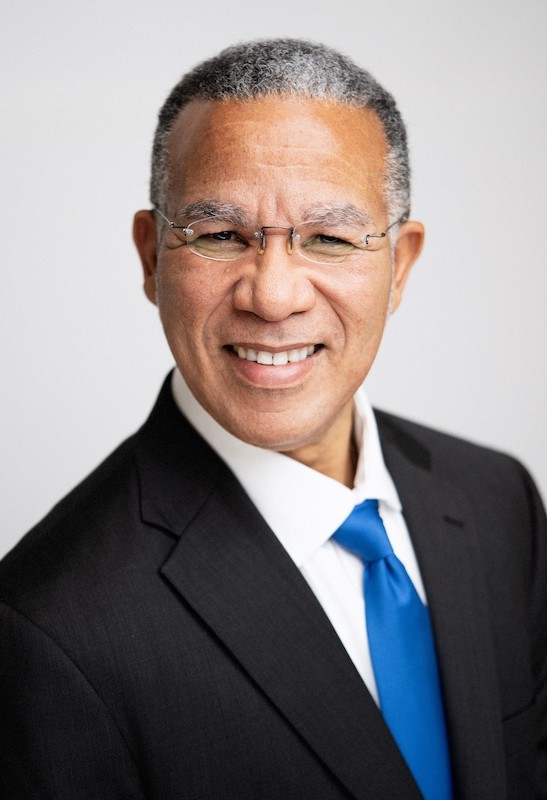 John W. Perry, MD (Board Certified, Fellowship Trained Thoracic and Cardiac Surgeon)
Hilton Head Regional Healthcare
Cardiovascular & Thoracic Surgery Associates
25 Hospital Center Blvd, Suite 306
Hilton Head, SC 29926
(843) 732-1949
HHCardiovascular.com
Dr. John Perry joined Cardiovascular & Thoracic Surgery Associates on Hilton Head Island, S.C. in December 2022 and practices at Hilton Head Hospital. He is excited to bring 20+ years of cardiovascular and thoracic surgery experience and contemporary cardiac surgery techniques to the Lowcountry.
Describe your practice, clinical interests, ideal patient
My goal, although not always achievable, is to be perfect. I treat each patient as if he or she is one of my family members—father, mother, brother, or sister. My ultimate goal is a perfect outcome for every patient. Although I've done this for 22 years, this is often their first encounter of cardiac surgery, so I always remember and approach every case as if it is my first.
What makes you most proud professionally?
Success in my surgical outcomes makes me most proud. It is very gratifying to get my patients back to their families, to their jobs and their daily routines of life. I feel most successful when my patients have an optimal outcome and can return to their routines and usual activities of daily living with as few repercussions as possible. My goal is that they never have to return to me again.
What would you like patients to know about your personality/hobbies?
I value family first and foremost. I am widowed, and my children and family are so important. Related to hobbies, I absolutely love the outdoors, soccer, tennis, writing and art. I love nature and most enjoy living near water and the natural peace and serenity it provides.
Is there anything else you believe is relevant for patients to know about you related to patient care?
I am very dedicated, and I feel that my patients are the center of the care circle. Patients are most vulnerable in the hospital and they are relying on everyone involved in their care to make them their ultimate priority. From nursing and surgery staff to administration and housekeeping, everyone involved in a patient's care is critical in making the patient's experience the best it can be and least traumatic as possible. I respect everyone that surrounds the patient as we all play equal roles and are an equally important part of their care – Our focus and priority is always the patient.
What is exciting in your field right now?
The most exciting advancement in the field of cardiovascular & thoracic surgery is the growth in minimally/less invasive techniques. It is helping us achieve the same goals as the more traditional surgeries but with faster recovery and less emotional and physical trauma to the patient. We want to leave our patients with as little as possible change in their physical state while fixing the problem.
What inspires you in your practice?
What inspires me most is striving for perfect outcomes. What makes me want to come to work? The happiness of the patients, families, and colleagues. Everyone can be proud that they played a role in the success of a patient's outcome—that they contributed to the wellbeing of the patient.
Why did you become a cardiovascular & thoracic surgeon?
During my general surgery rotation, I crossed paths with cardiac surgeons and found the science of cardiac surgery to be fascinating. I loved all aspects of the study of the heart and lungs. Cardiovascular & thoracic physicians must be very meticulous, decisive, aggressive, and brave. These attributes and the science behind cardiac surgery matched well with my personality and engineering background. Becoming a surgeon in this field came naturally for me.
Do you have any other work aspirations?
When I left my residency in New York, I went to the Cleveland Clinic. I was drawn there to get involved with research related to mechanical support devices for the heart. I always wanted to do clinical research but didn't get an opportunity early in my career. It is still a dream of mine to do clinical and lab research on mechanical assist devices for the heart. My over 20 years of clinical experience could lend itself well to research, and I could perhaps make an impact on future advancements in cardiac surgery.
What skill or craft would you like to master?
I would like to master auto and aircraft mechanics. I admire those fields. Right now, I am lucky if I can change my own tire, but I could see myself enjoying time in a garage in the future.
---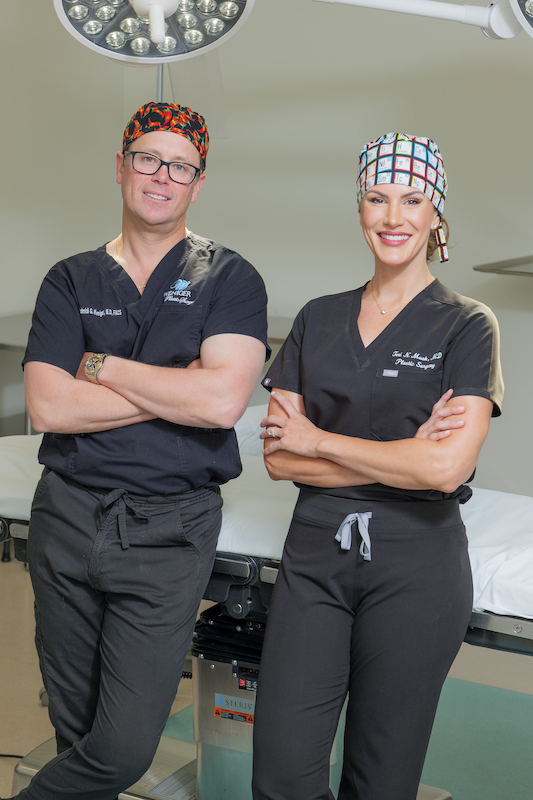 Teri N. Moak, MD, MS
Weniger and Associates Plastic Surgery
350 Fording Island Road, Suite 200
Bluffton, SC 29910
(837) 757-0213
What is your specialty? Aesthetic/Cosmetic Plastic Surgery
Why did you become a physician?
Growing up, I always had a passion for the arts and science. I am a musician (I play piano and guitar), and I also love to draw and paint. In school, mathematics and science fascinated me. I loved how one discipline was used to explain the other, and it always seemed like there was more to learn (I am a lifelong nerd)! I also loved working with my hands; I was constantly helping my dad with household projects, building cabinets, laying tile, etc. When I was in college, deciding my future career path, I knew I wanted my life's work to be meaningful, impacting other people in a positive way. I wanted to inspire others to be the healthiest, happiest versions of themselves, facing the world with confidence. I also wanted to incorporate my passions for the arts and science into my career. I had always wanted to be a surgeon, but, initially, I chose the career of physical therapy, which was a very rewarding job. I worked with amazing people experiencing incredible challenges. However, ultimately, I could not ignore my continued desire to work with my hands in surgery. I ultimately chose plastic surgery, as it incorporated all my passions from early childhood and also gave me an opportunity to help others feel more confident.
What inspires you in your practice?
My desire to help others see their innate beauty is what drives me. Though my actual practice centers around addressing physical concerns or specific areas that affect someone's self-confidence, my hope is that, through these interactions, I can remind every patient I see that they are beautiful as they are. Ultimately, helping someone else feel more confident is the thing that makes me the happiest.
What is one aspect of the job that you find rewarding?
The main aspect of my job that I find rewarding is simply getting to know my patients and forming meaningful relationships with them as I help them through their health care journey.
What is exciting about your field right now?
Plastic surgery is an ever-evolving field. It is founded on the principles of creativity and "thinking outside the box." Physicians in this field are constantly finding new ways to help restore a patient's form and function—whether it be related to reconstructive or aesthetic work. I suppose I find my field to always be exciting and innovative!
What advice would you give someone who just started their career?
Follow your dreams. My early career journey was heavily influenced by those who encouraged me to choose a different career path. Though I explored other career options, I ultimately came full circle to my initial dreams of being a surgeon. It took a great deal of hard work, resilience, and perseverance, but it has led me to an incredible position in life, where I have the opportunity to fulfill my own passions and make a difference in the lives of others. I believe that career happiness lies in doing just that: pursuing your passion or dream in a way that has a positive impact outside of you.
What are your hobbies and interests outside of medicine?
I love to exercise—walking/jogging, yoga, weightlifting. I paint and draw. I play piano and (sometimes) guitar. Mostly, I love a great meal and glass of wine, spending quality time with friends and family.
When you have 30 minutes of free time, how do you pass the time?
I'm not sure I have 30 minutes of free time! Ha ha! If I have a minute of downtime, I pick up the phone to call my family or friends I don't get to see often.
What skill or craft would you like to master?
I'd like to learn the cello! Otherwise, I just want to be the best surgeon I can possibly be, which is a process that never stops!
Favorite local restaurants:
The Pearl and The Bluffton Room are places I frequent.
Dr. Frederick Weniger
What is your specialty?
Cosmetic Plastic Surgery
Why did you become a physician?
When I finally had to choose between investment banking, aviation, and medicine, I was encouraged to think about how I could help people the most. It was clear to me that my aptitude in science was a gift that would more uniquely help people in medicine than in any other profession.
What inspires you in your practice?
I am driven by the challenges of asking, "How can we do that better?" or "How can we do that well more consistently?" In contrast, I get frustrated by excuses because they stand in the way of improvement.
What is one aspect of the job that you find rewarding?
I get to be Santa every day, but on the occasions that someone is so happy with their result that they hug me or are even in tears, I can affirm that I made the right choice and that I am doing the right thing with my talents.
What is exciting about your field right now?
Over the next few decades, advances in biomaterials, tissue engineering, and even 3-D printing are going to make reconstructive surgeries more predictable and easier for patients.
What advice would you give someone who just started their career?
Begin with the end in mind. Think about what you want your practice to look like and then what you need to do now to get it there. Then there's the hard part: patience.
What are your hobbies and interests outside of medicine?
I love fishing—particularly fly fishing. I also love traveling, so you can't beat "destination fly fishing" such as in the Bahamas or Montana!
When you have 30 minutes of free time, how do you pass the time?
Lately, I use short bits of free time to practice Spanish on my Duolingo app. I also like to do a little (nonfiction) reading to learn about different interests, such as comparative religions, psychology topics, or business management.
What skill or craft would you like to master?
Just one? I would like to be better at flying, fly fishing, and cooking.
Favorite local restaurant:
Chez Georges is always special.
---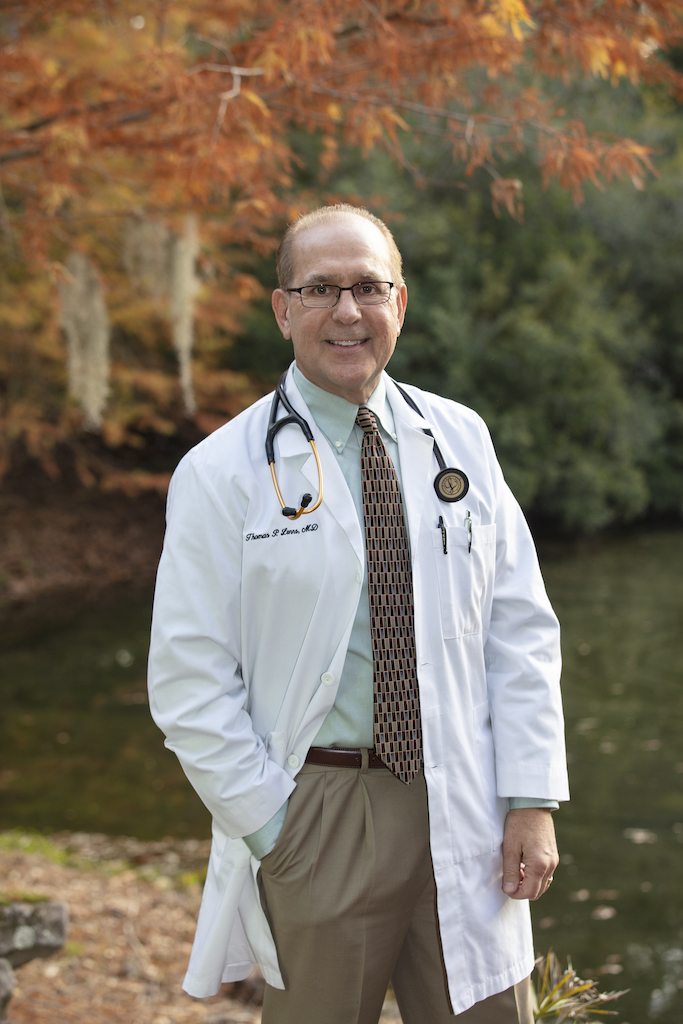 Thomas P. Lenns, M.D.
Dr. Thomas P. Lenns, LLC ~ The Concierge Choice
89 Main Street
Hilton Head Island, SC 29926
(843) 681-5205
www.drlenns.com
What is your specialty and where did you study medicine?
Internal medicine. I am board certified in this specialty, seeing adults starting at age 18. I attended medical school at Drexel Medical University in Philadelphia. After medical school I completed my Internal Medicine Residency at Temple University and also served as the Chief of Internal Medicine at St. Luke's Hospital in Bethlehem, Pennsylvania.
Why did you choose a membership model for your practice?
I chose membership model for my practice in 2017. I had practiced standard internal medicine primary care on Hilton Head from 1989 to 2017. By then, I had too many patients and not enough time to spend with them to be completely thorough. As a "detective" of the human body, I need time to think, ponder, and discuss the patient with specialists to discover what it is that ails the patient. In the membership model, or concierge medicine, the doctor has far fewer patients, thus adequate time to arrive at a diagnosis and treatment plan.
How does the patient benefit from a membership model practice?
The patient benefits from a membership model for all the reasons I just described regarding why it's a good model for the doctor. The patient appointments are long enough to allow the patient to have their issues addressed. The availability of urgent appointments, such as same day or the next day is the norm, so patients no longer have to wait a week or more to see their doctor.
How has the medical field evolved throughout your career?
I believe the two most significant strides in my career have been in the diagnosis and treatment of heart disease and cancer. Thirty years ago, people died from heart problems or cancer in their fifties and sixties. Now, people with those same conditions are being cured and living to a ripe old age.
What are your hobbies and interests outside of medicine?
I've been a lifetime golfer. My father was quite a good player, so I started young. I got hooked when I got my first hole-in-one- at age 14. And, I must say, I've had five more since. Now, my newest hobby with my wife Carol is spending time with our grandchildren.
If you were not a physician, what would you be?
I would be a play-by-play sports broadcaster or a DJ on a smooth jazz radio station. All my fans tell me I have the voice!
What was the last movie you saw?
Elvis. The acting was fantastic, but I left the theater saddened. Such a fabulous God-given talent, taken down by addiction. Yet no one in his circle stopped him from the death spiral. Lesson learned. If we have a loved one or a close friend suffering from addiction, we must not remain silent; we must do whatever it takes to save a life.