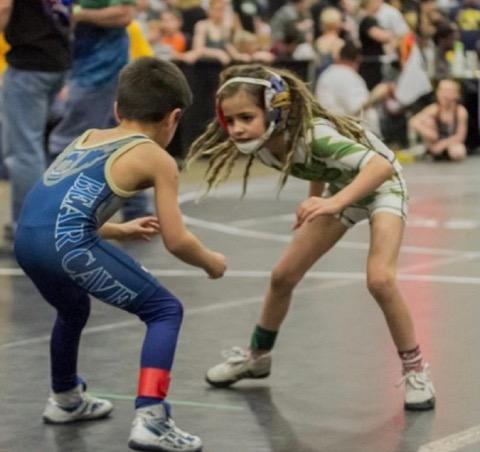 Many people know Patrick Boulware as a hometown baseball hero who played professionally in the Frontier League for the Southern Illinois Miners and who now coaches SEB Travel Baseball; some know him as the assistant varsity football coach at Hilton Head Island High School; some know him as a dirt oval race car driver; others recognize him as the general manager of Coligny Plaza. Boulware wears lots of hats. What you might not know is that he is having a big impact as a wrestling coach.
Like many in the wrestling community, Boulware comes from a family of wrestlers—his dad and older brother were in the sport, so he followed in their footsteps.
"Wrestling really changed me for the better at a time in my life when I really needed confidence," Boulware said.
Boulware was a small kid with a learning disability, which meant he wasn't the most popular kid at school. When he began to wrestle competitively, he gained strength, both mentally and physically, along with the confidence to try other sports.
"My wrestling career ended after high school because I chose to go to college on a baseball scholarship, which I thought would offer a better career path," he said.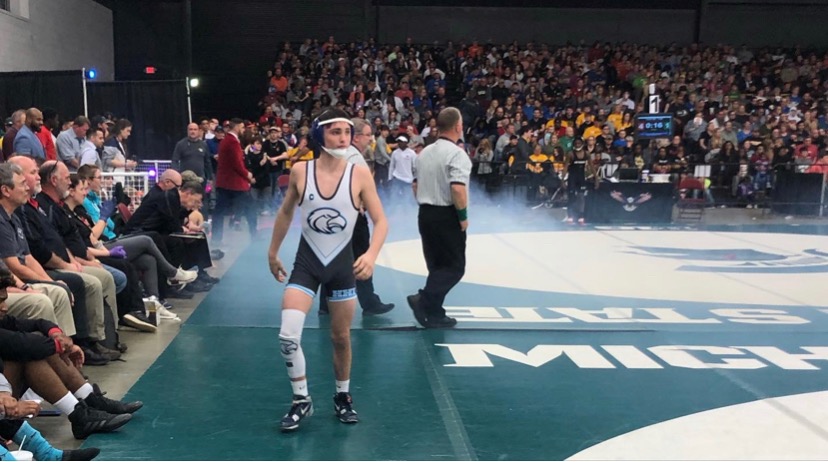 He attended college at Immaculata University on a baseball scholarship, and after college he was drafted to play professionally with the Frontier League as a catcher for the Southern Illinois Miners. During spring training, Boulware sustained an injury that ended his baseball dream. He also found out his wife was expecting a baby, so knew it was time to focus on family and a sustained career.
After a while, Boulware began to miss the energy of sports, so he moved back to Bluffton where he was born and raised and got a job at Bluffton High School, his alma mater, as the assistant wrestling coach. From there, he took the assistant job at Hilton Head Island High, where, since 2017, he has served as the head wrestling coach. His strategy was to implement his wrestling style and match it to the Hilton Head standard of wrestling that had been implemented from previous coaches and wrestlers.
"My goal is to honors the lineage I'm from as well as the people who have moved the program forward on the island," Boulware said. "I still communicate with many former coaches and players. This is a team that truly has a family mentality, and that's an extraordinary motivator."
His approach is working. From a group of 15 kids in 2017, the wrestling team at Hilton Head Island High is now one of the bigger male sports at the high school.
"A typical sports team for this size school will have between 15-25 boys. Our wrestling team (grades 9-12) has 46 kids on the team," Boulware said.
He attributes his astounding numbers to the fact that wrestling instills so much confidence and the will to win into kids who might otherwise not participate in sports. Because wrestlers are grouped into weight classes, the kids are competing against others who are of equal stature and weight, so the playing field is level.
The success of the team is evident, too, and not just from the number of participants. As a team, they recently qualified to compete at the lower state championships—a feat which hadn't been accomplished since 2016. Hilton Head Island High also has an individual state wrestling boys champion—James Levy, a senior who has been wrestling since he was 10 years old.
Boulware has surrounded himself with a great group of assistant coaches whom he is quick to credit. Tyler Rosenlieb, head assistant couch, is Boulware's right-hand man. He is a Bluffton High graduate and Bluffton's first ever state wrestling champion. Mason Moreavinski and Jeff Goodwin are both assistant coaches. Jefferey Estrada, an assistant and an elite club wrestling coach, also brings a lot to the team. Prior to moving to Hilton Head in 2020, Estrada coached several teams—both male and female—in Colorado. He brings a different style of wrestling.
"Wrestling is like a dance," Boulware said, "and not everyone dances the same. We have five coaches that bring different styles, which is a great advantage. One kid might learn better from one style than the other. Our kids learn diverse methods, which strengthens our team."
Estrada's experience with female wrestlers is changing the face of wrestling in the Hilton Head community. Zao Estrada, Coach Estrada's 15-year-old daughter, is first varsity and only female wrestler this year on the team. Zoe began wrestling at age four on her dad's team. Like Boulware, she was influenced by her dad and older sister, both wrestlers. She would attend local tournaments with her family and would get thrown into the ring where, she said, "It felt like I was just playing."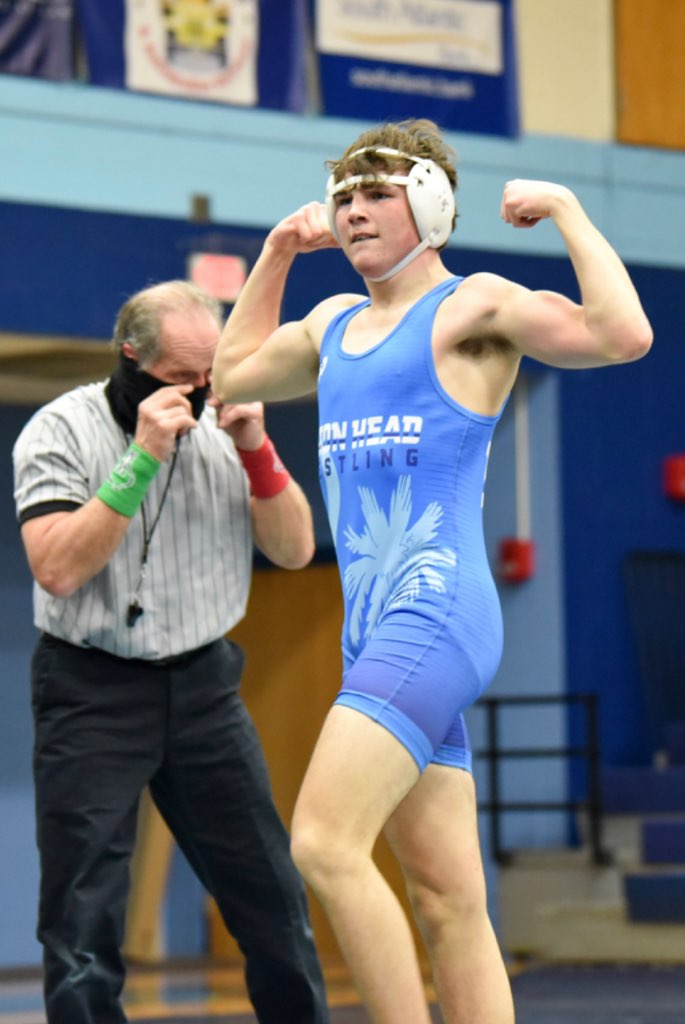 At age six, Zao took third at Tulsa, a national event; at 10, she won overall champion at Tulsa, beating both boys and girls. At age 13, she took second place at the Pan Am International event. This year, on March 6, Zao competed in the South Carolina boys individual state tournament, an event which she was able to compete in because South Carolina doesn't currently have a sanctioned girls' event. She finished second in the lower state tournament—the first time a girl ever finished in the top two. She qualified for the state tournament, finishing third—again, the first time ever for a female to medal in the state tournament. On March 30, Zao was named overall winner at the USA Wrestling Girls Folkstyle Nationals.
"We are working towards getting girls sanctioned in South Carolina so they will have their own state championship and not have to compete with boys," Boulware said. "What I want to see is more overall interest in the sport of wrestling and, in particular, more awareness and female interest in the sport."
Boulware believes that whether a kid wins or loses a tournament, what wrestling gives them is a "never give up" mentality. They also learn self-reliance.
"We teach our kids how to go to battle alone," Boulware said. "They know that someone will win, and someone will lose. Our motto is 'You can't point the finger; you have to point the thumb' which forces a kid to self-examine and see exactly what they need to work on, all the while knowing they have an entire team behind them supporting them and lifting them up."
Boulware and his coaches have opened a club for youth wrestling on the island that meets Monday and Tuesday afternoons at The Hanger on 12 Finch St. on Hilton Head Island for both entry level and advanced boys and girls, ages four and up. The club will also offer pop-up camps and clinics during the summer.
For more information, follow Hilton Head Wrestling on FB or call (843) 422-7327. For more information about Hilton Head Island HS wrestling, visit the school website, hhihs.beaufortschools.net.