The makeover was prompted by a desire to update and modernize the physical space and add new, more holistic services. Physical renovations include lighter and brighter walls and floors, which enhance and modernize the aesthetics of the spa.
"Though our previous décor was gorgeous, the new look makes our space feel much brighter, more spacious and more luxurious," said Sarah Metzger, spa director. "Another big improvement that allowed us to accomplish more regarding holistic services was the decision to discontinue nail services. In its place, we've added a wet room with a Vichy shower that our clients will absolutely love."
The Vichy shower at Namaste is a shower with eight vertical shower heads with different modalities where large quantities of warm water are showered over a client while they relax and recline in a shallow wet bed (like a massage table, but with drainage for the water). "It's like getting rained on from head to toe with warm water," Metzger said. "It's fabulous!"
Additional holistic services offered in the in the new room include:
• Detoxifying mud body wrap—all natural and vegan with mineral-rich mud from the Dead Sea, followed by a Vichy shower;
• CBD Himalayan sea salt treatment—a full body scrub, followed by a Vichy shower, a massage with CBD body oil and CBD salve on scalp and feet;
• Anti-cellulite slimming body wrap—an invigorating caffeine body scrub/massage on targeted areas prone to cellulite, followed by a Vichy shower and a firming gel and wrap.
Another popular new treatment at Namaste is FLOWpresso, a unique therapy that encourages toxin release and promotes the body's self-healing mechanisms, restoring balance and enhancing overall health. The non-invasive therapy uses a combination of compression, far infrared, and deep pressure to encourage relaxation, sleep, and energy.
"During FLOWpresso, the client wears a compression suit which delivers a full body compression therapy treatment with infrared heat starting at the feet and moving all the way up to the shoulders," Metzger explained. "This treatment detoxes the lymph nodes and is great for circulation. Many people do it before special event to lose water weight and sculpt their bodies. It's also great for digestion, weight loss, better sleep, stress reduction, getting rid of heaviness in the arms and legs. Athletes use it for muscle recovery after sports and other strenuous activities. The infrared heat reduces inflammation and helps manage pain."
Namaste is adding Ayervedic services to its holistic menu, including Shirodhara and Abhyanga. "During Shirodhara, clients lie down and relax while the therapist pours a continuous light stream of warm oil from a copper vessel onto the forehead and scalp, where our nerves are highly concentrated," Metzger said. "This treatment serves to calm the nervous system and promotes a deep state of relaxation, like meditation. Abhyanga is a full body massage with warm Ayurvedic essential oils that is good for lymphatic drainage, cleansing, rejuvenation, and relaxation. Each essential oil is custom-selected for each client according for their specific dosha, or body type."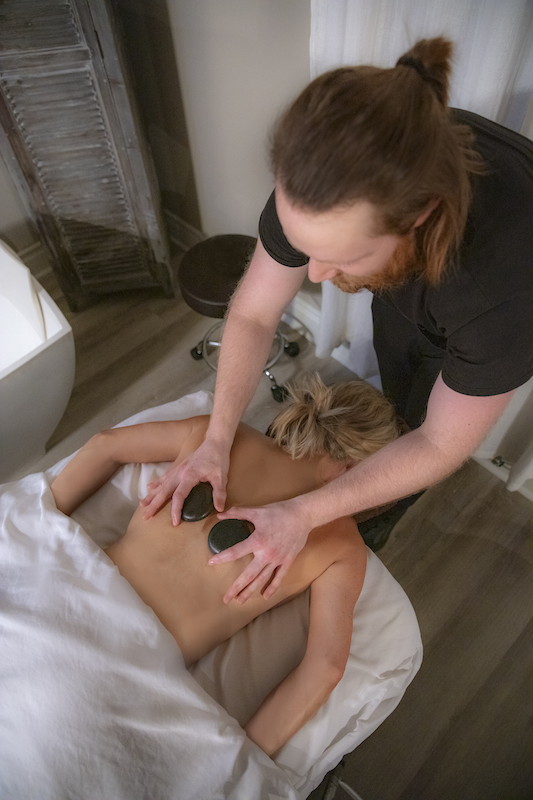 Clients at Namaste always have the option to add special enhancements to any treatment. Though there are several to choose from, two are stand-outs: the LED light therapy add on to any facial and the bubble bath. Both are currently the most requested.
There are three LED options to consider: blue, red, and infrared. The calming blue LED kills bacteria and treats redness and inflammation; the stimulating red LED is good for collagen production, elasticity and reducing fine lines, wrinkles, and sun damage; the healing infrared LED is good for tissue repair, inflammation, and pain relief.
The bubble bath comes two ways: with aromatherapy or Epsom salt, and either will help you relax and loosen up your muscles before any treatment. Additionally, a hot bath will prep your skin by softening it, allowing you to absorb the nourishment more fully.
If you've got an entire day to spend at the spa, then seriously consider the Namaste Spa Day. This lavish treatment begins with a bubble bath, then an exfoliating body brush treatment and nourishing shea butter wrap, followed by an 80-minute Swedish massage. After that, you'll receive the famous Namaste signature facial, which includes a customized facial plus a scalp, hand, and foot massage with herbal hand and foot wraps.
If you're unsure about what treatment to get, Metzger says her go-to recommendation is the Surf Watch Package, which is a Swedish massage with a foot scrub, classic custom 50-minute facial (includes deep cleansing/extractions, custom mask and facial and decollate massage, serum and moisturizer and SPF) and an herbal hand wrap. "Every client who experiences this package leaves happy," Metzger said.
Clients are encouraged to come early to relax in the sauna before their treatments to loosen muscles. And afterwards, all clients are offered complimentary mimosas to sip in the relaxation room following their service.
Specialized service is the norm at Namaste. The employees make every service a specialty with the expertise and passion they bring to their work. Metzger asserts that Namaste aestheticians and massage therapists are the best on the island, as they are rigorously vetted and hand-picked to maintain the highest quality of service.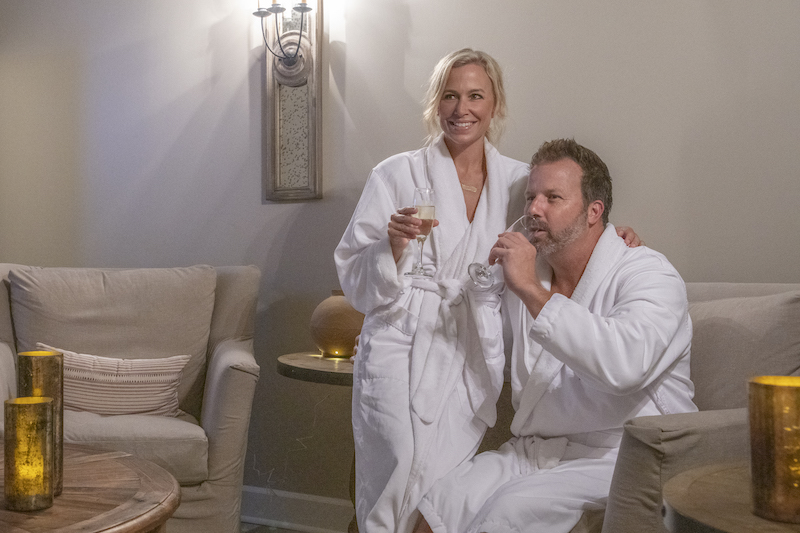 "The Namaste mission is to make clients feel and look their best," Metzger said. "We want to provide our clients a place to relax, get relief from pain, and leave with real results. We make our clients feel important and special and we give them our undivided attention while they are with us."
To learn more, visit namastespahhi.com.
---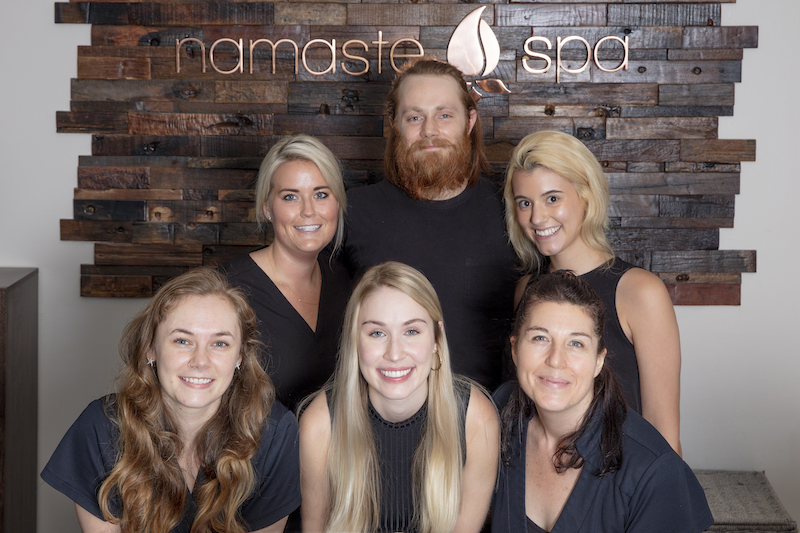 Testimonials
"This is not just a spa, this is an experience…" – John
"They treated us like we were the most important clients they had ever had!" – Caroll
"It is one of the most fabulous and pampered experiences you will have. The staff is extremely knowledgeable, meticulous in every aspect of the treatment, and responsive to your needs." – Randy
"I had a massage with Diamond, and I can't express enough the relief she brought my back. I live with chronic back pain and have been going to chiropractors and getting massages for a long time. Diamond listened to where my pain was and worked on those areas—my lower back, hamstring and hip areas. I woke up the next day and felt better after playing 54 holes of golf." –Adam