If you grew up in sports, odds are good you have that one coach who taught you something that stuck with you. Far more than simply showing you how to run faster, catch a ball better, or swing a bat with greater force, this mentor made sure your spirit was as ready for competition as your body was.
Jim Buser was lucky enough to have had several great coaches. At Oklahoma State, it was his coach Ralph Tate who gave him that one quote, that one nugget of wisdom, that has made all the difference.
"He said you can have a dream, but that dream will not come true without a plan," Buser said. "That's always been there."
As such, meticulous planning has always been a part of Jim Buser's life. It's served as a guiding light as he has kept his first business, Sports Addiction, thriving despite overwhelming competition. It was planning ahead that let him expand outward, opening the Old Town Bike Barn in the Bluffton Promenade and Hilton Head by Boat. Through trials and tribulations, it has been his keen planning, his almost clairvoyant mindset on what will come next, that has kept the wheels spinning on his empire.
To understand how far this has taken him, you need to go back 20 years to when he first opened Sports Addiction with his sister, Kathy Sigler. Following a long period working under retail mentor Bill Herbkersman, Buser had set out his own shingle as a sporting goods store for young and old.
"We opened as a sort of smaller version of a Dick's Sporting Goods," he said. At that point, the retail giant had not made any overtures toward opening a spot in a town as small as Bluffton, creating the perfect opportunity for Buser to fill that void. Still, he knew that it was only a matter of time before the retail giant caught wind of a town that was just then flirting with explosive growth.
And then, at the worst possible moment, they did.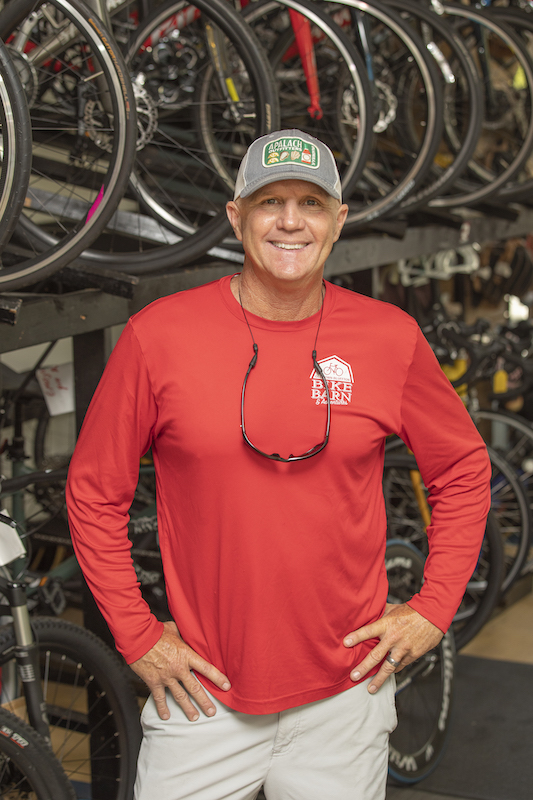 "Around 2008 or 2009 when Dick's opened, our lease ran out," Buser said. "It stomped on our foot. We really got in the mud for a while."
But there was a plan, hastily set into motion, that would allow Sports Addiction to grow into something that the big box store couldn't touch. "We went back to our roots: swimming, running shoes, pickleball, fitness equipment for home or commercial use…" Buser said. The shop retooled and relocated, to a spot out in Okatie. "We realized we needed to get out and take care of people in Berkeley Hall, Palmetto Bluff, Spring Island, Sun City … and it ended up being a great location. I went out there with my father four months before he passed away and he said, 'This is the spot you need to get.'"
The move allowed Sports Addiction to keep its doors open during the worst of the great recession, and it also spurred Buser to start expanding his plans. He'd opened the Old Town Bike Barn already, whose growth was quickly fueled by the closure of the only other bike repair shop in town. Still, as anyone who lived through that time knows, money was tight. "Financially, I was rubbing pennies together. So, I thought, 'Why not get my captain's license?'"
Taking on charters allowed for the next expansion, Hilton Head by Boat. On the smaller center console Triton and eventually the 26-foot Hurricane Godfrey, the sunset sail and dolphin cruise charters let Buser add to his empire and feed his desire to get out on the water. And with that, the third front on his expanding empire opened, letting Buser sail through the choppy waters of economic uncertainty.
His meticulous planning had gotten them through the worst of it, but there was another storm on the horizon in the form of a global pandemic. We assume you know which one. For Buser's business, however, this storm's clouds were ringed with silver.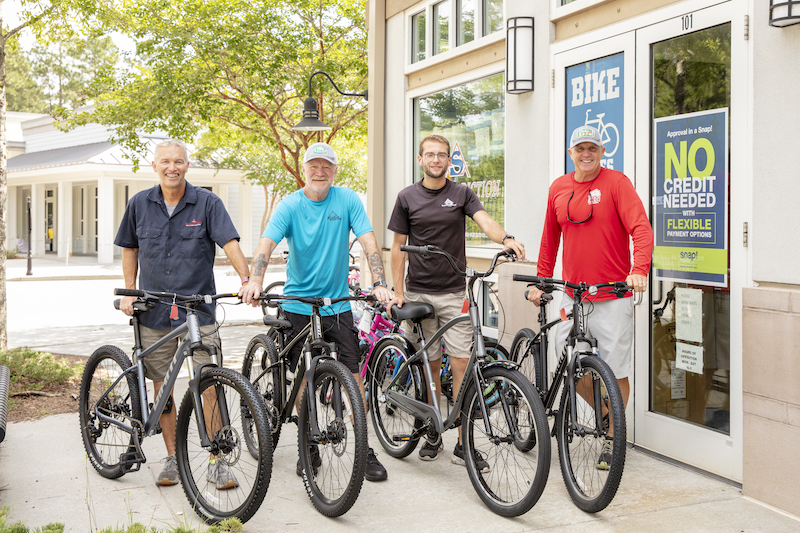 "During COVID, they told you to get outside, so everyone wanted to get a bike," he said. He planned for that, as well, filling his inventory of bicycles to the brim in anticipation of both the surge in demand and the cratering of supply. "I was super aggressive. It was just 'buy now because there's not going to be any later on.'"
In addition to the stream of cyclists showing up at the Bike Barn, Sports Addiction's emphasis on home gym equipment helped them thrive during lockdown. "It brought a lot of awareness to being physically fit. Everyone was buying equipment for their home instead of going to the gym."
The pandemic also helped him secure a key staffer, one who has always been a big part of his plans. "My wife, Marri, was in the restaurant business at Captain Woody's for 10-11 years. When COVID hit, we were so busy, I asked if she could quit because we needed her so bad. She was essential," he said. "There were people lined up outside my door placing orders for bikes, and we were just blowing through so much stuff. She started handling inventory and pricing, and it's the best thing that ever happened to my marriage."
She's not the only key team member, though. Buser is quick to credit the folks who helped build his businesses and keep them running. Whether it was Bill Herbkersman's mentorship early on, the members of the business community who have supported him from the beginning ("They know who they are.") or the employees who have proved indispensable, they are all part of the plan.
"I'm super blessed to have this incredible staff who have been with me through all that. It was rough being in there during COVID," he said. "My staff was amazing. It was definitely different, but we were so busy."
And now, with the pandemic behind us and further highs and lows ahead, Buser continues to look down the road to what's next. "You have to have some kind of plan—some kind of vision," he said. "They don't always work out. You gotta stick your foot in the mud for a while because it doesn't come easy."