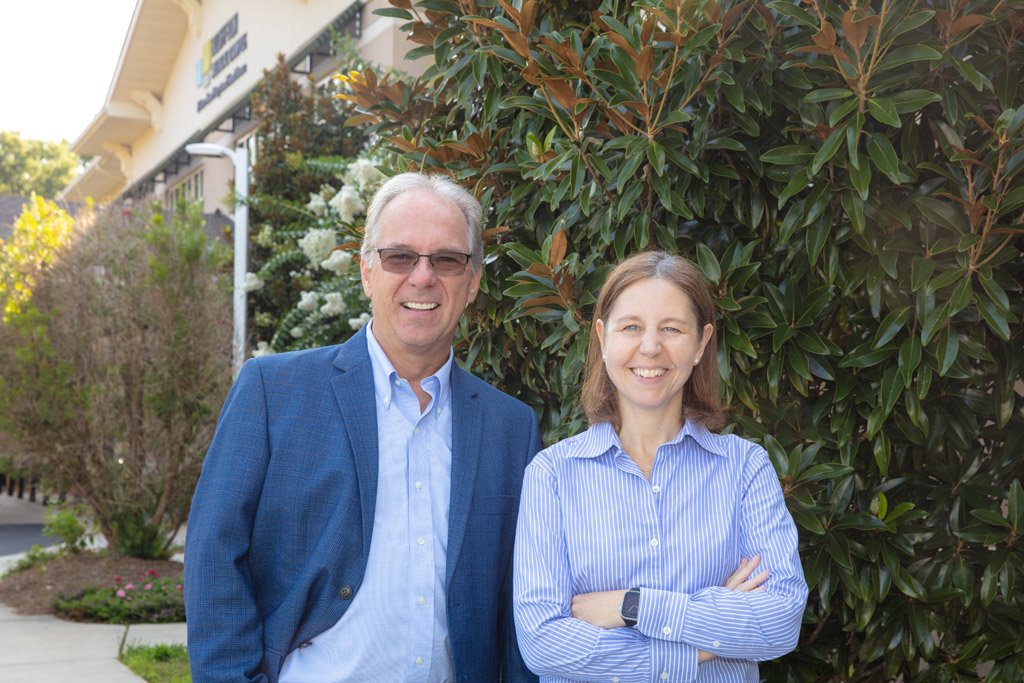 Bob Clarkson and Dr. Rochelle Ringer 
In a business community that has always prided itself on giving back, The Alliance Group Realty is almost fanatical in their mission to help. Their agents have donated toys at Christmas for The Deep Well Project. They've helped build houses with Habitat for Humanity. They've cut checks to various organizations, all aimed at elevating our community.
With their latest venture, Alliance Saves Lives, they're not just changing lives. They're saving them.
Explained Alliance Group owner Bob Clarkson, "I was having lunch with Jeremy Clark, the Market CEO of Hilton Head Hospital, and I asked him, 'If my mission was to save somebody's life, because in my opinion that's the highest calling there is, how would I do that?' He just told me, 'You have to see Shelly.'"
That would be Dr. Rochelle "Shelly" Ringer, surgical oncologist and perhaps the Lowcountry's most skilled surgeon when it comes to detecting and treating breast cancer. "That really hit home for me because I lost my sister to breast cancer at 47," Clarkson said.
He met up with Dr. Ringer in his quest to save lives, and what she told him changed his life. While most insurance will cover mammograms, patients will usually have to pay out of pocket because of high deductible for any follow-up tests, high-definition scans, needle biopsies or other early detection techniques. And while these tests can be expensive, ranging from $800 up to thousands, they are vital.
"With early prevention, my sister would still be here," Clarkson said. "So, what we're saying is when someone needs those tests but they plan to take their chances and wait until next mammogram because it's that or the mortgage payment, we're going to step in and say, 'No. You're doing it, and we're paying for it.'"
That mission became known as Alliance Saves Lives, a company-wide initiative among The Alliance Group's agents that would see donations from every home sold helping qualified applicants afford life-saving early detection. Focusing on Beaufort and Jasper counties, Alliance Saves Lives is administered by the Community Foundation of the Lowcountry, a non-profit 501(c) (3).
The mission was clear. The pieces were in place. And just as Clarkson was preparing to roll out the new initiative in 2020, with his agents already jumping at the opportunity to help, the entire world came crashing down. "When COVID hit, we really had to pump the brakes. It seemed insensitive, with all the other needs that the pandemic created," he explained.
His agents didn't wait for the starter's pistol, kicking in personal donations to the sum of nearly $20,000. One agent, whose daughter is a breast cancer survivor, added $1,000 out of his own pocket. One home seller heard about Alliance Saves Lives and offered to donate. Several Alliance Group agents have spent the last few years donating, knowing that the day would come when Alliance Saves Lives was ready to roll out.
"But now that the pandemic is past, the timing seems right to pick up on this thing and keep running," Clarkson said. "In my opinion, it's an obligation, not an option. We are a successful real estate company because the people in this community have supported us, and I think that there's an obligation to say thanks to the community and give something back."
And while certain current events may have some people a little leery about donating to charities where a small percentage actually goes to the cause, Clarkson is proud of the clean and transparent structure of what they've built. "I think our administrative costs last year were around $50. The Community Foundation of the Lowcountry manages the whole thing and the funds in the account are invested to offset. It is a beautiful thing."
Giving back has always been a part of the mission, but with Alliance Saves Lives, they're not just giving money. They're not just giving their time, talent and expertise. They're giving women a second chance.
"My hope is that someday we have someone walk into our office and say, 'I just wanted to come in here and thank you guys because without you, I wouldn't be here,'" he said. "But what will be even better is knowing how many women were able to get the tests they need, and they come back clean. Because then, they're not losing sleep for the next year thinking there's a problem."  
To find out more or to donate, visit thealliancegrouprealty.com/alliance-saves-lives.