We're not sure where we read this, but it seems like common wisdom that you can have either clean rugs or pets. But you can only pick one.
However, that's not always realistic. Just as we need the love and companionship that pets bring us, we also know that few things can add a wealth of beauty, comfort and sophistication to a home like a stylish area rug. With that in mind, do we really have to choose between giving our home some flair and letting our fur babies potentially mess things up?
Of course not. You just need to know a few things. And if there's anyone who can teach those things to you, it's Gerald Brant. As owner of Lowcountry Clean Care, he has extensive experience cleaning up after all manner of household mess makers, both two- and four-legged.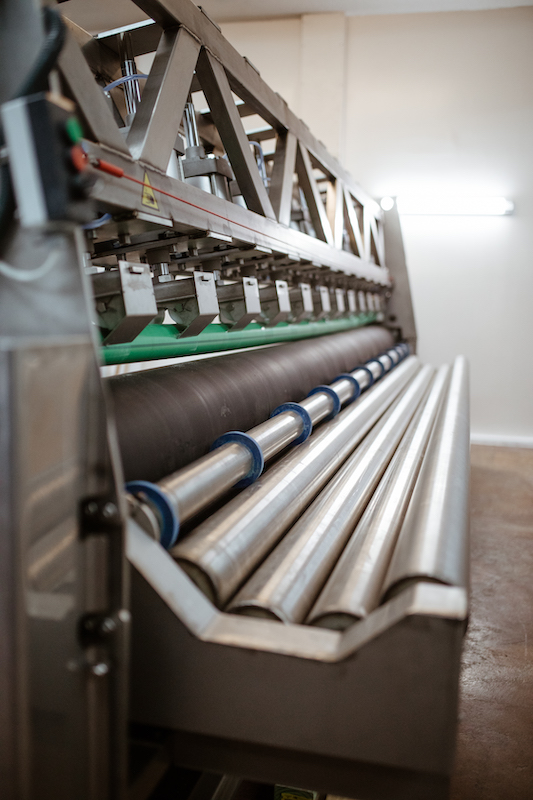 Getting his start in disaster mitigation, he encountered nearly everything that can damage a rug.
But it was when he opened Lowcountry Clean Care, his state-of-the-art Hampton facility, that he took that expertise and focused it squarely on problem rugs. "And there are a lot of problem rugs out there," he said. 
They don't make 'em like they used to
The first step toward maintaining a home with both loving pets and a beautiful rug is making sure that the rug is as functional as it is beautiful. "What's happening out there in the market is that people are making rugs, which used to be hand-woven, that are instead hand tufted. A tufted rug has fibers punched through a backing, kind of like a wall-to-wall carpet, which creates these layers," he said. And those layers can give your pets' contributions to the décor entirely too many places to soak into a rug.
"These rugs are not conducive to the same type of washing treatment," he said. "With a hand-made rug, all you have is a front and a back. But with all the different layers of a hand-tufted rug, you have all these places where odors can hide."
Another issue with those layers is that any layers that the factory puts together will come apart in time. "I've never seen a glue that didn't break down eventually," Brant cautioned.
Hand-tufting isn't the only technological breakthrough in the rug world that represents one step forward and two steps back. The other would be the introduction of the dreaded rayon, a term that covers a whole host of synthetic fabrics. What made for flashy shirts in the disco era has created a nightmare for homeowners trying to keep their rugs clean.
"It's unstable. If you have a cotton rug that browns from moisture, that's from the cellulose in the fibers," Brant said. "Rayon has that as well, but that cellulosic browning is much more difficult to remove from rayon. It's just a problem child."
Modern problems require modern solutions
And while Gerald Brant has taken a hard stance against all these advancements in the rug world, don't think of him as some kind of luddite. If anything, he has responded to the problems these advancements create with a high-tech solution.
Recent renovations at Lowcountry Clean Care have freed up floor space necessary for a technological marvel that packs an unprecedented amount of cleaning power. Currently en route from Spain, the Catinet Rinsing Press will leave unruly pet stains, sun damage and wear and tear with nowhere to hide.
"It's basically us building a better mouse trap," Brant said. "This press is a big deal. It will allow us to do some things we couldn't do before."
The rinsing press boasts an ingenious design that rolls each rug through a series of sprayers and nozzles that create a clean that is both thorough and gentle, reaching even the deepest soils and coaxing them out of the fibers. It then uses a pair of compression rollers that squeeze every drop of liquid out of the rug before automatically rolling it up.
And while the machine creates a level of cleanliness unseen anywhere else, Brant's high standards require that each rug be unrolled, inspected, and cleaned again if need be.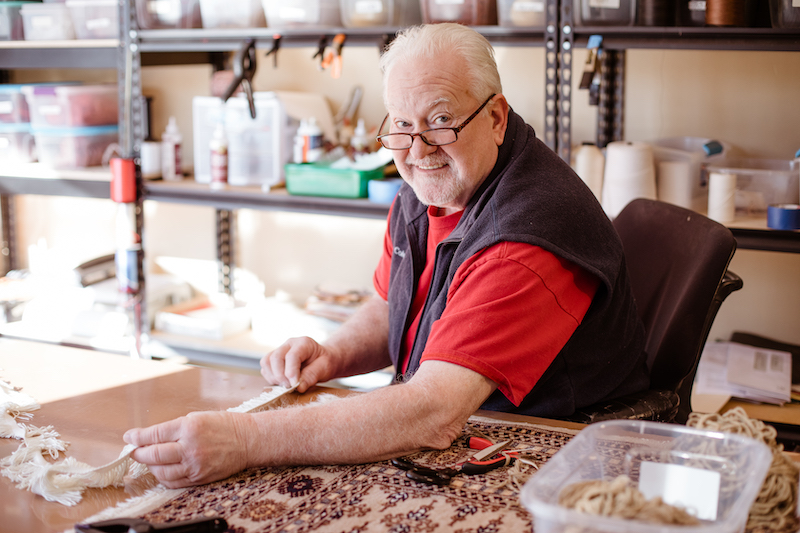 "At the end of the day, I'm just trying to give our customers the best they can get," he said. "This is not a new technology; it's been around, but it's been cost-prohibitive."
But modern problems require modern solutions. And Lowcountry Clean Care tackles them with solutions as modern as a rinsing press and as time-tested as good-old fashioned knowhow and teamwork.
"Being a member of ARCS (the Association of Rug Care Specialists) has given me the opportunity to reach out to other members and share in that knowledge base," Brant said. He also has plenty of help right inside his own shop.
"John Moseley, I couldn't do it without him," he added. "He does the more difficult and the more delicate repairs, and he's done so many repairs that are just remarkable to me."
Brant also points to Dalton Koon and Nicole Baker as invaluable members of the team at Lowcountry Clean Care.
It's a team approach they've paired with the latest high-tech solutions to ensure that your rug gets cleaner than you thought possible, every time. Even if you did go for the cheaper, hand-tufted rug just because the colors matched your sofa. Even if you have one pet or a whole menagerie just waiting to leave their mark on your décor. No matter the condition of your rug when it comes to Lowcountry Clean Care, when it leaves it will look better than you imagined.
"We've really been able to elevate the quality of our work," Brant said. "We feel like we do a really good job, and this is going to allow us to step up our game that much more."
To learn more, visit lowcountrycleancare.com.