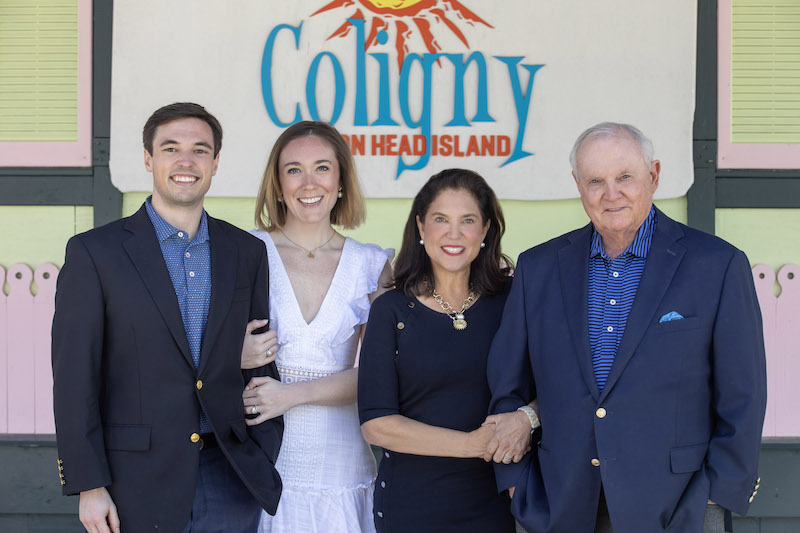 The Richardson Family
The Richardson Group
It's hard to imagine a Hilton Head Island without the Richardson family. When Norris and Lois Richardson moved their family to Hilton Head Island, before the bridge in 1955, they probably didn't know the history being made or how their family would elevate the then sleepy island community. Their children, Mary Katherine (15), James (JR) (11), and Collins (5) arrived on the island ready to help in the family grocery store, the Forest Beach Supermarket and other businesses located in what is now Coligny.
Norris and Lois couldn't possibly have known how that move would also elevate their son, JR Richardson, to make his mark as a development visionary, creating gorgeous communities such as Windmill Harbor and Westbury Park and be at the forefront of necessary attainable housing projects for our island. That's the funny thing about a legacy. You usually don't know you're creating it until it's done.
Norris and Lois Richardson might not have known what they started, but their grandson Collins certainly does. And what's more, he has his own vision for moving the island forward.
"Hilton Head Island has always been my home, and I knew I wanted to move back here eventually," Collins said. "Seeing what my grandfather and my father built here, being part of that legacy, is deeply rooted in me." Collins and his wife Morgan, who were married at Historic Honey Horn in 2022, knew there was nowhere else they wanted to live and build a family.
Collins (who is named for his late uncle, JR's brother) has become a valuable part of The Richardson Group, which owns Coligny Plaza, Richardson Group Real Estate & Development, South Carolina Yacht Club, Local Pie, and FISH Casual Coastal Seafood. But don't be deceived by the family pedigree. Collins followed his own path to an economics degree at Sewanee and a spot in the highly competitive Clemson master's in real estate development program. Building on the generational knowledge of smart development with a talent for finance, he founded his corporate career for the last five years with Charleston's family-owned Beach Company. His business savvy helped the master-planned community, Kiawah River, thrive, affording Collins a legacy of his own.
And now, he brings that experience back to his island home. "My father saw my passion for the financial side of development and wanted modernization within The Richardson Group companies. It's exciting to step into his 50 years of successful development and use my skill set," Collins said.
The excitement is felt across the generations. "It's been tremendously rewarding as a father to see Collins establish his own successful career in development, and we're thrilled to have him back in the fold," JR said.
The Richardson family has already proven to be a vital force in Hilton Head Island's history. And with a new generation stepping up, The Richardson Group is poised to be a vital force for our island's future.