No one knows exactly how Chance wound up on that stretch of road in Jasper County. An outgoing, friendly lab mix with a gorgeous white and brown dappled coat, Chance had stumbled onto something he shouldn't have, suffering severe injuries that left one of his legs crippled.
"He had obvious wounds, and the lower portion of his leg was dragging because of nerve injuries," said Dr. Matt Tenwolde of Carolina Veterinary Critical Care. "Because he was dragging that leg, he had abraded the entire top of his paw by the time some people found him."
These nameless heroes were able to bring Chance into CVCC, knowing that the Bluffton-based practice offered compassionate care specifically for troubled cases like his. "We took him, because obviously we couldn't leave him as he was," Tenwolde said.
The doctor's first course of action was to address the abrasions, hoping that the nerve injury might clear up on its own if Chance could stay off his bad leg. Sadly, after weeks of helping Chance manage the pain, the decision was made to amputate.
Amputation is not only heartbreaking, but it can also be bank-breaking. Fortunately, CVCC is prepared for that sort of thing.
"We have an account we've dubbed the donation fund," Tenwolde said. This fund was usually just replenished by the rounded-up change donated by patients, funds the clinic matches. "We will just write off smaller stuff or x-rays, but then you have animals like Chance who have a good long-term prognosis but need upfront funds, sometimes in the thousands. It would be tough for the clinic to shoulder those costs."
Fortunately, they have help.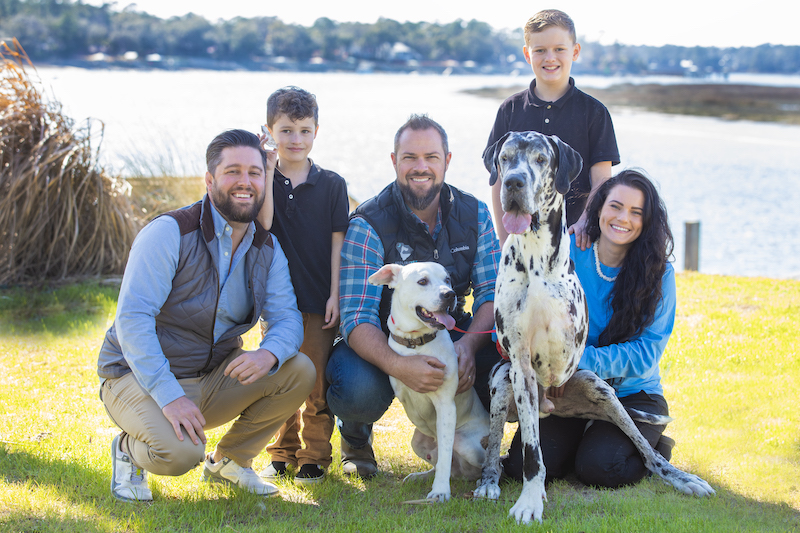 Tanner Sutphin, Trenton, Dr. Tenwolde, Chance, Gunther, Greyson and Kearstyn. 
A community that cares
Even by the standards of a great Dane puppy, Miller was precocious. And like many of the canine family members at Engel & Völkers May River Group, he was a regular office dog.
"Miller was becoming one of the office mascots," said the firm's principal, Tanner Sutphin. Miller's owner, marketing coordinator Annie Ryan, made sure that Miller always had a place in the pack at the real estate firm. And we mean pack. "It's rare that you walk into Engel & Völkers and you don't meet a friendly dog."
Being a dog-friendly office, they were all in shock when little Miller was diagnosed with Canine Parvovirus. "I knew nothing about parvo, just that it had a 91 percent fatality rate," Sutphin said. "So, you had this adorable puppy that had less than a 10 percent chance of living."
Fortunately, Ryan was able to find her way to Dr. Tenwolde's office, where Miller joined the elite ranks of the "nine percenters," dogs who had beaten parvo. The treatment, however, did come with no small amount of sticker shock.
"Annie and her husband were in a position to afford it … but imagine if they didn't have the money to get Miller the care that was necessary," Sutphin said. "We saw what Matt and his team were doing, so we decided we wanted to be a part of it."
Going to the dogs
Seeing how close Miller had come and knowing that other dogs might not be as lucky, Sutphin and his staff leaped into action, donating a portion of each sale to CVCC's donation fund.
"The whole office, as you can tell by us constantly having dogs around, is dog friendly. I own three, and I get to see the joy that a dog can bring every day," Sutphin said. "It's very rewarding to see your money go to work when you are making these donations. It's incredibly rewarding."
By creating regular significant donations, Engel & Völkers May River Group is able to keep the donation fund flush and ready to help dogs in need no matter what the emergency. 
For Tenwolde's part, this generosity on Sutphin's part goes far beyond dollars and cents. "We didn't have any formal agreements prior to this," Tenwolde said. "When donations come in from the community, it builds great bonds, and it helps us to do great things."
One of those great things is to help dogs like Chance. These days, Chance has left his roadside days behind him and has found happiness in a new home, with a new friend.
"We ended up finding him a home with a wonderful woman named Kearstyn who has a soft spot for dogs with three legs. She had another dog, Gunther, with an amputation—a great Dane, like Miller," Tenwolde said. "Now, she and her kids have two tripods."
And dogs like Chance have a fresh set of angels watching over them, thanks to the vets at Carolina Veterinary Critical Care and the selfless professionals at Engel & Völkers May River Group.