With locals reclaiming our restaurants for another ebb to tourist season, we make sure you show up to your rezzy looking fierce.
Can you feel it? It's that first dip in the mercury, that first sign that the unrelenting tourist season is slowly winding to a close. And while we can't say enough about the people who come from all over the world to visit the place we call home, it is kind of nice to have our restaurants back. After all, what's the point of having the most exciting culinary scene in the state just outside your front door if you have to wait in line for a reservation behind half the population of Ohio?
(No offense to the fine people of Ohio. As for Charleston, yeah you read that right. In the state).
As you gear up to see what's new at all our old standbys, we figured we would throw together a vision board for you with some of the hottest fall fashions from our favorite local boutiques. Take a look, dress accordingly, and when you show up to your table, the steak won't be the only thing that's sizzling.
Styled by Kaila Jeffcoat  •  Modeled by Caroline Malloy  •  HAIR & MAKE-UP by True Beauty by Joanna Marie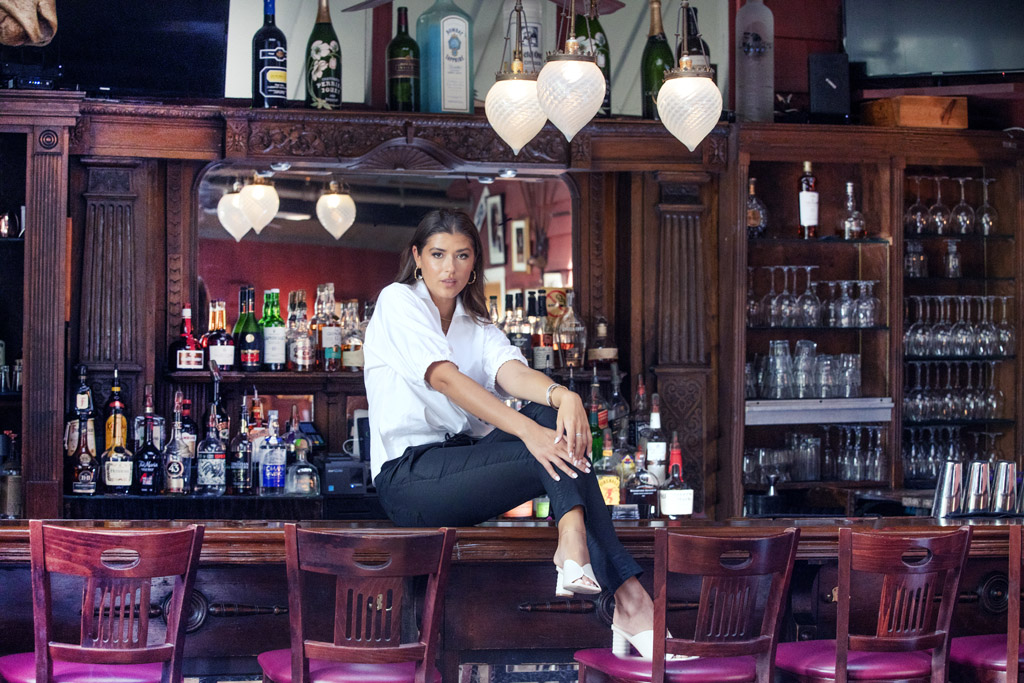 Emily McCarthy top $178, Flog pant $216, Intentionally shoes $169, Kinsey Designs necklace $98, Kinsey Designs  earrings $48   Available at Copper Penny.   *Pricing changes and human error occurs. Please see store listed for final pricing.
CQ's Restaurant. With a history that stretches back to the dawn of Hilton Head Island's modern era, CQ's has seen it all. Celebrities, professional athletes, heads of state, renowned artists and towering figures of history have all eaten here. With a rotating array of seafood, seasonal and locally sourced dishes, CQ's always balances the sophistication of fine dining against the casual atmosphere of a place where everyone knows your name. This ensemble from Copper Penny complements that perfectly, with a flowy white linen blouse from Emily McCarthy and boot cut Flog pants creating a showstopping look.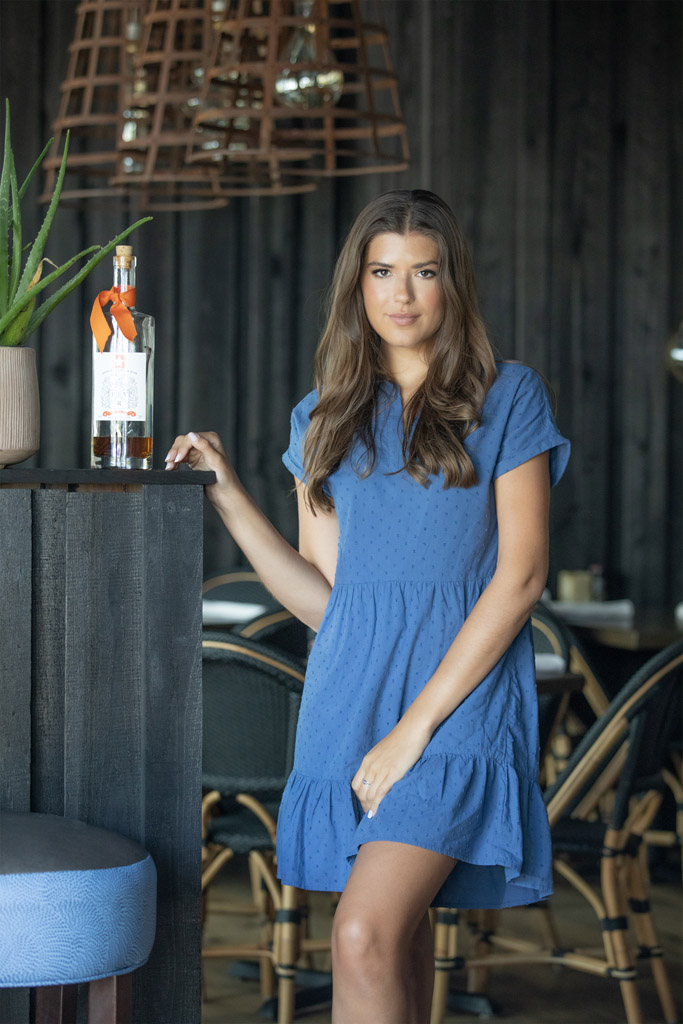 Southern Tide Dress $138, Available at Southern Tide *Pricing changes and human error occurs. Please see store listed for final pricing.
Chow Daddy's. When Chow Daddy's sister restaurant Truffles announced that they were expanding in their Sea Pines Center space to allow everyone's favorite Lowcountry restaurant a foothold in Sea Pines, we were ecstatic. Then they finally opened the all-new space, resplendent in dazzling modern farmhouse flair, and we were blown away. Standing out amid such eye-catching décor is no small feat, but you can turn your share of heads in this fetching babydoll dress from Southern Tide. Alternatively, pair it with these pieces from Forsythe jewelry (right page) for a look that stuns during intimate dinners and raucous celebrations.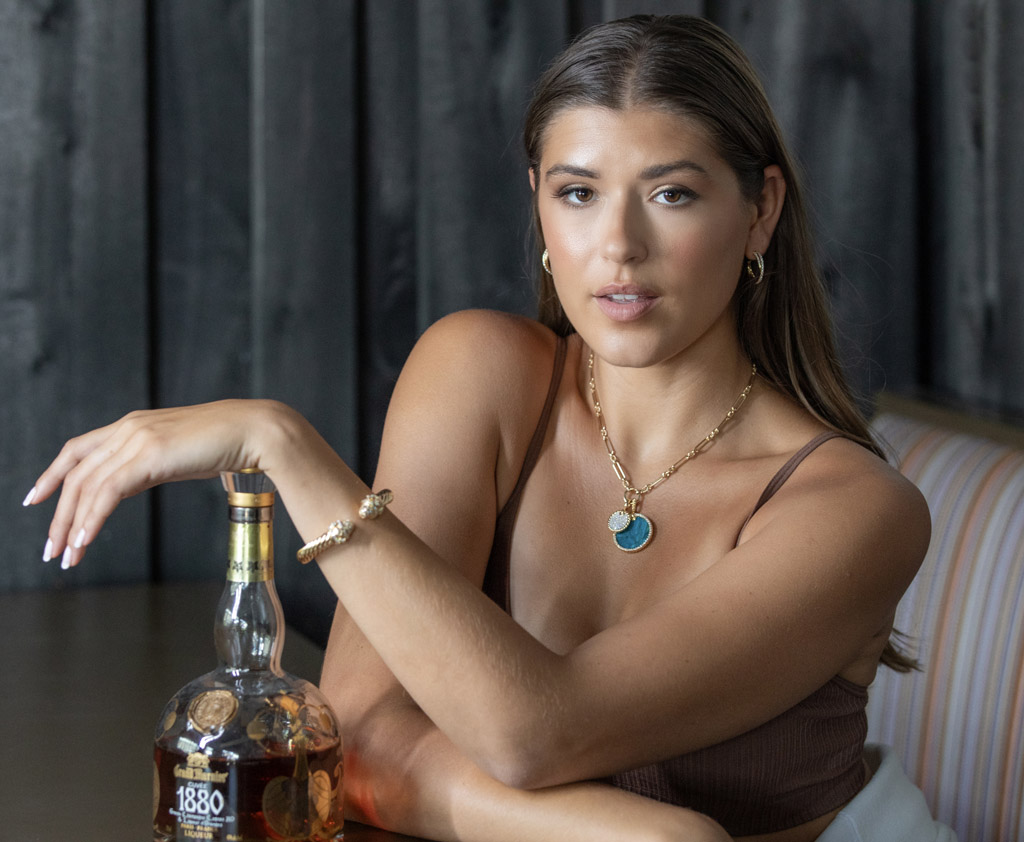 David Yurman, 18 K Yellow gold necklace chain 17" $4,500; 24 mm chrysocolla pendant  with pave diamond halo $3,850;  Pave diamond small disc enhancer $3,200; Crossover diamond  hoop earrings $5,200; Renaissance bracelet with diamond accents $12,500  Available at Forsythe Jewelers. *Pricing changes and human error occurs. Please see store listed for final pricing.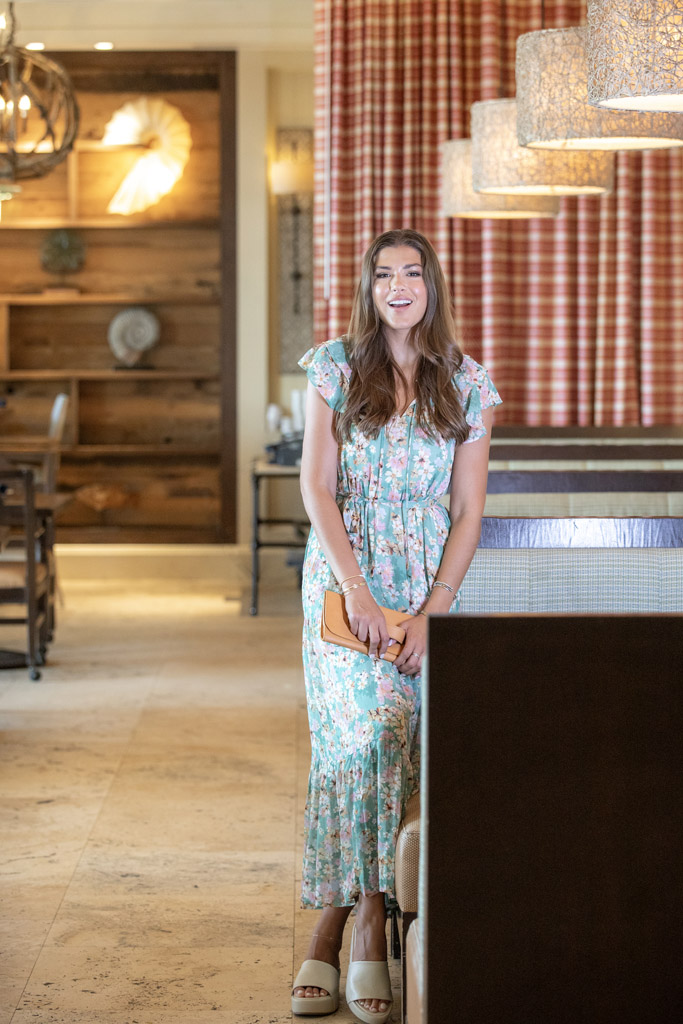 Jade dress $224, Matisse shoe $170, Able clutch $95, Able braclets $65+ (sold individually). Available at Haskins & Co. *Pricing changes and human error occurs. Please see store listed for final pricing.
COAST. One of the most visible signs of the recent Sea Pines renaissance, COAST has staked its claim atop the Sea Pines Beach Club as the island's premiere beachfront restaurant. The menu runs the gamut of fresh, local seafood favorites sourced right from the waves just beyond the balcony, expertly prepared to reflect Lowcountry culinary traditions. Putting their own spin on tradition, this breezy Jade sundress from Haskins helps your wardrobe transition beautifully into fall with a splash of color and a sublime sense of style.
Allison New York top $186, Steve Madden shorts $69. Available at Coastal Bliss. *Pricing changes and human error occurs. Please see store listed for final pricing.
Chez Georges Bistro & Bar. Ingeniously appointed to feel like stepping into an intimate Parisian bistro, Chez Georges has paired blissful continental ambience with a menu that delights in traditional French flavors and techniques. Look closer and you'll see a marked contemporary influence woven into those French dishes, creating something uniquely new out of time-tested favorites. You can create your own contemporary twist on a classic with this dazzling ensemble from Coastal Bliss, pairing a daring pair of hunter green shorts from Steve Madden with a billowy embroidered peasant blouse from Allison New York to bridge casual and sophisticated with ease.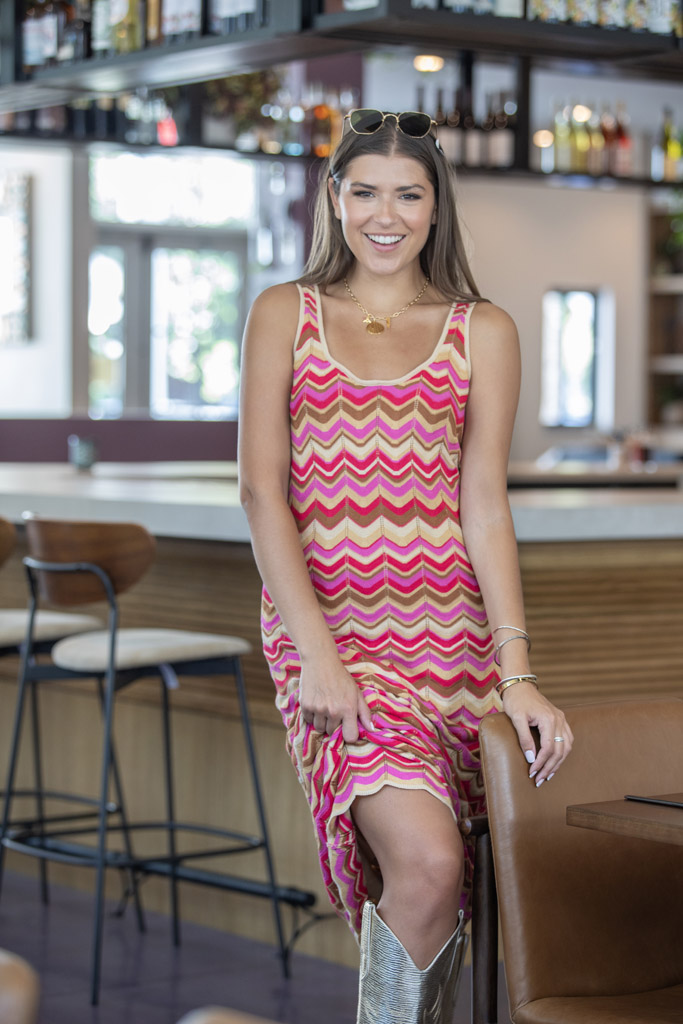 Show me your MUMU dress $188, Hart Hagerty necklace $310, Krewe sunglasses $335, Billini boots $133. Available at Kelly Caron Curated. *Pricing changes and human error occurs. Please see store listed for final pricing.
Okan. Bluffton's culinary renaissance lives at Okan, where chef Bernard Bennett has created a menu that bridges ancient African culinary techniques with modern fine-dining sensibilities. Telling a story of cultural foodways that spans half a globe and more than 500 years, it's a restaurant that tells a story with every delectable bite. Celebrate Bluffton's rising profile and create the ultimate Old Town Bluffton style with a few of its most treasured houses of style, Gigi's Boutique and Kelly Caron Curated. For a colorful sense of style that never skimps on playfulness, this Ankara V-neck mini dress is a stunner (on right).  For a look that makes a bold statement, try this ensemble from Kelly Caron Curated, a Tala tank maxi dress from Show Me Your Mumu paired with Bellini Urson cowboy boots.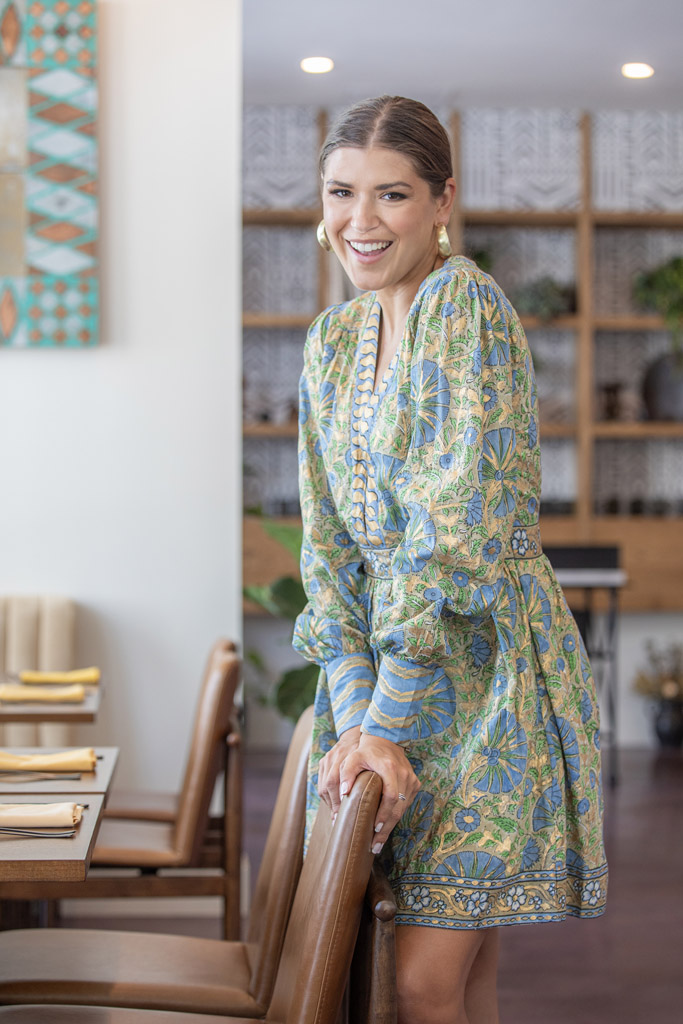 Oliphant dress $298, Sheila Fajl earrings $65. Available at Gigi's. *Pricing changes and human error occurs. Please see store listed for final pricing.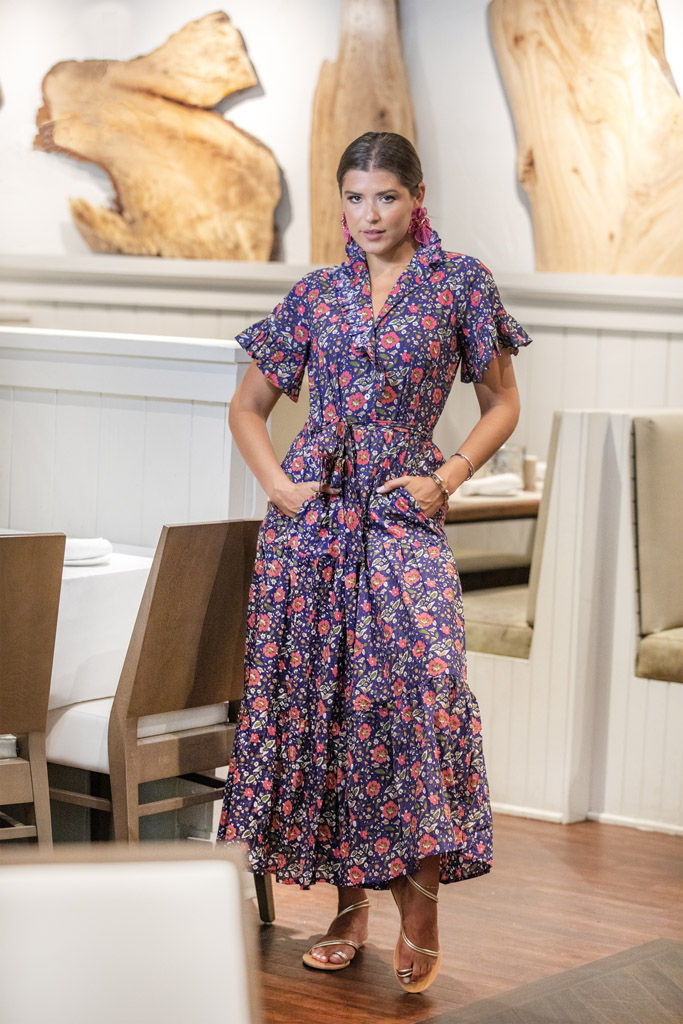 Millie Resort Wear dress $288, Mignonne Gavigan earrings $395, Ciel sandal $118. Available at Birdie James. *Pricing changes and human error occurs. Please see store listed for final pricing.
Celeste Coastal Cuisine. Reinvigorating the north end's culinary scene, Celeste arrived as a much-needed breath of fresh air, with a menu that revels in upscale ingredients and classic techniques. Sharing a heritage with such legendary Lowcountry eateries as ELA's and The Pearl, the Nightingales' latest venture proudly carries the banner of refined cuisine. Not only is the menu a work of art, but the interior is a marvelously tasteful space that creates moments of blissful intimacy for a romantic night out. You'll make a statement when you arrive sporting the bold colors of this floral print Millie Resort Wear coatdress from Birdie James, perfectly suited for a quiet night out or a fall oyster roast. Pair it with these hot pink Mignonne Gavigan earrings for a look that turns heads.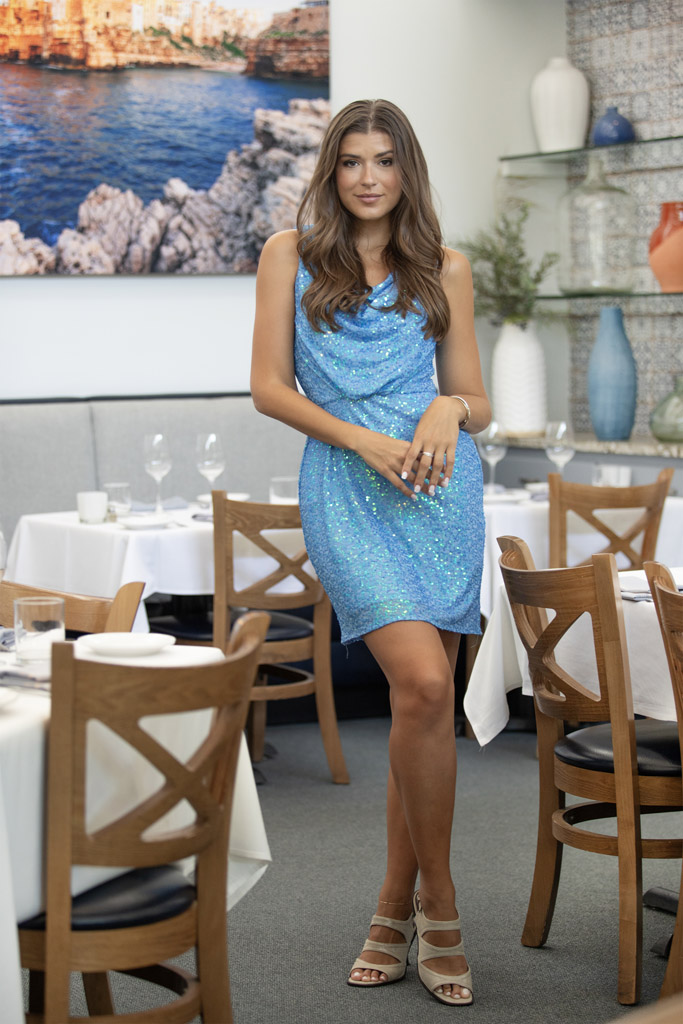 Donna Morgan dress $185, Donald Pliner heels $245. Available at Palmettoes. *Pricing changes and human error occurs. Please see store listed for final pricing.
Nunzio Restaurant & Bar. Drawing from its eponymous chef's wealth of experience cooking all over Italy, sampling its many regional traditions and weaving them into his own personal style, Nunzio serves as a celebration of "Bel Paese" from its mountains to its beaches. And while the menu draws inspiration from all over, every dish boils down to the central pillar of Nunzio's culinary philosophy. Whether its locally sourced seafood prepared in centuries-old Tuscan techniques or farm-fresh produce prepared like Nonna used to make, it needs to be fresh. You can step out with your own fresh look, turning heads from here to Milan, in this sparkling baby blue Donna Morgan dress from Palmettoes. Classic, understated and fresh, it's the perfect complement to a culinary tour of the continent.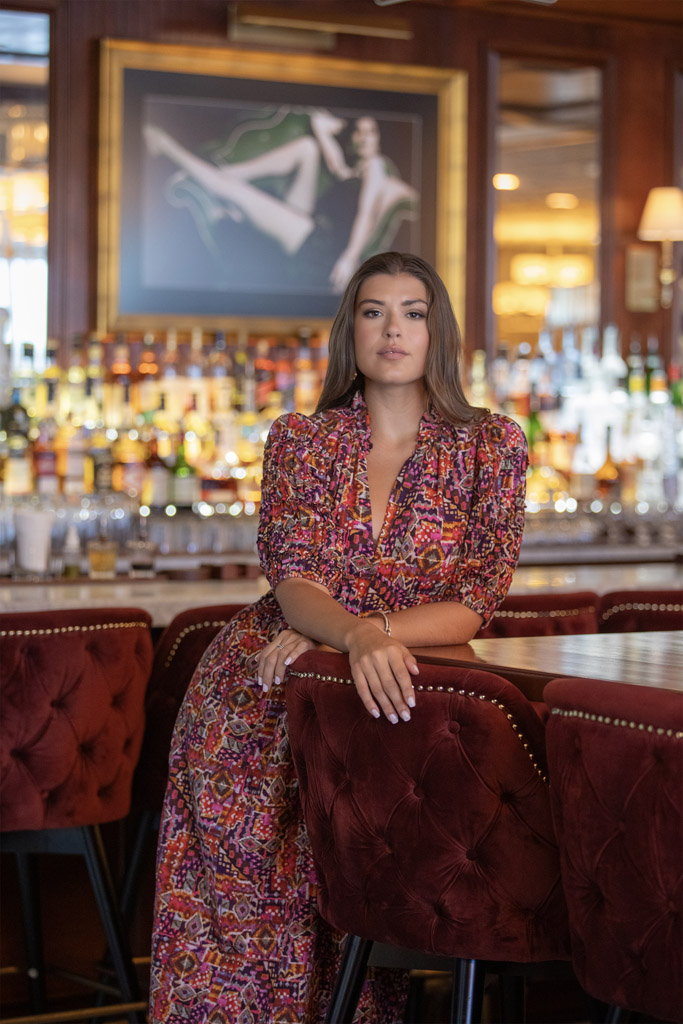 Xirena dress $349, Satya earrings $115. Available at Collage. *Pricing changes and human error occurs. Please see store listed for final pricing.
Chophouse 119. You can travel the world and you won't find a tastier steak than you will right here at Chophouse 119. And even if you do find something comparable, we are willing to bet it wouldn't come with a side order of stunning parkside views like they do at this Shelter Cove mainstay. Pairing classic steakhouse décor of dark wood and brass with an airiness that comes with its spot right on Broad Creek, Chophouse 119 embraces tradition even as it creates new ones. This is where love is ignited, business deals are made, and friendships are forged. Be perfectly dressed for all three in this vibrant geometric Xirena dress from Collage.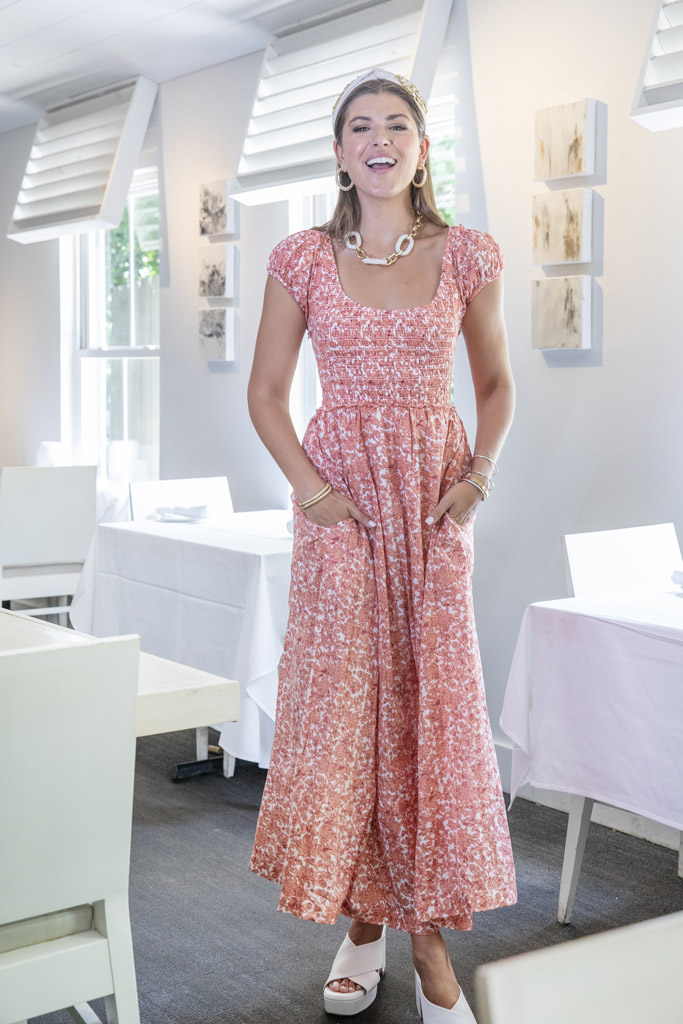 Find this look at Panache near the Promenade in Old Town Bluffton, opening soon! *Pricing changes and human error occurs. Please see store listed for final pricing.
The Pear Kitchen & Bar. Pairing exquisitely upscale cuisine with a blissfully comfortable Old Town Bluffton atmosphere, The Pearl has made itself right at home on Calhoun Street even as it introduced a bold new culinary direction. The menu is a masterclass in Lowcountry sophistication, with local fare presented in exciting new ways. This dazzling Elan dress from Panache Boutique perfectly captures that energy with its festive patterns, elegant lines and—get this—pockets! Pair it with this necklace and headdress to complete a look that will take Old Town by storm.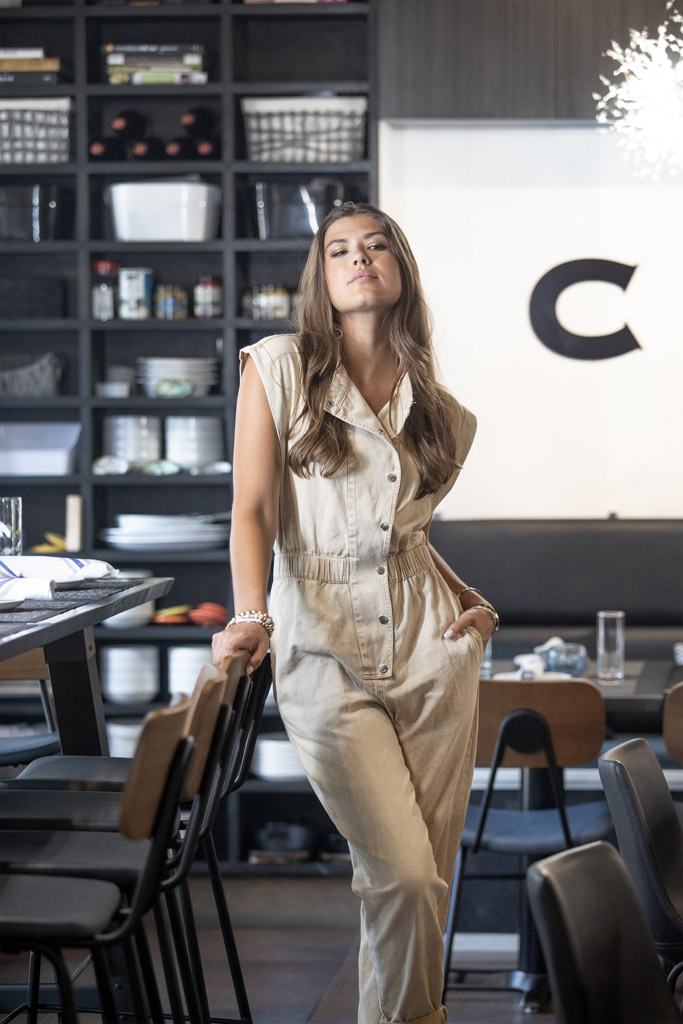 Elan jumpsuit $118, Hope Anchor and Crew, Bluffton bracelet $28, Larger shell bracelets $34 (sold individually), Lucie Ann Designs earrings $38. Available at Maggie and Me. *Pricing changes and human error occurs. Please see store listed for final pricing.
Crudo. The new kid in Bluffton's Promenade, Crudo has served as a welcome addition to the rising fine-dining scene in Old Town. The aphrodisiac effects of oysters are well known, so a night of romance simply does not get better than Crudo's fresh raw bar oysters on the half shell surrounded by dazzling sophisticated intimacy. As potent a romantic cocktail as that creates, you'll want to savor every second you're dining at Bluffton's newest foody hotspot. A night out at Crudo demands an outfit that is equally sophisticated, fearless, and fetching. This Elan romper from Maggie & Me checks all those boxes and more. Dress it up for a splash of sophistication or dress it down to reflect Bluffton's laid-back glamour.