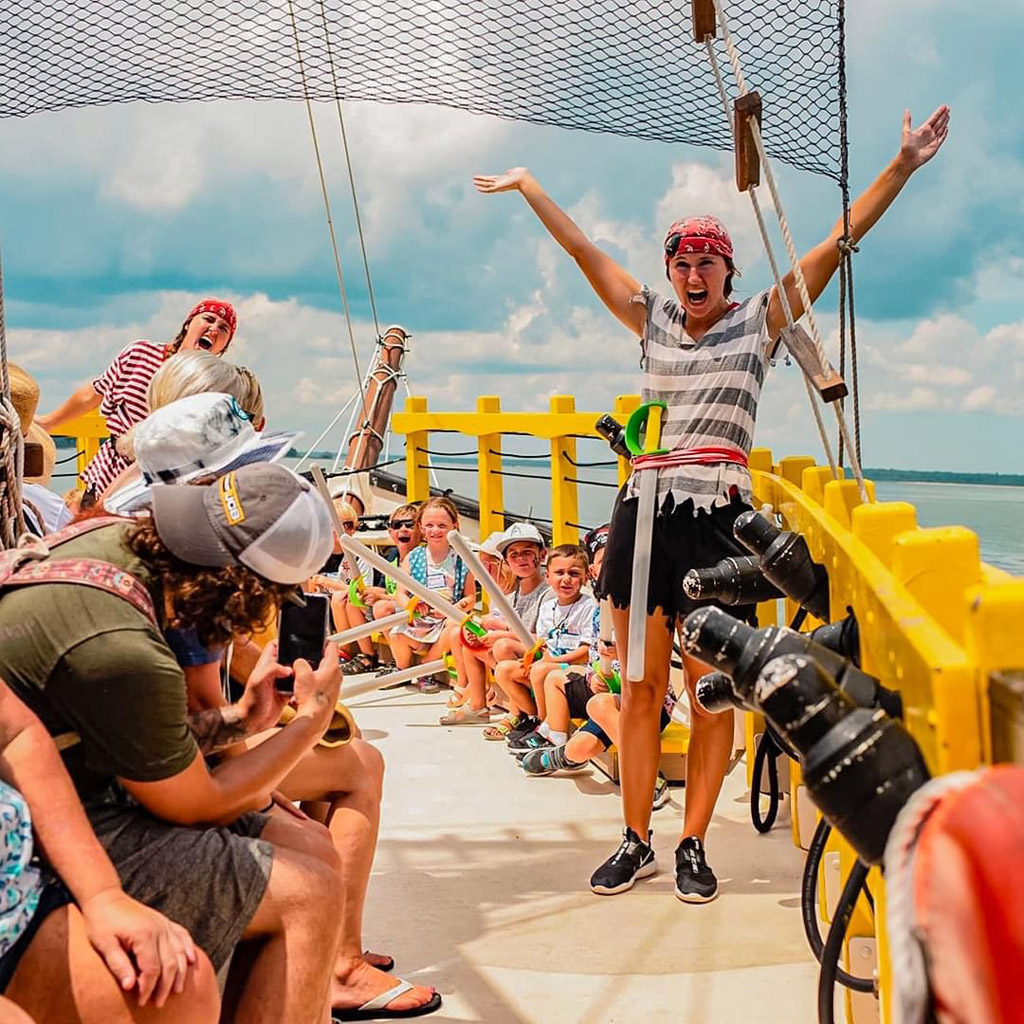 Every year, the call of the southern sun beckons to millions of Hilton Head Island visitors who long for flip-flop days. Families arrive eager to build sandcastles or splash in the warm waves of the Atlantic on 12 miles of pristine sandy beaches, yet the island teems with numerous kid-friendly adventures well beyond our beautiful shores.
The Coastal Discovery Museum at Honey Horn Plantation and The Sandbox Play and Learn Museum encourage little minds to explore and engage. Stellar playgrounds such as Shelter Cove or the Adventure Playground at Celebration Park offer lots of opportunities for kids to expel boundless amounts of energy in fun, safe outdoor environments. But ask any local, and they'll tell you the best way to immerse your family in the Lowcountry experience is to get out on the water.
The creeks, rivers, and sounds surrounding Hilton Head Island are home to a diverse and lively ecosystem begging to be discovered by newcomers and visitors alike. Curious kiddos are often delighted by our various bird species—including Pelicans, Bald Eagles, and the threatened Roseate Spoonbill—but where wildlife viewing is concerned, top honors often go to the many playful dolphin pods residing in our estuaries.
With multiple watersports companies offering activities suited for all ages, there are countless ways to soak up the Lowcountry sun and salt spray. Below, we've rounded up six of the best activities to do on the water with kids. See if your favorite made the list! 
Pirates of Hilton Head – Pirate Treasure Hunt Experience
Set sail on the Black Dagger with cantankerous Captain Bones. Pirates of Hilton Head proudly takes families on whirlwind adventures against Stinky Pete—the island's smelliest pirate—who stole the key to a long-lost treasure. 
As part of Captain Bones' crew, it's up to you and your mini-mateys to get it back.
The journey begins on the dock of the Harbor Town Yacht Basin with face-painting, complimentary and for-purchase pirate garb, lessons on talking like a pirate, and choosing pirate names for the crew. Once aboard, the hour and 15-minute partially scripted cruise takes you into the Calibogue Sound, where you face off against Stinky Pete. Kids oversee the Black Dagger's defense, manning the 16 water cannons to blast Stinky Pete off his vessel and retrieve the stolen key that unlocks the treasure. For 14 years, the Black Dagger's pirates have enjoyed a 100 percent success rate against the malodorous buccaneer, with crew members sharing the recovered treasure's booty.
Recommended for pirates aged 3 to 10 and their families, with singing, dancing, and a few well-placed tongue-in-cheek jokes for adults, Pirates of Hilton Head ensures the cruise is a rollicking romp full of fun for the whole family. And for those not quite ready to hang up their tricorn hats at the end of the trip, Pirates of Hilton Head has introduced a new dockside shark tooth hunt available as an add-on adventure at the end of the voyage.
Pirates of Hilton Head operates from March to October, launching multiple trips per day.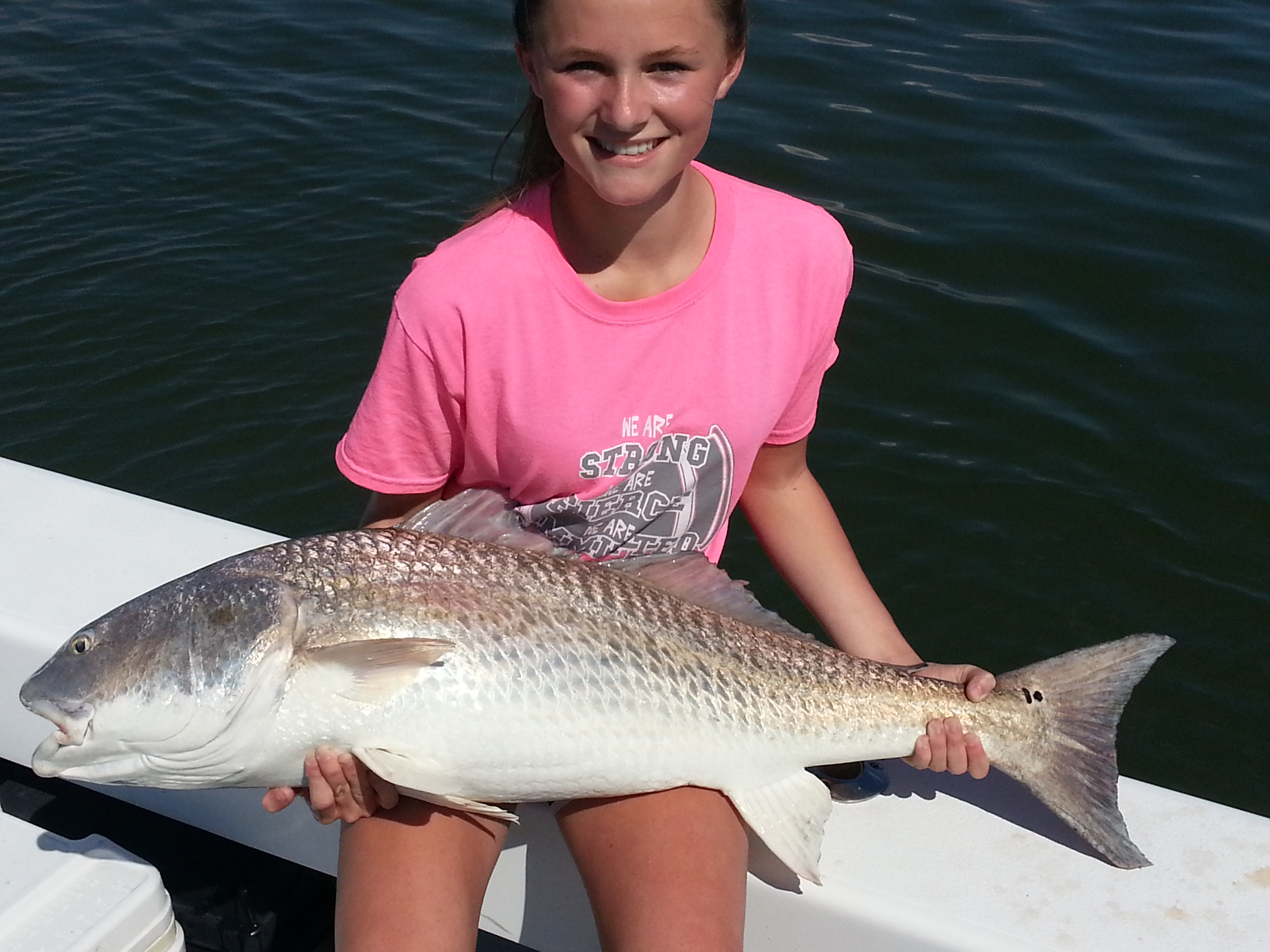 Backwater and Near-Shore Fishing with the Mighty Mako
Any local will tell you, Captain Dave Fleming is a gem of a human being. An experienced angler who was practically born with a fishing rod in hand (he grew up near Lake Marion before coming to Hilton Head Island 40 years ago), Fleming projects a special kind of Southern charm that's honest, affable, and downright endearing.
For 30 years, he's been captaining charters on the Mighty Mako—a meticulously cared for, 25-foot center console vessel he custom-designed himself—and has countless stories showcasing the superior fishability of the boat. One such anecdote is that of a guest who, on his twelfth birthday, was determined to land "the biggest thing you can catch."
Fleming laughed recounting the tale. "When we hooked up, I was sure the little guy was going to get tired after 15 minutes and I'd have to reel it in, but he was incredibly resolved," he said. "We fed him snacks and drinks, and three hours later, we were bringing in a 12-foot, 800-pound Tiger Shark." He chuckles, "That just shows you've got to read the room."
Fleming excels at reading the room, customizing every charter by asking a simple question: What do you want to do?
He's quick to note some anglers spend hours waiting on a single tarpon while others, particularly young families, are more interested in keeping their lines bent. By ensuring his trips cater to each patron, he's built a loyal following of repeat customers, with many who learned to fish on the Mighty Mako now booking charters to share the experience with their own brood.
The Mighty Mako offers three-, four, and five-hour trips ideal for families wanting to introduce children to the joys of fishing, launching from the Palmetto Bay Marina year-round and accommodating up to six passengers.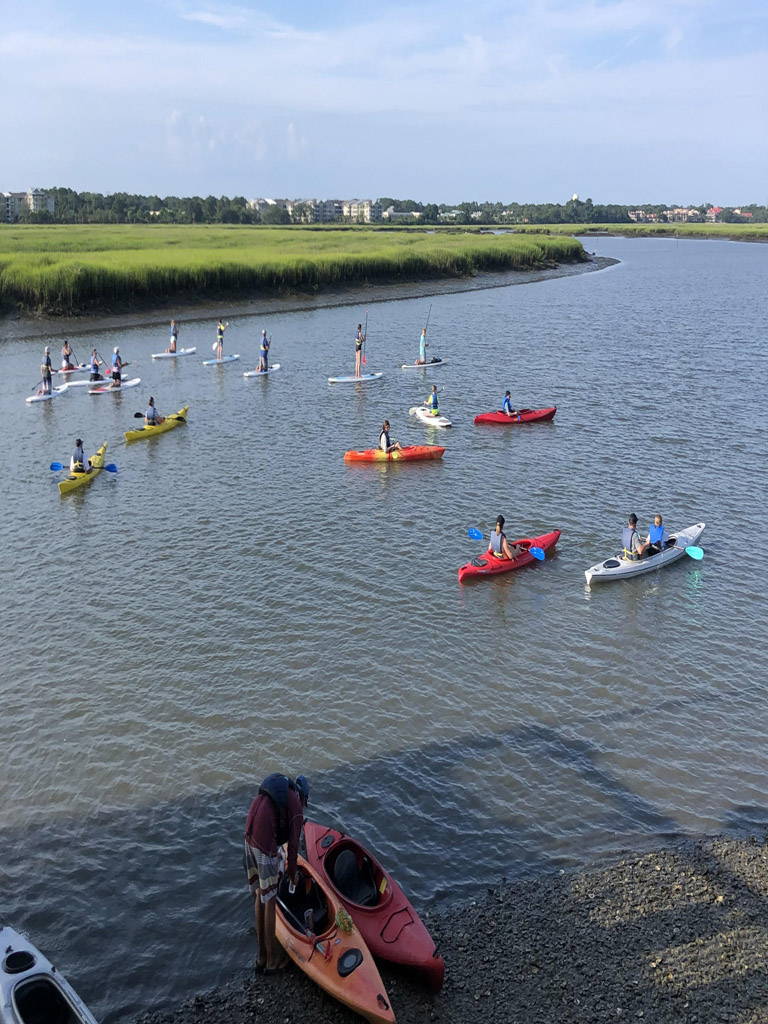 For Dean Windley, owner of Salt Marsh Paddle Tours, Lowcountry waters run deep. Having grown up surfing Burke's Beach as a teenager—and married to a another local whose family dates to the 1920s—Windley's unfathomable love of Hilton Head's saltwater estuaries is apparent from the get-go, especially where his business location is concerned.
"We're nooked back in Broad Creek away from marina traffic. It's quiet, with lots of oyster beds and bird activity. Dolphins and manatees habitually seek out the area because of its protection, particularly birthing females since it helps keep their little ones away from large predators," he said.
And while superior nature-viewing is a genuine perk of the location, there's a practicality to it as well. "In my opinion, it's the best location for kayaks and stand-up paddle boards because it's more beginner-friendly," Windley explained. "Being shallow means the current isn't as strong as it is closer to the deep water of the marinas."
This fact is most notable with young paddlers. Windley notes most kids and novices catch on to the sport quickly, but if there are ever concerns, he offers double kayaks so the very young or inexperienced can partner up with a sibling or parent.
Salt Marsh Paddle Tours is located at 101 Marshland Road and can take groups up to 15 on their 90-minute outing. Kayak and SUP rentals are also available for two hours. Reservations are required to ensure equipment availability.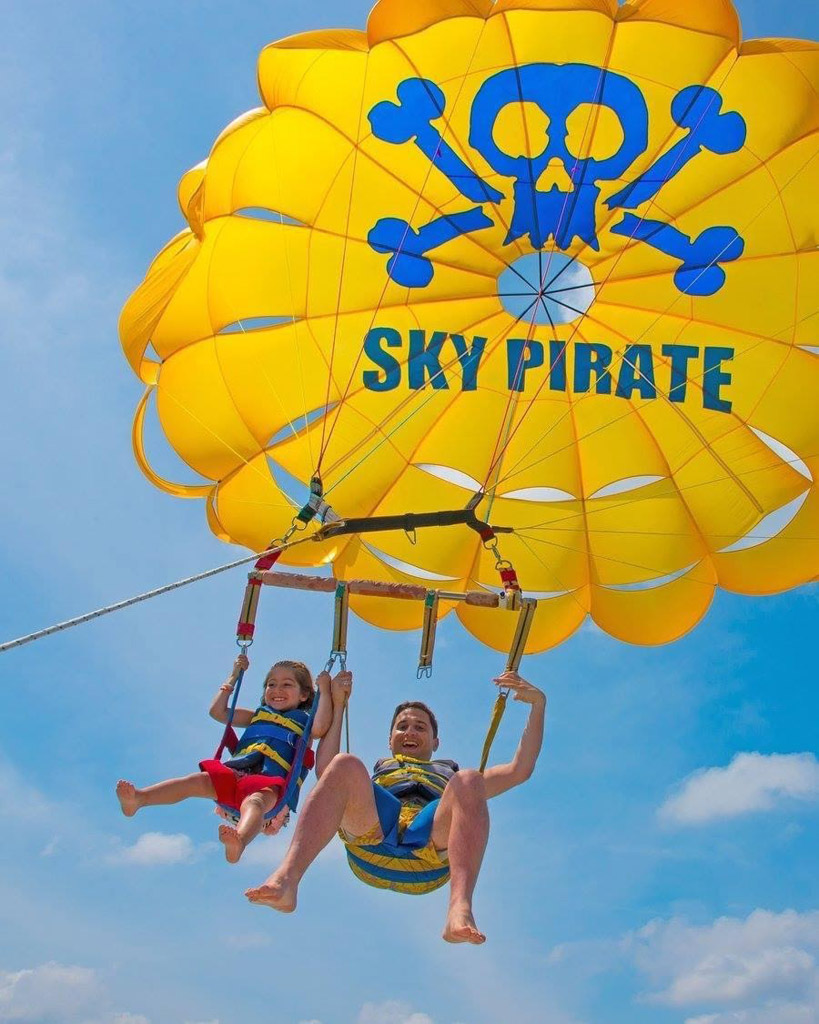 Parasailing is not for the faint-hearted, but for those looking for a high-octane experience, an adventure with Captain Doug Roth is the way to go. Safety-first is the motto of this small, family-run business, catering to families and, Roth jokes, "all the chickens." For over 20 years, he's run every trip himself—the only full-time parasail owner and operator on the island—and notes much of his success is attributed to the fact he's very hands-on in his operation.
"I understand no one else would take the same level of care with our guests or equipment. Comfort and safety are my top priorities, and maintaining the pristine condition of our vessel is vitally important as well," Roth said.
From hearing him talk, it's also clear he strongly values his team. His wife Monique runs the office, while Captain Bill, his tubing and water-skiing captain, has been with him since day one. Those long-standing relationships contribute to a superior level of trust among the family-oriented crew at Sky Pirate Parasail, but there's still plenty of fun to be had!
"We want to make sure everyone is safe and has a great experience. The youngest fliers we accommodate are six-year-olds, but there's no maximum," Roth said. "I just took out a 97-year-old guest who blew our last oldest, at 88, out of the water."
In addition to flying chutes 400 feet above the water line, Sky Pirate offers boat and jet ski rentals as well as tubing and skiing charters. He's also keen to point out that they try to be accommodating of handicapped and special needs guests.
Sky Pirate Parasailing takes up to 12 passengers out on 90-minute adventures and launch chutes with two or three guests at a time, allowing for approximately 10 minutes of flight per guest.
Top Shot Sport Fishing – Deep Sea and Offshore
There are over 40 artificial reefs along the South Carolina coast, and some of the best—Betsy Ross, Whitewater, and Hilton Head "Tire" Reef to name a few—are accessible from Captain Jay Prescott's 31-foot Morgan, Top Shot.
For over 20 years, Prescott has been running trips off the southern tip of the island, trolling, bottom fishing, and live lining for a wide range of species native to our waters. From May through October, Top Shot's fishing excursions largely target Spanish and King Mackerel, two fish that are not only tasty, but hard fighters who are incredibly fun to catch.
Those certainly aren't the only two fish in the water though, with Prescott recalling bottom fishing at the Savannah Snapper Banks where they landed a wahoo and red drum within 20 minutes of each other—something most anglers would consider unusual. But as Prescott notes, "There are no fences out there."
Prescott and his first mate excel at instructing first-time anglers and are happy to help kids with their fishing rods. "It's always a good day on the water," he said, "but even better when we can help a kid bring in a fish and make it special for them."
Families with little ones needn't worry about long trips offshore as Top Shot is a generous vessel with an ice chest for drinks, plenty of comfortable, shaded seating, and a head (boat lingo for a bathroom) on board. 
Top Shot launches from the Broad Creek Marina with multiple offshore trips available, as well as a thrilling three-hour, family-friendly inshore shark fishing trip in the Calibogue Sound for those not quite ready to venture too far from land.
One of the easiest ways to experience the charms of the Lowcounty is by taking a dolphin and nature cruise, and Island Explorer consistently ranks as one of the best. A quick glance at their over 2,000 five-star Trip Advisor reviews, and you'll notice the same captains' names continuously pop up year after year. That's because, as owner Jeremy Gonsalves describes it, the team members at Island Explorer treat each other—and their patrons—like family. 
"On average, most of the captains have been with Island Explorer for four or five years," Gonsalves said. "We don't treat guests like they're part of an operations mill. We're passionate about our work, and that personal touch is what keeps guests coming back time and again."
Much of the personalization Island Explorer offers comes from their smaller fleet. With four boats total—two that hold 12 passengers, one that holds 14, and a smaller vessel that holds six—the team not only accommodates private groups easily, but also ensures the captains can directly interact with guests.
The most popular cruise is the three-hour trademarked "Vanishing Island" excursion, but Island Explorer also has one- and two-hour nature cruises, where captains provide an overview of the marsh and our coastal ecology while giving guests a glimpse of the bottlenose dolphins that live in the area year-round.
With multiple types of cruises—additionally the popular sunset and summertime Tuesday night fireworks cruises—it's easy to see why Island Explorer has been a go-to nature tour on the island for the past 25 years.
Island Explorer's storefront is located at 119 Arrow Road, Suite C, with trips launching from the docks behind the Old Oyster Factory at 101 Marshland Road.