"If I ever needed a criminal defense lawyer or a real estate lawyer in South Carolina, Bannon would be the only one I knew of!" wrote one user with the handle HoratiosGhost.
When kikishe123 commented, "It's honestly advertising genius," they were met with GeorgiaJeb's reply, "'From your new house to the big house' made me spit out my wine." (This last comment was, it should be noted, followed by the classic tears-in-the-eye laughing emoji, so you know they meant it).
This is the kind of universal Reddit adoration usually reserved for the latest Marvel movie or an adorable cat photo, and it's aimed squarely at Bannon Law Group, the local firm run by Jim and Meredith Bannon. They've been locally famous for years due to their unique dual practice—Jim handles criminal defense and Meredith handles real estate law—but now they're globally famous.
This fame comes courtesy of journalist Mandy Matney's Murdaugh Murders podcast, focusing on the bizarre legal circus that has put our region in the spotlight. As one of the first sponsors of this national sensation, which has since risen up the ranks to one of the top podcasts in the world, the Bannons definitely got their money's worth out of their ads.
"We thought it was a local story that locals would follow, so it would be a good way to reach people around here," Jim said.
"And now, my friend in Finland sent me an article that cites the podcast," Meredith added. "This one forensic psychologist asked Jim, 'Are you the same Bannon that sponsors my favorite podcast?'"
Perhaps part of the reason the ads are getting noticed is the fact that they don't sound at all like your typical attorney ads. Forget the worn-out tropes about "we will fight for you." These are ads that demand attention, with an ever-revolving array of taglines that spell out the nature of their dual practice. From contract high to contact high. From contract dispute to hot pursuit. From sitting by the fire to setting it.
Okay, so that last one may have crossed a line.
"I did get one email from a lady telling me arson's not funny," Jim said.
"But you don't want to hear the ideas that didn't make it to the air," Meredith added with a laugh.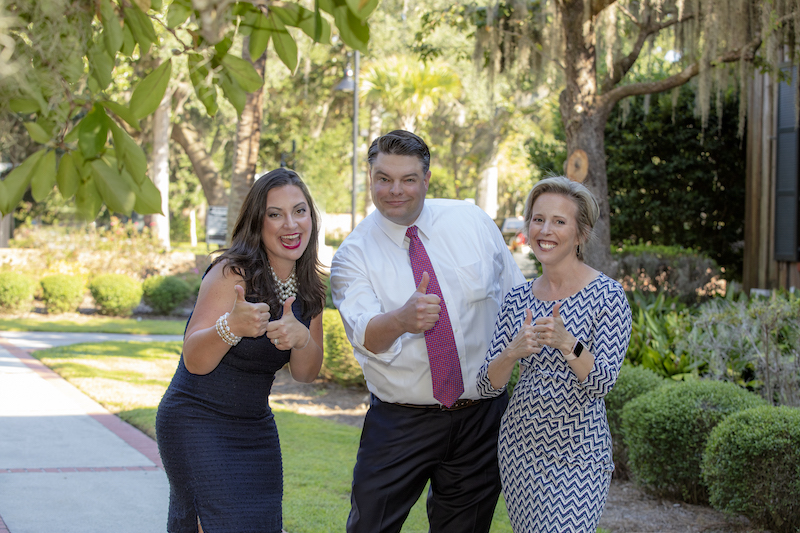 "No, those are in the vault," Jim said. "When you try to write jokes, not all of them land."
Beyond highlighting the unorthodox way Bannon Law Group has paired the two very different practices of Jim and Meredith, these ads serve as your first introduction to a couple with a very approachable style to the law.
"If you find it amusing, you get a sense of who we are and the different perspective we take," Meredith said. "We're taking that stuffiness out of it … and we know we can back up what we say."
"We'll take your case seriously, but advertising isn't your case," Jim added.
And besides, if the Bannons want to lighten things up, it's hard to blame them. This past year and a half has been a strange time for all of us. And when you work in real estate law, it's been even stranger.
"It was crazy because we were on pace in March 2020 to have the best year ever. Then it all stopped, and we went from growth mode to hunkering down," Meredith said. "And then, two months later, it was like someone turned the firehose on. God bless our employees; they did a ton of heavy lifting."
Added Jim, "I just remember thinking, 'Who's going to buy a house in the middle of all this?'"
"And everyone in New York was like, 'Me,'" Meredith responded.
The volume on the real estate side of the practice has been so explosive over the last year that Jim and Meredith brought on another attorney, Melissa Arnold.
"We've known her for years," Meredith said, "and we just thought, 'If you're going to take the time to train a paralegal, why not just train a lawyer?"
With Jim continuing to build on his criminal defense practice and Meredith managing the surge of interest in the real estate market, it's a busy time for Bannon Law Group. So busy, in fact, they won't even have time to plan the party for the 10-year anniversary of their practice coming up this year.
"Jim started off in a one-room windowless office," Meredith said. "It has been kind of fun to look back."
"We've come a long way," Jim said. "It's not always been a straight line."
But then, playing it straight has never been their style.
For more information, visit bannonlawgroup.com.