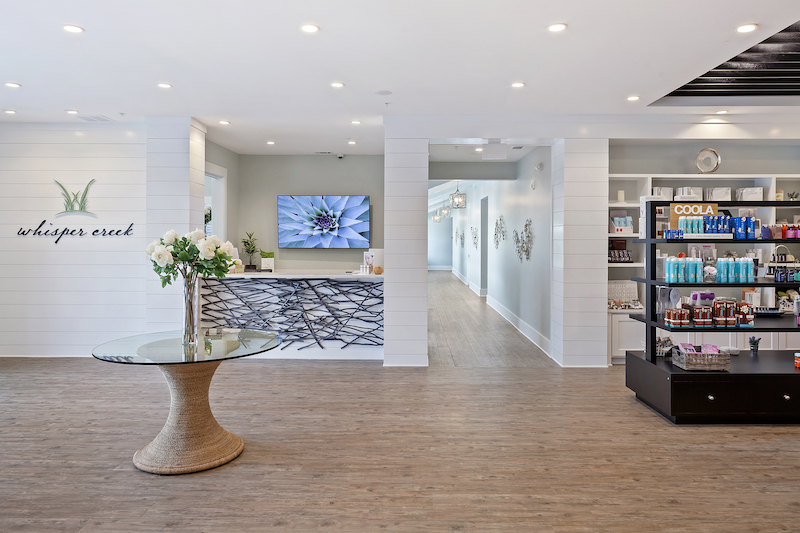 Thanks to owners Jennifer and Robert Wolfe, your mini-vacation is just around the corner—in Bluffton. Over the past year and a half, while the world was shut down, the husband/wife team pushed forward with their vision and plans to convert what was once a Golden Corral restaurant into a magnificent day spa. Their faith and hard work paid off as mandates were lifted just in time for their recent opening.
Step inside the reimagined building and prepare for a smorgasbord of a different kind. Whether you need facial services, a massage, nail care, a hot sauna, a warm bath, a cool drink, an hour or so of peace and quiet, or a venue for a special event, Whisper Creek serves it all to order, creating an exclusive experience unlike any other in the area.
The space, unrecognizable from its former life, is not only grand in size but thoughtfully designed, with men's and women's locker rooms, cozy treatment rooms (including duet rooms for a shared experience), private VIP nail rooms, and quiet relaxation areas tucked well away from the large "beauty bar," where groups are invited to gather—think business, club, or team meetings, wedding parties, reunions, celebrations and more.
"It is such a big building, we were trying to be creative in how we would use the space effectively," Jennifer Wolfe said. The beauty bar, which includes two shampoo bowls, is designed so that a group can enjoy hair services such as blowouts or styling.
"It's not the intention for it to be open all the time like a beauty salon but used for special events," Wolfe explained. "We see this as a versatile event space. We can host our own as well as rent it out to other people."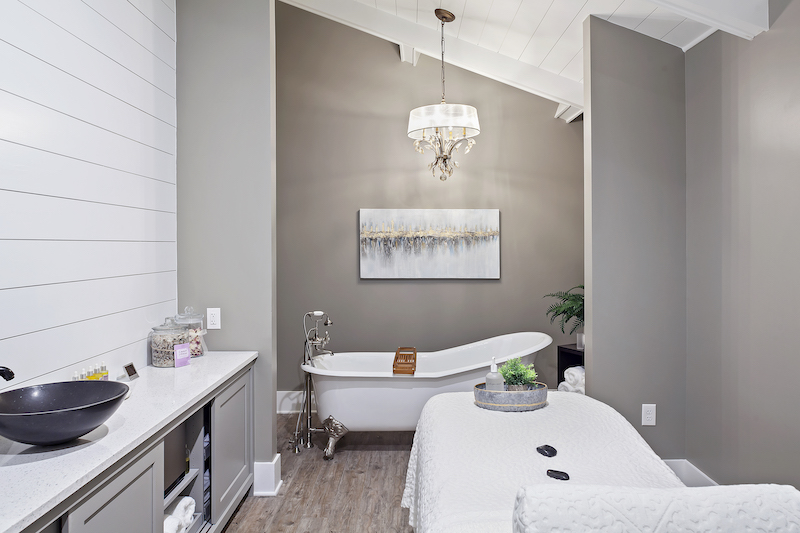 The possibilities are endless at Whisper Creek Spa. For example, accommodations are perfect for a bridal party to be pampered and get dressed or for your bridge group to meet for lunch and game time followed by spa treatments. Meals and snacks can be provided upon request, along with beer, wine, and champagne as the spa is licensed to serve alcohol.
The spa menu includes customizable facial and body treatments, indulgent nail services, and delightful add-ons such as hot stone massage or a soak in the tub room, complete with rose petals and your beverage of choice. Infrared saunas are available for use before or after any service, and a salt inhalation room is coming soon.
"Whether you are on Hilton Head Island, in Bluffton, Savannah or Beaufort, this is a destination spa. It is a true experience to come here," Wolfe said. "You're going to have that full relaxation—the plush robe, the slippers, the relaxation lounge, a glass of wine or champagne…."
Bluffton resident Joyce Webber has visited the spa three times in the two months since it opened and is eager to spread the word about all that Whisper Creek Spa has to offer. "I was here with a girlfriend two weeks ago, and we closed the place down," she said, admitting to extended enjoyment of the ladies' relaxation lounge, where it's easy to lose track of time. "They're so kind here; it's so beautiful. I would like to move in if I could."
Need a time out, a respite from your responsibilities, a break from the daily stresses of life? The ultimate bliss awaits when you make Whisper Creek Spa your destination.
Whisper Creek Spa is located at 1196 Fording Island Rd., Bluffton. For a list of services and more information, visit whispercreekspa.com or call (843) 960-0100 for appointments.