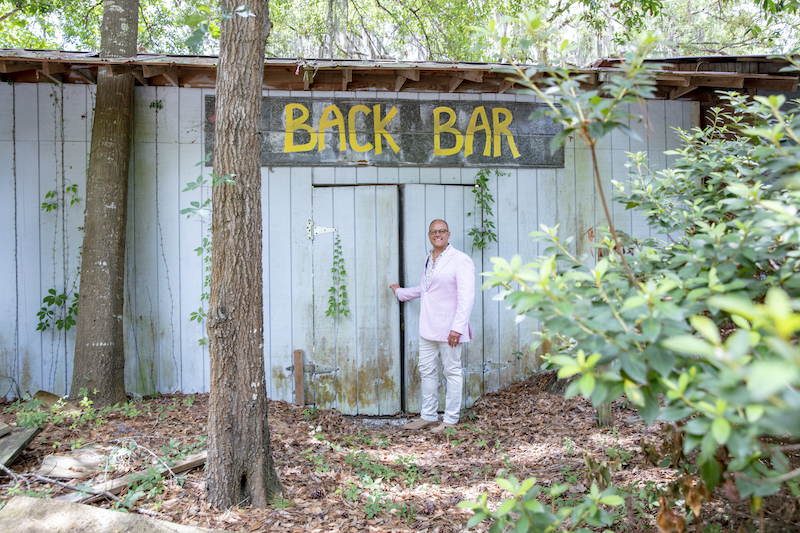 Watterson elevates the entrepreneurial spirit and encourages growth of black-owned businesses through programs supported by the Lowcountry Legacy Fund.
It's a mix most businessmen have often found to be too strange a brew. For Billy Watterson, it's a lifetime of ambitions and learnings distilled into a simple mantra.
"You can have fun in business, execute on your dreams and still have a very serious mission doing it," said the owner of Bluffton's Burnt Church Distillery, a $13 million big swing success story that is the seed of his Southern rebirth. "I know I have a great opportunity here to leverage our name, our networks and our success into creating success for so many others."
He has rapidly earned a reputation in these parts as an innovator, but Watterson's Lowcountry journey began as the "Ohio guy finds Hilton Head vacation oasis" cliché. He graduated from the University of Findlay, a 4,800-student faith-based college in northwest Ohio. He put his 1996 degree in environmental and hazardous materials management to work at Sears and Roebuck in Chicago, cutting his teeth with the department store titan as an environmental manager in charge of complex regulatory requirements. 
"My boss let me run with a number of big and complicated tasks, and I got my butt kicked in business but learned a lot in five years," Watterson said of his business beginnings. "But I began thinking, 'This isn't filling me up.' So, a small group of us began a consulting business."
That idea has evolved into Watterson Brands, the backbone and incubator of more than 20 brands over the last two decades, from recycling companies, disaster remediation and organic farms in the Midwest to an interior design firm and home furnishing boutique on Martha's Vineyard and new spins on self-storage and dating apps.
Hilton Head Island was the respite for the Wattersons for many years, a place he and wife Brenda could take their four kids to escape the Windy City hustle, recalibrate the soul, and recharge the creative battery.
Five years ago, Billy convinced Brenda to spend a full summer here. "That summer, we immersed ourselves in the lifestyle here and it became clear we couldn't and shouldn't leave," he said. "I was so nervous to bring up the idea of moving here, but Brenda was right there with me. So, we enrolled our twin daughters in school and planted roots."
Full-time Lowcountry life began as a bit of a detox for Watterson. "I spent about a half a year just doing a lot of work on myself, spiritually, physically, emotionally, mentally. Just really thinking about where I'd been and where I wanted to go," he said. "I wasn't ready to retire, but I just wasn't sure what was next."
An idea from a past hiking trip with his brother Sean kept resurfacing during that refresh. "We started riffing ideas, talked about this dream of making whiskey," Watterson said. "Six months later and  I said, 'That's it. We're going to open a distillery.'"
He convinced Sean to uproot from Ohio and chase the dream with him. The pair began looking for a property in Bluffton, a place Watterson first discovered in 2017. "We went to the Christmas Parade, and I just thought, man, this place is cool. This is where we need to be."
The home was more of a no-brainer than the name of the business, which began as Black Iron Distillery. "I threw the name out to my team, and it wasn't resonating. There was confusion and a lot of silence," he said of the original title. "Black iron was a thing in Charleston, not here. So, one day, as we were searching for property, we came across Burnt Church Road. I thought what a crazy name; what the hell happened here? And that curiosity took me in a direction I would have never seen coming."
He hired noted lineage tracer Melanie Marks to do historical research into the name, a journey that took them back to the 1700s. They discovered the burnt church was actually the Mission to the Blacks, and that discovery led Watterson to the philanthropic cornerstone of his new business.
"I got a sense of place and a whole different appreciation for the people here and the disconnects and the opportunity for change," he said. "I had the luxury of time to listen and to learn the history here."
He had conversations with leaders like Ahmad Ward in Mitchelville and became fast friends with Bluffton Town Councilwoman Bridgette Frazier, whose family has deep roots in Bluffton and the Lowcountry. He began asking where all the black-owned businesses were here and was frustrated by the answers.
"I was told to tread lightly by many different people, but things needed disrupting here," he said. "Race has been this political football for far too long, but this issue isn't political; it's about doing what's right.
"So, then it becomes what can I do? Folks like Ahmad and Bridgette—their answers were the same. What the black community needs from the white community is resources and open doors. That's where we can begin to truly create unity. So, I took those two ideas and ran with them.
"I heard the saying in business long ago that high tide raises all ships, and I loved that—followed that idea for years. But I've learned that that just isn't the reality," he said. "The American Dream only works if folks feel like it's meant for them. If your boat is already underwater, that high tide just floods and drowns you. I want to be part of giving our black community a new wave of opportunity."
The $13 million Burnt Church Distillery has been a runaway success officially since March 2021, and Watterson has put action behind his words. First, he partnered with Santa Fe Café co-owner, Marshall Sampson in launching the fast-casual Pizza Co. restaurant on the Distillery ground. He worked with Frazier to launch BlacQuity, an incubator and educational resource hub for aspiring black-owned businesses.
Watterson is also partnering with Frazier on the former Pepper's Porch property on May River Road. Frazier plans to turn the land that houses the iconic Deer Tongue building into a new restaurant, Ma Daisy's, and the home of the future Bluffton Gullah Cultural Heritage Center.
He has equally ambitious plans on the island as well. Watterson became a fan of L.J. Bush, the leader of the black youth mentorship program Changing Our Image Now (COIN). The two became friends, and after discovering Bush's long-time passion for craft brewing, he knew he had his next business partner.
Watterson and Bush acquired the Side Hustle Brewing Company with big plans to expand into the south end's premier brewery. Watterson bought the former Bank of America building on Pope Avenue. He and Bush are transforming the space into The Bank, a 17,000-square-foot facility with an on-site brewery, an outdoor beer garden, and a variety of eatery concepts with Sampson and Bill Alberts including Taco Bills, Pizza Co., Bank Burgers and Benjamin's Food Truck, the permanent home for his son Benjamin's successful food truck and Dole Whip venture.
"We're going to experiment and have fun, and we're leaning in to the idea. The Vault will be where you go to get your beer," Watterson said. He, Sampson and Bush are also working on a seafood concept for the space as well as an idea called BoozeBox, a food truck that's focused on spirits.
He also recently acquired the Island Packet building on the corner of U.S. 278 and Buck Island Road in Bluffton, which will be used in the short term to house a production brewery that will help with the launch of non-alcoholic spirits and a new ready-to-drink cocktail-on-the-go line called Island Time, which will launch over the next couple months.
It's a tribute to the island that began as a respite but has led to a creative rebirth for Watterson.
"We're just beginning here. I want to be part of an evolution here. I can't wait to do my first from-scratch development on the island. I want to bring a next-level downtown district to Hilton Head," he said. "Above all, I want to be a facilitator that creates more and more financial equity in our community."
Giving back has taken on so many different forms for Watterson. He and Brenda launched the Watterson Family Foundation to be the center of their charitable efforts. That spawned Help4Hope, which gave close to $200,000 back to restaurants that provided 15,000 free meals during the pandemic in 2020. The Lowcountry Legacy Fund is a foundation created to support programs that build infrastructure, expand economic opportunities, and achieve economic equality in the Lowcountry. A portion of every transaction at the Distillery and his future businesses goes to the fund. And the Distillery has become a hub for Bluffton's annual Juneteenth celebration led by Frazier.
"I am so grateful for all these relationships and for this Lowcountry life," Watterson said. "I make a point not to work past 5:30 p.m, and I don't work weekends. I soak in every moment I can of this life; I drive over the bridge two times a day and the view rejuvenates me every time. We can work hard and play hard, and there is so much opportunity here. I see a lot of prosperity ahead for our community, all corners of the community. I want to be central in creating that. We're off to a good start, but I'm always looking for new partners to come on board to get us there."