When Jessica and Rush Lowther married in 2012, they bought their first home—a little cottage—in Oldfield. When their first two daughters were born and space was getting crowded, they built a home with H2 Builders, where Rush is senior vice president of sales.
"The first home we built was more of a traditional Lowcountry home," Rush said. "It had a beautiful coastal, Southern vibe that is a signature aesthetic of this area. We loved it, and like all H2 Builder homes, it was exceptional from floor to ceiling."
The living room showcases a tapered fireplace and, through the sliding doors, a stacked oyster-shell fireplace for enjoying cool Lowcountry evenings. A vintage book makes a statement on the unique, custom stools used as a coffee table.
Family-owned and operated with more than 25 years in the construction industry, H2 Builders is proud of the reputation they've earned for their quality workmanship and attention to detail. An uncompromising character is manifested in exceptional craftsmanship and unwavering attention to customers, suppliers, and subcontractors. Quality, integrity and excellence are the H2 Builders cornerstones.
"We recognize that every family's home is a reflection of the combined talents and experience at H2 along with the family's own dreams and plans," Rush said. "That is why our customers are satisfied, why the H2 reputation is solid, and why I'm proud to sell and live in an H2 home."
Leathered granite countertops, a black and gold French range, paneled appliances and arched doorways make this kitchen a warm and dramatic space. 
The Lowthers outgrew their second Oldfield home when they welcomed a third daughter to the family. "As our family grew, our homes grew to accommodate our expansion," Jessica said. "This time, though, we wanted to do a bit of tweaking in the home design. We wanted to keep everything we love about Southern Lowcountry style yet add some European touches, so we started from scratch."
The couple enlisted the expertise of architect Pearce Scott, challenging him with the following criteria: the new home must incorporate the best of Southern plantation style and Lowcountry modern French chateau, plus be approved by the architectural review board (ARB) in Oldfield—no small order, especially in a community where the ARB regulations are quite specific, which is one of the reasons people love living in Oldfield.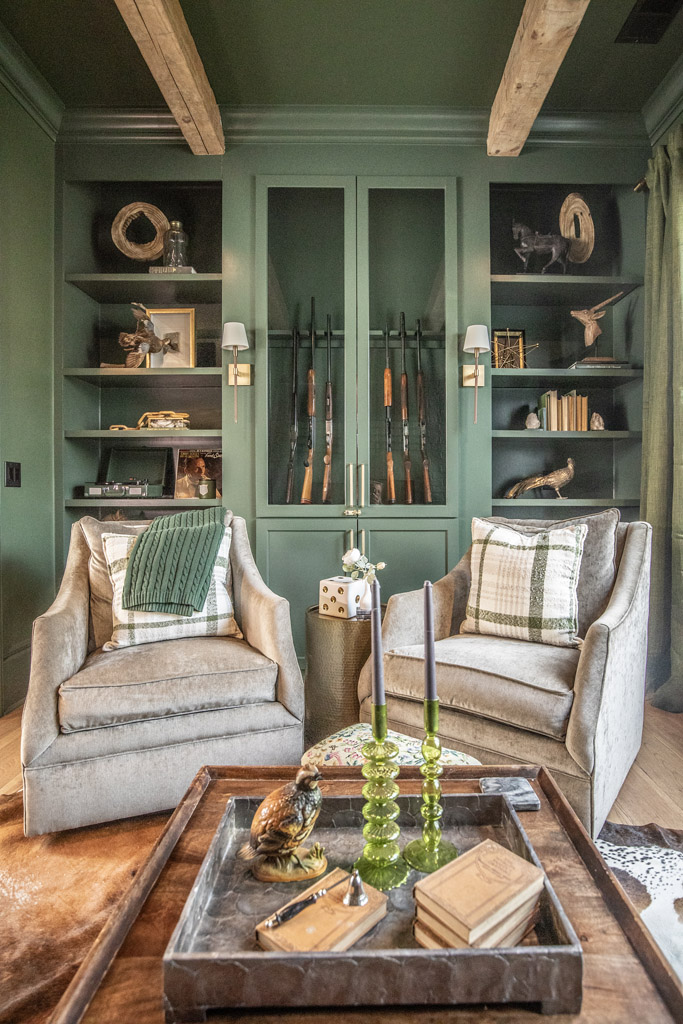 The inspiration for this room was Garden and Gun. This intimate space was designed to have a polo lounge vibe, a place to display the homeowner's passion for hunting. 
"Our initial meeting with Pearce was at a restaurant, and as I began delineating my ideas (open floor plan but still have distinct rooms, accommodate a large family and lots of friends, etc.), he began to draw on the paper tablecloth," Jessica said. "When he finished, we looked at this pencil/paper/tablecloth design, and it was perfect—nearly exactly what we built. So much so that we had it framed, and it's hanging in our home today."
Not surprising. The mission statement at Pearce Scott is, "We draw life."
"Listening is critical," Scott said. "We pull ideas out of our clients instead of telling them how their home should be. We listen to internalize style, budget, and personality, and only then to bring shape to an architectural design."
Careful to see each project through to completion, Pearce Scott is recognized for long-established partnerships with builders, arborists, landscape architects and other professionals who share their values and maintain a singular, client-focused experience.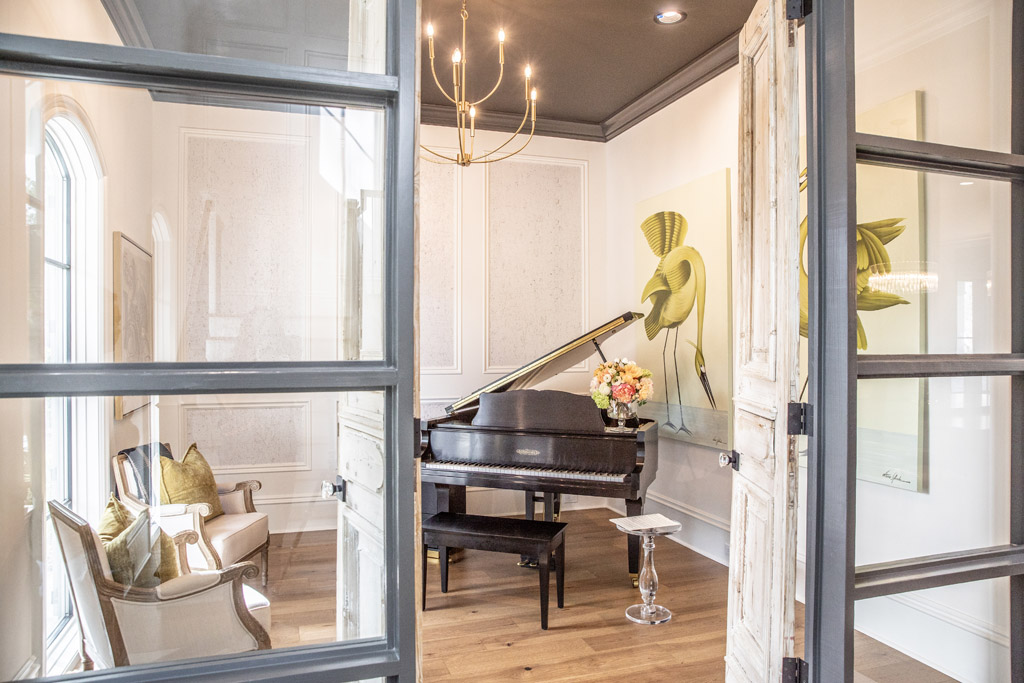 Reclaimed doors from Paris, flanked by a modern glass wall, welcome you into the the room to a grand piano — the star of the space. 
The large bird paintings were custom-painted in Venice, Italy. The traditional Lowcountry egret and the vibrant chartreuse color truly showcase the homeowners' style.
The Lowther's home is perhaps the only Oldfield home that features parapet walls (the portion of an exterior wall that continues above the edge line of the roof), a distinctively European, French country detail. One Lowcountry touch includes tabby finishes (also unique in Oldfield architecture). The large porches on both the front and back of the home are particularly Southern plantation style.
A favorite feature of the homeowners is the wine cellar, which holds 144 bottles. Located in the kitchen, you step down into a fully brick room, leaving no wasted space underneath the staircase. 
While Jessica designed the interiors of the new home, by profession she's a nurse practitioner who owns The Beautique, a boutique medical spa in Bluffton. Aesthetic medicine has allowed her to combine her medical knowledge with her creative side and her passion for detail—the same artistic talent she called upon when designing her new home.
"For the interiors, we married all three of our influences in an eclectic blend with fun little accents," Jessica said. "For instance, when you look at our three fireplaces, one is very French country, plastered, with a tapered, triangular shape. Another is all brick, which is traditionally Southern plantation style. The dramatic outdoor fireplace on the porch is 100 percent Lowcountry, finished in stacked oyster shells." 
In the large living/kitchen area, the French range is the defining piece, and arched doorways create a softer, European space. Under the staircase, a sunken, bricked wine room is decidedly Italian, with a slick glass door and statement hardware that makes it equally inviting and accessible. A back kitchen makes entertaining the couple's large extended family and friends much nicer.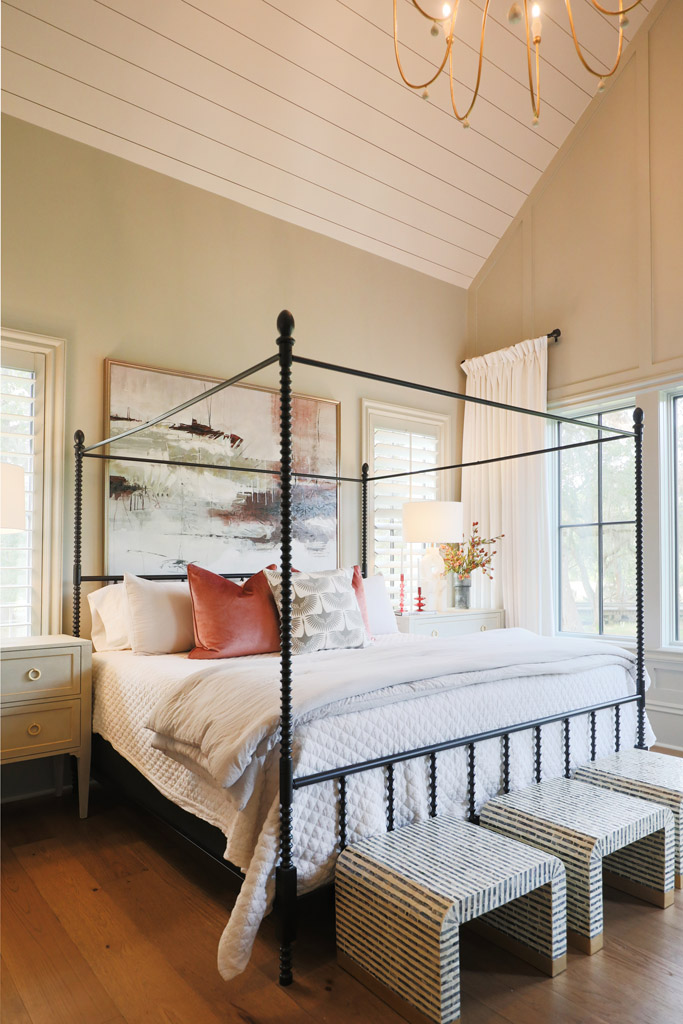 Even with the dramatic height of the ceilings, the master bedroom feels cozy with the dark pink and sage green design. 
Jessica's favorite color is green, and though the primary tones in the home are neutrals, there are pops of different shades of green in each room on the main floor. In the piano room, chartreuse abounds in the oversized Egret artwork from Venice. A gorgeous ebony grand piano (which Jessica and her oldest daughter Mia enjoy playing) and reclaimed double doors from the 1800s from Paris command attention. In the garden and gun room, hunter green is dominant. Even the brick fireplace is painted the same green, creating a seamless, monochromatic, masculine energy.
"My husband is an avid hunter," Jessica said. "We created a feature space for his guns and focused the decor on items you would find in sophisticated men's lounge or hunting club." Pair the record player, vintage leather chairs and books, and velvet fringed footstools with the modern accessories and full-motion tilt/swivel TV, and Rush has the perfect spot to enjoy an old fashioned cocktail while watching his Clemson Tigers play football.
The master suite features soft shades of sage greens, subtly blended with grays and soft pink, along with a four-poster bed with twisted rails and canopy that whispers modern Southern charm. The master bath is Jessica's favorite room, with the "must-have" concrete bathtub and brick floors.
She also loves her girls' rooms upstairs, each with its own personality. Jessica and her daughters worked together to combine textures, colors, and personal tastes to create a "girls' lair" for them and their friends. One room has soft, purple peonies wallpapered on the ceiling; another has vivid pops of hot pink with crystal sconces in the built-in bunks; and another has furniture and wallpaper dominated by emerald green with gold atop crisp white linens.
Perhaps the most whimsical spaces in the house are the girls' bedrooms on the second level. The emerald green and gold room is perfect for the Lowther's youngest daughter. 
The wallpaper on the ceiling is a truly breathtaking touch, and the soft purple decor is fit for a little princess.
Backed up to the tidal marsh, the outdoor spaces also beckon. The family enjoys sitting on the back porch or by the fire pit, watching the ebb and flow of the water, the wildlife, and the movement of the Lowcountry day into evening. And they love living in Oldfield.
"Oldfield is truly home to us," Jessica said. "This was my first home as a newlywed and where I brought all my babies home. My girls are so blessed to grow up here."
"When we drive through the gates, we get the feeling that we're in a real-life Mayberry," Rush said. "The Spanish moss and the white fences are beautiful, and the people here are so kind. It's just so special here on the river. As a family, it's all we've ever known."