How did you spend this past Labor Day weekend? Maybe you took advantage of the extra day off to sneak in 18 holes or have friends over for a cookout. Maybe you spent it on the water, exploring the Lowcountry's breathtaking inlets, rivers and waterways. Maybe you just relaxed poolside with a cool drink.
Beth DeAngelis, of The Beth DeAngelis Coastal Living team, spent her Labor Day weekend a little differently. While we were all relaxing, she was busy bringing buyers and sellers together.
 "I had a real streak of sales over the last five days. In fact, I put one property under contract yesterday," she said during a day-after-Labor-Day interview. "It was a busy weekend, and in the middle of all that, we're training our new puppy Cooper and my parents were in town."
We're sure they understand. As a long-time real estate agent himself, DeAngelis' dad instilled in her the superhuman work ethic that has become her calling card.
"When you're all in on work, you have to be all in on the work. And that's it," she said. "If you leave your foot off the pedal, you have to be able to ask yourself, 'Can I be okay with knowing I may have missed the perfect property for a client.'"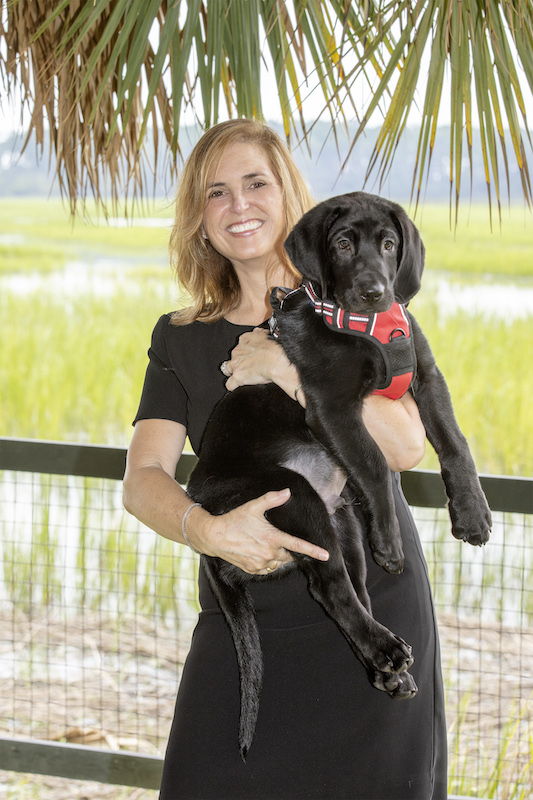 And while the sale is the result of all this hard work, it's not the goal.
"It's not for the money; it's that driving factor of being able to help people realize their goals/dreams," DeAngelis said. "You want to help guide people by getting them acclimated to the area in terms of understanding what communities are going to best fit their lifestyle goals and needs—help them find the right property, not just any property, and ultimately help them get down here and start enjoying the Lowcountry lifestyle."
As a Realtor, DeAngelis is incredibly driven, but she's not driven by the sale. For her, it's about what the sale means to her clients. It's about finding out where their dreams lie, and then pursuing those dreams with a dogged determination. And sometimes it's about telling clients what they need to hear rather than what they want to hear.
"I do a lot of videos for people when starting a relationship with a buyer, and if I don't like something I'm seeing, I'm going to tell you about it. Like I said, it's about finding the right property," she said. "Sometimes it's painful. When a property looks beautiful but has problems, I have to tell people, 'You need to move on, or you need to budget for things that are going to come up. If you're good with it, let's go forward; if not we pull back.'"
The road to Hilton Head
While her father first introduced her to real estate, it was not always the path that Beth DeAngelis followed. Following graduation from the University of Richmond, she got her start in the corporate world working at Dun and Bradstreet. Working behind a desk soon proved to be a bad fit for her boundless energy and intense entrepreneurial spirit, and before long she was following the family business.
"Although I didn't work for my dad initially, I worked for a different company in Lancaster [Pennsylvania] that had really good training," she said. Eventually joining her father at his brokerage for a spell, she made her way into new home sales for companies like Ryan Homes and Beazer Homes. The new career path brought her down from Pennsylvania to Beaufort just in time for the housing market to collapse.
"It was hard. I was just sitting in Beaufort knowing no one, so I started using an online lead generation tool," she said. "I couldn't even pay the $274 a month to pay for the platform; I just loaded up the credit cards and kept plowing through it, slowly but surely. After five or six years of doing that, people were asking me, 'Where are you getting buyers?'"
Ten years ago, she took that drive, ambition, and dedication to clients over to Keller Williams where she was able to surround herself with like-minded people and create an award-winning team. The Coastal Living Team rose quickly to the top of a very competitive firm, being named the No. 1 team in North and South Carolina. Her team has grown to now include buyer agents Angelina Singleton and Joy Gentile, as well as transaction coordinator Morgan Young, ISA Jennifer Kimball, Marketing Director Pam Lee and her first trusted hire, now on medical leave, Barb Pinkelman. And while she's proven successful, listing and selling more than $56 million in the first half of this year, to her, the accolades and the paycheck are still just perks of the real job: helping people.
A perfect example of that came recently when she reached back out to a couple with whom she had worked a few years ago. They were looking for something oceanfront, but as any Realtor will tell you, oceanfront inventory has been essentially non-existent for the past year. Unless, like DeAngelis, you know where to look.
"I started talking to Realtors and found this property that wasn't on the market yet, and it was a perfect fit," she said. "It was an unexpected find, but I loved and appreciated that they trusted me with such a big decision since they were only able to see the home briefly with other agents knocking at the door. We were able to act quickly and, ultimately, if they're happy, I'm happy."
And that is where Beth DeAngelis' exhilaration lies: in her clients' happiness and trust in her.
"I'd love to golf or play tennis, and I have a boat that's not in the water right now that I'll get out on at some point," she said. "But in the meantime, I'm just keeping busy."
What's keeping her busy is making all your real estate dreams come true. To learn more about the team, visit coastallivingbybeth.com.