Nestled in a quiet, unassuming plaza just outside the hustle and bustle of Palmetto Dunes, longtime island staple, KPM Flooring, has found its new home. The long-awaited reveal of the modern showroom is fast approaching, and the lucky few who have received sneak peeks can't help but marvel at its decisive, strikingly executed design. Even the entry, with its stylish chandelier, tall ceilings, and custom, still-in-progress front desk seem to have more in common with the lobby of a boutique hotel than most flooring stores. And yet, less than a year ago, the building was little more than a gutted shell.
Those who saw the original iteration of KPM Flooring at its former location on North Main—a showroom bursting with samples showcasing beautiful and innovative designs—have already discovered that owner Kathleen Mayers' vision for flooring is vastly different from the norm. For well over a decade, she's traveled the country attending every flooring trade show available, slowing down only temporarily during the COVID years, to ensure KPM is consistently representing the most up-to-date products in both quality and aesthetic.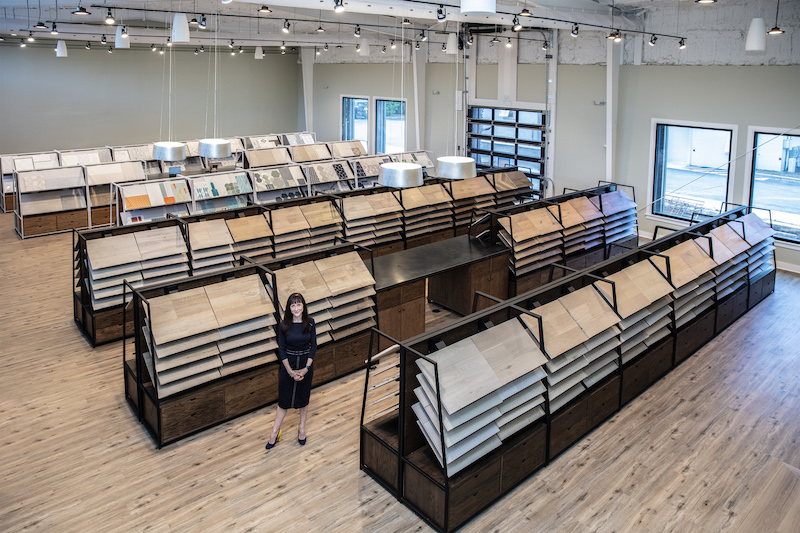 Ever the innovator, Mayers has never been content to stake her showroom's reputation on mainstream products. For years, she has mused about ways to improve the consumer experience, reimagining product displays and sample organization to streamline and simplify the buying process. Several of her concepts were implemented in the former showroom, but she lacked the space to fully execute her vision; that's why, when the opportunity to buy a building in Plantation Center arose at the end of 2021, she acted decisively.
"For a number of years, I had a vision of what I wanted my ideal showroom to be, but was limited," she said. "Then finally, the timing was right. My lease was ending, and this building went on the market. It just felt like the stars aligned."
After the closing, she immediately went to work on plans with architect Tim Probst of Lee and Parker Architects, though between permitting and revisions, the demolition and rebuild couldn't start until June of last year.
To most, the task would have been daunting. The nearly 10,000-square-foot property was in desperate need of a complete remodel, but Mayers tackled the project with her usual gusto, and the new face of KPM slowly began to emerge.
Still, life—and construction—rarely move forward in a straight line. Between supply chain breakdowns and labor shortages, the project was hit with multiple setbacks along the way. Instead of celebrating a triumphant grand opening when KPM officially changed locations last fall, what ensued was a mild panic regarding the uncompleted space, followed by a fervent push by dedicated contractor Billy Perigo, owner of WP Construction, to finish a portion of the showroom so the KPM team could continue business as usual.
For months, clients would pull up to a building partially clad in plywood—commercial doors and windows, like so many other things, on painfully long backorders. With hammers ringing and saws buzzing in the background, they would walk—sometimes trepidatiously—to a side door reminiscent of a clandestine speakeasy portal instead of the planned grand entrance to the somewhat newly completed showroom.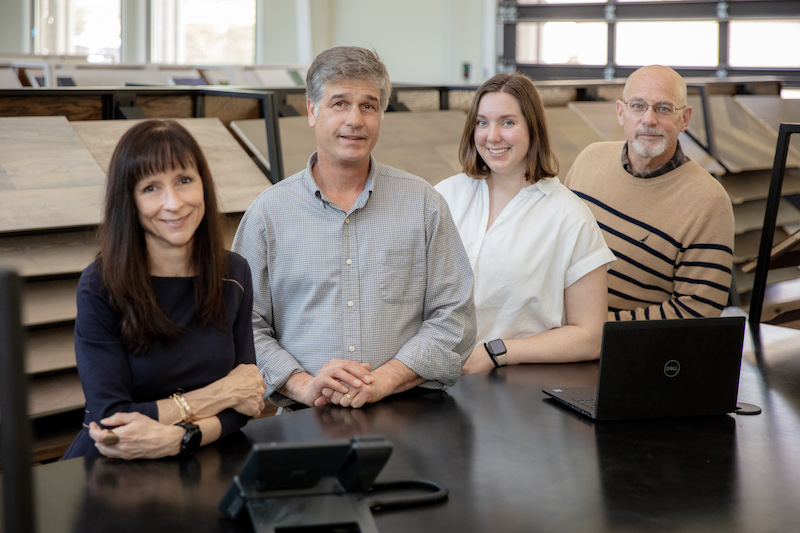 Kathleen Mayers, Jon Muehleman, Lillie Mosco, and Thom Biondo
Once inside, however, it was easy to admire the resilience and adaptability, not only of Mayers and her staff, but of the building itself. The interior was welcoming, functional, and miraculously holding the lion's share of KPM's samples, even if they weren't yet in their permanent homes. The items that didn't fit in the space were stored in Pods located in the parking lot, and the knowledgeable staff never hesitated to open one in search of the perfect sample when needed.
While the KPM team continued forward, what was happening in the rest of the design became very hush-hush. If ever asked what was behind the literal curtain separating the functional showroom from the construction site, Mayers and her staff often responded with smirks or shrugs, their knowing smiles piquing curiosity of what was to come. And although it's still somewhat shrouded, the new space is sure to spark excitement.
Arriving in the parking lot, it's impossible to not be struck by the dramatic transformation of the exterior. Huge glass windows give peak-a-boo glimpses of the treasures inside, while a gracious paver walkway, which will soon be surrounded by lush, planned landscaping, sets the tone for a shopping experience that can only be described as sleek and serene.
Once inside the main entrance, your eye is immediately drawn to the right, where row upon row of wood samples, organized by color and all equally sized, are as elegantly displayed as crudites on a platter. The custom racks were designed by Kathleen, her keen attention to detail creating a space that minimizes visual pollution, meaning patrons can fully absorb the vast selection of materials without feeling overwhelmed.
The larger of the two showrooms houses two custom-designed workstations, each well-lit by a pair of modern, silver-leaf pendants so designers and customers have ample space to curate their samples. Even when the stations are not in use, the pendants add to the beauty of the room. A row of clerestory windows runs the full length of the showroom, allowing an abundance of natural light to pour in. Meanwhile, the parking lot side of the building boasts multiple large windows plus a glass garage door that, along with the exposed beam ceiling, lends an industrial-cool sensibility to the space.
Even with an abundance of space, displaying numerous tile boards presented a challenge. To overcome this, Mayers is turning the back wall into a design feature that can only be described as an art gallery for tile, complete with a library ladder for access. The rest of the samples will find their home in a smaller, open-concept room just below the clerestory windows where vertical partitions are used to hang over a thousand tile samples in a neat, organized fashion.
One of the things the new KPM showroom does exceedingly well is create zones within the building to showcase different types of products. Though the larger showroom featuring wood flooring and all types of tiles is impressive, the slightly smaller secondary showroom devoted to soft goods packs an equal punch, with an entire section devoted to one of the most impressive displays of area rugs on the island.
For years, Mayers, a regular at rug market, has been diligently curating a selection of rugs that includes everything from affordable, indoor-outdoor synthetic blends to high-end, hand-knotted wool rugs. The walls are lined with custom ladders displaying rug samples in a wide variety of colors and brands, while the nearly ceiling-height racks, holding rugs up to 10×14 feet, draw your eye to the open-air loft above where the carpet selections are found.
The new KPM Flooring showroom may still be a work in progress, but a stunning end is in sight. As the exciting future of the new KPM unfolds, one thing remains the same: Mayers' passion for her over 15-year business is unwavering, and the unique experience she's about to unveil will certainly continue to be a leading source for beautiful, quality flooring for many more years to come.
Learn more at kpmflooring.com.