You may have awakened today and wished you didn't have to "adult." Afterall, going to work, paying bills, preparing meals, cleaning house, grocery shopping, and running errands can be a drag.
But what if you woke up every day with no place to go and nothing to do? This is reality for many adults with disabilities who long for a compelling reason to fling off the covers and dash out the door.
According to Carol Bartholomew, the parent of an adult daughter with a developmental disability, the problem intensifies after high school graduation. "That's when adults with special needs find that they have fallen off the 'disability cliff' and are now without the safety net that school provided," she explained. "They face a steep decline in services, opportunities and exposure, and many find themselves isolated—sitting home in front of a television with nothing to do."
Seeking a better quality of life for her daughter, Bartholomew was determined to find a way to make a difference, not only for her family, but for others facing the same challenges.
Pockets Full of Sunshine, a 501(c)(3) non-profit organization, was founded in 2015 when speech pathologist Laurin Rivers and special education teacher Dayna Dehlinger teamed up with Bartholomew and her husband RJ to tackle the issue. The goal was and is to provide exceptional adults ("Rays," as program participants are affectionately known) with inclusive opportunities to connect with one another and with the community at large—to help them discover their strengths and focus on how they can meaningfully contribute.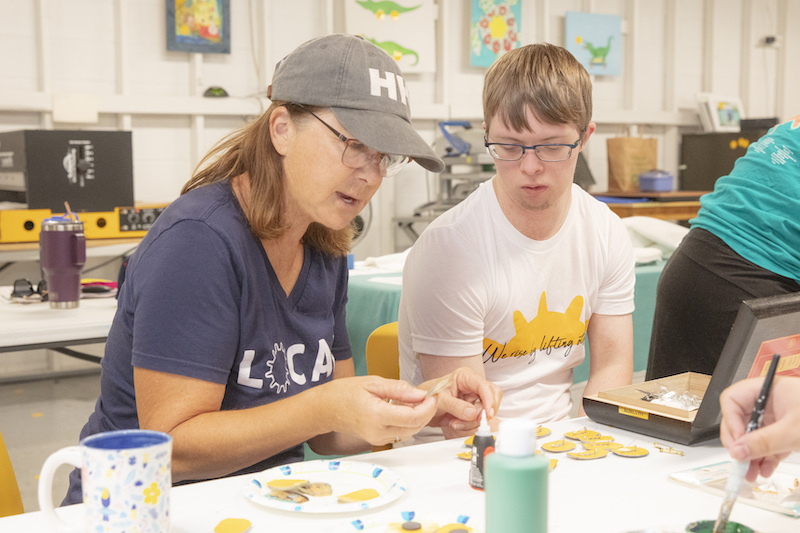 Along came Covid
While the pandemic narrowed everyone's social circle, it was even more dire for an already isolated sector. Surprisingly, though, Covid was a catalyst for this organization's growth.
"We are creating this with the Rays and our families to meet a need. Our goal is to deisolate and connect and give them purpose, pride, and meaning in their daily lives," Rivers said.
During the pandemic, after a brief shutdown, the organization's leaders found ways to continue to be together in their space (a warehouse on Hilton Head Island Island's north end where they currently meet for crafting and other activities). "It was up to the families. Those who were comfortable were welcome to come here, but there were options for those who were not. We put together packages where they could craft at home, but we thought it was critical to continue connecting," Rivers explained. "For a lot of our adults, everything they had in place was gone for that two-year period. Several other organizations serving special adults are just now getting started again. But since we kept going, we've experienced a lot of growth."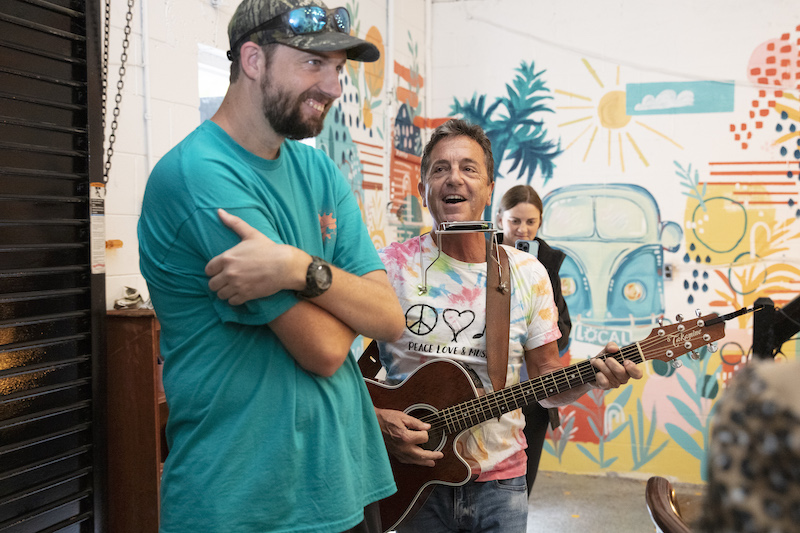 The need to be included
Now that the world is turning again, the Rays are seeking more ways to contribute, and PFS is constantly on the lookout for inclusive activities so that they remain relevant and productive while taking an active part in the community.
"It is not enough that these adults simply have a place to go during the day. One of our core values is inclusion rather than traditional service models where special adults are set apart from their peers and the rest of society," Bartholomew said. "We strive to provide them with an abundance of varied opportunities that are age appropriate, fun and fulfilling."
"Inclusion is always a priority, and we'd like to get to the place where that comes naturally. When people are planning an event, they will think of us and say, "How can we include Pockets?'" Rivers added.
Meet the Rays
If you have attended local markets or special events over the past several years (minus the Covid break) chances are you've seen the Rays in action, spreading their special joy and light. Perhaps you've encountered their handmade items for sale under a sunny yellow tent or have seen someone sporting a T-shirt or hat boasting their distinctive sunshine logo.
The PFS logo was inspired by yellow plastic cut-outs that look like tiny suns—byproducts from a manufacturing plant that produces warning labels for brake fluid caps. Today, the Rays are upcycling them into keychains, magnets, and gift tags—just one example of a purposeful activity that is creative, social, and vocational.
Another ongoing project is their screen printing microbusiness, which allows the Rays to create and produce saleable items such as T-shirts, hats, dishtowels, stationery, and more that they can take to the local markets to generate funds that help support their activities.
"It's a big deal to them to help at the markets and community events. It really gives them pride. And then they get to be there, out in the community and part of the experience," Rivers said. "Every time we go to one of the markets, we make connections. Something good comes out of everything we do."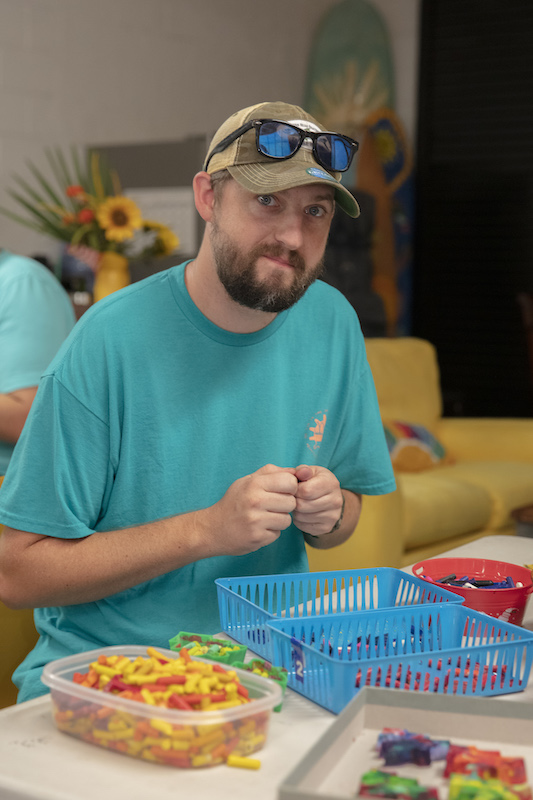 Another core value of PFS is being good stewards of our community. The Rays partner with area businesses, schools, and civic groups to help in various capacities. For example, every year, the Rays fill 20,000 Easter eggs for the Island Rec Center's free event. "Our goal is usually 10,000 by December. We fill them, count them, sort them, and then we volunteer at the event. It's a perfect example of what we like our projects to be," Dehlinger said.
In 2019, the Rays participated in and won a cookie contest sponsored by RBC Heritage, subsequently collaborating with USCB to bake and package thousands of their Peanut Butter Putters, now the official cookie of Plaid Nation, for the tournament concession stands. They got to attend the tournament, mingle with the crowd, and were even joined by PGA TOUR golfer Jim Furyk to bake a few batches. Be sure to look for the cookies at this year's event.
You might also mosey down to the Ice Cream Cone in Coligny Plaza on January 6, when the Rays have an annual ice cream social, scooping up free frozen treats for passersby at the end of the busy tourist season. Not only are the Rays included in the event, but the employees throw all their tip coins for the day into a bin and give it to PFS. Afterward, the Rays get to count the money, roll the coins and go to the bank.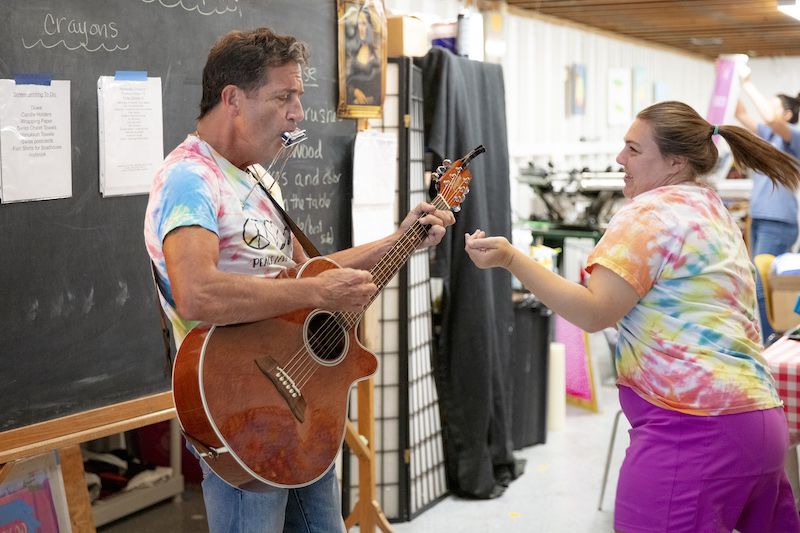 In addition to their daily activities, which include crafting, art projects, vocational sessions, lunches, and various field trips, PFS hosts two main events each year: an annual Clay Shoot, their primary fundraiser—a wildly popular event that helps bring in much-needed financial support (coming March 10, 2023); and Fun in the Sun, a free community event, beachfront at Marriott's Surfwatch, that brings awareness to the cause and is open to people of all ages and abilities (coming June 2023).
PFS is thankful to all their sponsors, donors, and volunteers, and they are especially grateful for the many opportunities that come their way through local organizations and businesses.
"There have been challenges, but I'm proud of where we've gotten, and it's been with the help of this great community," Rivers said. "We just keep doing the next right thing, and it always leads to the next open door."
PFS is currently serving 65 adults with a waitlist of people who would like to be more involved. Their most immediate need is community help in procuring more space and developing a "Sunshine House," a vision of Pockets since its conception, to create a store, clubhouse and community hub where people will gather, socialize, and mingle—"a massive undertaking, yet certainly doable," RJ Bartholomew said. "Volunteerism and fundraising have become a necessary competency of our organization, and thus far, the community response has been nothing short of amazing."
For more information regarding services or to find out how you can help, visit pocketsfullofsun.org, email spreadthesun@gmail.org, or call (423) 760-2103.
---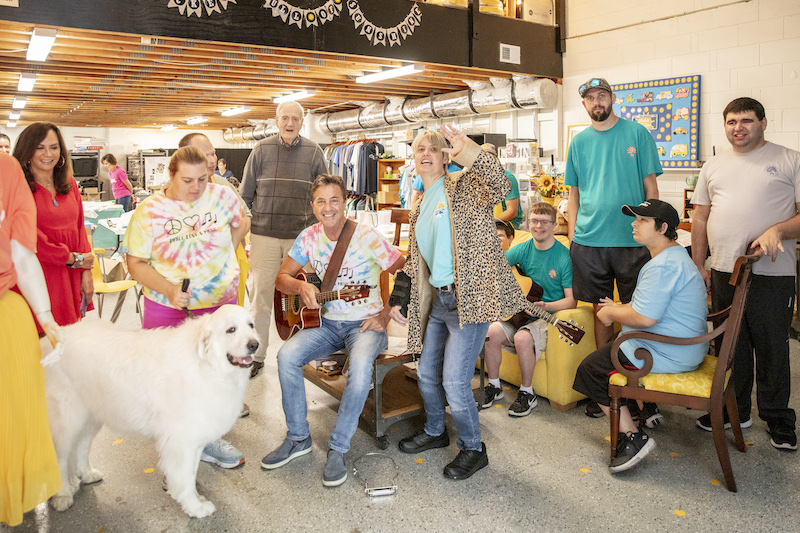 Introducing The Sunshine Shop 
In keeping with their mission to provide inclusion with social and vocational opportunities for special needs adults, Pockets Full of Sunshine is proud to launch their online store featuring items handmade by the Rays. Whether you're looking for a holiday gift, local souvenir, or just a fun T-shirt or cute gift card, be sure to check out the selection at The Sunshine Shop: pocketsfullofsun.org/the-sunshine-shop. All proceeds from the sales of these products go directly back into funding Pockets Full of Sunshine.