Art can be the painting over your couch or the sculpture in your garden. It can also be a necklace, a photograph, a notecard or an oyster shell. In the hands of a gifted artist, objects and images become works of art that add beauty and joy to our lives. In the simplest terms, art makes us feel good, which is one of the best reasons to step into The Silver Garden Gallery in the Village Exchange on Hilton Head Island, a treasure trove of handcrafted jewelry and local art.
While a little off the beaten path, once you find it, prepare for a delightful experience, much like going home at the end of the day. The cozy, cottage-like atmosphere invites you to relax and stay a while, and owners Jim and Linda Saylor will always greet you with a warm smile and treat you like one of the family.
If you haven't stopped by The Silver Garden lately, you may be in for more than a homecoming. Just two years ago, the Saylors took a leap of faith, renovating the space next door to their tiny jewelry nook and adding on an art gallery.
Murano Glass and Sterling Bracelet $225
"Originally, we thought it would be more of a gallery for my personal paintings," said Linda, who serves on the board of the Art League of Hilton Head. But after inviting a few area artists to display their works, the Saylors saw an opportunity to create an eclectic art experience for their customers, while supporting local artists in their creative endeavors. The Silver Garden Gallery now proudly displays and sells the works of over 40 artists. "Woodturners, paper quillers, watercolorists, photographers, painters, sculptors, potters, raku—we have just about every medium you can think of," Linda said.
"These are unique, one-of-a-kind pieces" the Saylors' 12-year-old granddaughter Farrah, visiting from Knoxville, said. "They have found many overlooked artists in the area and some of these artists' works will be found nowhere else."
While Linda is focused on her own art and growing the gallery, Jim continues to refine his craft, creating highly sought-after, original jewelry, straight from his imagination … or yours. In addition to their initial focus on sterling silver, The Silver Garden now offers gold jewelry and mixed media pieces. "We used to work exclusively with silver, but we expanded into gold and other metals as needed," Jim said, pointing out that the jewelry you buy today might be worth more tomorrow. Expressing a long-term confidence in precious metals, he said, "I've been a long-time believer in the value of silver and gold and that prices will be going up. They have been going up this past year, and I think they are going to continue on that upward trajectory."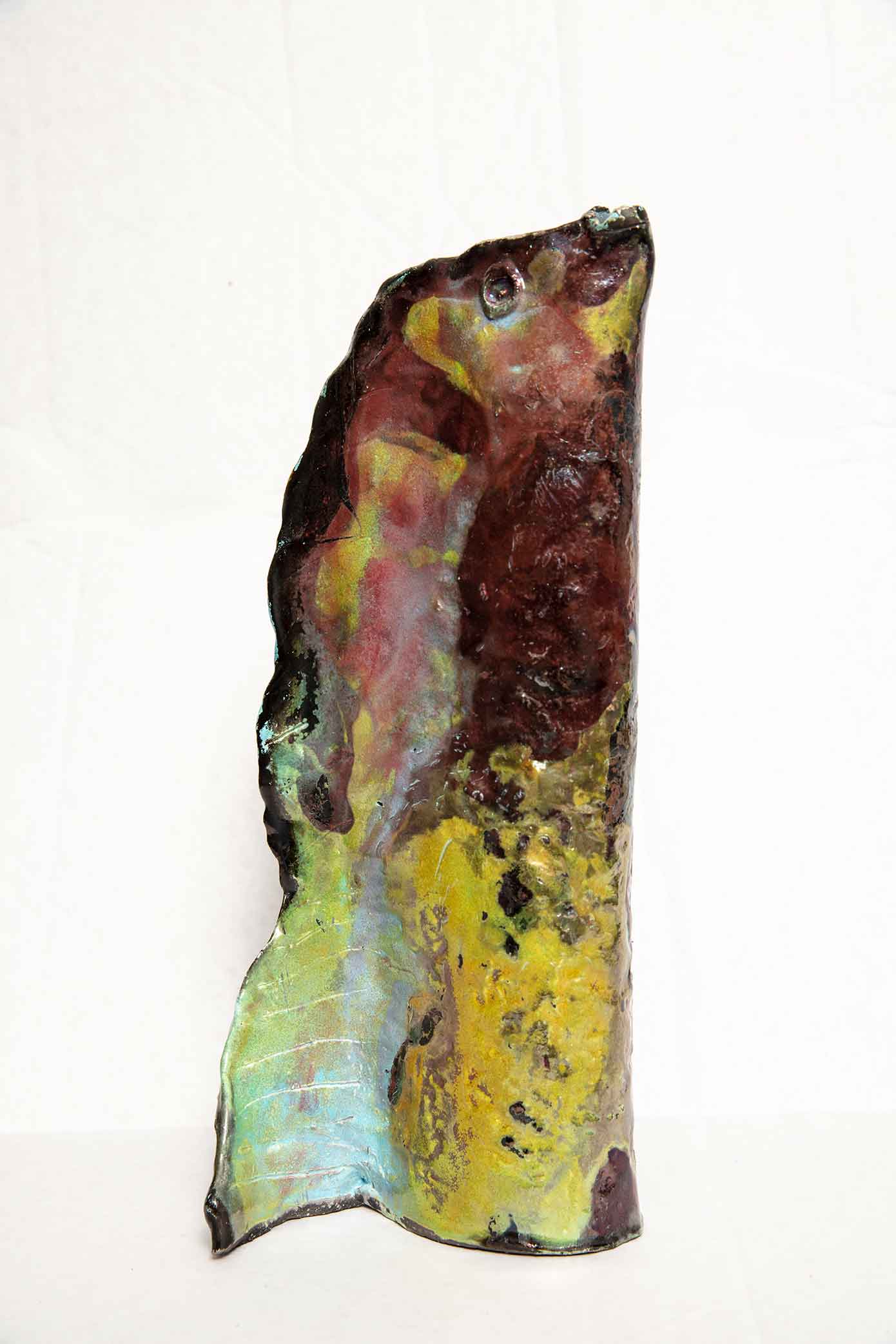 Raku Fish Vessel $280
As always, Jim loves a challenge. His most recent claim to fame is a sailboat pendant that was accepted into the 2019 Biennale Exhibition, a national juried art show held every other year. "Of 800 applicants, only 100 were chosen, and he was the only jeweler. That was a big deal," Linda said.
When he's not busy dreaming up his own designs, Jim enjoys getting into the minds of his customers who bring in their own ideas and oftentimes stones, metals or parts for customized pieces. "They sometimes push me outside of my comfort zone, and I end up doing things that I otherwise would not have tried to do," he said.
He's also the go-to guy for broken or tired jewelry, Linda chimed in. "We remake, restyle, repurpose and repair."
While most of the jewelry offered at The Silver Garden is one-of-a-kind, they do replicate some popular pieces. In addition to online offerings in her etsy.com store, Linda is excited to announce that they just got approved to sell on Amazon. "My plan is to put jewelry there that we have made over and over again that can be molded so that it's always readily available."
Humble beginnings, happy trails
Like many successful businesses, The Silver Garden Gallery didn't start out to be what it is today. What began as a hobby for Linda—mostly beading and repurposing broken jewelry to sell online—turned into a second career for the Saylors when Jim became fascinated with metalwork and design. A bit bored with retirement life, the former corporate CFO turned master silversmith found an outlet for his creativity and problem-solving skills, while Linda, a former commercial real estate executive, continued exploring her innate love of the arts.
In 2012, when the opportunity first presented itself in the form of a small vacant storage space, the Saylors transformed it into a charming retail store and workshop where they continued producing unique, customized wearable art. News spread, mostly by word of mouth, as customers seeking the unusual found their way back again and again.
Today, with the addition of the art gallery, The Silver Garden Gallery has become the Saylors' home away from home, and they truly want you to feel comfortable there too. "It's got the character that I like. It's homey, and you feel like you're welcome here," Linda said. "Come on in, help yourself, try things, wander around."
"We encourage people to open the cases and look at the pieces," Jim added. And there's on-site entertainment too. Where else are you going to get to see an artist in action?
"People like walking in and watching us actually making the jewelry. I don't think you can find that any other place here," Linda said. Plans for this spring include outdoor events where other featured artists will be working on-site as well, she hinted.
Jim and Linda Saylor
"A week doesn't go by when some-body doesn't come in and make the comment that we are the most unique shop on the island," Jim said. "I feel like it's different from anything else you could see. They've become so confident in their work that they can really be different," Farrah observed.
Drop by The Silver Garden Gallery Monday-Friday from 10 a.m.-5 p.m. or on Saturday from 11 a.m.-3 p.m. Meet the family, see what's new and different, and make yourself at home. 
The Silver Garden Gallery is located in The Village Exchange, 32 Palmetto Bay Rd.,
Suite 3A. For more information, call (407) 595-2119. For news and upcoming events, follow on Facebook @thesilvergarden.