Eminem's "Lose Yourself" crescendos and you find yourself getting lost. Simultaneously, fingers and head start to snap in keeping with the beat. You feel compelled to rap and, out of nowhere, you start singing lyrics you did not even know you knew.
Next up, Ramin Djawadi's "Game of Thrones Theme Title" is playing. Suddenly, you can wield a sword, speak with a British accent and, dare say, summon dragons.
Then a smooth transition into Marvin Gaye's song "Let's Get It On." You hear, "I've been really tryin', baby. Tryin' to hold back this feeling for so long. And if you feel like I feel, baby.
Then, c'mon, oh, c'mon," and, lo and behold, the person next to you starts looking appealing.
Undoubtedly, music has the power to affect moods. Psychology Today writes, "Music has the ability to evoke powerful emotional responses such as chills and thrills in listeners."
"When I am making the kids' lunches in the morning, I play frantic music. Louis Cole. Van Halen. It's what I'm doing, and it gets them up," said local musician Jevon Daly.
If you are a parent, or ever needed to rouse the teenage quasi-dead, you get what Daly is saying. I have been known to ask Alexa to play Rebecca Black's annoying song "Friday" or The Bangles' classic "Manic Monday" to get a little traction to start the day with my three girls.
Scientifically, we know music can neurologically help us produce "happy hormones" like dopamine and, cardiovascular-wise, influence heart rate. Personally, Maggie Evans knows music can heal.
On April 14, 2022, while out cycling on her daily training route, Evans was hit from behind by a truck. She was going about 20 miles per hour. The truck was going around 60 miles per hour. Upon impact, Evans was launched 138 feet and landed in a marshy area off the side of the road. She had two broken cervical vertebrae, several broken thoracic vertebrae (one of which was severely ruptured, just millimeters away from leaving her with permanent damage or paralysis), a broken collarbone, sternum and pubic bone, and a fractured hip and foot. Her ribs were mangled and lacerated her liver, punctured her diaphragm and tore one of her lungs. She had also lost a significant amount of blood.
"Given the level of trauma, doctors and surgeons were not expecting me to survive," Evans said. But Evans is a high performing cyclist and musician. "It is no accident that both disciplines use the word 'performance,'" she said. "The adrenalin of racing is similar to the adrenalin of a concert, and riding in a group of cyclists who are working together has the same unspoken interactions, body language and flow that playing with other musicians can have. Both disciplines require putting in a lot of work—training or practicing—but when it is time to perform, you have to almost turn off your brain, trust that you have put in the work, and react intuitively to what is happening around you in the moment. Both require a combination of preparation and improvisation."
Throughout her recovery from her cycling accident, music has played a role. When Evans was intubated and not yet deemed stable, her husband Jackson Evans and good friend Howard Paul took turns sitting with her. "They both noticed a difference in my behavior when they played guitar for me. Even though I was not conscious, apparently when they stopped playing, I would become more agitated and would immediately calm down when they resumed.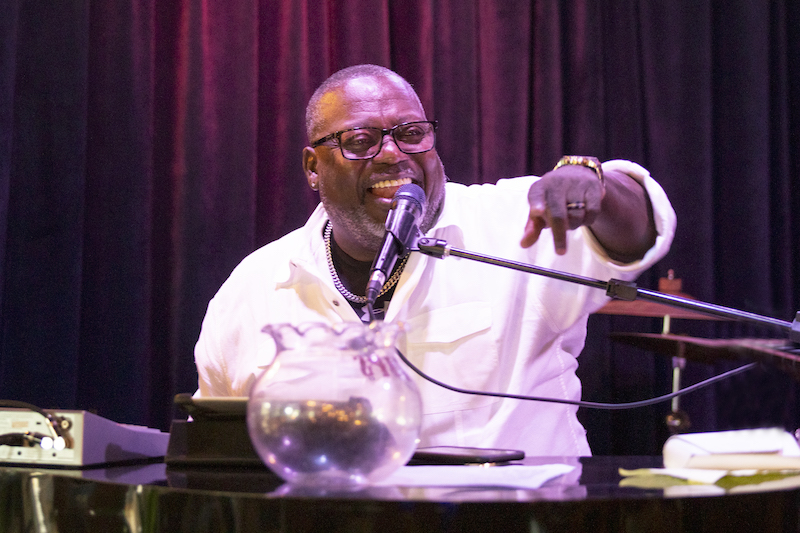 "Music has served as a bit of an escape throughout the healing process," Evans continued. "Just listening to music can be so soothing and comforting. Playing is more difficult, but each time I have tried playing bass, I have been surprised how much I can do, and it brings a small sense of normalcy. After struggling through so much therapy, stressful uncertainty, and extreme limitations, just playing a song and singing something easy provides a temporary break from the stress of feeling trapped in my current condition."
Kind of Blue owner and longtime entertainer Sterlin Colvin has also turned to music for healing. "Music has always been an escape for me," he said. "Not always being the most socially accepted, music was a way to make people feel better about me and about themselves. As an entertainer, I can transform someone's worst day at home or at work into a positive. Music is a language everyone can understand."
When his father died of cancer at age 56, Colvin was 20 years old. "As a young man, I had so many unanswered questions for my dad. Music was my whole. My everything. My church. My friend. My blanket. I listened to everything from George Duke to the Pockets from Baltimore."
Music has been instrumental for Daly, too. "When I was going through my divorce, I was sad for my family—the disintegration of our family. I would play 'Rainy Days and Mondays' a lot. It forced me to go through the emotions."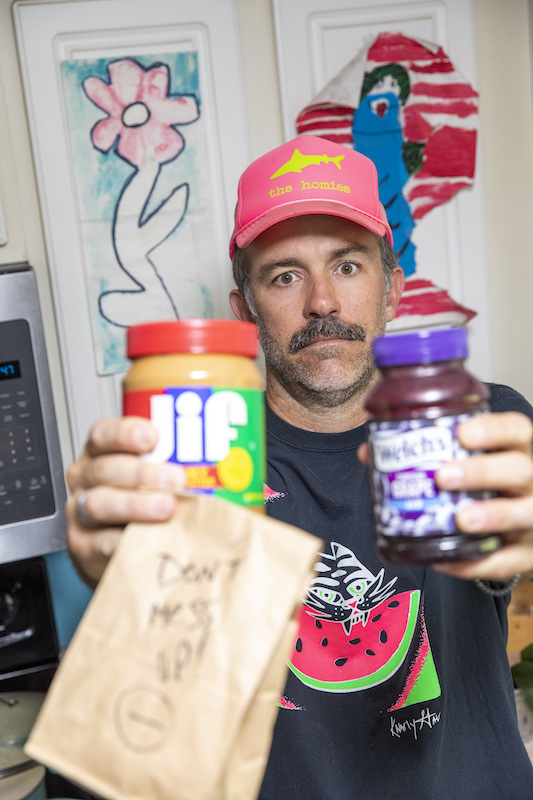 Growing up in a musical family, Daly recalls his parents dueling out music genres. "My mom controlled the music in the living room and kitchen. She played Lenny Kravitz, Blondie, and Heart. My father had the bedroom. He played The Grateful Dead and the Allman Brothers."
It was this eclectic confluence of genres that helped Daly become the versatile performer (he is in five very different bands) and songwriter he is today. "Certain instruments played a certain way lend themselves to certain moods. When I play 'The Island is Asleep,' everyone goes quiet."
In accord with Daly, Evans said, "I think music really taps into an elemental, subconscious part of our being. The patterns, repetition and sonic frequencies merge to create something intangible, hard to articulate, and absolutely essential to being human. It's also such an amazing shared experience, between musicians and between musicians and audience."
Becca Edwards is a freelance writer and owner of Female IQ (femaleIQ.com).
---
Mood Playlists
Empowerment
Led Zeppelin "Bron-Y-Aur Stomp"
Janis Joplin "Cry Baby"
Ana Tijoux "Shock"
Solange "Don't Touch My Hair"
Gary Pratt "Teach"
Handel's Messiah "Every Valley Shall Be Exalted"
The Proclaimers "I'm Gonna Be (500 Miles)"
Happiness
Otis Redding "The Happy Song"
Sergio Mendes & Brasil '66 "Roda"
John Hartford "Skippin in the Mississippi Dew"
Pretty Darn "Home Country"
Walter Hawkins "Thank You Lord"
Pitbull "Time of Our Lives"
Focus
Hans Zimmer "Time"
Bill Evans Trio "Very Early"
Oren Ambarchi "Grapes from the Estate"
Lowcountry Boil Bluegrass Band "Time Sells"
Puccini "Nessun Dorma"
Calm
Max Richter "On the Nature of Daylight"
Ithamara Koorax "Ho-Ba-La-La"
Jevon Daly "The Island is Asleep"
Bobby Magyarosi "Window Pain"
Camp Fire Tyler "Nostalgia"
Al Jarreau "Just to be Loved"