In 1989, John Brackett started playing the piano and singing with a quartet at a former Hilton Head Island establishment called Big Rocco's. In 1995, he met guitarist Howard Paul. In the years following Big Rocco's closure, Brackett and Paul continued performing together, including at The Jazz Corner and eventually their longstanding engagement at Redfish where they've been playing every Wednesday night for the past 11 years.
Four years ago, they invited Maggie Evans to join them on electric bass and vocals. To tighten up and finish out the sound, the trio welcomed drummer Greg Critchley and conga player Fuzzy Davis to the group, and with those additions, the John Brackett Quintet was born.
In addition to the Redfish gig on Wednesdays, the group also plays at The Jazz Corner on Hilton Head Island, the JW Marriott in Savannah, and private functions all around the country. Traditional and Brazilian Jazz are their forte, and audiences crave their take on anything Sinatra, Bennett, Jobim, and otherwise.
While you've probably listened to a set or two at Redfish or The Jazz Corner, you may not know the most interesting details about this group and its members, so enjoy this deeper introduction: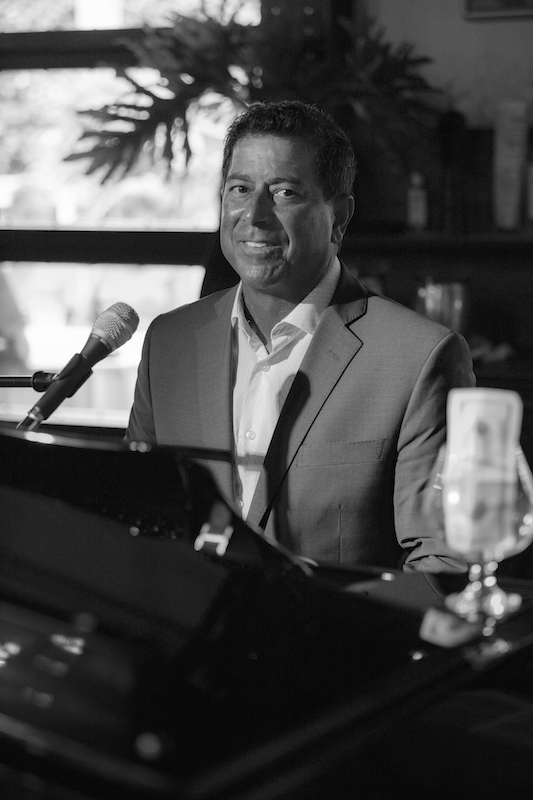 John Brackett
As a child, Brackett listened to lots of jazz and was especially influenced by Mel Tormé's vocals and by Eddie Cano on the piano. Brackett initially learned music on the trombone at school and taught himself to play piano as a second instrument—a piano he still owns and plays today.
"Ever since I began hearing live musicians perform, by age nine or ten, I knew I wanted to perform," Brackett said.
Brackett left high school his sophomore year and began working as an auto mechanic, a photographer (also self-taught, "I had a darkroom in ninth grade"), and a musician. He began playing piano professionally at age 20 at the Icehouse Café in Herndon, Virginia.
In 1989, when he was 26, he visited Hilton Head. A month later, he moved here. Brackett then began playing piano at Big Rocco's, where he played for seven years. The rest is group history.
When Brackett isn't playing with the John Brackett Quintet, he continues to do freelance work and photography. He is a fishing boat captain as well.
As for his role in the group, Brackett brings the diversity of jazz, Latin rhythms, swing, vocals, and enormous energy. Traditional jazz (also known as The Great American Songbook) is his favorite to sing.
"When people see us perform live, they see we are having fun and enjoy playing off each other. That is the ultimate reward," Brackett said.
Howard Paul
Paul started playing guitar at age four, and by age 10, was playing strictly jazz. At 13, he began playing professionally in Atlantic City jazz clubs.
"We felt like grown-ups," Paul said. "Our heroes were legends from the '40s, '50s, and '60s. Here we were, doing exactly what they were doing. It was a remarkable way to grow up."
At age 17, he went to work as an adjunct music instructor at Atlantic Community College. At 21, he attended University of North Carolina and graduated with a degree in political science and history.
After college, he enlisted in the army and spent the next decade as an officer, touring in Desert Storm and Somalia. In 1996, Paul left active duties as a Major and settled in Savannah, working as a steel company executive by day and playing guitar at night. In 2006, Paul became president and CEO of Benedetto Guitars, where he is also an endorsing artist.
Though Paul and Brackett had met years earlier, Paul has played with the quintet for the last eight years. He offers supporting rhythm with his "straight ahead bebop" guitar style and is a featured soloist.
"Hilton Head's jazz culture is rare," Paul said. "Nowhere in the country will you find two jazz clubs (Jazz Corner and Redfish) within a quarter mile of one another that take better care of their musicians or care more about their customers' experience."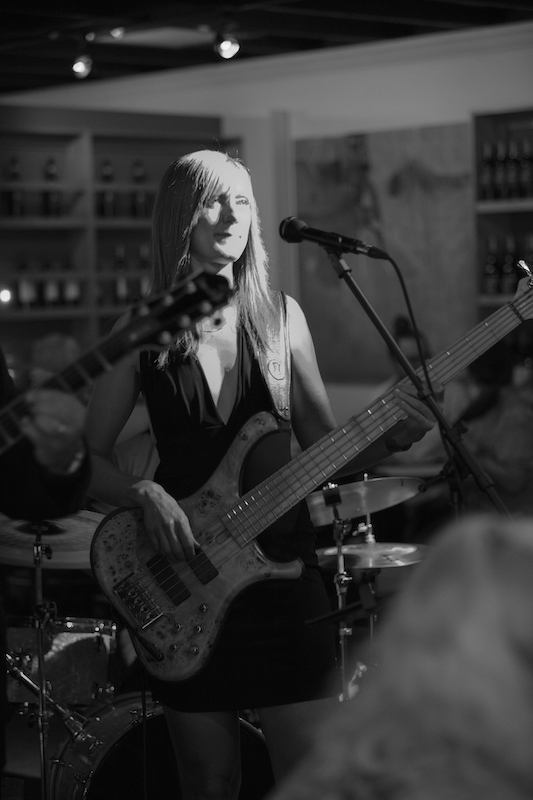 Maggie Evans
"Because fewer females play electric bass, people always ask me how I got started," Evans said. Though she was initially trained as a classical pianist from the age of five, when she was 14, her brother started a grunge rock band, and they needed a bass player. So, her parents (both professional musicians) encouraged her brother to let her play.
In college at Utah State, she began playing jazz and other kinds of music with her now husband Jackson Evans, who was also in a band and needed a bass player. In 2003, the two of them moved to Savannah so she could attend Savannah College of Art and Design (SCAD), where her skills as a bass player were even more in demand.
"My music career has been unintentional," Evans said. "I really intended to focus on painting, but the music gigs are too good to pass up." Evans still paints and is Professor of Foundations Studies at SCAD where she teaches drawing and design.
While playing in Savannah, Evans met and began playing gigs with Howard Paul, who introduced her to John Brackett. She filled in one night while the Paul and Brackett were playing at Redfish and brought some Brazilian music to the set, which everyone enjoyed.
"It's a genre that brings a fun vibe," Evans said, "plus, we can also split up the vocals and make it more interesting."
Evans has been with the quintet since 2015.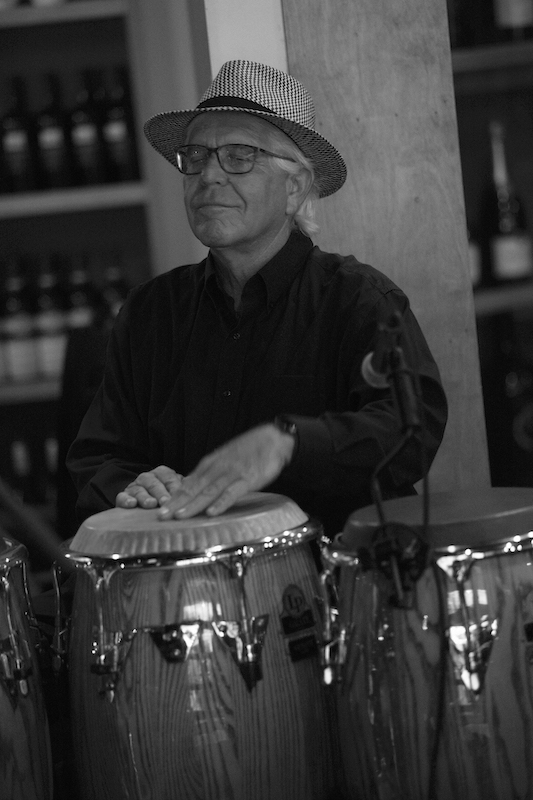 Fuzzy Davis
Davis doesn't come from a musical family, but his father made him play horns in the school band. "I hated it," he said. "I always wanted to play the drums, so when I was 10, my brother talked my dad into getting me a drum set."
Davis, a self-taught percussionist, continued to play the drums and played with various rock bands in the Nashville music scene after high school. During college, he went to an outdoor Santana concert and heard congas for the first time, though he didn't begin to play them seriously until he was about 45 years old.
Davis took lessons from Juan Buzo, a famed Mexican percussionist, and for about 15 years, he played in Buzo's band. One Wednesday night, Brackett invited Davis to play with his group at Redfish. Then the next week, he invited Davis to play with them again. And so, it began.
"The best quality I bring to the quintet is the sound of Latin percussion because, to most people, it is a foreign sound they like, and it adds another dimension to the group," Davis said.
When he is not playing congas, Davis is a fishing guide and owns Silva Dolla Charters. "Another whole layer to my friendship with John is that not only do we play music together, but we also get to meet up on the docks and fish together," Davis said.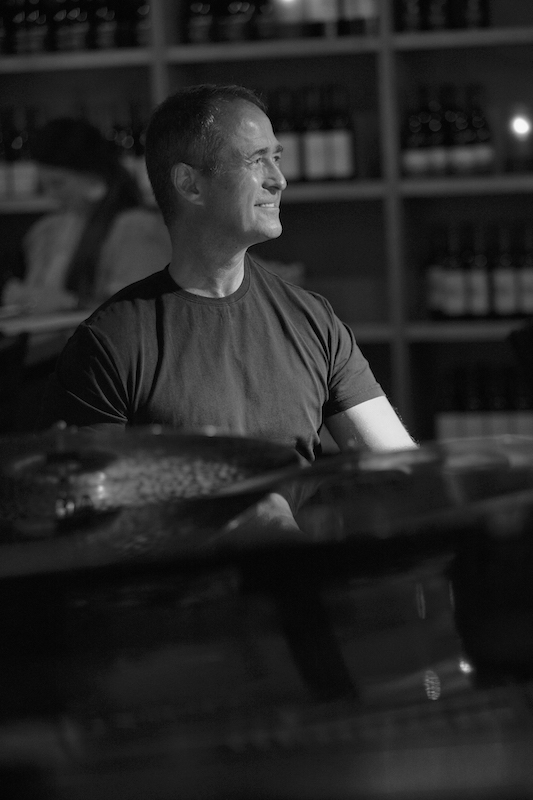 Greg Critchley
When Critchley was 10 years old and began taking piano lessons, he knew he'd be a musician. "I enjoyed the lessons, and I practiced," he said, "so I advanced quickly and began playing in our church band."
While playing eighth-grade football, Critchley broke his finger, so he couldn't play the piano in an upcoming gig. He switched instruments with the drummer and fell in love with the drums. From that point on, he was the group's drummer, and he borrowed parts of sets from different people until he was 12 years old, and his parents gave him a new set.
"I was initially a very aggressive drummer," Critchley said, "influenced by Rush and The Who. I didn't even know anything about jazz or Latin music until I went to college."
He began playing professionally at age 15, and by age 19, after only two years of college, Critchley quit school to play drums full time. His repertoire now includes writing, recording, and music production.
After coming to Hilton Head for years to escape the Canadian winters and the chaos of the West Coast, Critchley moved here full time in 2017 and opened his own recording studio—which is where he met Brackett, who eventually invited him to join the quintet.
Critchley asserts that a good jazz drummer is sensitive to the other elements of the music, provides the right touch, can converse musically with the other sounds, all the while "keeping things cookin'."