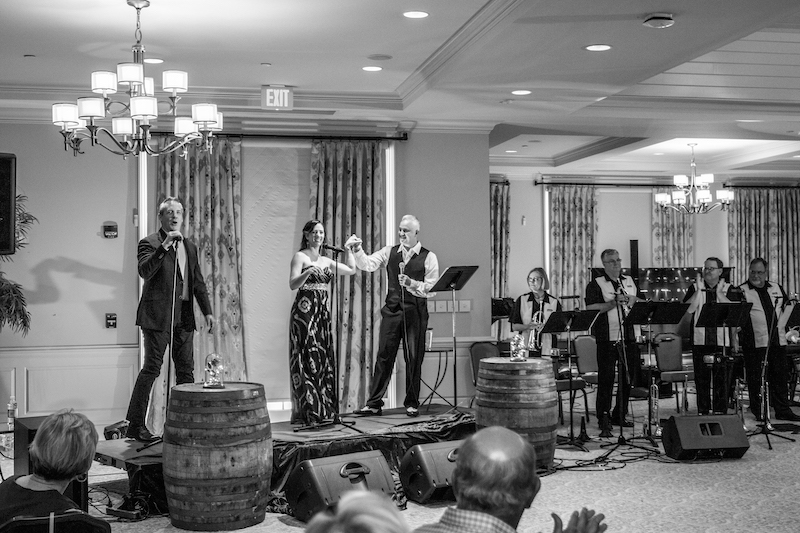 It's a Friday morning in the state of mind, at a rehearsal space inside Bluffton School of Dance. Outside in the hallway, squealing voices greet each other as a mommy and me music class gets ready to set up. But inside the rehearsal space, strains of Dave Brubeck's "Take Five" drift from the woodwinds, mingling with trilling embouchure exercises from the brass, a few lines of improvisation from a baritone saxophone, and the thumping of a bass guitar.
Anyone who's ever played in a band knows it as the symphony of getting warmed up. And somehow, Evolution Big Band even makes this rambling cacophony sound sweet. A sign on the back wall, placed there for the dancers but applicable for the room's current tenants, reads "Excellence is not an act but a habit."
"We're here every Friday," said trumpet and band leader (inasmuch as anyone is a band leader in this highly democratic band) Jeff Shawd. "We try to honor the music and, at the same time, enjoy the heck out of it."
When the rehearsal gets into full swing (pardon the expression), one can hear the precision and professionalism of Evolution Big Band in every note. Well, mostly. Drummer Chris Russell is stuck in traffic on the way in, but the consensus is they can get through the Woody Herman arrangement of "Greasy Sack Blues" without percussion.
"Let's start it out pianissimo and then just blood and guts all the way to the end," Shawd said, directing from the back after taking his place with the trumpets. Blood and guts is right. Even muted by plungers, the trumpets fill the small space to bursting before the trombones and woodwinds jump in, softening the sound and segueing into a soulful solo by tenor sax Steve Ryden.
They wrap up, and in true Evolution Big Band fashion, it's opened up to the room for critique. Shawd thinks they got kind of loud, to which one member responds, "Well you said you wanted a big finish." Bill Gwynne on bass guitar asks everyone to speed up, since with their drummer still stuck in traffic, "It feels like I'm dragging a freight train."
The fact is the entire band is dragging a freight train. That train is big band music. And Evolution Big Band is dragging it into the twenty-first century one show at a time.
What we now know as Evolution Big Band started out in 2004 as Stardust Jazz Orchestra. While the name may have changed, the original mission behind the all-volunteer group hasn't. Playing regularly at venues all over the Lowcountry, the group has a singular focus: to raise money for area charities and non-profits. To date, the group has raised north of $200,000, with funds going to groups like Bluffton Self Help, Family Promise, the Lions Club, Second Helpings, Backpack Buddies, The Junior Jazz Foundation and the Live Oak Performing Arts Center.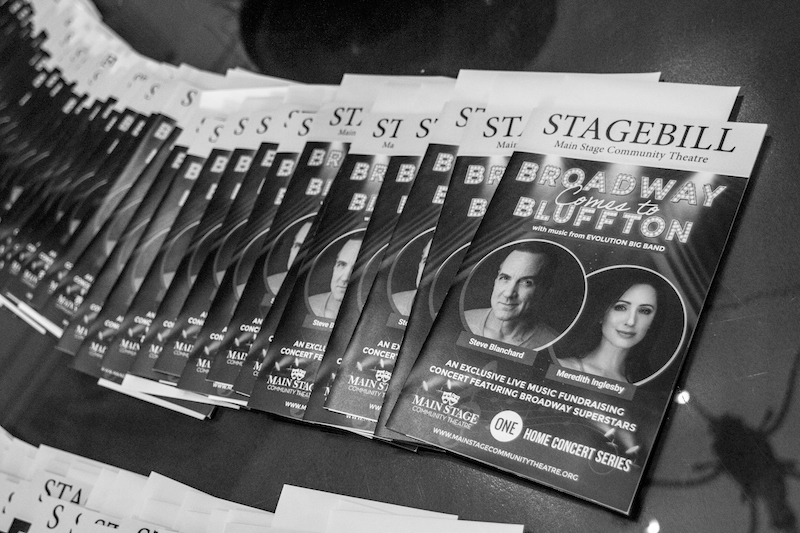 "It's not just the opportunity to play big band music but to serve the needs of various non-profit organizations," Shawd said, "particularly now as the economy has contracted and the need got bigger."
"Our prime beneficiary at this point has been the Junior Jazz Foundation, which is so aligned with our mission," added Dave Skinner, sax man and senior member of the band.
It's more than just money. Beyond tallying up any discretionary funds at the end of the year and dispersing it to various charities, Evolution Big Band puts on a show laser focused on the organization they're supporting with each event.
"We'll work on a program for them, and say, 'Tell us about your mission as an organization … how do we make this an audience experience where your messages are integrated with our songs?'" Shawd said. "We don't try and force it, but organically we try to make sure it's a meaningful evening."
And, ultimately, putting on a show is what it's all about—taking big band music and presenting it in ways you've never heard. A typical show might start with a Glen Miller standard before launching into a Quincy Jones arrangement of a showtune, a Russian composition called "Brazilian Dance of the Flugel Horn", or a seasonal standard rearranged by Gordon Goodwin's Big Phat Band.
It is, in short, not big band music. It's big band music that has evolved. Hence the name.
"The name Stardust Orchestra served us well, but… I don't know what comes to your mind when you hear that, but I think of Lawrence Welk," Skinner said. "That wasn't the stuff we were playing. We weren't playing old stuff; we were introducing contemporary versions of jazz."
It's unique to find a handful of people who share an overwhelming passion for both big band music and giving back to the community. With Evolution Big Band, there are 17 such souls.
"At the end of the day, I feel like I'm talking in my life's purpose right now," Shawd said. "And I get to do that with 16 other people who feel the same way I do."
To see the full schedule of upcoming dates, visit evolutionbigband.com.