The most popular was probably red light/green light. Truth or Dare comes to mind. I never played spin the bottle. I had also never played 'Never have I ever' until last month. It has been interesting, to say the very least.
Back in July, I got an out-of-the-blue text from Maggie Washo, publisher of this fine collection of art you receive in your mailbox every month. "How would you like to write about your favorite dive bars for our September food issue?" She didn't have to ask me twice. I was all in.
I was so excited about it, I tossed the assignment up on social media. How lucky am I? I get to write 1200 or so words about my favorite dives in the area. They just happen to be some of my favorite dark corners of the planet. The darker the better, of course.
Never, and I mean never, in my 12 or so years writing about food and drink in this area have I gotten more input from the peanut gallery than I did for this story. Everyone had a favorite of their own across social media. Then came the unsolicited text messages demanding to know my criteria. From seemingly everywhere. Yes, seriously.
What you should definitely know is that I've been searching for the perfect dive bar almost as frequently as I've been searching for the perfect burger over the last 10 years. It's why I spent Easter Sunday morning 2022 at the most popular dive in Jacksonville, Florida. Pete's Bar is legendary. When we were done at Pete's, we popped in on Ginger's Place. Ginger's is the kind of joint that would require a coat of paint to condemn it. Canned beer came out of a circa 1956 refrigerator. The stench of stale smoke was baked into the walls. I could go on, trust me. But I will just smile when I tell you the place was filthy. And it was glorious.
At times, the debate raged into something as simple as the definition of a dive. The biggest debate being over there being an option for food or not. That is when I learned that in South Carolina, you cannot open a bar unless it serves food in some capacity. This was news to me, but it has since been verified as true. Title 61. Except, I don't go to dives to eat. Trust me, you don't want to eat in my favorite dives. I draw the line at a sealed bags of chips or nuts. Maybe a dirty water hot dog. That's it.
When it comes to dives, I'm a purist. And I'm going to the mattresses with all of it. Can't you tell already? Give me a dark room with cheap, strong drinks, somewhere to shove money on a wall for some music, and some dirty decorations. I'm good.
So, without further ado, my favorite dives across both sides of the Savannah River—Hilton Head Island, Bluffton, and even Savannah. We will start on the island.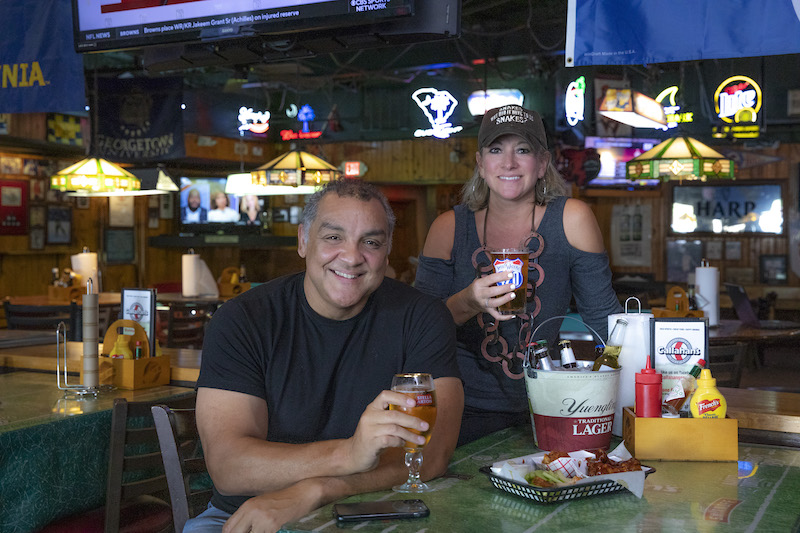 Callahan's Sports Bar
I've taken in a few games over the years at Callahan's, and I love the vibe. But early on, it's a straight-up sports bar. The wings are great, and the burger isn't bad. There are lots of TVs everywhere and it's an enjoyable sports viewing experience. After 10 p.m.? All that changes a little bit. A slice of the F&B community likes to roll through Callahan's after a shift, so it is most certainly a little 'raw' in there late—far more in line with what a dive bar should be. I enjoy it and would recommend it.
If it's a dive bar you're wanting, be sure to swing by the Cool Cats Lounge and say hello to Ronnie Myers, Matt Stock and Michael Takacs.
Cool Cats Lounge
This is a dive in every almost every sense and my favorite on the island. According to that title 61 thing, there is food in there somewhere. I have yet to see it. The sign above the bar forbids talk about politics (a plus). The old couch in the corner invites you to get as comfortable as you'd like. Drinks are strong and inexpensive. Matt is the guy who runs the place. If you play Steve Miller's "The Joker," he will turn it off and give you your dollar back. Rules are rules. The next thing you know, a señorita in a sundress has popped "Every Little Thing She Does is Magic" on the Juke Box, and you are immediately transported to 1983, except with a mortgage payment. And aching joints, and three-day hangovers.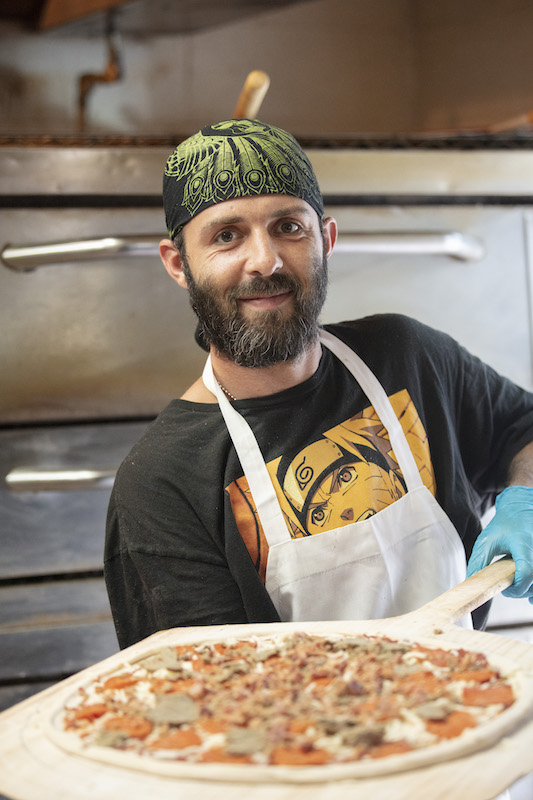 Anthony whips up a pepperoni pizza at Cheap Seats Tavern in Bluffton. 
Cheap Seats Tavern 2 – Bluffton
Admittedly, I've only been to Cheap Seats during the day. But I see the signs everywhere. Not literally, because the walls are pretty bare. The pool table looks like it's been "rode hard and put away wet," which is a plus. The place is huge, but the bar is tiny. Another plus. The New York style pizza is made from scratch and good. On a Saturday night after 11 p.m., it's probably the best pizza you've ever had. I'm told the outdoor area gets going pretty good. I look forward to it this fall.
Also worthy of mentions here: Beach Break (Hilton Head Island), Hemmingway's (Beaufort).
Matt Garappolo, the owner of Pinkie Masters in Savannah, poses for a quick photo with the CH2 crew. 
Pinkie Masters – Savannah
Quite possibly Savannah's most popular dive bar, Pinkie's is, without question, an institution. David Lee Roth shirtless in handcuffs your thing? Right there near the music. There's a star on the bar to mark the place where President Jimmy Carter once stood to thank the bar and its original owner for their support of his political career. On any given Saturday night, you could sit next to a guy who looks like he hasn't showered in a week and then, in a corner, see two couples in evening gowns and tuxedos enjoying a nightcap after a gala. Everyone loves Pinkie's and so will you.
Jesse and Maggie share their Abraham Lincoln artwork at Abe's on Lincoln in Savannah. 
Abe's on Lincoln – Savannah
Abe's is probably the youngest of any dive on this list, which proves that a real dive doesn't necessarily have to be old to be great. And Abe's is. Located on the ground floor of a historic looking building (no clue how old it is), the dark wood and low ceiling make it feel like 1776. The calling card at Abe's is the artwork on the walls—cocktail napkins with hand-drawn images of Abraham Lincoln, some of them spectacular, others incredibly comical. No matter, you could spend a couple of hours looking at them all while nursing that PBR. Shot of Jager optional.
Jesse Blanco, Kandace Cunningham, and Maggie Washo share a shot at The Legion in Savannah.
The Legion – Savannah
Located inside the American Legion Post 135 downtown Savannah, this one got me the most pushback when I told friends it was on my list. Why? After a fire a few years ago, it was rebuilt nice and clean-like. It lost a lot of its 'divey' vibe. I still swear by it because it's still dark, the drinks are still crazy cheap, and the music is arguably the best in town. No jukebox, but Mary Ann knows her crowd and runs a beautiful operation.
Also worthy of mention: The Rail Pub, Bay Street Blues, Doc's Bar and Huc-a-Poo's on Tybee Island.