Article by Courtney Hampson
I live in a household where Saturday in South Carolina doesn't mean sleeping in or wasting the day away. No, Saturday in South Carolina means up at the crack of dawn and on the road by 6 a.m. for a noon kickoff or getting home well after midnight when the Gamecocks play under the lights at Williams Brice Stadium.
My other half, Captain Tailgate, and his tailgate squad (of 25+ years) have Saturdays down to a science. Saturdays during college football season are the only time I have witnessed Captain Tailgate follow a timeline. (He scoffs at my Thanksgiving timeline annually, but college football is apparently a different story.)
While the men plan the music (they arrive early so they can "own the airwaves") and the main course, I have taken to perfecting the cocktail concoctions.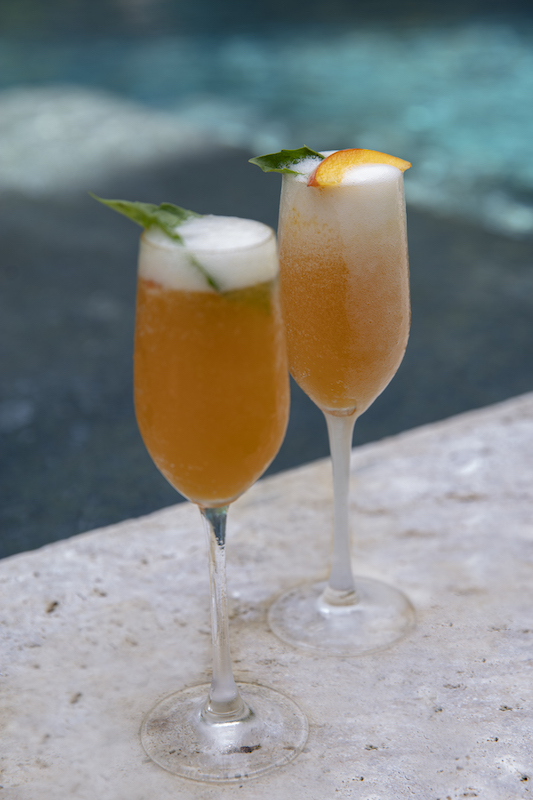 The Sweet Nectar
Best served with breakfast for 12 p.m. kickoffs
The Sweet Nectar is, as its name might imply, sweet; but more importantly, it is the perfect complement to bacon, eggs, and a biscuit. (Oh yes, we fry bacon and eggs at our 8 a.m. tailgates, in a parking lot.)
Ingredients
Fresh South Carolina peaches if you can get them (the season is short); if not, any peaches (even frozen) will do.
Prosecco
Fresh basil
Directions
Peel the peaches (to do this quickly, drop in boiling water for less than a minute and the skin will come right off, then cool). Cut chunks away from the pit. Put the chunks in the food processor until smooth. Strain through a very fine strainer to capture any errant chunks. One peach will make approximately ¼ cup purée.
Pull out your prettiest (plastic) champagne flute. Fill ¼ with peach puree. Top with the Prosecco of your choice (I am currently on a Ruffino kick. No need to break the bank when mixing your Prosecco.) Garnish with fresh basil if you're feeling festive.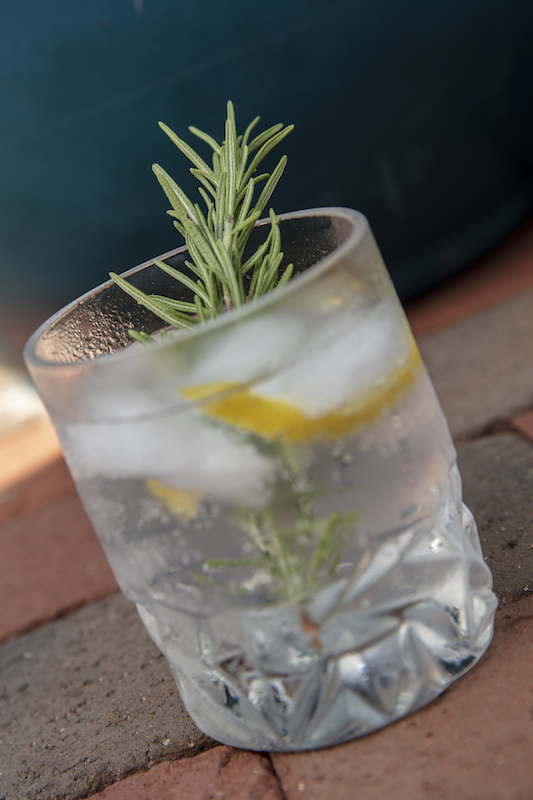 The Rosemary G&T
Best served at tailgates for 4 p.m. kickoffs
The Rosemary G&T is light and bright; it won't weigh you down and make the rest of your day (you've only just gotten started) miserable. Because let's face it; football games are three hours long.
Ingredients
Rosemary simple syrup (you'll need 1 cup white sugar and fresh rosemary to make the syrup)
Fresh rosemary sprigs
Tonic water (I like Ever Tree)
Lime
Gin
Make ahead: Combine 1 cup of water and 1 cup of sugar and bring to a boil. Reduce to a simmer and add ¼ cup rosemary leaves. Let simmer for 30 minutes. Remove the rosemary and let cool.
Directions
Fill a rocks glass (or half a red solo cup) half with ice. Add 1 oz. gin, a splash of the simple syrup, juice of half a lime, and top with tonic water. Garnish with a lime slice and rosemary sprig that also doubles as a bonus stirrer.
Quatro-rita (with a Kick)
Best served at late afternoon tailgates for 7 p.m. kickoffs
Ingredients for one pitcher (because you're going to drink more than one).
1 can frozen limeade
1 Corona
1 12-oz. Sprite or Ginger Beer (for the kick)
Tequila of your choice
Limes
Honey (try Red Clay Hot Honey for the kick)
Sea Salt (try Red Clay Spicy Margarita Salt for the kick)
Directions
In a pitcher, combine limeade, Corona, soda (Sprite or Ginger Beer) and 1 cup tequila. Stir. Voilà! To serve, rub the rim of your margarita glass with honey and roll in salt. Fill the glass half with ice. Pour margarita and garnish with fresh lime.
Cheers!