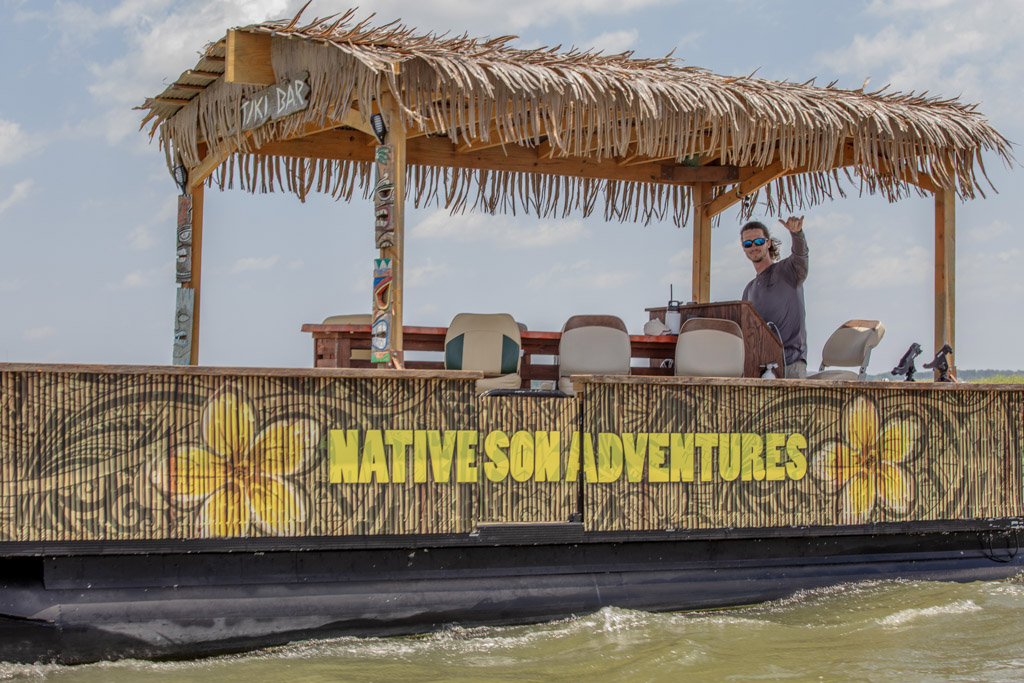 Will Rosene is a captain and surf instructor for Byron Sewell's Native Sun Adventures.
As Americans have returned to enjoying post-pandemic normality including travel, attending ballgames and other summer traditions, employers all over the country—and especially in resort areas like Hilton Head Island—are banking on a secret weapon to meet the surging demand: high school and college students.
According to data provided by Gusto, a payroll process for small businesses, students make up nearly one in five summer hires this year. While the overall economy may be slowing and adults sidelined by the pandemic have returned to work, students—specifically those seeking summer employment—have flowed back faster, attracted by higher pay and a desire to get out of the house after enduring remote classes and other COVID-related restrictions. The hearty student workforce benefits restaurants, amusement parks, hotels, malls and other businesses, allowing them to maintain longer hours and provide faster and better service to consumers. 
Students ages 15 to 22 are expected to make up 18 percent of all summer hires, according to Gusto, up from just two percent in 2019, before the pandemic began. That's partly because it is summertime, and there are disproportionately more jobs in restaurants, hotels, amusement parks and stores. But even within the "personal services" category, students are set to make up 26 percent of all hires, up from 21 percent a year ago.
The Department of Labor reports that the number of 15- to 22-year-olds working or job hunting spiked at about 37 percent in 2022, the highest since 2009. During July of 2022, students in the workforce crested at almost 47 percent, a figure that is projected to be surpassed in 2023.
These numbers are largely fixed in higher pay, with the average national wage for 15- to 22-year-olds projected to reach $14.56 per hour this summer, up nine percent from a year ago, according to Gusto. Pair this with the fact that it's less expensive to hire this demographic than 25- to 54-year-olds.
On Hilton Head Island, SERG Restaurant Group has hired 490 high school and college students (ages 14-22) to work at its restaurants. "This makes up 39 percent of our active team members," said Jordan Norris, SERG director of Human Resources. "We tend to staff up around nine percent of our workforce for season, seven percent of which are student-age employees."
She partly attributes the influx of student job candidates to the perks of working in a resort town and for a company such as SERG. For example, as a server, the average amount of tips per night across all SERG locations is $280+/- (based on the sample data tested). That's healthy pay in the low-cost state whose minimum wage still matches the federal pay floor of $7.25 an hour.
"Students earning this kind of money for mostly part-time work is a lot for someone that age, and word gets around," Norris said. "The SERG Restaurant Group also offers great benefits and perks, especially for our student team members. The SERG College Savings Plan is a great way for students to work in our restaurants and earn money to assist with their tuition/books. We will match $1 for every hour worked with the company. They can start saving while they are in high school and 'cash out' when they are heading off to college or after each summer."
We had a chance to interview some of these hard-working students who've made our island summer a little more spectacular with their drive, commitment, and work ethic, and we'd like to introduce you. Meet our Summer Stars:
Ayanna Lee, The Ice Cream Cone, Server
Ayanna Lee is originally from Sacramento, California, and her family moved to Hilton Head in 2020 when she was 12 years old. She currently works at The Ice Cream Cone in Coligny Plaza. She'll soon be a sophomore at Hilton Head Island High School where she is a cheerleader for the Sea Hawks—which is how she got her job.
"Pete and Megan Savarese own the shop, and Megan is my cheer coach," Lee said. "She suggested I get a job at the Ice Cream Cone over the summer."
Working the ice cream counter is Lee's first ever job and one that she knows will help her in the future.
"I'm learning very important communication skills as part of my job is to engage and talk to all sorts of people," she said. "Being in an environment where I work with older kids and adults has forced me to step a bit outside my comfort zone and earn a greater level of respect. I'm also making great connections."
In college and beyond, Lee realizes the social skills she's honing now will enable her to work on a team and keep cool under pressure when the intensity and adrenaline are high. "I deal with the pressure of working in a busy shop by reminding myself that I'm not the only one here," she said. "I have people behind me supporting me, and I'm not working alone."
For the rest of the summer, Lee plans to continue working at the ice cream counter and enjoy some traveling—back to California to visit family and cruising to the Bahamas. Once school starts, her goal is to keep her grades high, graduate as valedictorian of her class, and get into medical school, after which she'll become an anesthesiologist or a surgeon.
While Lee enjoys meeting people on vacation from all around the U.S. and serving ice cream to happy children, her favorite part of the job is hanging out with her coworkers and eating all the brownie batter ice cream she wants.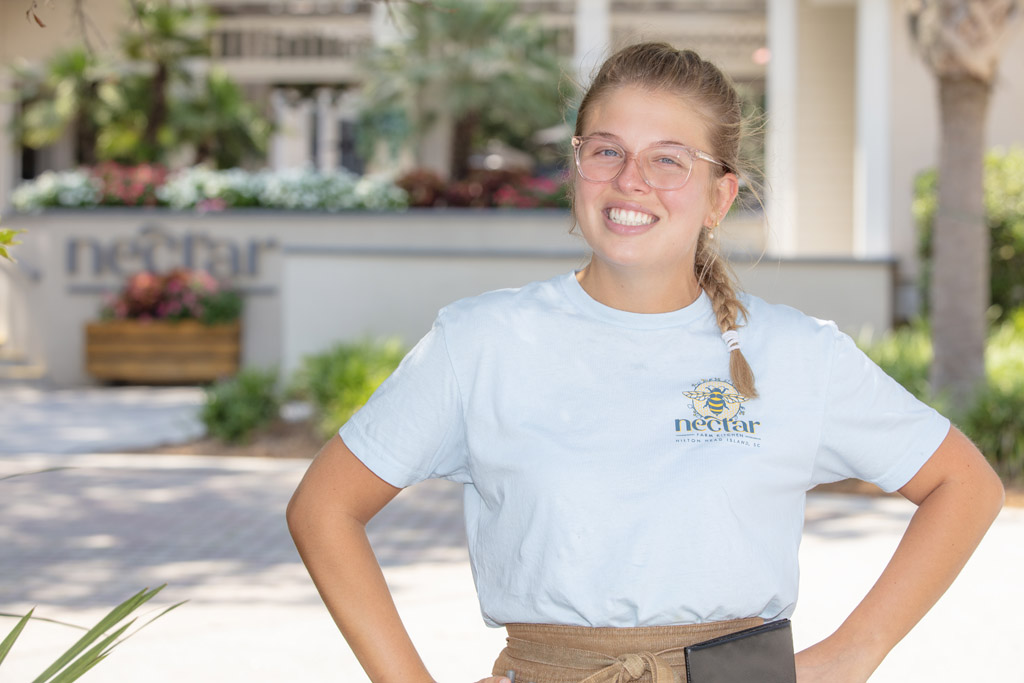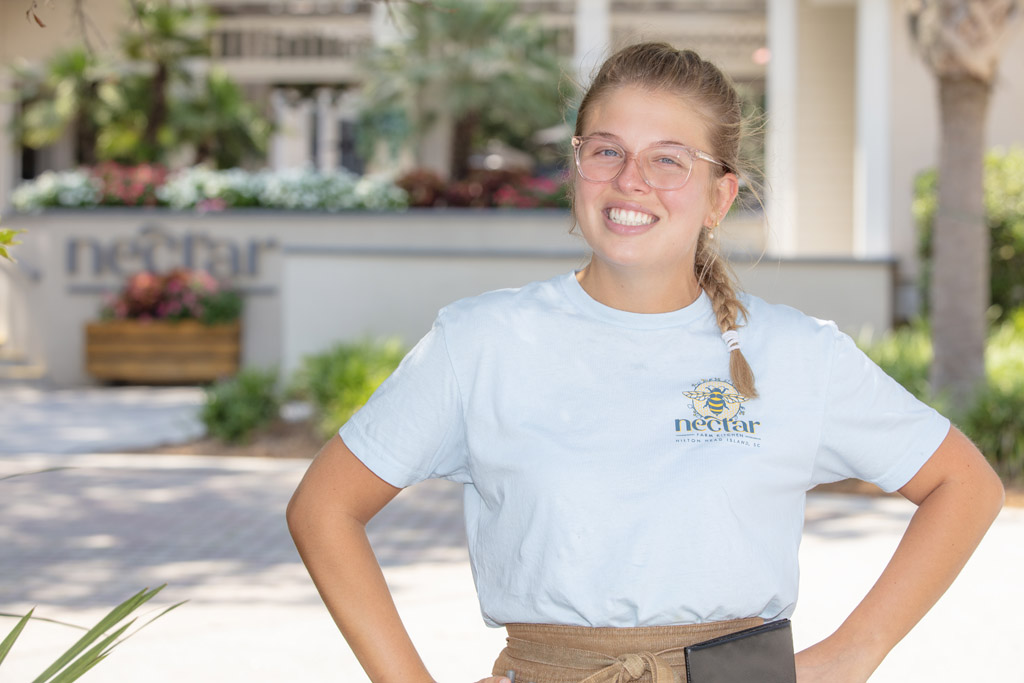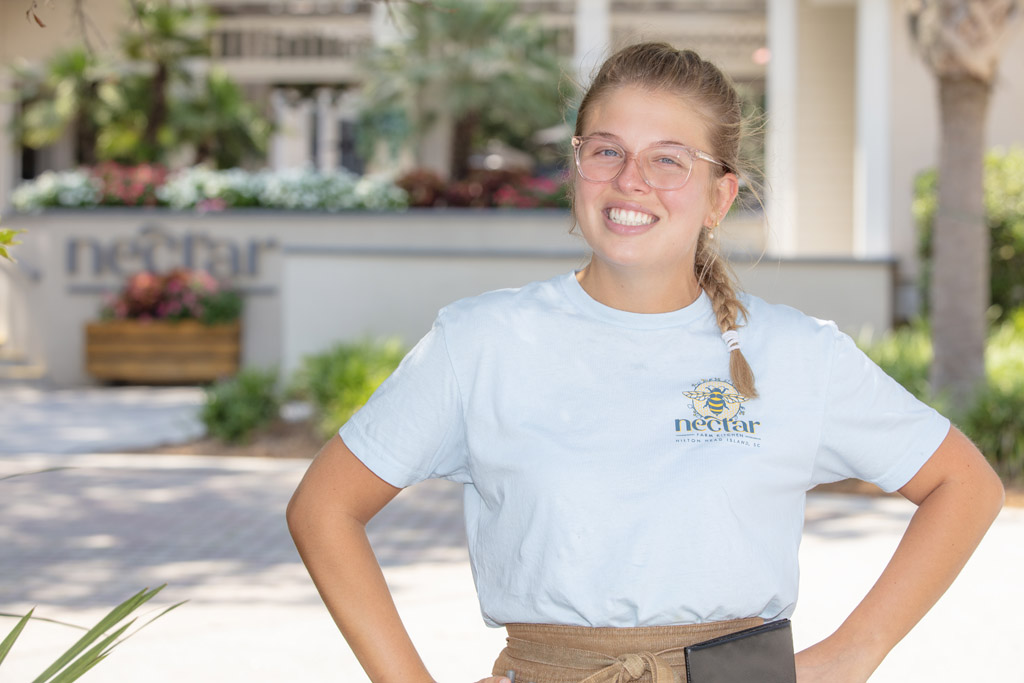 Abby Babcock, Nectar Farm Kitchen, Server
Abby Babcock was born in New Jersey but moved to Hilton Head with her parents and two siblings when she was two years old. "I have an older brother and younger sister, and we grew up here and all attended public elementary, middle, and high school on the island," Babcock said.
She is also a June 2022 graduate of the University of South Carolina, where she earned two degrees: criminal justice/criminology and sociology.
Babcock's summer job is at Nectar Farm Kitchen, part of the SERG Group, where she is a server. 
"Nectar is an all-day restaurant serving breakfast, lunch, and dinner. I love working in the mornings," she said, "so I was kind of looking at restaurants with strong breakfast crowds. I literally walked into Nectar Farm Kitchen right when I came home from school and asked if they were hiring. When I told them I could work on Saturdays, they asked when I could start, and I've been there ever since."
Her favorite part about working at Nectar Farm Kitchen is the people she gets to work with. She also enjoys working the early shifts, so that she can finish by early afternoon and have the rest of the day to herself to enjoy island life.
Nectar Farm Kitchen isn't Babcock's first venture into the workforce, though. She's been working since she was 14 years old—mainly to buy her first car. For three years, during summers and school, she worked at a local T-shirt shop. Next, for three summers, she was a barista at a coffee shop. Last summer, she worked at both the coffee shop and at the SandBar Beach Eats in Coligny Plaza.
"The same person owns both places," she explained, "so I was able to enjoy the variety of working a couple of mornings at the coffee shop and then serve lunch and dinner at the SandBar."
Babcock believes the skills she has honed as a server will help her in the future. "I've gained valuable people skills from being a server that I don't think I'd have acquired in other jobs," she said. "Tensions can really run high in a restaurant, and I've learned how to effectively deal with conflict, whether it's with coworkers or with people that I'm serving. I've also gotten much more confident as a communicator, discovering how to talk to people and how to react in a variety of situations."
Babcock is excited about her next move—to Hawaii—where she's taken a job as a registered behavior technician. To land the job, she's had to take 40 hours beyond her college work to be certified to work with families who have younger children with autism. This kind of work may open her future to perhaps obtaining a master's degree, becoming an ABA (Applied Behavior Analysis) therapist, and having her own business.
However, in the next few years, while she is young, she plans to travel internationally as much as possible, experiencing different cultures and coastlines before she settles down to focus on her career.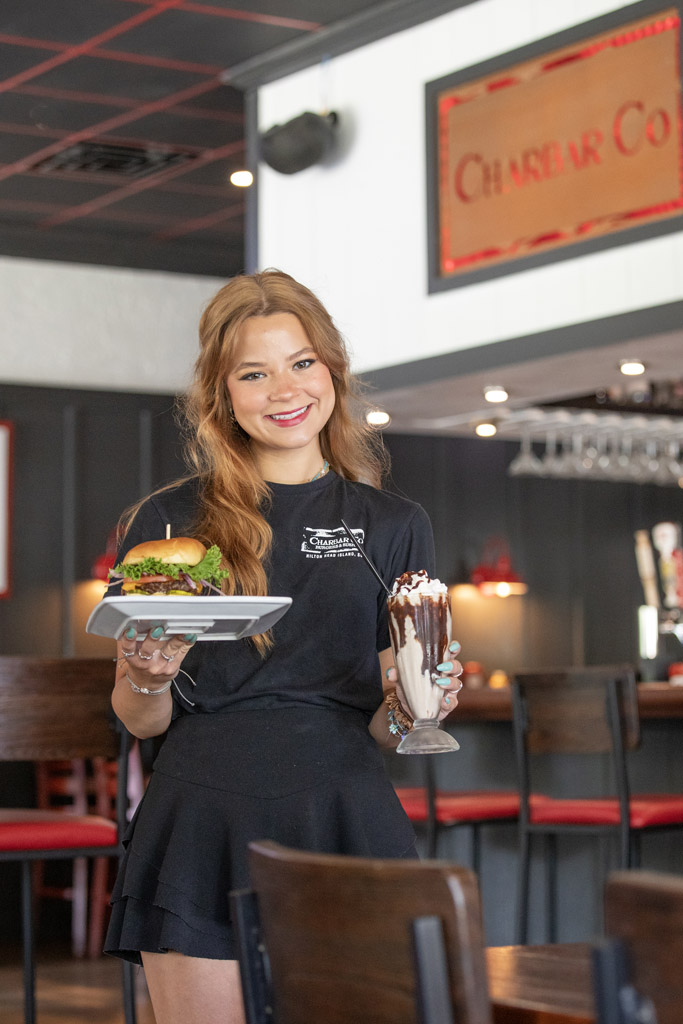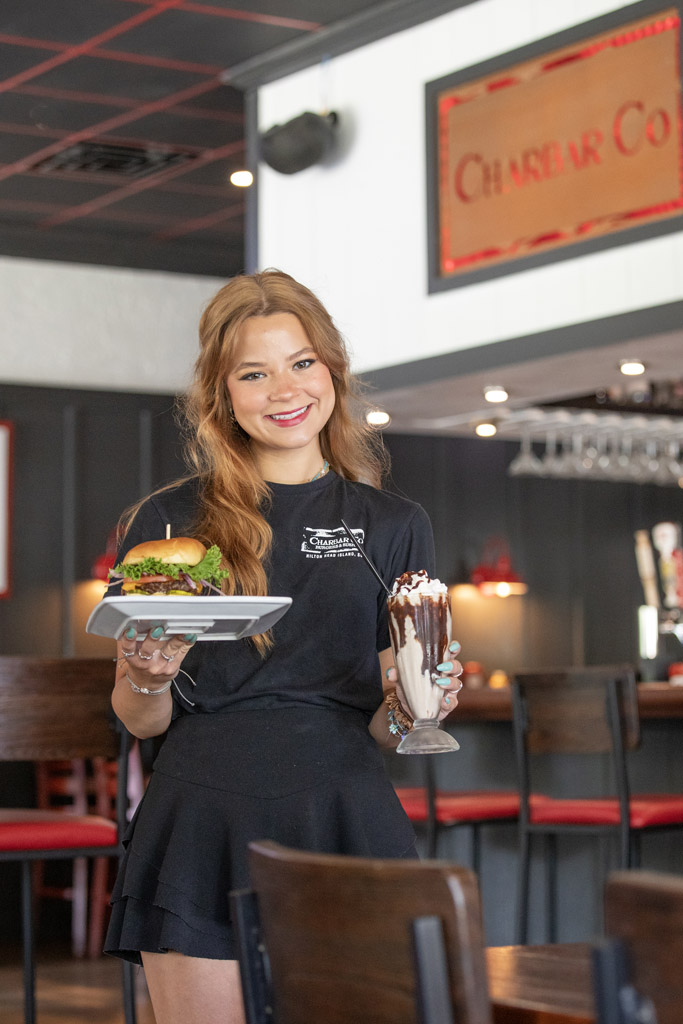 Kirsten Oyler, Charbar Co. Burgers & Sushi , Server
Kirsten Oyler is from the St. Matthews area of Louisville, Kentucky. She currently attends St. Louis University, where she is a junior with a double major in anthropology and Spanish. Oyler has been coming to Hilton Head Island every year on family vacations since she was a child.
"My parents started coming to Hilton Head about 40 years ago," Oyler said, "so I've vacationed here my entire life. In 2019, my parents bought a house in Palmetto Dunes, and we've come here on and off more frequently since then."
Oyler's first job was at a pet store when she was only 14, and she worked there for five summers. She has also worked consistently through college. This summer, she got a job as a server at Charbar Co. Burgers & Sushi, another SERG Group establishment. Previously, her older sister worked with David Copeland, one of the managers at Charbar Co. Burgers & Sushi, and Oyler contacted him about summer employment. Her favorite part about her job, like the previous students, is the people she works with and the people she meets as a server.
"I moved down here not knowing anyone," she said, "and even though a lot of the people that I work with are originally from the island or from Bluffton, they have all been welcoming. I've had a great experience working here."
Oyler believes being a server at Charbar Co. Burgers & Sushi has improved her communication skills and enhanced her ability to work effectively on a team. She has also learned to manage her money.
"I've been very fortunate to earn a decent amount of money while working here," she said, "and I've gained skills in how to manage it and set up savings for my future."
Oyler plans to use her anthropology degree to find work in curation and design for a museum or historical homes. "I can see myself living in Savannah or Charleston, selecting historical furniture and accessories displayed in the historical tour homes. I'm also interested in the different archaeological sites in the Lowcountry. Ideally, I want to stay in the South. After living in St. Louis, I've discovered that I prefer warmer weather."
Until then, however, Oyler's immediate plans are to finish out her summer on Hilton Head Island, working as much as possible, meeting more great people, enjoying the beach, and saving her money for her next school year studying abroad in Madrid, Spain, where she hopes to use and improve her Spanish skills. She'd also like to return to Charbar Co. Burgers & Sushi next summer.
Hasta la vista, amiga!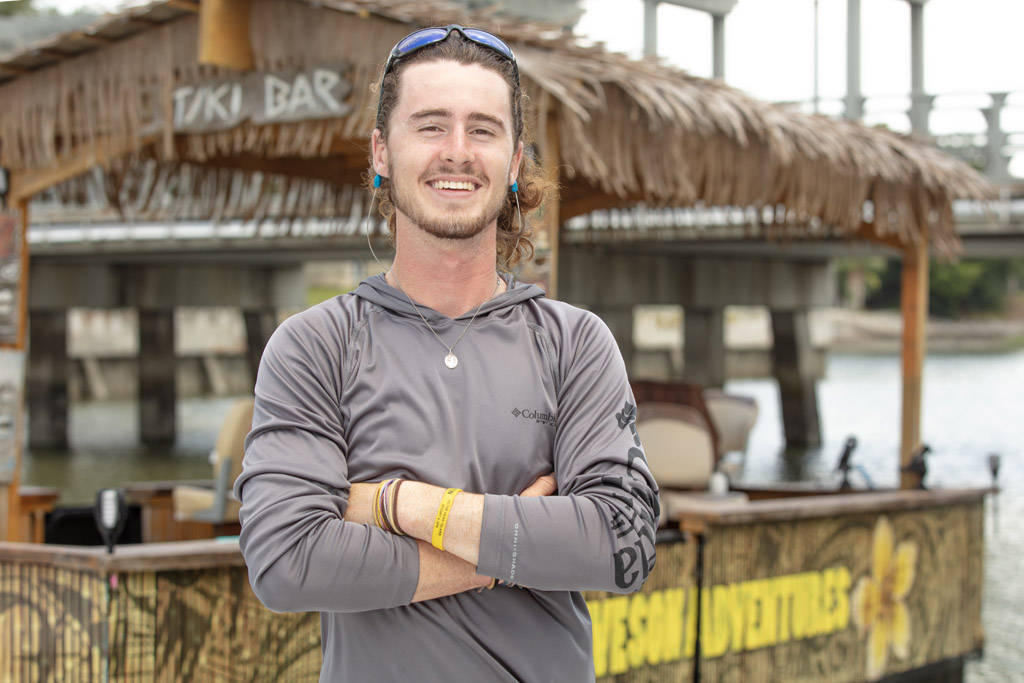 Will Rosene, Native Son Adventures, Tiki Boat Captain/Surf Camp Instructor
Will Rosene considers himself "very, very lucky" to have been born and raised on Hilton Head Island. His parents moved to the island straight out of physical therapy school, began working at Hilton Head Hospital, and raised their family here. Will is a sophomore at the University of South Carolina Beaufort, where he studies accounting. He is also employed with Native Son Adventures, owned by Byron Sewell, another island native, where he began teaching surf lessons as a freshman in high school.
"Now I run the tiki boats where I get to teach people about the ecosystem of the Lowcountry, take them out for sunset cruises, and show them our island home from a different perspective," Rosene said. "I'm basically in charge of giving my passengers an experience they won't forget."
He also runs fishing trips when the other captains aren't available and plans to eventually become one of the permanent fishing captains. Rosene's favorite part about the job is simply being outdoors.
"The fact that my job allows me to be out on the water all day is pretty sweet," he said, "and at the same time, being able to teach people about Hilton Head, my hometown and a place I love, is pretty cool as well."
Rosene also works for his parents at Vacation Mobility Solutions, a beach wheelchair business, delivering chairs. "They built their business from the ground up about 12 years ago, catering to people with various disabilities and elderly people who have a hard time getting through the soft sand," Rosene explained. "The chair solves their problem and allows them to enjoy the beaches where otherwise they wouldn't be able to." 
For the remainder of the summer, Rosene's goal is to save as much money as possible, gain more experience as a boat captain, and continue to learn as much as he can from Sewell about being on the water and running a fishing boat. 
"Long term, I want to finish college debt free, which is why I stay close to home and work," Rosene said. "By the time I graduate, I'll not only have a degree, but I'll also hopefully have enough money saved to potentially start a business of my own—a charter company like the one I'm working for—offering people different ways to explore and learn about the Lowcountry."
Rosene's job at Native Son Adventures is growing his skills in communication. Daily he encounters a variety of strangers with different personalities, different levels of comfort on the water, and different expectations. He must quickly get an idea of what his passengers want from their excursion, build an experience based on that awareness, and remain flexible to solve unpredicted problems that may arise.
"Anything can happen on the water, so everyday I'm learning how to adapt," he said. "These skills, too, will help me as I start a business. Just the privilege of being around people who know more than me, who allow me to pick their brains, means I'm constantly learning something new. I don't take anything for granted."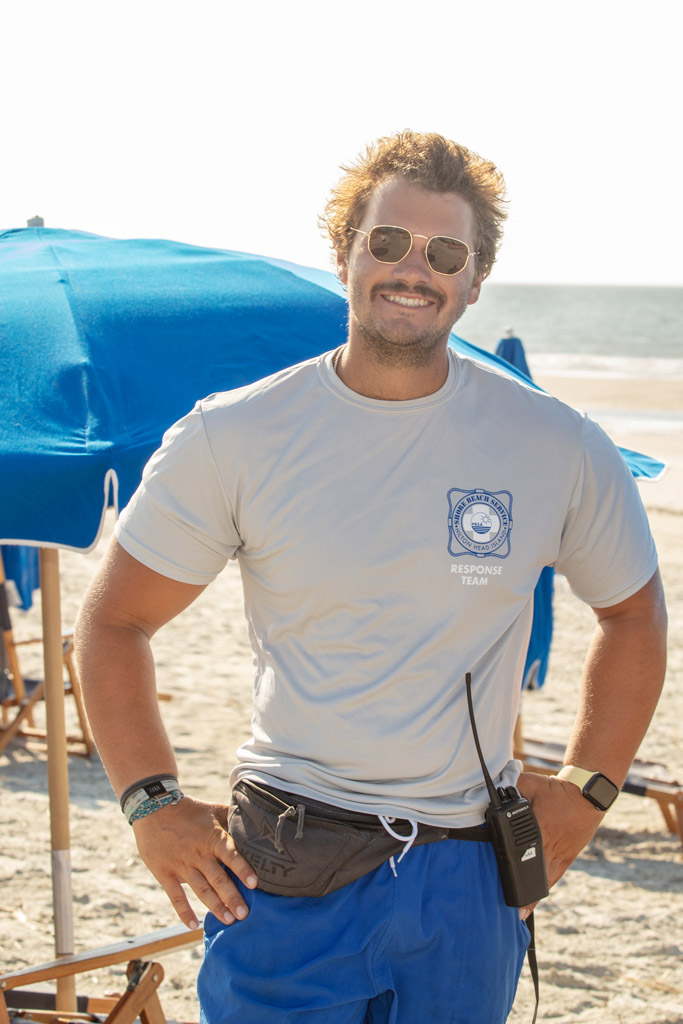 Brock Huber, Shore Beach Services, Lifeguard
Brock Huber is from Fort Thomas, Kentucky. He is currently a senior at the University of Kentucky in Lexington, majoring in clinical management with a minor in business, and looking forward to graduating in the spring of 2024. He aspires to enter the business aspect of health care, such as medical sales, health care management, or perhaps even business marketing.
Huber came to Hilton Head Island in the footsteps of his older brother who was a beach lifeguard for a couple of summers. He works for Shore Beach Services, whose territory ranges all the way from the first marker, covering about 13 miles of beach.
"I visited my brother in 2021, and it was my first time coming to the island," Huber said. "While I was a lifeguard previously at a pool, I learned a lot from him about what it means to lifeguard on the beach. I got to work with my brother for one summer, and I fell in love with the job. This is my third summer being on the island."
Huber says that his favorite part of the job is helping people, whether he is serving as the main guard in the high chair, responsible for water and shore safety, or as a rental attendant who takes care of getting people situated with their chairs and umbrellas, as well as being available to assist other beach patrol personnel with their duties. 
"The most challenging part is the stress of handling a lot of people all at once," he said. "In my area—in front of the Sea Pines Beach Club—it can get crowded, so that can be difficult. But we have a stand partner each day and a couple of high chairs, which makes it much easier and well-managed. While I haven't had any water rescues, I've had to deliver lots of first aid and deal with emergencies, which all ended in positive results."
Huber's first job at the age of 16 was a food runner at a restaurant. Shortly after, he became a lifeguard at a local pool. He also worked as a landscaper, served at a sorority house back at school, and now while in school, he works as a porter at the Lexus dealership. For the duration of the summer, his plan is to continue working as a lifeguard, approaching every day with a positive attitude, and to continue to deepen his friendships with coworkers.
"My friendships and all the people that I've met are the best part of my job," Huber said. "I've met people from all over the world. So many of my work colleagues are from different countries, and gaining those relationships has been a great experience. Working as a lifeguard has really made me more of a people person, a better communicator. It's also made me a very hard worker. Watching out for others is not an easy job—it's fun, but not easy."
Long term, Huber isn't totally sure what his career will look like, but sitting in an office is out of the question after summers on the beach—which is where he intends to be next summer, too.
"Being a beach lifeguard is a unique job and an opportunity I'm grateful for," he said. "It's an experience that I'm not ready to be done with yet."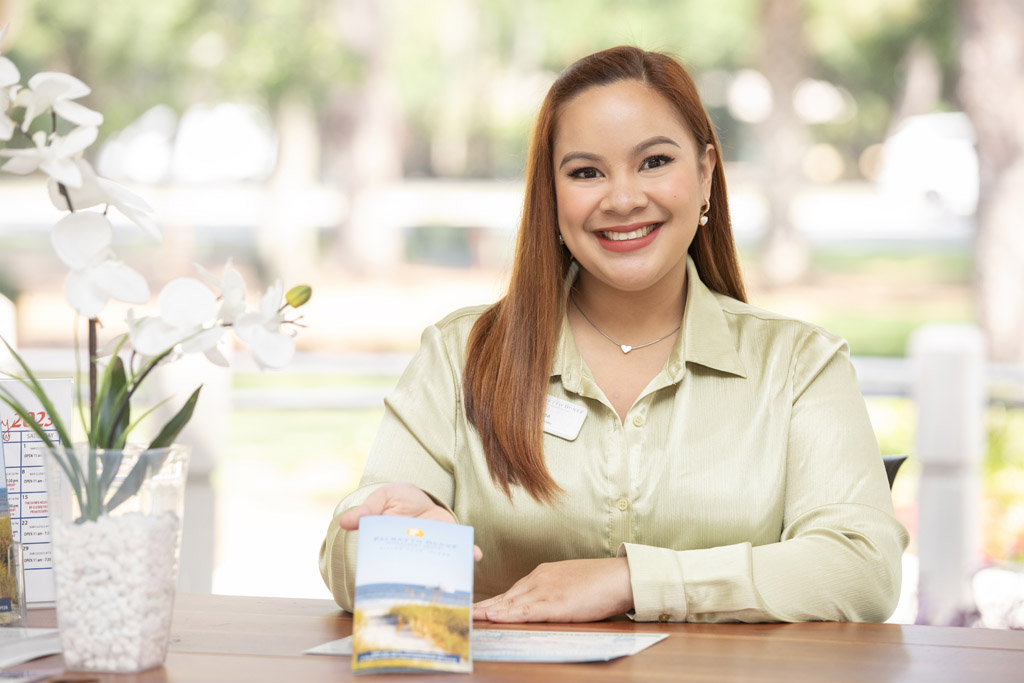 Ysabela Timbancaya, Palmetto Dunes Welcome Center, Front Desk Reception
Ysabela Timbancaya is from the Manila, Philippines, where she graduated from La Salle University with a degree in hospitality management. Before coming to Hilton Head Island, she worked in a sales job for a hotel. Seeking to grow her career in the hospitality industry, she applied to a student exchange program which allows participants to go abroad for a year to work in their chosen field. She was assigned to the Palmetto Dunes Welcome Center and works in front desk reception.
"Not only has this opportunity allowed me to expand my experience, but it's forced me out of my comfort zone," Timbancaya said. "This is my first time being away from my family. Even in college, I had the option to do an internship abroad before graduation, but I chose to stay at home instead."
However, during the pandemic, Timbancaya told herself that it was time to spread her wings and try something new. The most valuable part of her experience here has been learning how to better deal with people from different backgrounds and cultures.
"Especially working at the front desk, I've had to adjust to every type of person I encounter, remaining open-minded and diverse because everybody is different," she said. "I have learned to be resourceful and accommodating to anybody who visits the front desk."
Now, as her one year assignment draws to a close, she is looking forward to a 30-day grace period during which she'll travel to Los Angeles and San Francisco, California to visit extended family.
The travel bug has bitten Timbancaya. While in the U.S., she visited Orlando, Florida twice and New York City once.
"I have enjoyed immersing myself in the international exchange experience," she said, "but I also want to travel more and learn about the world."
Timbancaya plans to return to the U.S. whenever possible to visit family, with stopovers in South Carolina. Once back home, though, she plans to find a more senior, managerial role in hospitality, contributing to a company's growth through the confidence and leadership skills she gained through her experiences at Palmetto Dunes.
"I've learned that I enjoy the freedom of being able to think for myself, to make decisions for my own well-being," Timbancaya said. "Coming here, I've also become more spontaneous, whereas before, I was more of a planner."
Starting a business in event-planning is on Timbancaya's horizon. Growing up in Manila, the capital city, she considers herself a city girl and enjoys the energy and events that life in a bustling city offers. As well, doing something with her family—many of whom are also in hospitality—is a possibility.
"It would be like a family-owned cafe or restaurant," she said. "I can also see myself running a family-owned hotel. My father owns some beach property in his hometown, and we've discussed opening a fun glamping destination or small hotel. It would be my honor to help my parents achieve their dreams and work side-by-side with my family."
No matter the path these six outstanding students embark upon, no doubt their Hilton Head Island experiences will light their way and embolden their impact. Shine on, summer stars!