Setting a high bar and breaking barriers are qualities synonymous with Cindy Creamer's brand of real estate. As only the eighth female president in the 77-year history of the South Carolina REALTORS® (SCR), her platform of strength, commitment, and readiness to serve resonates loudly, and not just with her peers. For Creamer, real estate is about a lot more than just buying or selling a home; it is about advocating for her clients and advocating for the protection and promotion of private property rights.
A Hilton Head Island resident for 40 years, Creamer received her real estate license in 2006 and is currently affiliated with Dunes Real Estate. Prior to real estate, she worked in sales and marketing and helped open the island's first Marriott in Shipyard. After raising her children, Creamer's husband, Mark (owner of Palatial Homes Design) suggested she get into real estate.
"At the time, I really knew nothing about the industry," Creamer said, "but because I have lived here for so long, I know all the communities (I have lived in seven different Hilton Head communities). And because I had such encouragement from my husband, I have been able to build a solid business in a place I truly love."
Aside from her husband, Creamer has surrounded herself with people she can learn from. She credits her mentors for helping move her forward. Early in her career, Creamer met the late Frank Nero—a friend, client, and mentor—with whom she could discuss the industry and economy. She also credits Charleston Realtor and SCR past president David Kent as her leadership mentor.
"David is a great Realtor and friend as well as a role model and industry leader who helped me understand that I must work hard and give back to my profession," Creamer said.
Since commencing on this path 15 years ago, she has immersed herself in the industry like few others, which she believes has been the key to her success as a leader. Creamer believes that community involvement and being knowledgeable and up to date in the industry are paramount.
"Knowledge is a priority for me," she said. "There is nothing more important I can offer my clients than information. I educate myself in all aspects of this industry, whether it impacts the local market, such as flood insurance, or something broader, such as regulations and legislation at the state and federal level. All of it impacts my clients, and the more I know and understand, the better job I can do for them."
This kind of passion is what elevates Creamer and what allows people to see her ability to lead. Her passion for service began locally with different community organizations such as currently serving as a board member for Hospice Care of the Lowcountry and former chair of the Town of Hilton Head Venue Committee. From there she shifted her focus to real estate industry boards where she became a board member for Hilton Head Area Realtors® (HHAR).
"My desire to serve my industry was ignited as a board member," she explained, "and I moved from membership to leadership by being elected first as treasurer, then in 2015 as president of Hilton Head Area Realtors."
Creamer's next leadership role was as SCR regional vice president, representing Beaufort County—a board position which she sustained for two years. While serving in the regional role, Creamer was nominated by the membership and successfully delivered a second term as president of her local association.
Then in 2019, Kent and Jean Beck (CEO of HHAR) encouraged her to step into a state leadership role by running for secretary of SCR, which with 28,000 members is the largest trade organization in South Carolina. In 2020, Creamer was elected SCR treasurer; in 2021, president-elect; and now, in 2022, she'll serve as president of the state organization—the first president from Hilton Head Island since 2008.
While earning those leadership positions alone sets her apart professionally, it is what the roles mean to her that allows her to provide exceptional service to her clients. Creamer's platform of advocacy means going to Washington D.C. every May to attend the National Association of Realtors® (NAR) convention and meet with legislators to advocate on behalf of housing and real estate—an area where she has made great strides. She feels confident educating local councilpersons and state legislators on what is important to consumers. Creamer has lobbied to ensure home and flood insurance are kept reasonable so that people can afford to own homes. She strives to hold the government accountable so that they realize how their decisions trickle down to South Carolina consumers.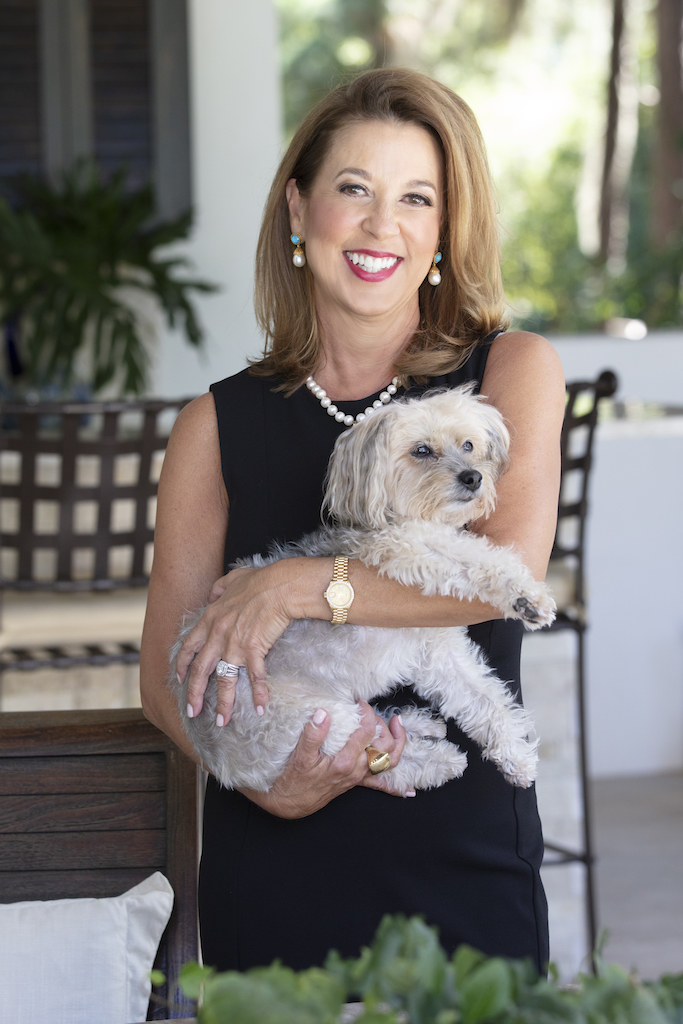 "What happens along the way," said Creamer, "is that you begin to see the impact you have as a group of Realtors who are driven by working for the good of their clients. Then you can't stop. You meet other like-minded people, mentors, and leaders and admire them and their skill at leadership and service and that motivates you to continue."
Creamer's energy and excitement are palpable. Her clients, both new and returning, understand that she gives back to the community and industry, and they respect her for her service.
Terry Korte, partner, Lighthouse Harbour Properties LLC, shared, "As a longtime client of Cindy's who has bought and sold multiple properties on Hilton Head Island, I've grown to not only respect her superior skill set as an agent but, just as important, her tireless dedication and commitment to the community. It comes as no surprise that Cindy has risen to the very top as president of the South Carolina Realtors Association. Her colleagues and the South Carolina real estate community at large will no doubt benefit greatly from her leadership."
"Cindy's exceptionalism is forged through her unwavering commitment to the clients and community she serves," said Daniel Moskowitz, Creamer's broker-in-charge at Dunes Real Estate. "Her brilliance is admired through the grace and poise of navigating her extraordinary achievements as a top-producing agent, while remaining more accessible to her clients than most industry peers."
Creamer also loves talking about service opportunities with her peers, she strives to help them understand the impact they can have, and she hopes to inspire other industry professionals to give back.
"I'm always looking for the next leader," Creamer said, "and for the person who will replace me. In doing so, I can ensure that there is a great leadership team in place, working together for the good of the island and the state. Being the voice of real estate and earning the respect of the town, county and state legislators is huge. The NAR is the nation's largest trade organization, and legislators covet our support."
Creamer's commitment to her clients allows her to help people achieve their dream of homeownership—for many the most significant purchase of their lives. Her knowledge and persistence help protect private property rights, make housing attainable for everyone, and ensure that the government is doing right by consumers.
Her best advice to fellow Realtors is simple: "Believe in yourself or no one else will. Never stop learning because knowledge is power. Be committed, surround yourself with like-minded, positive people and empower others. And if you really want to make a difference, get involved."