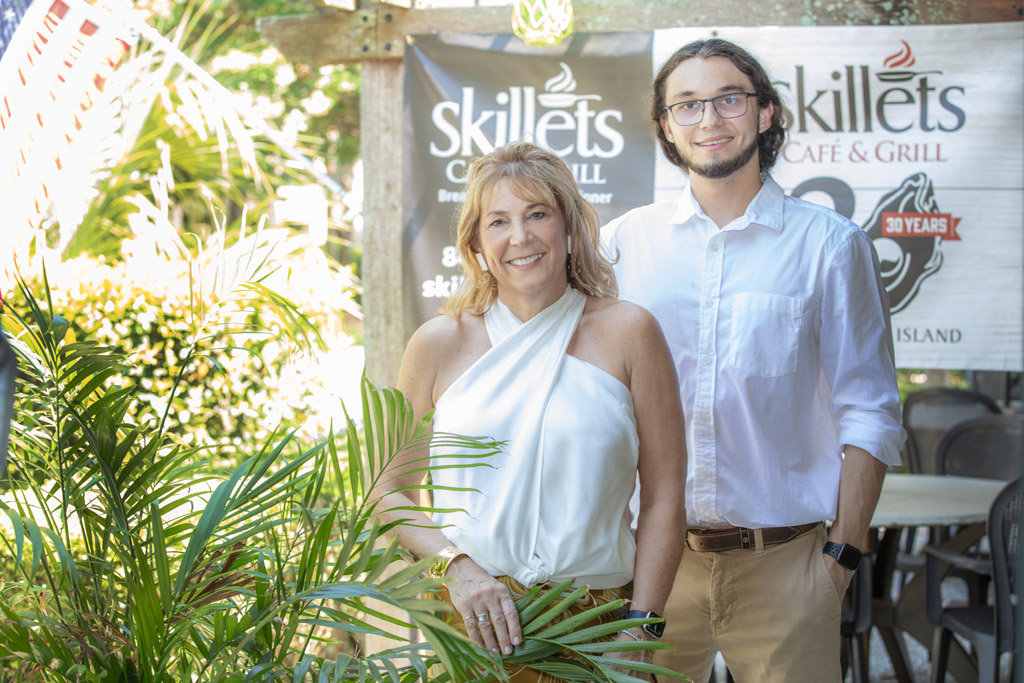 Amie Baima and her son Evan celebrate thirty years of Skillets Cafe & Grill with special events from September 14-1
Join us in savoring three delicious decades of a Hilton Head Island institution.
There are a million reasons to follow your dream and open your own business – the chance to establish a legacy, the chance to create something that endures and empowers others, the chance to truly control your own destiny.
Amie Baima's reasons for launching Skillets 30 years ago were a little more realistic than that. "I just wanted somebody to cook dinner for me every night," she said in a voice sprinkled with her airy laughter. "Now it's me cooking dinner for everyone else every night."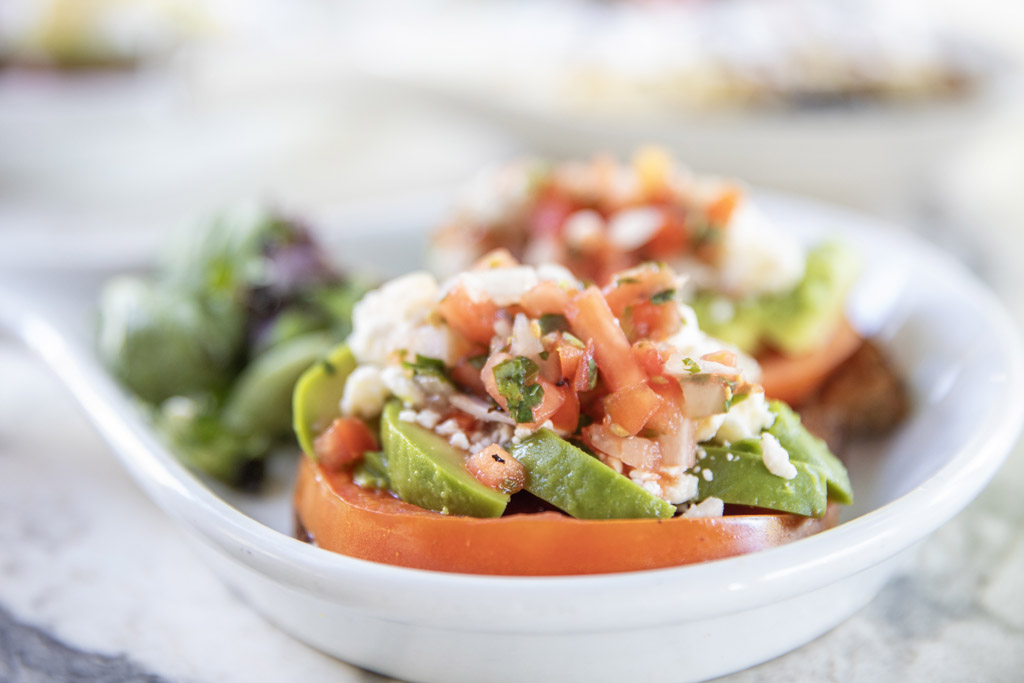 Avocado Toast
That laughter, that high spirit, is part of what has made Skillets a mainstay of Hilton Head Island for 30 years. As the star of the show, Baima has guided Skillets through thick and thin—the whirlwind of the island in the early 2000s, the doldrums of the recession, and now the absolute pressure cooker of popularity igniting the entire island.
The secret of her success and of Skillets' endurance ultimately boils down to one simple, inescapable truth. Whether good days or bad, high times or low, we all just want to sit down to something delicious and comfortable with people we like.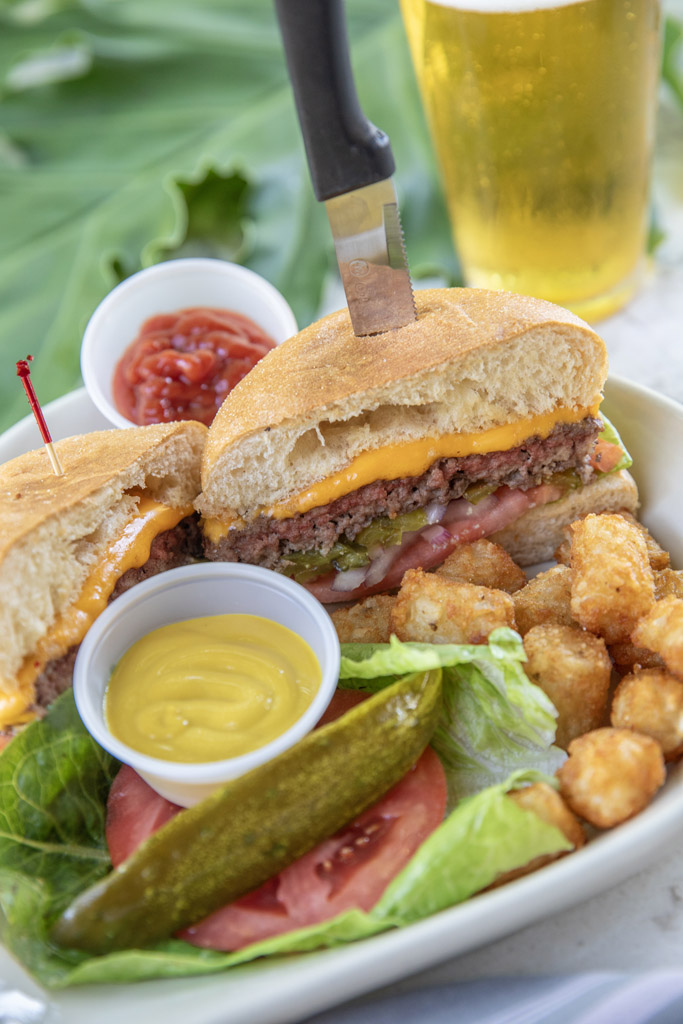 Cheddar Cheeseburger with Tots
"It's comfort. You know what you're going to get; the basics are tried and true, and I don't change my menu to correlate with the latest fads," Baima said. "Our dinner menu has a little bit of everything: salad bar, fried chicken, steaks, seafood … we've covered all aspects, but it's not fancy food. It's good food at an affordable price."
And joining that company of celebrated favorites are comfort food favorites that always draw rave reviews. In fact, if you're lucky enough to be there when the chicken pot pie is on the list of specials, you can taste a dish that won a high-stakes wager between Baima and one particularly picky customer.
"I was talking to one table and overheard the daughter say she never orders chicken pot pie when she's dining out because she makes it better at home," Baima said. "I brought it out anyway because I wanted her to sample it and see if it got her seal of approval. Both she and her mom loved it."
It's that trust in the quality of the food and that willingness to make each visit like catching up with old friends that have kept visitors returning year after year and locals putting Skillets in their regular rotation.
Avocado Eggs Benedicts with Home Fried Potatoes
"You have that connection with people when it's a small, family-run business," Baima said. "I just took a selfie with a family who has been coming from Charlotte three to four times a year since their daughter was a toddler—and she's 16 now. And there are a lot of locals who come in during the winter and know exactly where they want to sit, what they're going to order, and who they'd like serving them."
Seeing devoted locals become regulars and tourists making a trip to Skillets their vacation tradition has fueled Baima as she's guided the restaurant through 30 years of great food. So how does it feel to hit such a milestone?
"Tiring… Amazing… I can give you all the adjectives, high and low," Baima said, again punctuating her response with laughter. "I'm very grateful that we've lasted 30 years. We've obviously had a lot of wonderful employees come and go, and I've seen toddlers grow up and graduate and get married and have babies. In fact, my son Evan came back to help me, and now he's running our kitchen! It's really a full-circle thing."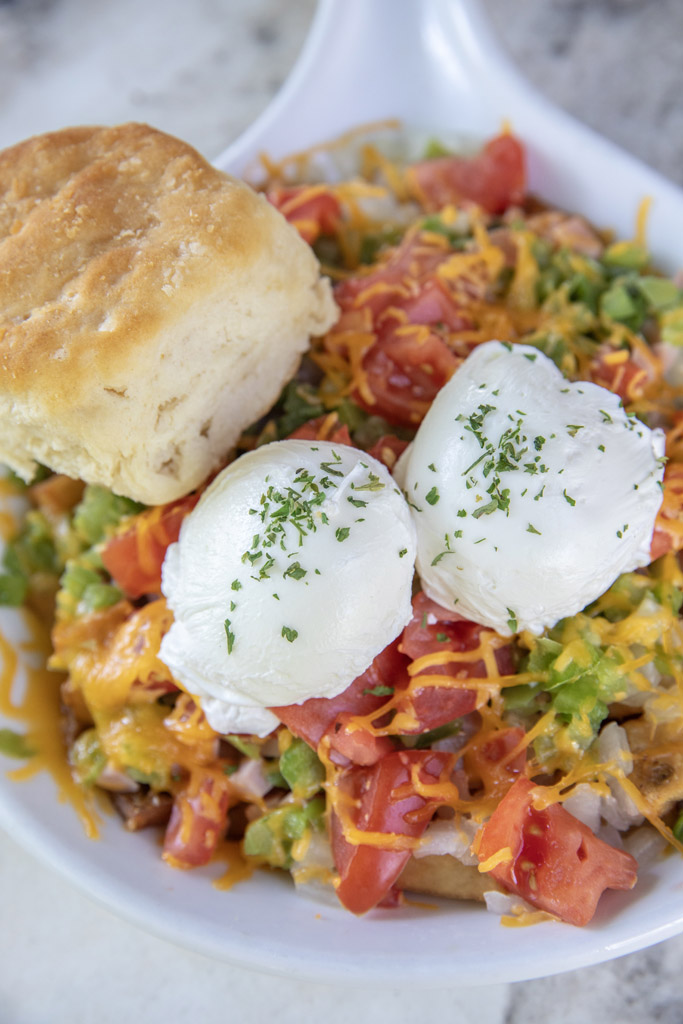 The Denver Skillet with a Buttery Biscuit
With the big 3-0 coming up, Baima does plan to celebrate by, first off, bringing back one of the Skillets traditions most beloved by its regulars. Ladies and gentlemen, Elvis is in the building.
"Back in 2005 to about 2009 we had an Elvis impersonator in twice a week, since back then the music scene was very different," Baima said. "I thought it would be fun to bring that back as a throwback to when we first started doing dinner."
Along with regular appearances by the King himself (or a reasonable facsimile), Skillets will be rolling out special menu items and deals to commemorate this milestone anniversary. The "three for thirty" menu will give guests a chance to pick from three dinner menu favorites. They're also celebrating with a rotating array of breakfast specials.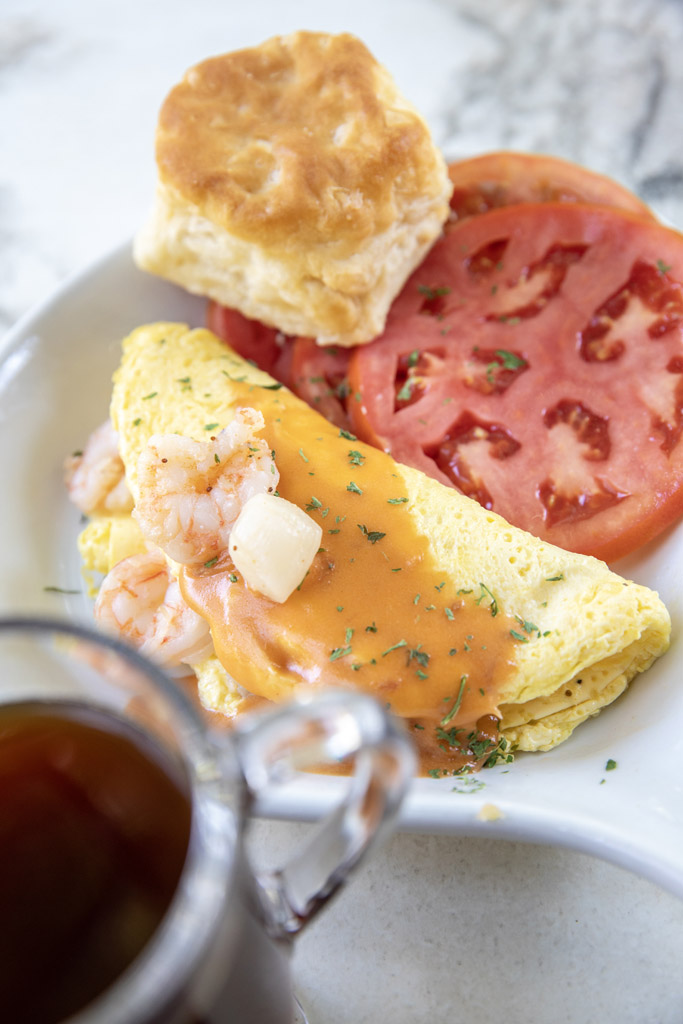 Seafood Omlette and Coffee 
It's a way to thank all the guests who have made it possible for Baima to continue pursuing her dream of cooking for friends every night. And after 30 years, she finally gets to have someone else cook her dinner every once in a while, thanks to the amazing staff she's put together.
"None of this would happen without my family's support and the staff I've had over the last 30 years. I've had people who have been with us 18 plus years. And it's happened a few times where someone leaves, but their cousin or their grandchild has come into the family and worked here," Baima said. "And I had great support from my mother and father when I first started. My dad still manages my books for me in his late 80s."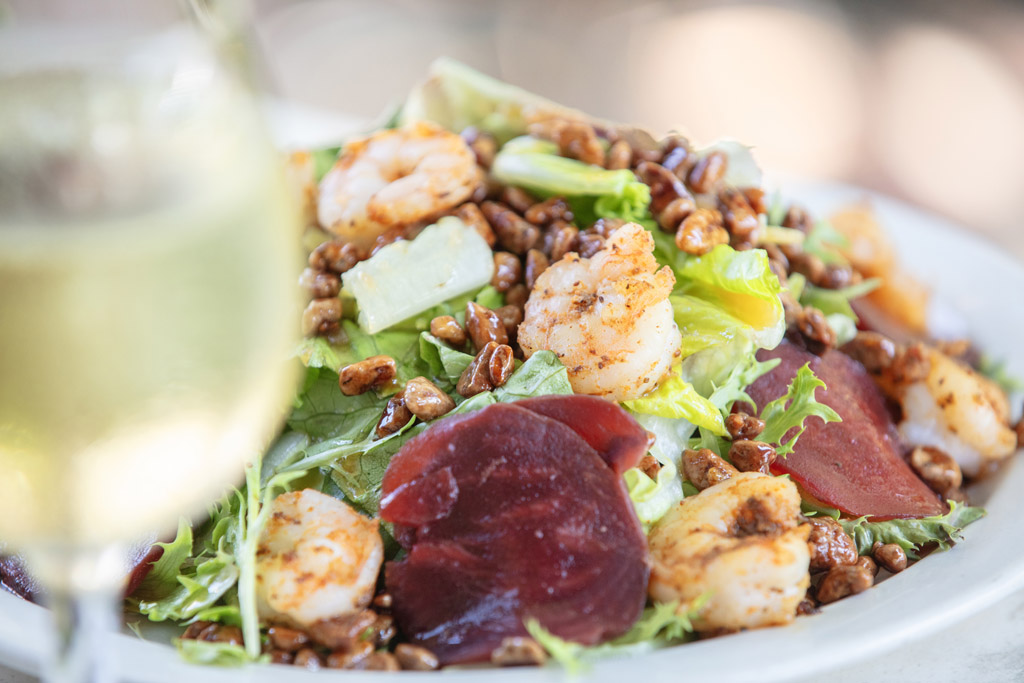 Shrimp and Beet Salad with White Wine
Thirty years into Skillets' history, it enjoys a rare spot as a true island institution, with a menu that always seems to have exactly what we are looking for. Even if that something is dinner with a side of Elvis.   
To view hours of operation and full menu, visit skilletscafe.com.