JOSHUA CASTILLO
Chef, Charlie's L'Etoile Verte
While most kids of the '80s were watching cartoons like The Smurfs or Transformers, Castillo was mesmerized by Julia Child, cooking French cuisine on her PBS program.
He's held "every job except doctor, lawyer or medic" on his path to the kitchen, including working for his dad's auto body shop before betting on himself by enrolling in TCL's culinary program.
In his 13 years as a chef, he's gone from intern to sous chef at Chechessee Creek Club with stints at Plum's, the Beaufort Inn, Slightly North of Broad, Alexander's, Marley's, and Black Marlin before landing his dream job.
"Charlie's is where I wanted to be. I knew of Charlie Golson and of his kids, Margaret and Palmer, who took over, Castillo said. "They grew up in this; they have kids of their own; they know we need to have a life. That work-life balance, it's been impossible in this industry with the 14-hour-day grinds. But we're closed on Sundays and most holidays except New Year's and Valentine's Day. That time with family means the world."
Castillo said that the thrill of mastering the recipes that have made this culinary island institution while having creative freedom to challenge himself with the rest of the menu makes every day exciting.
"The long-time guests come back and say the food tastes just like Charlie made it back in the day," Castillo said.
"That challenge of making the flounder meuniere, the pâté, the caramel cake—of nailing those staples—the honor of making a memory for diners, that's a thrill. But Margaret and Palmer let us experiment constantly with 60 percent of the menu. We hand-write the specials because we're always trying new things. To make a tenderloin of venison, it felt Jackson Pollack-y. To do an Asian-influenced wine dinner at a French restaurant like we did in 2019, it's crazy. To get to play in the gray area, the mixing and matching and things not being so black and white, it's truly a pleasure to work in that environment."
LINDA LOCKMAN
Chef/Owner, Sunset Grille
When Hugh and Linda Lockman took over the Hilton Head Harbor restaurant 26 years ago—then known as The Upper Deck—Hugh was the one with the industry experience as a long-time wine and spirits distributor. Linda quickly realized she wanted and needed to do more than just run the front of the house.
"I dove in. I wanted to know how to do everything in this restaurant, and I'd always loved cooking. My mama instilled that in me young," Lockman said. "The more I was in the kitchen, worked alongside amazing chefs, the more this passion grew. Being in the trenches, that's my formal training. I just love creating food art, to create beauty, and that's just grown every day inside me for 25 years."
Lockman loves being the leader by example for "my dysfunctional little family."
"It's quality above quantity. Folks come through the RV park, they're not always expecting white linen tablecloths, but that's the standard we set," she said. "We have loyal staff and loyal locals, and I'd like to think that's because of the food, the wine and the service we offer. I am one of the luckiest girls in this business."
Linda loves cooking the staples like the smoked salmon—a favorite Hugh started cooking before they opened the restaurant. "I think there would be a revolt if we took off the menu," Linda said. But she enjoys the ability as a 12-table eatery to be agile with the dining options.
"Food was love growing up. We did farm-to-table as a necessity; what we picked out of our garden is what we ate," she said. "I'm constantly reading, watching, testing. We change out the menu three to four times a year just to capture the moment, to capture that perfect spot of what we like to cook and what our fans like to eat."
The result has been a cult-like following, both at the restaurant and with her catering and personal chef clients.
"It's a performance, just like an actor or a comedian. Those smiles, those hugs, those empty plates—that's a drug," Lockman said. "I'm not about self-promotion. I just thrive off pleasing with our food and our wine. We're proud of our wine list. It's a labor of love, we've traveled the world to find the right pairings. To see the enjoyment with a swig or a bite keeps us all excited for the next day, the next guest."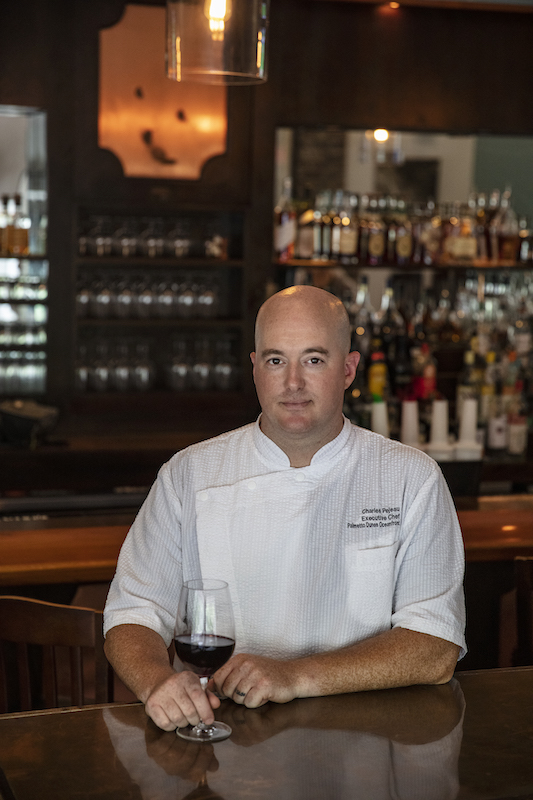 CHARLES PEJEAU
Executive Chef, Palmetto Dunes Oceanfront Resort
Pejeau feels lucky to have been hit by the culinary equivalent of Cupid's arrow. As a young adult, working at restaurants was just a job.
"I worked once a week at restaurants before I went to culinary school, and even then, I went because it was as far away from real school as I could get," he said. "I just didn't want math or science or history. I liked to cook, so that seemed like the easier path."
Then a funny thing happened. Thanks to working his way up to being sous-chef for a Culinary Institute of America grad and chef in Florida, he simultaneously realized that cooking was his career passion and that it was anything but the easy path.
"It is constant evolving, constant hard work, constant gut checks. I was lucky enough to come into it at the tail end of the screaming chefs and 16-hour days and instant burnout," he said. "I knew I wanted a balance in life, and to get it, I needed to slay it every minute I was at a restaurant."
He moved back to Hilton Head Island in 2008 and helped found island faves Char Bar and Holy Tequila before landing in his current role overseeing the menu and standards for Alexander's, Big Jim's, The Dunes House and the Woodie Wagon food truck at Palmetto Dunes Oceanfront Resort.
"This has been a revelation for me," he said. "I love people. I love building relationships. I love to manage all aspects of a kitchen and a food operation. So, I feel like I've found the perfect fit, like everything has led up to this. If the food's not great, it's a loss. But you have to manage the ordering, the staff, the menus, the guest flow and the experience to truly make the food shine."
Pejeau has helped oversee an evolution of the Alexander's menu, with a plan to officially update the Big Jim's offerings in 2022.
"We're always testing new tastes, always learning," Pejeau said. "I love the variety I get to lead. You want the date night, the special occasion, the one dress-up night of the vacation, it's Alexander's for the seafood and the amazing steaks. You want nachos after golf, the comfort food, the great casual hangout, it's Big Jim's. To get to play in two sandboxes that are so varied keeps me fresh and excited every minute at the resort."
NUNZIO PATRUNO
Owner/Chef, Nunzio's Restaurant and Bar
His mom and dad worked long hours, so a young Patruno was left to fend for himself for meals growing up in southern Italy.
"I started with a couple of eggs. I did alright with those, so I just started playing around with new meals. And I've never stopped that exploring," Patruno said of his path from working in restaurants in Venice, Rome, France and Monte Carlo before launching his own Italian eateries in Philadelphia, New Jersey and now on Hilton Head Island. "I saw I could see the world, make some money while learning to cook new dishes. That's a special life."
He's shared that journey for 35 years with wife Maribel, the mother of his two kids and his marketing and business manager at every stop. It's allowed him to focus on perfecting the simplicity of delivering great meals.
"This industry changes all the time. I thrive on adapting and reinventing myself every so many years. Now, the stuff I learned in the '70s is back in style, so I keep creating new dishes but also sharing recipes decades in the making," he said. "I am about food and taste. I don't believe we eat with our eyes. End of the day, the food goes to the stomach. That taste dictates how all the other senses react. Food's not sitting on the line to make it pretty. Get it to the customer hot so the aroma, the heat, it's all there to make the best impression."
He has a similar approach to wine. He's passionate about it—builds his own wine list based on experience and pairing, not on the latest flashy trend or in-chic winery.
"I push when it comes to taste. Folks didn't think the island was ready for octopus. Guess what? It's my No. 1 seller. I go with my gut; it hasn't let me down," he said. "I love the challenge of the different clientele here. In big cities, restaurants set trends and menus. Here, the guests set the trends on what they want to eat, how they want to dress, and I'm at an age now, where I roll with that. But I'm still going to push the envelope on taste."
Patruno has tried to soften his edges through the years, though he knows his drive for perfection makes him a tough boss at times. He loves working with Maribel and his chef brother Angelo but admits "family and business is not always easy."
"We make it all work because it's never work. It's our love. The folks that got us through the pandemic, I am so incredibly appreciative. I want to retire in this restaurant, in this community, but I will thrive on seeing people enjoy my food and my hospitality until my last breath."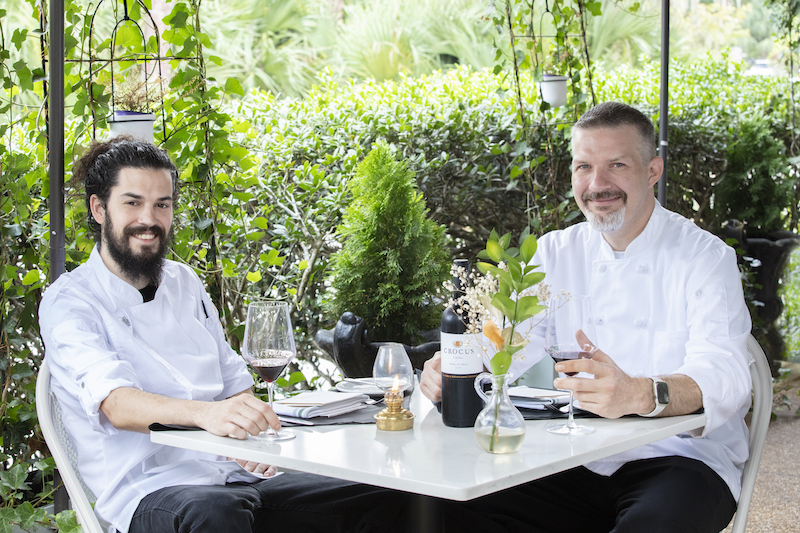 CHRISTOPHER PINCKNEY and PATRICK NEARY
Executive Sous Chef and Chef de Cuisine, Chez Georges
They are a brand new pairing at Chez Georges, each brought in about three months ago to run the day-to-day operations as restaurateur George Casalicchio expands his island offerings.
Pinckney has lived here since he was five. A son of a chef, he went from the Marines to culinary school and running 1,300-cover lunches for Marriott in Columbia and on Hilton Head Island.
Neary is a son of rodeo star who has gone from being a Western U.S. cowboy and ranch hand to a kitchen trainee in St. Louis restaurants to stops at Michael Anthony's and FARM to the creative force at this French bistro with a Lowcountry accent.
"I'm left-brain, he's right brain. I'm creative and he helps me execute the vision," Neary said of the budding magic between Pinckney and himself.
"I wanted to get back in the trenches. I love food. I've worked kitchens in hotels and casinos, but I want to get back to personal relationships with diners, to be part of creating food art," Pinckney said of his move to Chez Georges.
Neary knew he was destined to work with his hands. He's always been a food creator; he just took a bit to realize he could make a career out of that passion.
"Now that I'm here, watch out. I have the drive to be a Michelin star chef. That's a guarantee," said the 28-year-old chef. "I know I was made for the kitchen; I absolutely thrive in this organized chaos."
Pinckney thrives on organizing the chaos behind the scenes. "I traveled the U.S. working with Marriott, opening restaurants. I have Japanese influences from the Marines, southwestern flair from my time in California, but mastering French techniques, that's always been the dream," he said. "I think our collective passion comes out most in the fish features every day. We get to make it our own. Patrick never ate much fish growing up in the Midwest, so it's a whole new toybox for him. I love our mix of experience and shared passion for creating. I think the guests are going to keep getting big wins out of this pairing."