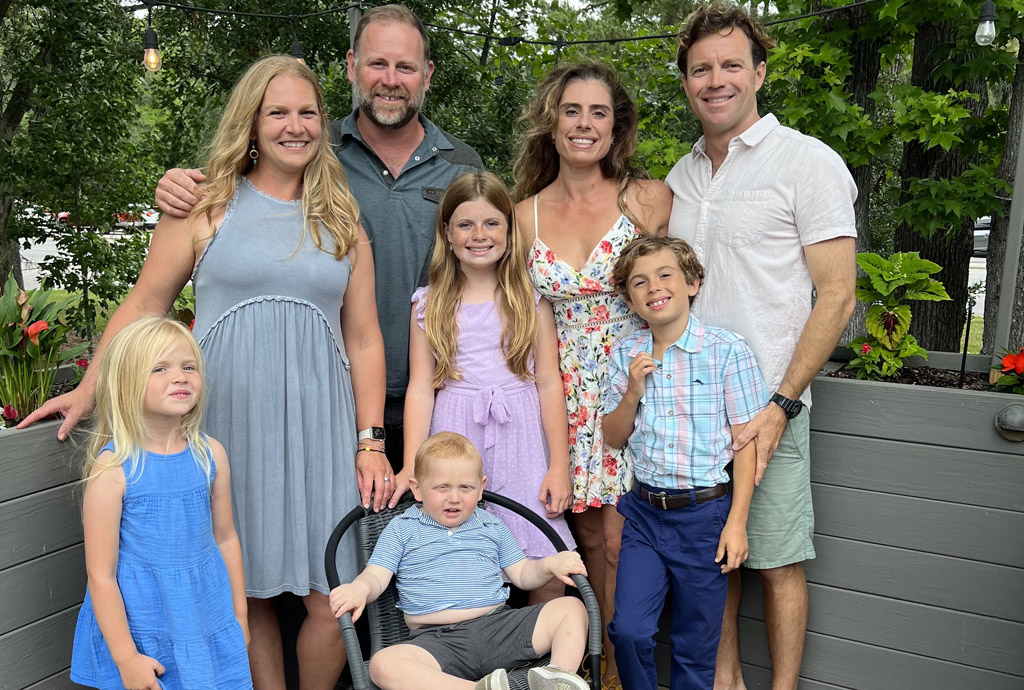 Scott and Stephanie Skager with their children Lennon (5) and Daws (3), and Amanda and Nate Skager with their children Amelia (11) and Nathan (8).
As Father's Day approaches and we honor fathers and father figures, one local dad is in the fight of his life—the fight to save his son.
Scott Skager describes the day he became a father as "the happiest day of his life." He had wanted children for a long time and was ready for fatherhood, he said. But nothing could have prepared him for what his family has experienced since cancer came knocking at their door. "It has been the craziest roller coaster one can imagine—a ride that can strip you of your faith and reinstate it literally in the same day," he said.
Skager and his wife Stephanie are the parents of five-year-old daughter Lennon and three-year-old son Daws. In the fall of 2021, baby Daws presented with an odd set of symptoms, namely constipation and excessive urine output. His pediatrician was not alarmed and prescribed a conservative treatment protocol. But when the two-year-old started vomiting, stopped eating, and lost 10 pounds, the Skagers suspected something more serious.
"I knew something really bad was happening," Scott said. "But we couldn't get anyone to look outside the box of constipation until we saw the GI specialist in Savannah." Lab work revealed critically high sodium levels which landed Daws in the pediatric intensive care unit (PICU).
"In our first two weeks at the hospital, he went from a walking, talking, fully functioning two-year-old boy to nearly a vegetable," Scott said. "He had multiple brain surgeries including two done in emergency at his bedside. I'll never forget the neurosurgeon shaking my hand with tears in his eyes and telling me he's going to do everything he can to save him, and that's before we even knew it was cancer."
Daws was ultimately diagnosed with malignant germ cell tumors, an aggressive and rapidly growing form of cancer. He stayed in PICU for five months and had six rounds of chemotherapy followed by 30 days in Atlanta for proton radiation. And while he seemed to be getting better, he relapsed in October of 2022 when a tumor invaded his lumbar spine and two more spots appeared on the back of his brain.
"We prepped for more chemo—a more aggressive one that was supposed to be outpatient. The plan was two to four rounds of chemotherapy in Savannah then two rounds at MUSC with stem cell recovery, then proton radiation in Atlanta again," Scott said. "The two rounds of chemo were very hard on him, and we weren't able to stay home."
Daws also has diabetes insipidus, resulting from the first tumor. This causes him to have huge sodium swings that can cause brain damage or even be fatal, Scott explained. "It's worse when his body is stressed, and as everyone knows, chemo is a huge stressor on your body. We spent two months in the hospital for those two rounds which included our second Christmas spent in the PICU. The transplant oncologist concluded that Daws probably would not survive the high-dose chemo stem cell recovery."
Based on that information, the Skagers decided to stop chemotherapy for now. "It was killing him," Scott said. They did take him to Atlanta for radiation, and they have sought additional medical opinions, some still pending.
"Our team says he will relapse again and likely will not live to adulthood, but we think otherwise. He is currently on a whole food, plant-based diet to prevent metastasis," Scott said. "We've done a lot of research on holistic medicine. Unfortunately, we haven't been able to find a doctor that will treat him because he is too young, but we've adopted some ideas that we are practicing in our home."
Day to day
Daily life looks different when a child is this sick. "It's pretty hectic," Scott said. "We can't just call a regular babysitter if we were to need one because of Daws' needs, so he's with one of us all the time. He's relearning to walk, pulling up on furniture, and very much in the exploring phase, so our attention is always on him."
In addition, there are tons of appointments: PT, OT, and speech therapy because he's developmentally delayed, Scott explained. His pituitary gland was damaged, so he sees an endocrinologist often. He gets labs to check his sodium and blood count at least once a week in Savannah and has follow-ups with radiation oncology, neurosurgery, and an ENT (because he had COVID and his sinuses didn't clear properly). Palliative nurses and doctors make regular home visits as well.
"It's a lot to keep track of. Steph handles most of the appointments while I work," Scott said. "Sometimes I feel like we're ships passing in the night." Even so, parenthood has drawn them closer, he said. "We do our best to keep the lines of communication open. We know at the end of the day we both want the same thing: for Daws to get better and to give our kids an amazing life."
A family affair
Scott and his younger brother Nate Skager have always been close, even choosing to attend the same college and live in the same town. After college, they spent time in Lake Tahoe, but both eventually returned to the Hilton Head area to settle down and raise their families.
"Nate has been a massive help through this," Scott said. "Lennon has stayed with him weeks at a time. He used to be a firefighter, so he's one of few people that we've felt comfortable with taking care of Daws. He's even spent the night with him in the hospital a few times to give us a break or allow both parents to attend an event for Lennon."
Nate's children, Nathan Jr., age eight and Amelia, almost 12, interact with their cousins like siblings. "They are like brothers and sisters," Nate said. "Every weekend, we are together."
"Lennon asks to go to their house every day. At this point we should just get a family compound and all live together," Scott said.
Making ends meet
In addition to the physical and emotional toll of caretaking, the Skagers have been faced with the financial burden of medical care and associated expenses. "Travel is expensive. Second opinions are expensive, and we've spent some money on items that keep Daws more comfortable at home," Scott said. "We have had some help through various cancer foundations covering meals, gas, and lodging. We're just doing our best to figure things out as they come our way."
There have been multiple fundraisers for Daws. "We've received so much support from the HHI/Bluffton/Daufuskie community, my parents' church, old friends, etc. Rollers still collects donations at their locations. Tim Wood has an ongoing fundraiser for us and a few other families by selling a cookbook. We're trying to stretch the money we have received as far as we can," Scott said.
The Skagers have also had access to a type of Medicaid for life-threatening childhood illness. "They've taken good care of us, and we've only had a few medical expenses out of pocket," Scott said. "Our employers have been very supportive, so we haven't had to worry excessively about finances, but that is changing."
Stephanie recently got switched from salary to hourly wages, which will be a big change since she doesn't have the time to put in the hours, Scott explained. "She's doing what she can, and the community has already been very supportive, so we have a little savings. We're working on a side project that she can do with Daws, but that takes time, too."
If the Skagers have learned one thing from their son's illness, it is the power of love. They have experienced a generous outpouring from the community, and they want to give back. Their plan is to establish a non-profit foundation to help children with cancer and their families. The groundwork is already laid, and documents are being prepared. Once the legalities are settled, it is their goal to provide an array of support for families in need and an avenue for those who wish to contribute to the fight for life.
If your heart is tugging at you to help save Daws and other children like him, please contact the Skagers for information on how you can get involved: skager15@gmail.com.